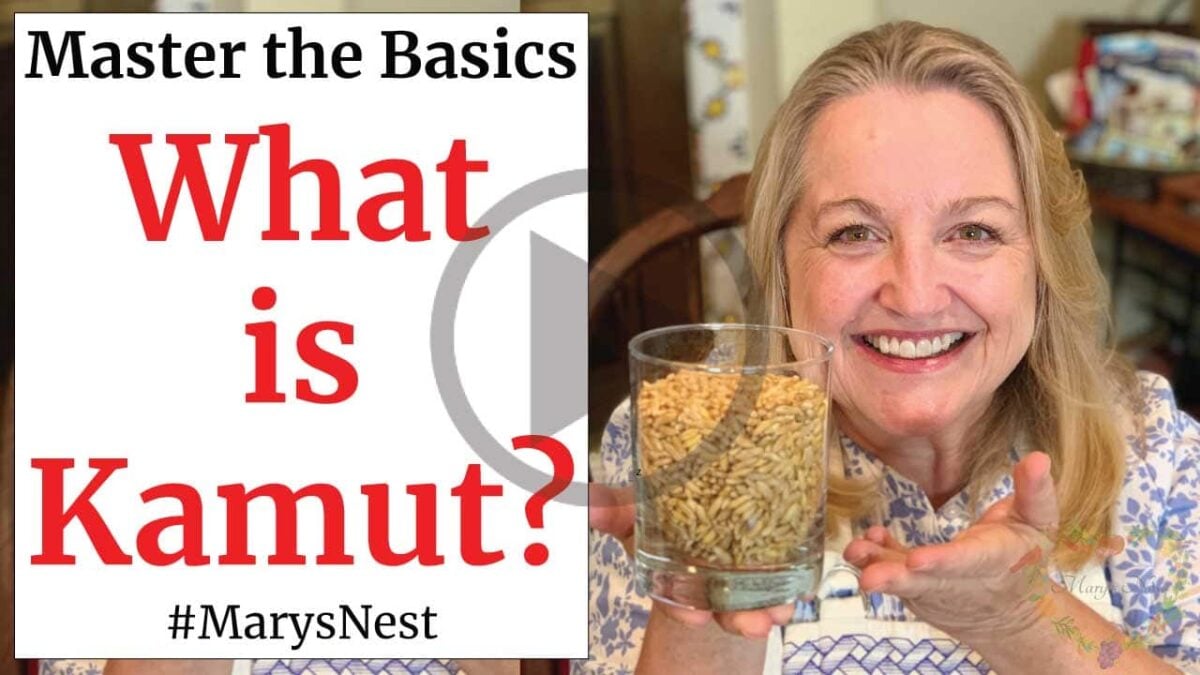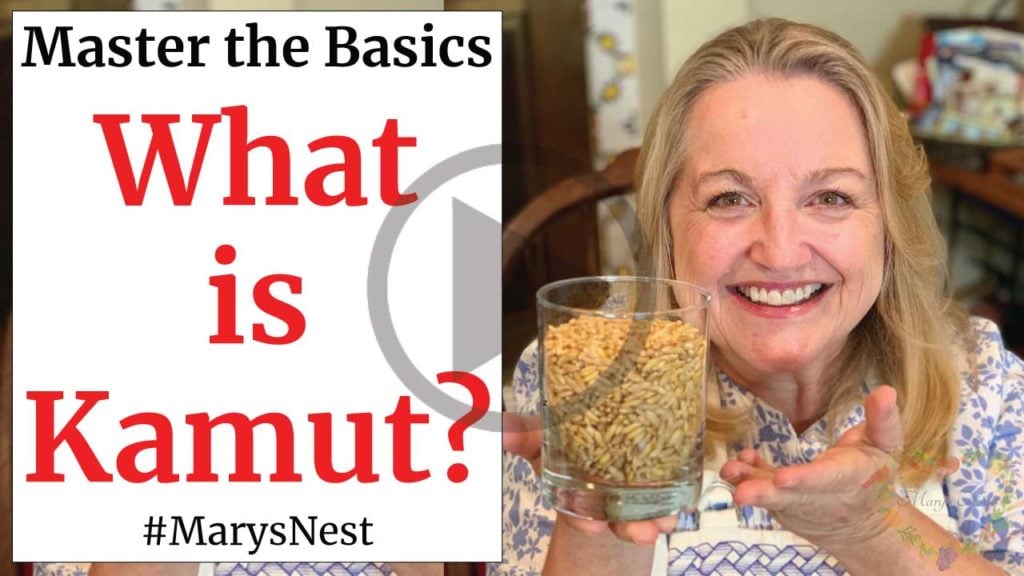 So what is Kamut? Kamut, or Khorasan Wheat—nicknamed The Pharaoh's Grain—is an ancient grain that is a nutritious source of fiber, iron, and protein. Although it is a relative to modern-day wheat, it is lower in gluten and can be—for some people–easier to digest than the wheat commonly consumed today.
How do I Cook with Kamut?
You can cook Kamut in a similar manner as any other grain. Add 1 cup of grain to 3 cups of boiling water. Then simmer grain for about 60 minutes until chewy but tender. You can toss it with butter for a tasty side dish in place of rice or another grain.
If you can't get Kamut at your local grocery, I list some options that are available online in my favorite supplies.
How do I Bake with Kamut?
You can also mill Kamut grain into flour to bake sourdough bread or yeasted bread. Plus, you can bake quick breads and muffins with this flour.
Since it's lower in gluten, the rise will be less than that of flours higher in gluten. However, the nutritional value will be greater than breads or other baked goods made with modern-day wheat flours.
Whole Grain, Sprouted, or All Purpose?
You can mill Kamut and bake with the flour as is. Or, if you want, you can soak and sprout the grain and make your own sprouted flour at home.
But you have another option as well. You can grind your grain and turn it into All Purpose Flour and then bake with it. This will create a lighter baked good. In a previous video, I showed you how to make All Purpose Einkorn Flour, but the technique is the same to make All Purpose Kamut Flour.
How to Make Your Own Flour
I purchased a Mockmill 100 to make my own flour. If you want to store whole grains and use them to make flour, I show you how to use the Mockmill 100 in my Mockmill unboxing video.
If you decide to purchase a Mockmill for yourself, you can get a 5% discount using my affiliate link and promocode marysnest.
More Ancient Grain Videos
Learn more about wheat berries, baking with whole grains, and how to bake with Einkorn and Spelt in the following videos.
Grind Your Own Flour with the Mockmill
When it comes to electric grain mills, after I did A LOT of research, I decided to buy a Mockmill. And am I so happy I did! The Mockmill is a very affordable but beautifully crafted German-made mill that stone grinds grain with settings ranging from 1 to 10—fine to coarse ground grain.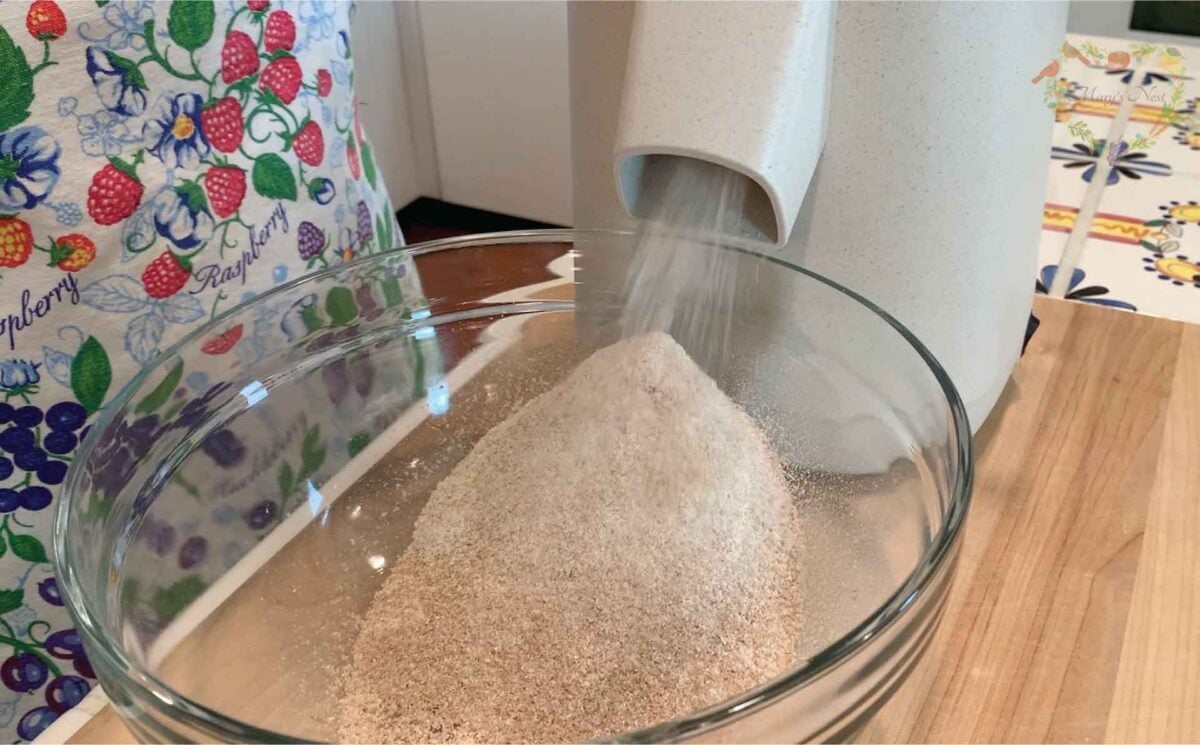 And I have great news! The folks at Mockmill are very kind to offer my viewers and readers a special one-time discount on any of the grain mills that they sell.
Note: You can also get the new Flake Lover's Flaker from Mockmill. Using this device, you can flake whole grain in minutes.
You can see me unbox and try out the Mockmill 100 Grain mill in the following video. (This is not a sponsored post, I bought the Mockmill products that I show you, and I'm a happy user of their devices in my kitchen.)
Download Your Free 36-Page Pantry List
For an extensive list of the traditional foods you can make and purchase to stock your pantry, be sure to download my free 36-page Traditional Foods Pantry List. This comprehensive eBook is full of links to recipe videos, helpful articles, and more!
Kitchen Academy Videos
Are you looking for more traditional foods videos? If so, I invite you to join the Traditional Foods Kitchen Academy. Members of this optional paid YouTube community get access to exclusive videos, live streams, and other members-only perks. Plus, your YouTube comments include a special members-only badge.
In the following members-only video, I talk about whole grain baking for the traditional foods kitchen.
Stay in Touch with Mary's Nest
Subscribe to My YouTube Channel for Traditional Foods Videos (Free) - When you subscribe, be sure to click on the notification bell that will let you know each time I upload a new video.
Subscribe to Mary's Traditional Foods Newsletter (Free) - Get a free 36-page eBook for signing up: How to Stock Your Essential Traditional Foods Four-Corners Pantry.
Join the Traditional Foods Kitchen Academy (Optional Paid) - For more detailed videos, live streams, and exclusive members-only perks, join my YouTube membership community.
Preorder The Modern Pioneer Cookbook (Optional Paid) - Get a printed book of Mary's nourishing recipes from a Traditional Foods Kitchen. This cookbook will be published by Penguin Random House with their DK imprint.
I look forward to having you join me in my Texas Hill Country Kitchen!
---
Shop for items used in this blog post or video
Favorite Grain and Flour Supplies
Einkorn
Kamut
Spelt
Whole Wheat
Favorite Grain Mill Supplies
Use my Mockmill affiliate link for a special one-time 5% discount on Mockmill Stone Grain Mill products, including the new Flake Lover's Flaker. (The Mockmill discount will appear when you checkout.)
Favorite Bread Making Supplies
Use promo code MARYSNST for a one-time 15% off Masontops and Breadsmart products on Amazon.com.
Amazon Shop and Shopping Guide
Recommended Reading
**Disclaimer: I am not a medical doctor, a medical professional, a dietician, or a nutritionist. All content found on the MarysNest.com website, including text, images, videos, eBooks or eGuides, social media, or other formats, were created solely for informational purposes only. The content is not intended to be a substitute for professional medical advice, diagnosis, or treatment. Always seek the advice of your physician or other qualified healthcare provider with any questions you may have regarding a medical condition or proper nutritional advice. Never disregard professional medical advice or delay in seeking it because of something you have watched in a video or read on this website. Use caution when following the recipe in this video. The creator and publisher of this video and website will not be held responsible for any adverse effects that may arise from the use of this recipe and method or any other recipe and method on this website or corresponding video channel.