The Busy Mother's Sourdough Secret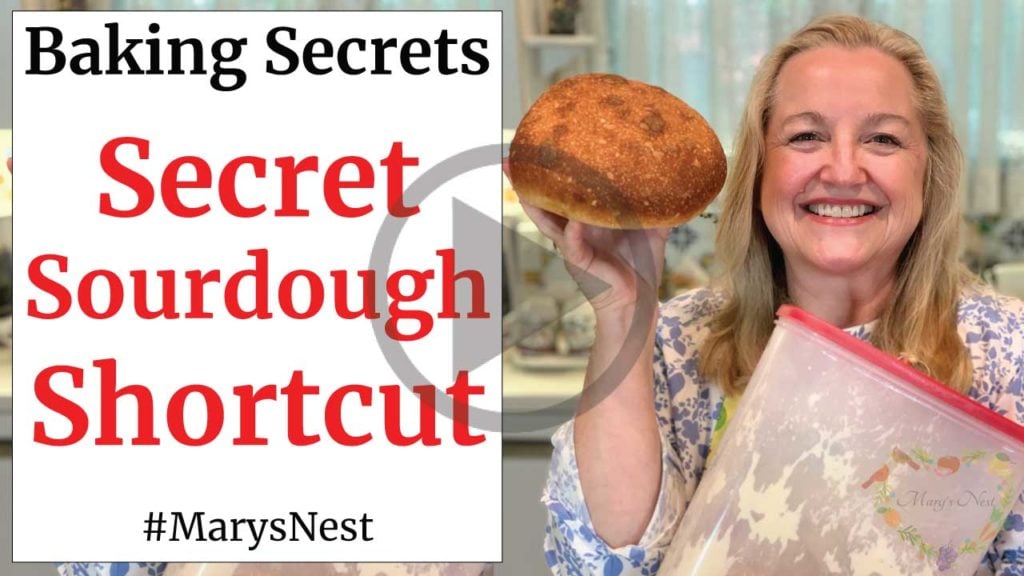 If you've struggled with sourdough in the past, this baking secret will change all that. I call it "The Busy Mother's Sourdough," but it's just not for busy mothers, it's for anyone who is ready to give up with trying to make a sourdough starter and sourdough bread. Well, don't throw in the proverbial towel…or should I say starter…just yet. Help is on the way!
How This Sourdough Starter Secret…Started!
Many years ago, I was a homeschool mom, and I was in a lovely social circle of other homeschool moms who all embraced the challenge presented in the book Nourishing Traditions by Sally Fallon. Fallon's book challenged us to begin incorporating more traditionally prepared foods into our and our family's diets. I like to think of this process as transitioning from a processed foods kitchen to a traditional foods kitchen.
One of the sweet moms in our group truly was a busy mother. She had six children but was determined to incorporate nourishing real foods into her family's meals. And all was going well. Bone broth, cultured dairy, and ferments made regular, if not daily, appearances on her kitchen table. But one area of traditional foods alluded her. Sourdough! Does this sound familiar?
But she was a determined mom and was not ready to give up. So one day while reading the book Artisan Bread in Five Minutes a Day, she got an idea. What if she slightly modified the master recipe listed at the beginning of the book, and what if she tried to coax her new creation into ultimately becoming a traditional sourdough starter? Would this modified recipe help her get around all the problems generally associated with trying to get a new starter going?
Sourdough Starter Success!
What my friend discovered was, yes, she could coax her original little mixture into eventually standing on its own two feet and rise her dough without any additional packaged yeast. Her dough would just use the yeast that was multiplying in her container. She kept her mixture in the refrigerator, and in essence, never fed or discarded her mixture in the traditional sense of what we think of when we think of sourdough starter.
With each loaf of bread she baked, her starter became stronger and stronger, creating a better loaf of bread each time. Subsequent loaves rose better and benefited from a stronger sourdough flavor. She was thrilled with her method and never looked back. And she and her family have been eating sourdough bread ever since. Success!
Now It's Time for You to Create Your Starter
For a step-by-step tutorial to help you create your own "Busy Mother's Sourdough," be sure to watch my recipe video. But in the meantime, I'll let you in on a little secret…this could't be easier…and anyone can do it!
You create a very wet no-knead dough—with a little twist to the ingredients—that's going to live in your fridge and produce some of the best bread you've ever had. And for the written instructions to follow along with the video, be sure to check out the printable recipe.
More Sourdough Videos
Now that you've made your own Busy Mother's Sourdough, and you're feeling confident to make a traditional sourdough starter, be sure to check out my Complete Sourdough Starter Guide and How to Make a Foolproof Sourdough Starter videos.
Afterward, try your hand at the easy no-knead and other sourdough bread recipes below. Each recipe has an accompanying video to walk you step-by-step through the process of making great sourdough breads!
Stay in Touch with Mary's Nest
Subscribe to My YouTube Channel for Traditional Foods Videos (Free) - When you subscribe, be sure to click on the notification bell that will let you know each time I upload a new video.


Subscribe to Mary's Traditional Foods Newsletter (Free) - Get a free eBook for signing up: How to Stock Your Essential Traditional Foods Four-Corners Pantry.


Join the Traditional Foods Kitchen Academy (Optional Paid) - For more detailed videos, live streams, and exclusive members-only perks, join my YouTube membership community.
I look forward to having you join me in my Texas Hill Country Kitchen!
Love,
Mary
♥
Shop for items used in this blog post or video
Favorite Baking Supplies
Favorite Baking Yeast Supplies
Recommended Reading
Amazon Shop and Shopping Guide
Visit my Shopping Guide page
Learn where I buy my beef bones, electric grain mills, sprouted grains, and more…and get special discounts for Mary's Nest visitors, including from US Wellness Meats, Mockmill, Masontops, and Cultures for Health.
*Affiliates note: As an Amazon Associate I earn from qualifying purchases. My videos and blog posts may contain affiliate links to products and services. If you click through and make a purchase, I'll receive a small commission. It does not affect the price you pay.
**Disclaimer: I am not a medical doctor, a medical professional, a dietician, or a nutritionist. All content found on the MarysNest.com website, including text, images, videos, eBooks or eGuides, social media, or other formats, were created solely for informational purposes only. The content is not intended to be a substitute for professional medical advice, diagnosis, or treatment. Always seek the advice of your physician or other qualified healthcare provider with any questions you may have regarding a medical condition or proper nutritional advice. Never disregard professional medical advice or delay in seeking it because of something you have watched in a video or read on this website. Use caution when following the recipe in this video. The creator and publisher of this video and website will not be held responsible for any adverse effects that may arise from the use of this recipe and method or any other recipe and method on this website or corresponding video channel.