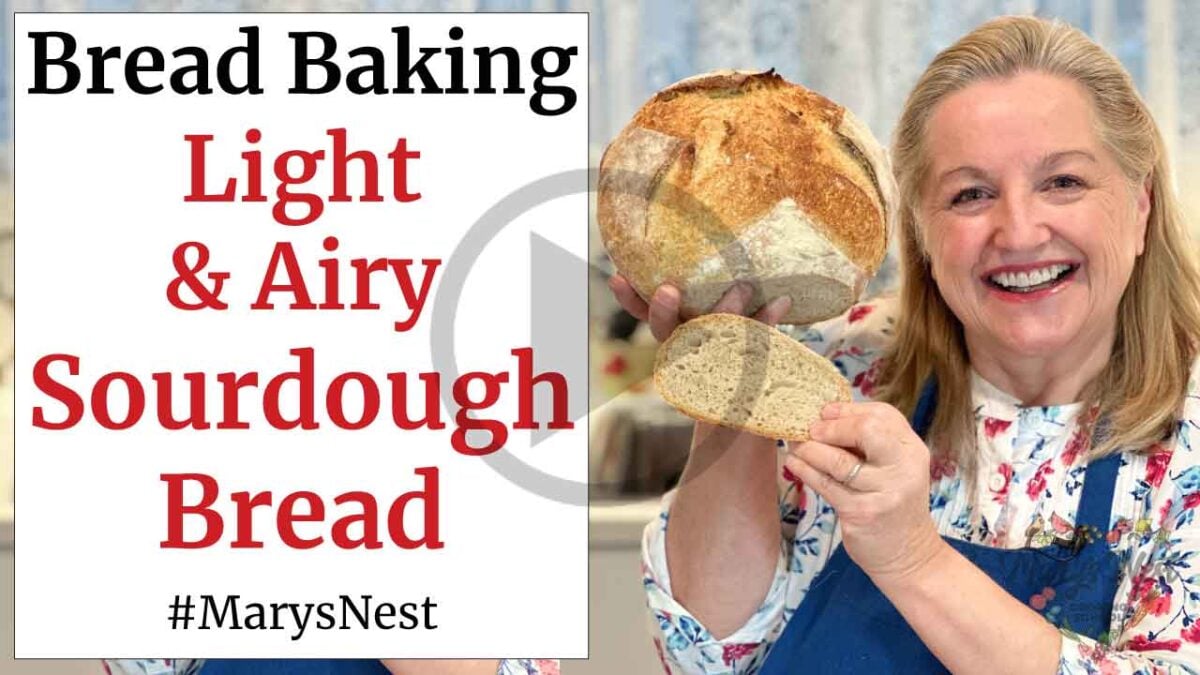 Learn how to make no-knead sourdough bread using the stretch and fold method to create a light and airy crumb that is never dense. When it comes to baking sourdough breads, if a recipe calls for kneading, you can use the stretch and fold method instead.
When you stretch and fold your dough, you activate the gluten in the wheat flour. This activation makes it easier to shape the dough into a boule or a bâtard, which are the two common styles usually used to shape sourdough bread. You'll be making a light and tasty sourdough boule (a round loaf) in today's recipe.
How to Make Stretch and Fold Sourdough Breads
When it comes to making no-knead sourdough breads, home bakers can sometimes find that their final product—a baked sourdough bread—is a bit on the dense side. That is certainly not the most appetizing sourdough bread! If you want a no-knead sourdough bread with a light and airy crumb (the bread's interior), it's best to use the stretch and fold method.
As I show you in my recipe video, the stretch and fold method is easy to do and does not require any kneading! All you do is use wet hands to pull up on the dough and then fold it over itself. That's it. It's much easier on a home baker's hands than trying to knead the dough for ten minutes or longer. Plus, it allows you to continue to be able to make no-knead sourdough breads that are just that…no knead.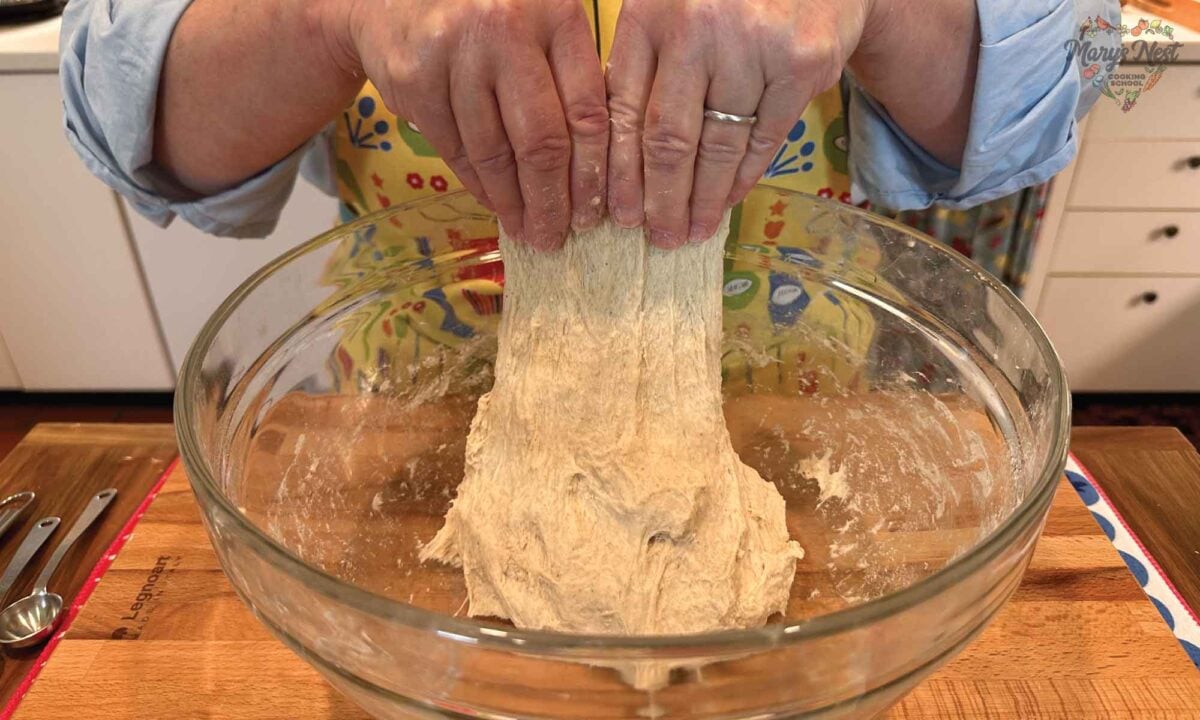 How to Use the Stretch and Fold Method for the Best Results
Through experimentation, I found that the best method for using the stretch and fold method when making no-knead sourdough bread is to do five stretch and folds per stretch-and-fold set for a total of five sets. But you may be wondering, "what exactly is a set?"
These five stretch and folds are equal to what is known as one stretch-and-fold set. You will stretch your dough and fold it over itself a total of five times, rotating the bowl a one-quarter turn after each stretch and fold. (Remember that we reference the quarters of the bowl like a clock with the 12:00 mark at the top and the 6:00 mark at the bottom.)
Start at the 12:00 mark and complete one stretch and fold.
Rotate the bowl to the 3:00 mark (one clockwise quarter turn) and complete the second stretch and fold.
Rotate the bowl to the 6:00 mark (one clockwise quarter turn) and complete the third stretch and fold.
Rotate the bowl to the 9:00 mark (one clockwise quarter turn) and complete the fourth stretch and fold.
Rotate the bowl back to the 12:00 mark (one clockwise quarter turn) and complete the fifth and final stretch and fold.
You have now completed one stretch-and-fold set.
Cover the bowl with a dish towel and let it rest for fifteen minutes. After fifteen minutes, remove the dish towel, wet your hands, and complete another stretch-and-fold set. After you complete the second stretch-and-fold set, recover the bowl and allow it to rest for fifteen minutes. You will do this three more times until you have completed five sets of stretch-and-fold, allowing the dough to rest for fifteen minutes between each set.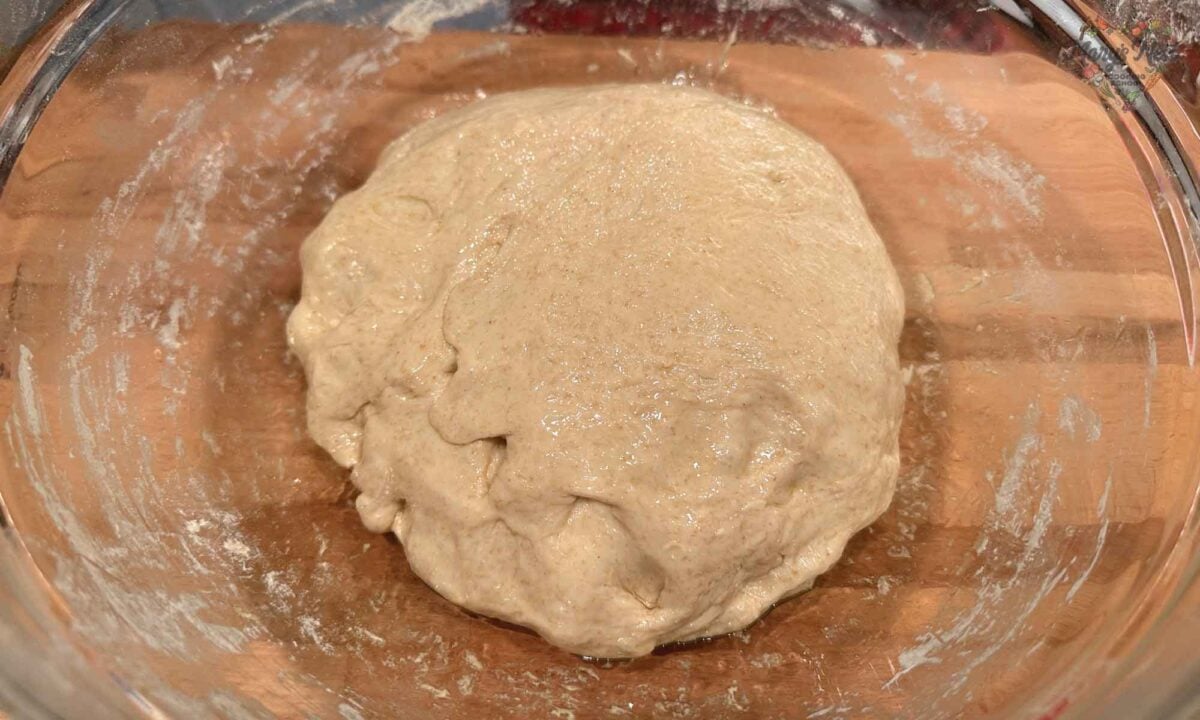 Once you have completed the five stretch-and-fold sets, you will coat the dough with olive oil, cover the bowl with a dish towel, and set it aside at room temperature to ferment for 12 hours. (If you would prefer to refrigerate your dough during the fermentation stage, be sure to read the recipe instructions below.)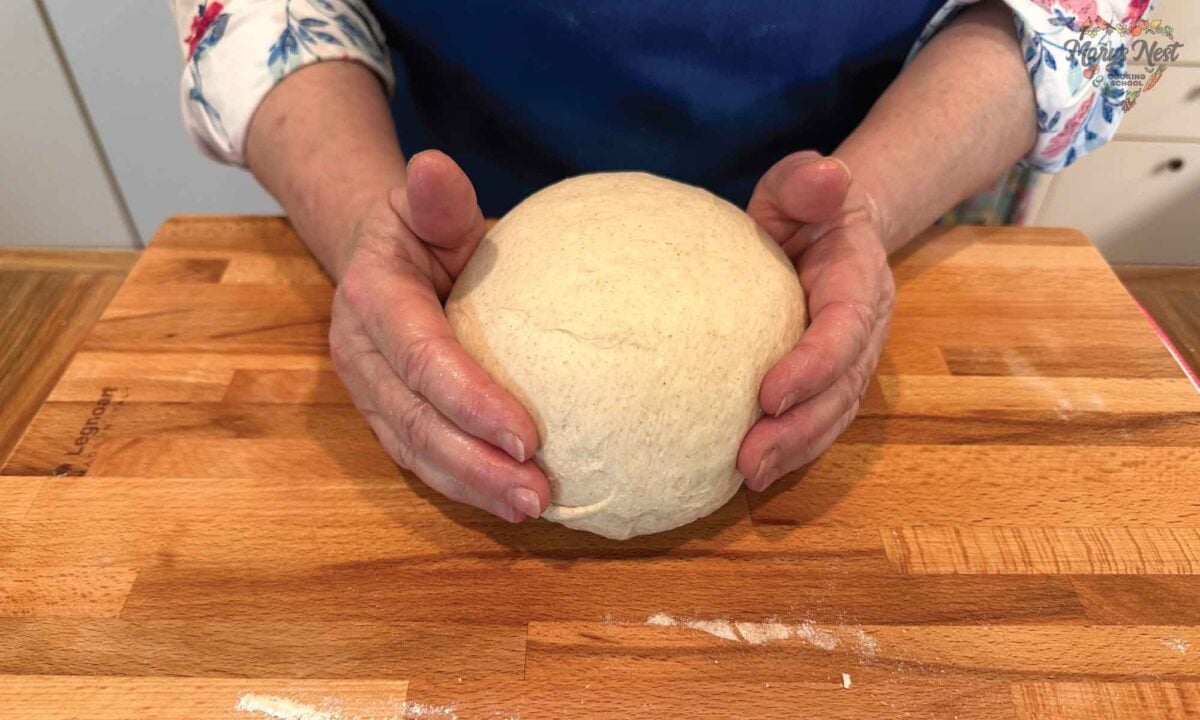 How to Shape a No-Knead Sourdough Bread
After 12 hours, it's time to remove the dough from the bowl and shape it into a ball. Be sure to watch the video where I show exactly how to do this. But here is a quick outline of the steps you'll follow:
Transfer the dough to a flat surface that has been lightly floured.
Flatten the dough into a rectangle that is approximately 8 1/2″ x 11″.
Fold the flattened dough into threes as you would a letter.
Flip the dough over and use cupped hands to bring it together into a ball.
Once the ball is formed and the dough has a smooth feel, you'll transfer it to a piece of lightly-dusted parchment paper placed on a flat surface.
Dust the top of the ball with flour and cover it with a dish towel.
Allow the ball to rise and double in size.
How to Bake a No-Knead Sourdough Bread
While the ball is rising and doubling in size, place a lidded Dutch oven onto the middle rack of an oven. Preheat the oven to 500°F (260°C). (Make sure the knob on the Dutch oven is heat-safe up to 500°F [260°C].)
Once the ball has doubled in size, use potholders to remove the Dutch oven from the oven and place it on a heatproof surface. Next, using a potholder, carefully lift the lid of the Dutch oven (facing it away from you), and place the lid on a heatproof surface.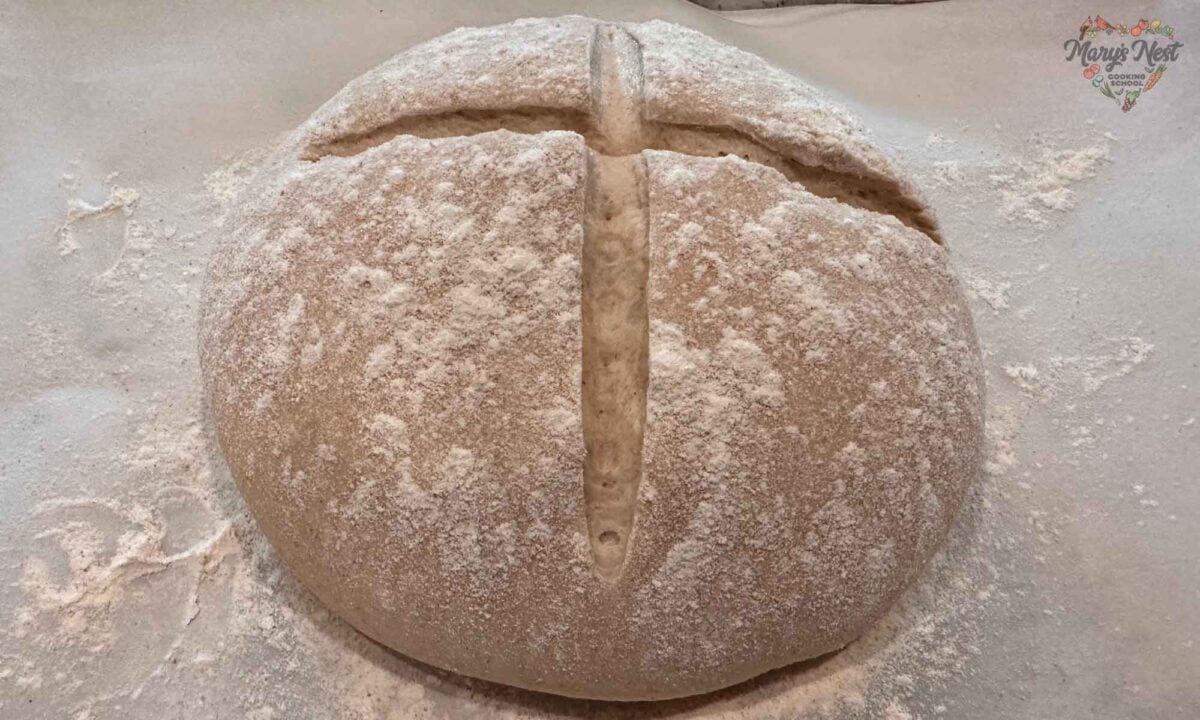 Score the top of the ball with a sharp knife (or bread lame), and then using the corners of the parchment paper, transfer the ball to the Dutch oven and replace the lid, making sure that all the parchment paper is tucked inside.
Now, pop the Dutch oven back into the oven, lower the oven temperature to 475°F (246°C), and bake the ball for 30 minutes. After 30 minutes, use potholders to remove the lid from the Dutch oven and you will be rewarded with a gorgeous golden sourdough boule (a round loaf).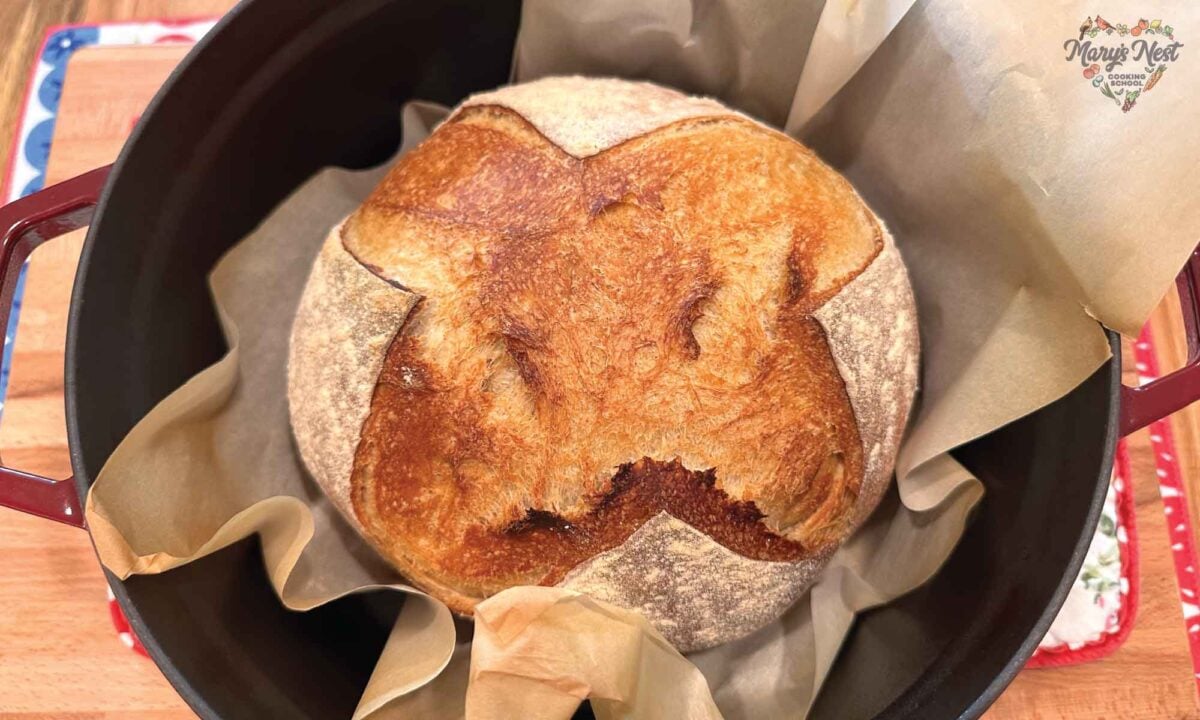 Leave the boule in the oven to bake for a few more minutes, uncovered, until it turns a bit more golden brown. When the boule is finished baking, turn off the oven and transfer the Dutch oven to a heatproof surface. Then remove the boule from the Dutch oven, transfer it to a cooling rack, and slide out the parchment paper. Once cool, slice it with a serrated knife and enjoy!
Creating a Sourdough Starter
If you have struggled in the past creating a sourdough starter, my complete sourdough starter video will help you to have success. I cover all the steps involved in creating a starter. Plus, I share the most common problems encountered when making a starter and how to fix them.
Even though you can make a sourdough starter with any type of flour, if you can find rye flour, you are in luck. Making a sourdough starter using rye flour is basically foolproof!
How to Choose the Right Flour for Making Sourdough Bread
The beauty of sourdough bread is you can make it using pretty much any flour. One of my favorite flours to use when baking sourdough bread—or pretty much baking anything for that matter—is Spelt flour. Spelt is an ancient grain rich in vitamins and minerals.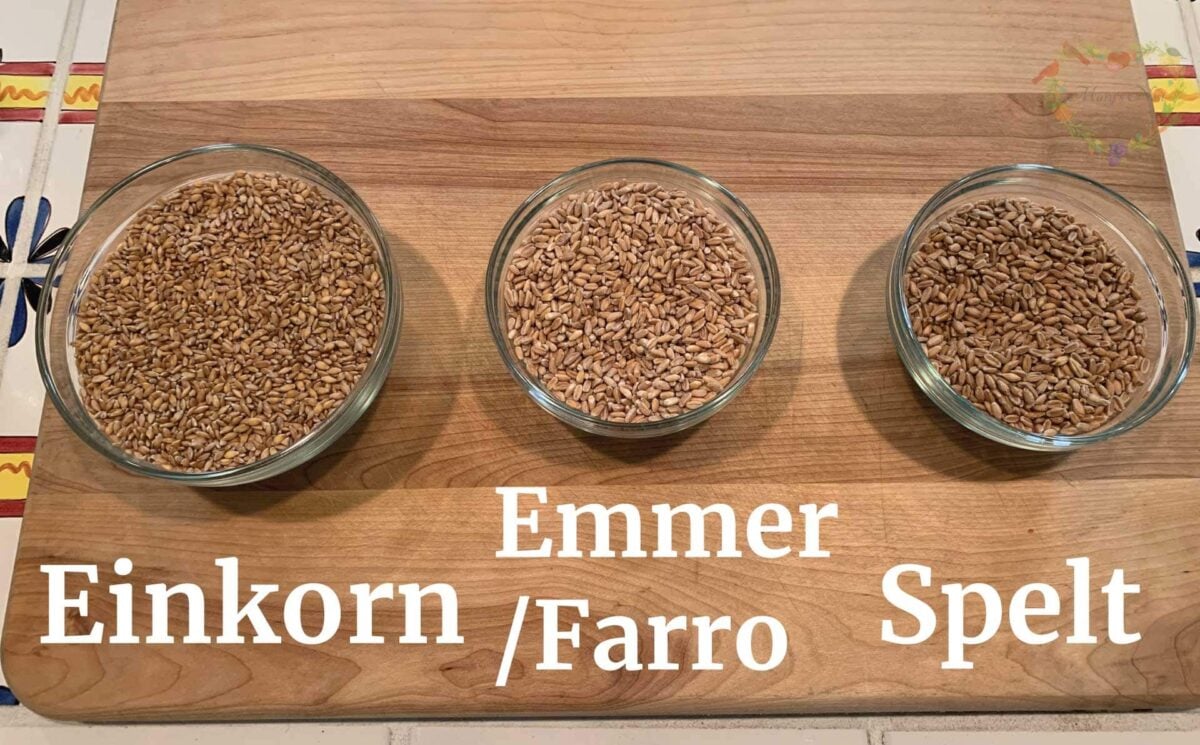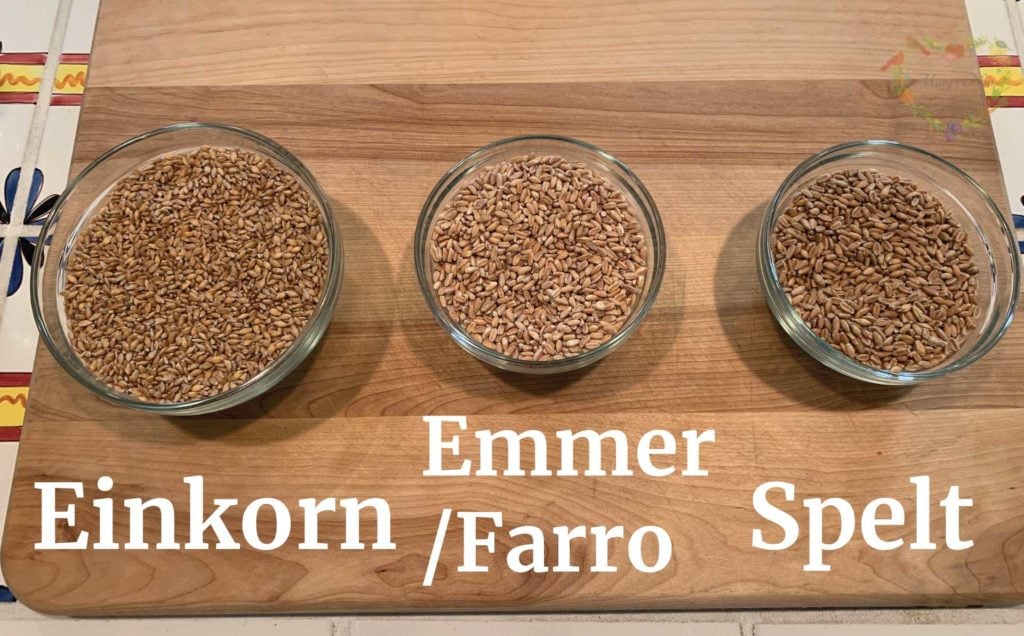 I usually keep the whole grain on hand and then use my Mockmill grain mill to grind my grain into fresh Spelt flour. It can't be beat! Then, if I want to bake with the whole grain Spelt flour, I'm all set.
But if I want to bake with a homemade version of all-purpose Spelt flour, all I have to do is use a baker's sifter to remove as much of the bran and germ from the whole-grain Spelt flour as possible. In the video below, I show you how I grind grain using my Mockmill grain mill and then create an all-purpose flour. (In the video, I'm grinding whole-grain Einkorn, but the technique applies to any whole grain, including Spelt.)
Learning More About Wheat Berries
To learn more about Spelt, Hard White Wheat, Emmer/Farro, Hard Red Wheat, Einkorn, and other wheat berries, watch my Wheat Berries FAQ video.
And if you've heard of Kamut, but weren't sure what it was, I've got you covered with another video too.
Stocking Your Baking Pantry
If you are a new home baker or even an experienced baker, check out my video below, where I share all the ingredients I recommend stocking in your Baking Pantry. You can download and print out my accompanying How to Stock Your Baking Pantry checklist too.
If you need gluten-free alternatives, I'll show you three ways to make gluten-free flour mixes, including all purpose, whole grain, and a cookie mix. And be sure to download my Gluten-Free Flour Mixes Pantry List too.
Grind Your Own Flour with the Mockmill
When it comes to electric grain mills, after I did A LOT of research, I decided to buy a Mockmill. And am I so happy I did! The Mockmill is a very affordable but beautifully crafted German-made mill that stone grinds grain with settings ranging from 1 to 10—fine to coarse ground grain.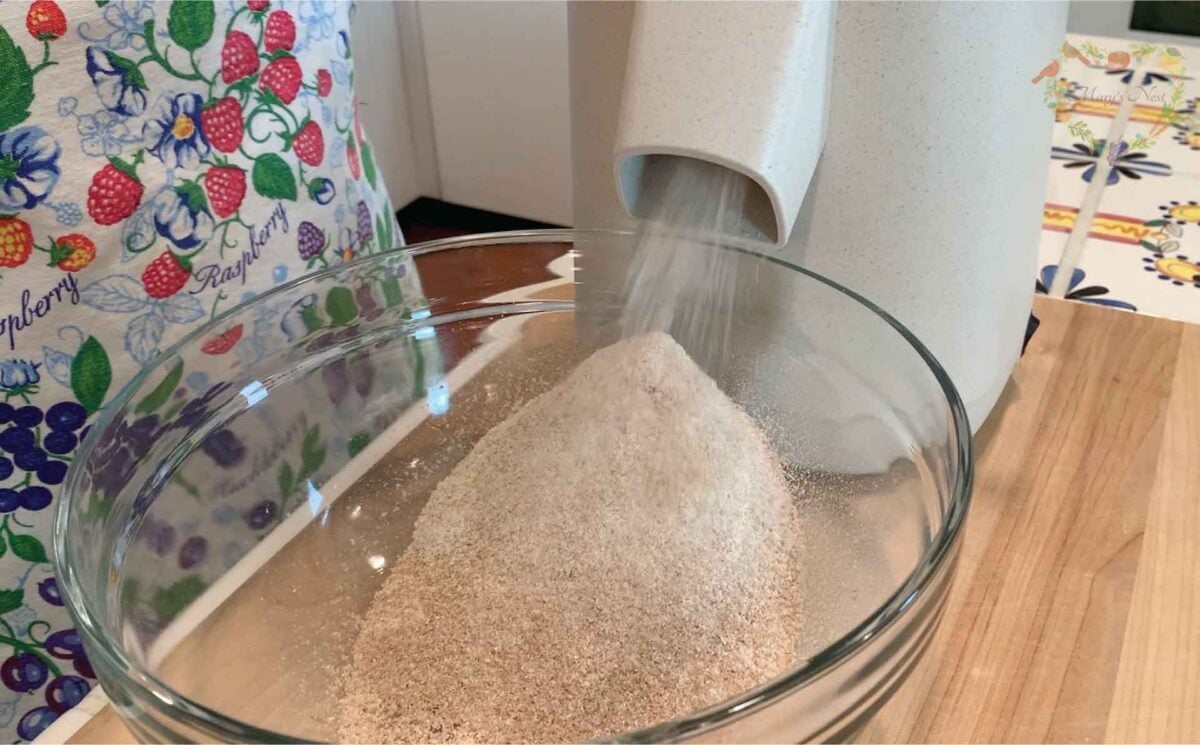 And I have great news! The folks at Mockmill are very kind to offer my viewers and readers a special one-time discount on any of the grain mills that they sell.
Note: You can also get the new Flake Lover's Flaker from Mockmill. Using this device, you can flake whole grain in minutes.
You can see me unbox and try out the Mockmill 100 Grain mill in the following video. (This is not a sponsored post, I bought the Mockmill products that I show you, and I'm a happy user of their devices in my kitchen.)
Redmond Real Salt
When it comes to using salt in my recipes, I always like to use a real salt that has not been processed and does not contain any extra added chemicals or anti-caking agents. Redmond real salt is perfect! And if you'd like to order Redmond Real Salt from their website, be sure to check out my Shopping Guide for a discount coupon code.
Cultures for Health
If you're looking for starter cultures from Milk Kefir to Cheese, see the products that Cultures for Health offers for making homemade cultured and fermented foods. And if you order from their website, be sure to use my MARYSNEST discount code for 15% off your purchase.
Download Your Free 36-Page Pantry List
For an extensive list of the traditional foods you can make and purchase to stock your pantry, be sure to download my free 36-page Traditional Foods Pantry List. This comprehensive eBook is full of links to recipe videos, helpful articles, and more!
Discover the perfect bread to serve with your Good Friday dinner.
Learn how a successful ferment can be the secret to creating a sourdough starter.
We continue our discussion about sourdough starter, including using rye flour and grapes.
Kitchen Academy Videos
Are you looking for more traditional foods videos? If so, I invite you to join the Traditional Foods Kitchen Academy. Members of this optional paid YouTube community get access to exclusive videos, live streams, and other members-only perks. Plus, your YouTube comments include a special members-only badge.
In the following members-only video, I talk about how to make any baking recipe a sourdough recipe.
Stay in Touch with Mary's Nest
Subscribe to My YouTube Channel for Traditional Foods Videos (Free) - When you subscribe, be sure to click on the notification bell that will let you know each time I upload a new video.
Subscribe to Mary's Traditional Foods Newsletter (Free) - Get a free 36-page eBook for signing up: How to Stock Your Essential Traditional Foods Four-Corners Pantry.
Join the Traditional Foods Kitchen Academy (Optional Paid) - For more detailed videos, live streams, and exclusive members-only perks, join my YouTube membership community.
Order The Modern Pioneer Cookbook (Optional Paid) - Get a printed book of Mary's nourishing recipes from a Traditional Foods Kitchen. This bestselling cookbook is published by Penguin Random House with their DK imprint.
I look forward to having you join me in my Texas Hill Country Kitchen!
Shop for items used in this blog post or video
Favorite Bread Making Supplies
Favorite Kitchen Supplies
More Kitchen Supplies with Discount Codes
Use my Mockmill affiliate link for a special one-time 5% discount on Mockmill Stone Grain Mill products, including the new Flake Lover's Flaker. (The Mockmill discount will appear when you checkout.)
Use promo code MARYSNST for a one-time 15% off Masontops and Breadsmart products on Amazon.com.
Amazon Shop and Shopping Guide
Recommended Reading
**Disclaimer: I am not a medical doctor, a medical professional, a dietician, or a nutritionist. All content found on the MarysNest.com website, including text, images, videos, eBooks or eGuides, social media, or other formats, were created solely for informational purposes only. The content is not intended to be a substitute for professional medical advice, diagnosis, or treatment. Always seek the advice of your physician or other qualified healthcare provider with any questions you may have regarding a medical condition or proper nutritional advice. Never disregard professional medical advice or delay in seeking it because of something you have watched in a video or read on this website. Use caution when following the recipe in this video. The creator and publisher of this video and website will not be held responsible for any adverse effects that may arise from the use of this recipe and method or any other recipe and method on this website or corresponding video channel.