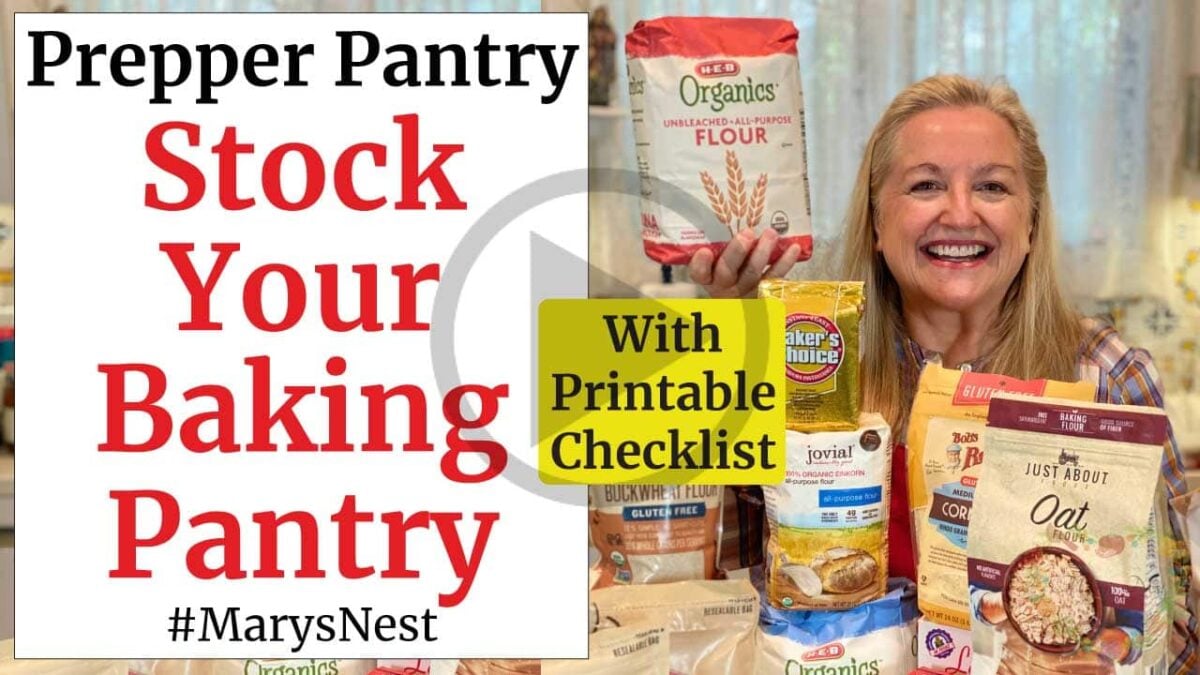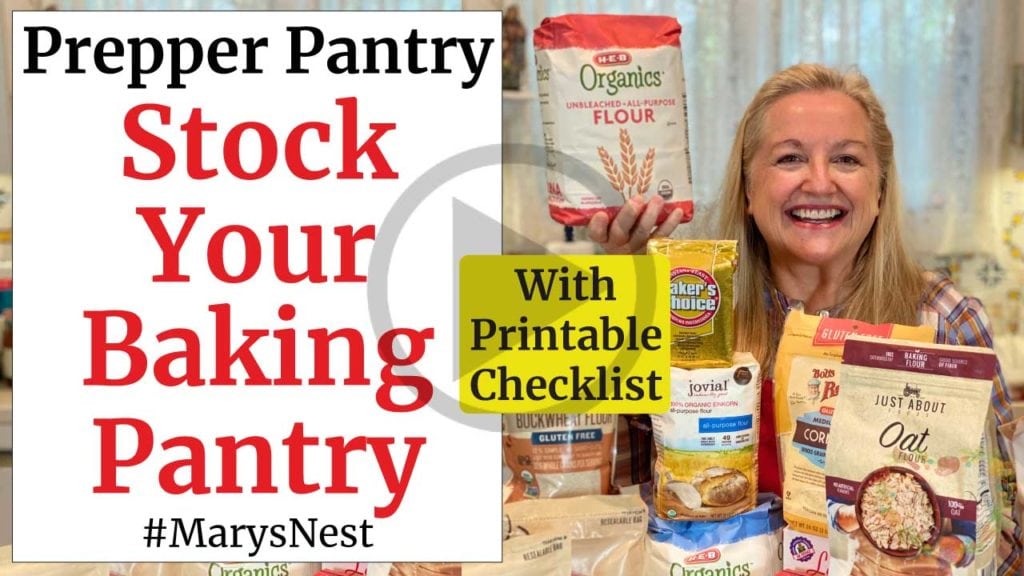 Learn how to stock your baking pantry with the best ingredients, including Gluten Free options. You'll be ready to bake anything!
And be sure to download my free How to Stock Your Baking Pantry PDF file that contains checklists for:
Basics to Get Started
Shelf-Stable Dairy and Alternatives
Sweeteners
Gluten-Free Alternatives
Ancient Grains
And More!
Bring my comprehensive checklist with you to the grocery store to make sure you have all the ingredients you need for all the wonderful and delicious baking projects you're planning this fall and winter.
Note: This is not a sponsored post. I bought and use everything I show you in my video and blog post.
Time to Stock the Baking Pantry
As traditional home cooks, we enjoy baking all year long. And when the fall and holiday season rolls around, we go into full baking mode! So now is the time to make sure we have all the baking ingredients on hand to be ready to bake anything.
Do you have all the ingredients you need to get started? Chances are you already have some basic baking ingredients in your pantry, such as flour, butter, and eggs. But what are the kinds of sweeteners, add-ins, flavorings, and other ingredients you should stock in your pantry?
In my comprehensive video and this blog post, I talk about the basic baking ingredients you want to have in your pantry. I also discuss a variety of the best sweeteners, ancient grains, gluten-free alternatives, and more.
Download Your FREE How to Stock Your Baking Pantry Checklist
To make it easy for you to stock your pantry with baking ingredients, I prepared a free printable How to Stock Your Baking Pantry PDF file that you can download.
Print out my checklist or store it on your mobile phone and use it as your shopping list when you go to the grocery store to ensure you have everything you need to start baking.
Download my free Great Depression Pantry Shopping Guide to identify the Depression Era Foods you need to stock to weather difficult times.
Learn about the herbs, spices, and supplies you need to create an extensive set of healing preparations.
Time to do an inventory and restock your Prepper Pantry.
Whole Grains for Your Baking Pantry
As you make the transition from a processed foods kitchen to a traditional foods kitchen, don't forget about starting to add some healthier whole grain flours (and whole sweeteners, like Sucanat) into your baking pantry as well.
Now is also the time to start incorporating actual whole grains into your baking repertoire. Whole grains have a long shelf life—much longer than whole grain flours.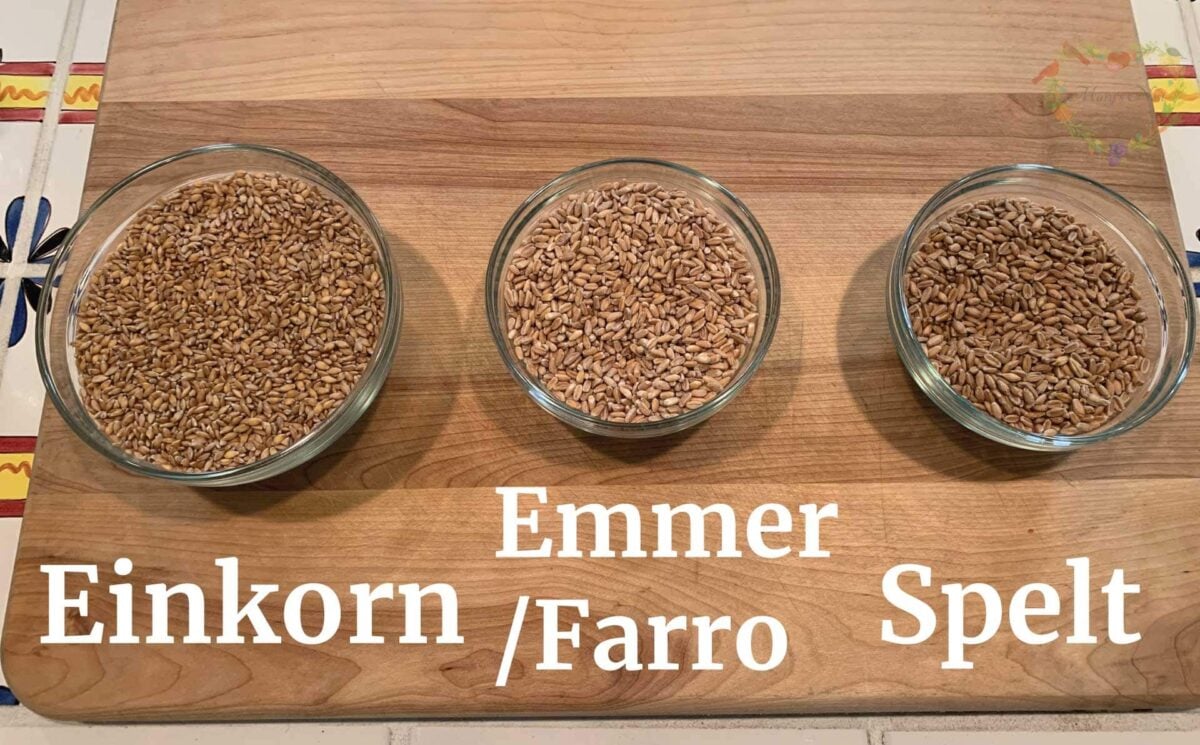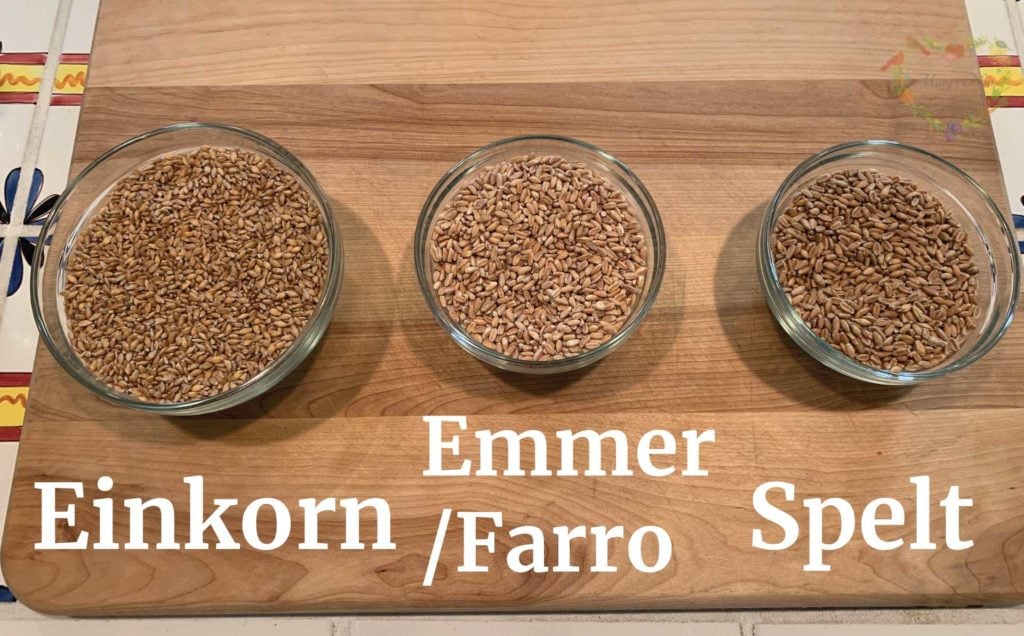 As you start to include actual whole grains into your baking pantry, be sure to consider adding ancient grains like Einkorn and Spelt. These grains are lower in gluten (albeit not gluten-free), and many people find these ancient grains to be more digestible than modern-day wheats.
Milling Whole Grains from Your Baking Pantry
If you decide to start baking with whole grains, you will need a grain mill to grind the grains into flour. In my Three Ways to Make Flour video, I share different options for grinding grain into flour, but I will tell you here that my all-time favorite grain mill is the Mockmill.
And I have great news! The folks at Mockmill are very kind to offer my viewers and readers a discount on the grain mills and grains (including ancient grains!) that they sell.
This is not a sponsored post. I bought my Mockmill 100 Grain mill and fell in love with it. You can see me unbox and try out my Mockmill 100 Grain mill in the following video.
Get Started Baking Bread with These Recipes
Be sure to watch my comprehensive Best Baking Ingredients video to learn about the ingredients you'll want to have well-stocked in your baking pantry so you can start baking with confidence.
And if you're looking for baking ideas, check out the following sections with links to baking videos and recipes. For example, the first recipe video shows you one of the easiest sandwich breads you'll ever make. (And this bread recipe is the perfect place for beginning bakers to start!)
Beginner Sandwich Bread Making
Never made bread before? Or are you tired of kneading the typical sandwich bread dough? No problem! This no knead sandwich bread recipe is so easy you'll be amazed. (And this recipe video has over 1 million views!)
Just mix the wet sticky dough, plop it in a pan, let it rise a bit, and bake. That's it! You'll never want to buy tasteless, expensive sandwich bread in the plastic wrapper at the grocery store again!
If you're looking for a Whole Wheat sandwich bread, I have you covered in the following recipe video.
Advanced Sourdough Bread Making
Ready to try your hand at sourdough? Give this Fast No Knead Sourdough a try. It's an excellent place for beginning sourdough bakers to start because you only let the dough "sour" for a few hours as opposed to the typical twelve hours.
Is this technically real sourdough? No, but if you have never made sourdough bread—or tasted sourdough bread—this is the perfect recipe to gradually introduce your taste buds to the complex flavor of sourdough. You can get started with sourdough without going all-in with the full sourdough taste that can often be too "sour" for beginners.
More Sourdough Bread Recipes
Once your palate gets used to enjoying the taste of real sourdough, you'll want to explore making more sourdough breads. There are so many delicious recipes to choose from.
For a complete guide for how to make a sourdough starter, maintain it, and deal with any problems that might arise, be sure to check out my Complete Sourdough Starter Guide.
If your starter is nice and active, it's time to dive right into making a loaf of real sourdough bread. In the video below, I walk you through the entire process step by step. This video is perfect for beginners or experienced bakers who want a refresher on the sourdough baking process.
How to Store Your Whole Grain
Once you incorporate actual whole grains into your baking pantry, you'll want to learn about your options when it comes to grinding grains into flour. Earlier, I talked with you about my video covering how best to store your whole grains and three ways to grind grain to make flour.
When you stock up on real foods for your traditional foods kitchen, you want to make sure that you store them in the best way possible to extend their shelf life for as long as possible.
For more information on how to store whole grains and other shelf-stable foods, be sure to check out my Best Food Storage Supplies video.
Thrifty Kitchen and Inflation-Proof Pantry
Stock up, keep your food fresh, and don't waste anything! Stretching our food dollar these days is more important than ever, and in the following video, I talk about How to Run a Thrifty Kitchen with a Free Checklist.
You can also watch the following video where I talk about five steps you can take to inflation-proof your Prepper Pantry.
Homemade Baking Mixes for Your Baking Pantry
When it comes to a well-stocked baking pantry, think about making your own homemade baking mixes. You won't need to buy boxed mixes with odd ingredients at the grocery store again! In the videos below, I show you how to make mixes for cakes, cookies, brownies, pancakes, and more.
Baking Pantry Add-ons
With your basic baking ingredients on hand, you will also want to think about adding specialty ingredients or what I like to call baking pantry add-ons. I go into lots of detail in my Best Baking Ingredients video, including recommending some gluten-free options. Basically, you want to start thinking about your specialty flours and ingredients, including:
Arrowroot Flour (gluten-free – "GF")
Buckwheat Flour (GF)
Cake Flour
Coconut Flour (GF)
Cornstarch (GF)
Italian "00" Flour
Oats and Oat Flour (GF)
Rye flour
Semolina Flour
Stone Ground Cornmeal (GF)
Tapioca (GF)
White Rice Flour (GF)
Xanthan Gum (GF)
(You'll find these ingredients listed in my free How to Stock Your Baking Pantry download.)
These ingredients will help round out your baking pantry and offer you expanded options for baking recipes, like cornbread, pantry oatmeal bread, pizza, and rye bread, as I show you in the following baking videos.
Homemade Ingredients for Your Baking Pantry
Have you ever started a baking recipe and suddenly realized you don't have what you need? And what if you can't get to the grocery store with your recipe list or my How to Stock Your Baking Pantry checklist?
Oftentimes, you can make substitutions or make a homemade version of what you need. In the videos below, I show you how to make a whole host of baking ingredients that you won't need to buy again!
Dairy Ingredient Substitutes for Your Baking Pantry
It's easy to make homemade butter, and you can take it one step further and create the most nutritious cultured butter. It's simple to make since the cream basically does all the work for you.
Plus, you get the benefit of the by-product of making homemade butter—an incredibly versatile ingredient: REAL buttermilk!
No buttermilk on hand? No problem. If you have milk, you can make a buttermilk substitute that will work just like real buttermilk (or grocery store buttermilk) in any recipe! I show you how to do this in my How to Make Buttermilk Substitute video, and it really couldn't be easier!
If you are getting ready to make a sour cream coffee cake and you suddenly realize you don't have any sour cream, just watch the video below and learn how simple it is to make your own sour cream.
And just like sour cream, it's also a simple process to make your own "mock" cream cheese that can be served all on its own or used in any recipe. No one will ever know you didn't buy it at the grocery store. And when you tell them your cream cheese is homemade, they'll be clamoring for the one-ingredient recipe! Yes, one ingredient!
Ever wondered what the difference was between condensed milk and evaporated milk? Learn all about these two superb baking pantry staples in the videos below, including the steps for how to make them. And I share a few tips and tricks so that they both come out perfect every time!
Homemade Extracts for Your Baking Pantry
Vanilla extract, citrus extract, coffee extract, cinnamon extract, and more! All of these extracts are easy to make right in your own kitchen. And best of all, your vanilla extract is what is known as a perpetual extract that literally can live on in perpetuity! I kid you not!
More Baking Recipes
Now that you have your baking pantry well-stocked, be sure to try making these delicious baking treats, including old-fashioned apple fritters and cowboy cookies.
If you've never heard of cowboy cookies, you're in for a real treat! They are packed with all sorts of goodies, including rolled oats, chocolate chips, nuts, and more! Yum!
Holiday Baking Recipes
For our upcoming Christmas and holiday season, try these baking recipes to bring the warmth and taste of the season into your kitchen!
Learn More About Ancient Grains
If you are new to the idea of stocking whole grains in your baking pantry, check out the videos below, where I introduce you to modern wheat berries, ancient grains, and the whole grains you need in your pantry.
How to Create Your Prepper Pantry
Stocking your baking pantry is just one part of your complete pantry. And given the uncertain times we are living through right now, you not only want to have a well-stocked working pantry, but you also want to keep a well-stocked Prepper Pantry.
If the term Prepper Pantry is new to you, watch the video below where I explain exactly what a Prepper Pantry is and why we all need one!
As you get ready to stock your Prepper Pantry, the good news is that you don't need any fancy and expensive freeze-dried food. You will be amazed to learn that real foods from your local grocery store can last a long time in your pantry! I go over all of this and more, plus how to stock your Prepper Pantry by adding as little as an extra $5 per week to your grocery budget.
How to Create an Emergency Pantry
When it comes to stocking our working pantry and Prepper Pantry, we want to keep in mind that sometimes we may be in an emergency situation where we have no electricity, no water, or neither of each! That is why it is so important to dedicate part of your Prepper Pantry to stocking an emergency food supply.
Be sure to watch the video below and print out the FREE checklist and meal plan that can help you get through power outages and interruptions in water supplies.
Download Your Free 36-Page Pantry List
No matter where you are on your journey from transitioning from a processed foods kitchen to a Traditional Foods Kitchen, my FREE Essential Traditional Foods Pantry list is here to help.
For a comprehensive list of the traditional foods you can make and purchase to stock your pantry, be sure to download my free 36-page Traditional Foods Pantry List. This comprehensive eBook is full of links to recipe videos, helpful articles, and more!
You also find links to videos and printable recipes for how to make meals using all your real food ingredients. Don't miss adding this free eBook to your kitchen library.
Kitchen Academy Videos
Are you looking for more traditional foods videos? If so, I invite you to join the Traditional Foods Kitchen Academy. Members of this optional paid YouTube community get access to exclusive videos, live streams, and other members-only perks. Plus, your YouTube comments include a special members-only badge.
In the following members-only video, I talk about Whole Grain Baking for the Traditional Foods Kitchen.
Stay in Touch with Mary's Nest
Subscribe to My YouTube Channel for Traditional Foods Videos (Free) - When you subscribe, be sure to click on the notification bell that will let you know each time I upload a new video.
Subscribe to Mary's Traditional Foods Newsletter (Free) - Get a free 36-page eBook for signing up: How to Stock Your Essential Traditional Foods Four-Corners Pantry.
Join the Traditional Foods Kitchen Academy (Optional Paid) - For more detailed videos, live streams, and exclusive members-only perks, join my YouTube membership community.
Order The Modern Pioneer Cookbook (Optional Paid) - Get a printed book of Mary's nourishing recipes from a Traditional Foods Kitchen. This bestselling cookbook is published by Penguin Random House with their DK imprint.
I look forward to having you join me in my Texas Hill Country Kitchen!
---
Shop for items used in this blog post or video
Favorite Kitchen Supplies
Flours
Wheat Berries
Yeasts
Sugars
Milks
Additional Baking Supplies
More Kitchen Supplies with Discount Codes
Learn more about Mockmill electric grain mills for making fresh flour and their Flake Lover's Flaker that flakes whole grain in minutes.
Use promo code MARYSNST for a one-time 15% off Masontops and Breadsmart products on Amazon.com.
Amazon Shop and Shopping Guide
Visit my Shopping Guide page
Get up to 15% off for stocking your Traditional Foods Pantry and equipping your Modern Pioneer Kitchen, including discounts from US Wellness Meats, Farmhouse Teas, Lehman's, Masontops, Cultures for Health, Survival Garden Seeds, Redmond Real Salt, Plan to Eat, and More!
Recommended Reading
**Disclaimer: I am not a medical doctor, a medical professional, a dietician, or a nutritionist. All content found on the MarysNest.com website, including text, images, videos, eBooks or eGuides, social media, or other formats, were created solely for informational purposes only. The content is not intended to be a substitute for professional medical advice, diagnosis, or treatment. Always seek the advice of your physician or other qualified healthcare provider with any questions you may have regarding a medical condition or proper nutritional advice. Never disregard professional medical advice or delay in seeking it because of something you have watched in a video or read on this website. Use caution when following the recipe in this video. The creator and publisher of this video and website will not be held responsible for any adverse effects that may arise from the use of this recipe and method or any other recipe and method on this website or corresponding video channel.