How to Make a Buttermilk Substitute – 4 Simple Substitutions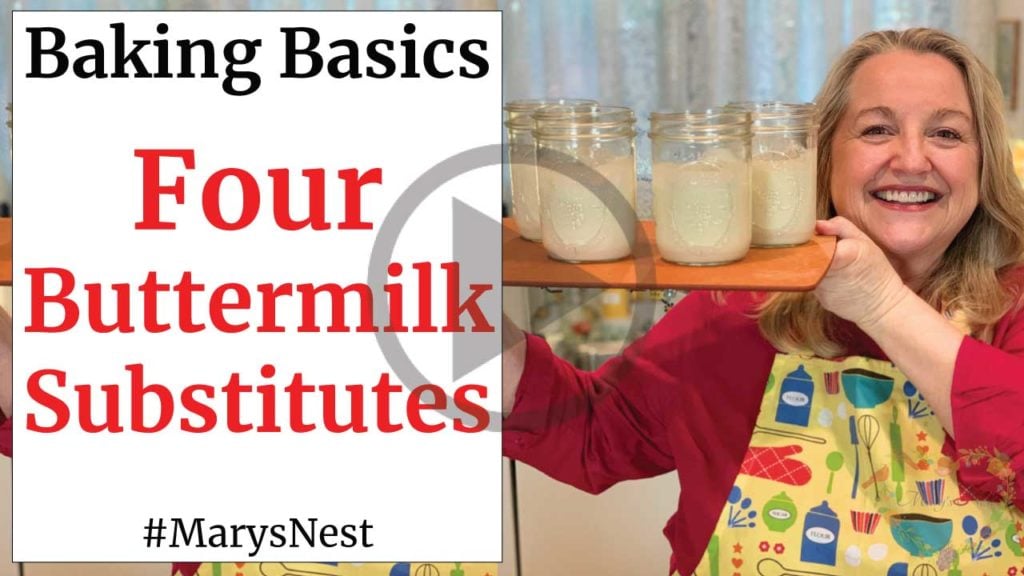 As part of my ongoing Baking Basics series, I'm sharing with you How to Make a Buttermilk Substitute. Not just one substitute, but 4 simple substitutions that you can easily make. Any one of these substitutes can be used in any recipe that calls for Buttermilk.
What? No Buttermilk!
Have you ever started to make a recipe, and you come to the ingredient list where it says buttermilk, and you realize that this ingredient is not a staple that you keep in your fridge? I understand completely!
But now, with the substitutions that I show in my video, you can have a mock-buttermilk whenever you need it. Chances are you'll have at least one of these ingredients on hand so that you can continue with your main recipe without interruption!
It Easy to Make Substitutes
My video will show you four simple ways to make buttermilk substitutes that include:
Adding an acidic medium like vinegar or lemon juice to milk and letting it curdle.
Thinning yogurt with a bit of milk.
Thinning sour cream with a bit of milk.
Adding a bit of cream of tartar to milk and letting it curdle.
After you follow one of my simple techniques, you've got buttermilk! How easy is that? Be sure to watch the Buttermilk substitutes video where I show you the right proportions for each formulation and share a few tips and tricks to help you get the perfect results every time.
More Baking Basics Videos
For more Baking Basics, try your hand at making these other recipes, including:
10 Flavored Extracts including a "Perpetual" Vanilla Extract
Condensed Milk as well as Evaporated Milk (Yes, they're two different forms of milk)
Natural Food Colorings
And in case you've ever wondered how to make REAL Buttermilk, be sure to watch the video where I show you how to make Homemade Cultured Butter…which creates buttermilk as a by-product! It's a two for one recipe!!
Stay in Touch with Mary's Nest
Subscribe to My YouTube Channel for Traditional Foods Videos (Free) - When you subscribe, be sure to click on the notification bell that will let you know each time I upload a new video.


Subscribe to Mary's Traditional Foods Newsletter (Free) - Get a free eBook for signing up: How to Stock Your Essential Traditional Foods Four-Corners Pantry.


Join the Traditional Foods Kitchen Academy (Optional Paid) - For more detailed videos, live streams, and exclusive members-only perks, join my YouTube membership community.
I look forward to having you join me in my Texas Hill Country Kitchen!
Love,
Mary
♥
Shop for items used in this blog post or video
Favorite Buttermilk Substitute Making Supplies
Recommended Reading
Amazon Shop and Shopping Guide
Visit my Shopping Guide page
Learn where I buy my Beef Bones, Wild-Caught Fish, Sprouted Grains, and more…and learn about Special Discounts for Mary's Nest visitors, including from US Wellness Meats, Vital Choice, Masontops, and Breadsmart.
*Affiliates note: As an Amazon Associate I earn from qualifying purchases. My videos and blog posts may contain affiliate links to products and services. If you click through and make a purchase, I'll receive a small commission. It does not affect the price you pay.
**Disclaimer: I am not a medical doctor, a medical professional, a dietician, or a nutritionist. All content found on the MarysNest.com website, including text, images, videos, eBooks or eGuides, social media, or other formats, were created solely for informational purposes only. The content is not intended to be a substitute for professional medical advice, diagnosis, or treatment. Always seek the advice of your physician or other qualified healthcare provider with any questions you may have regarding a medical condition or proper nutritional advice. Never disregard professional medical advice or delay in seeking it because of something you have watched in a video or read on this website. Use caution when following the recipe in this video. The creator and publisher of this video and website will not be held responsible for any adverse effects that may arise from the use of this recipe and method or any other recipe and method on this website or corresponding video channel.