How to Make Easy Homemade Flaked Cereal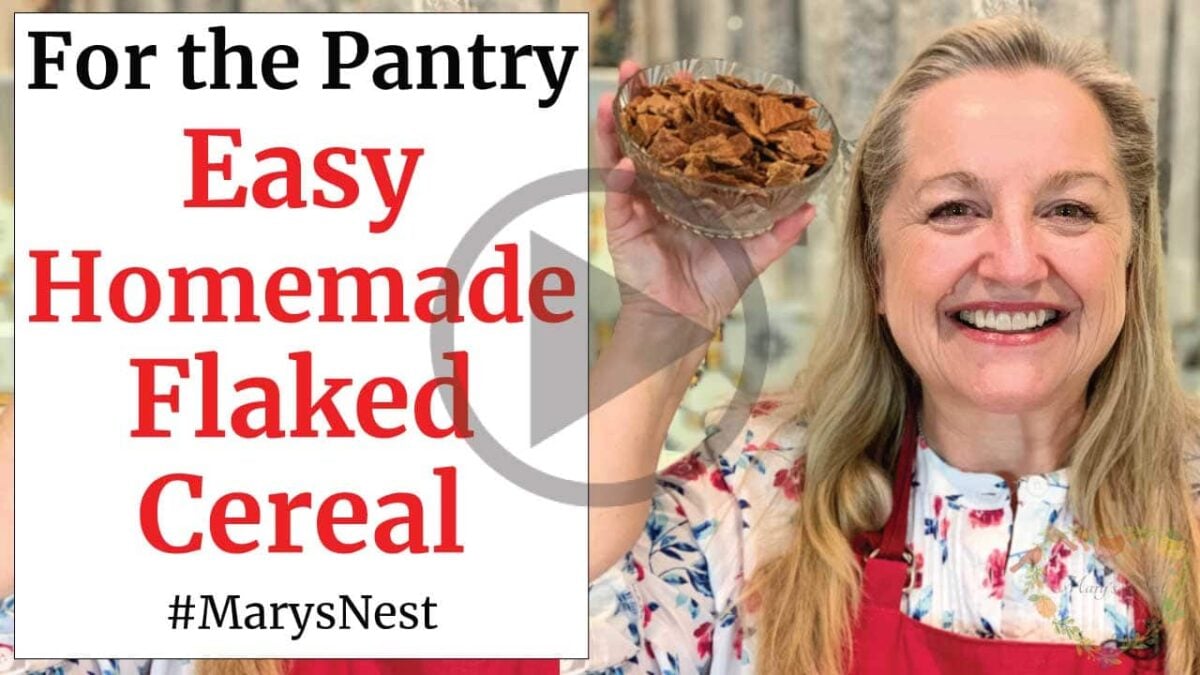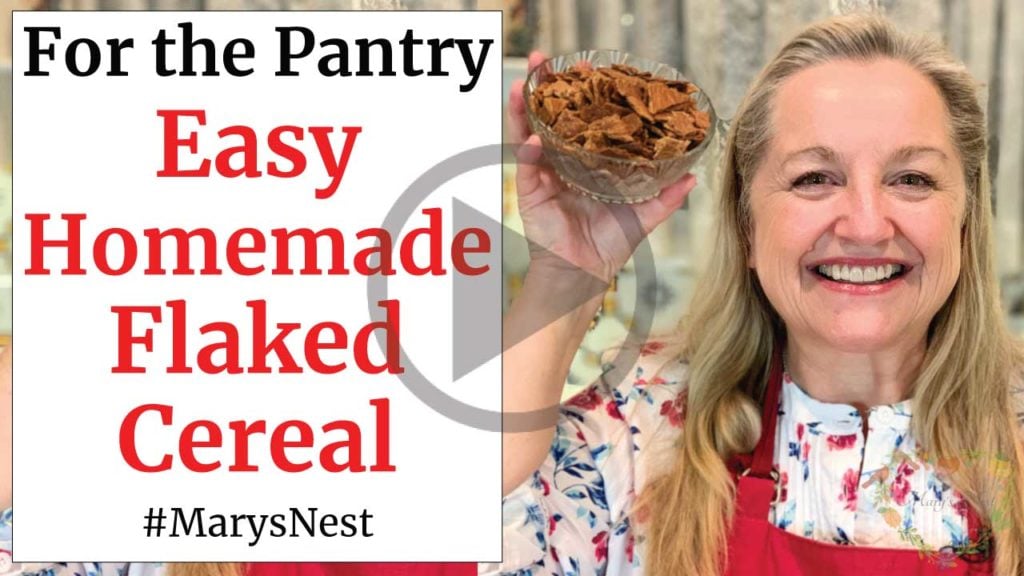 Learn how to make Flaked Cereal at home with this healthy cereal recipe. Use the ingredients you want, and you'll never have to buy boxed cereal again.
*Affiliates note: As an Amazon Associate I earn from qualifying purchases. My content may contain affiliate links to products and services. If you click through and make a purchase, I'll receive a small commission. It does not affect the price you pay.
Why Make Homemade Flaked Cereal?
The grocery store offers so many boxed cereal choices, so why would we ever want to make it homemade? First, boxed cereal can be costly in comparison to making a homemade version. A 15-ounce box of flaked wheat cereal (less than a pound!) can easily cost you about $4.00. You can probably make that same amount in your kitchen for less than $1.00!
But the issue of nutrition is even more important. Unfortunately, to make the processed cereal flakes, puffs, "O" s, etc., that you see at the grocery store, the whole grain needs to go through a process known as "extrusion."
Keep Your Cereal Nutritious Without Extrusion
The American Association of Cereal Chemists observed that the extrusion process creates new proteins (that might be damaged or "denatured" proteins) that are not found in the original grain and that these proteins may create nervous system problems. (Cereal Chemistry, American Association of Cereal Chemists, Mar/Apr 1998 V 75 – 2, pp. 217-221)
The extrusion process can denature protein, and this process can lead to a loss of essential amino acids, including lysine, arginine, histidine, cysteine, methionine, and tryptophan. (You can read more about this finding in section 2.2 of this scientific article on Extrusion.)
By making a homemade Flaked Cereal, you avoid the extrusion process and protect the proteins in the whole grain that you use to make your cereal.
What Type of Whole Grain is Best for Flaked Cereal?
A nice feature about making your own homemade Flaked Cereal is that you can use any whole grain flour you want. You can use the whole wheat flour that is easy to find at most grocery stores.
However, if you are farther along on your journey transitioning from a processed foods kitchen to a traditional foods kitchen, you can certainly make this cereal using any ancient grain flour, including whole grain Einkorn or Spelt flours. And as I show you in the following video, you can even make your own Einkorn flour at home.
Can You Use Sprouted Flour to Make Flaked Cereal?
You can use sprouted flour to make homemade flaked cereal. In fact, using sprouted flour is a time saver because you get to skip one of the steps in the recipe.
If you would like to learn how to make your own sprouted flour, watch my sprouted flour tutorial video where I walk you through the process with step-by-step instructions.
More Wholesome Breakfast Recipes
If you are looking for more wholesome breakfast recipes, check out the following videos.
I highly recommend you try the blender batter pancakes and waffles. You won't believe how easy they are to make and how light, fluffy, and delicious they are. No one will ever know that you made them using whole grains! Yes, that's right. You use the whole grain. You don't even need to turn the grain into flour first.
More Pantry Recipes
And if you would like to create your own flavored extracts to use when making your homemade Flaked Cereal or other baked goods, be sure to watch the following videos. I show you how to make your own "perpetual" vanilla extract along with nine other flavored extracts. These extracts are more staples for your pantry that you'll never have to buy again!
And speaking of your pantry, be sure to download my free 36-page pantry list eBook to learn about all the homemade and store-bought products you can store in your Four Corners Pantry.
Stay in Touch with Mary's Nest
Subscribe to My YouTube Channel for Traditional Foods Videos (Free) - When you subscribe, be sure to click on the notification bell that will let you know each time I upload a new video.
Subscribe to Mary's Traditional Foods Newsletter (Free) - Get a free 36-page eBook for signing up: How to Stock Your Essential Traditional Foods Four-Corners Pantry.
Join the Traditional Foods Kitchen Academy (Optional Paid) - For more detailed videos, live streams, and exclusive members-only perks, join my YouTube membership community.
Order The Modern Pioneer Cookbook (Optional Paid) - Get a printed book of Mary's nourishing recipes from a Traditional Foods Kitchen. This bestselling cookbook is published by Penguin Random House with their DK imprint.
I look forward to having you join me in my Texas Hill Country Kitchen!
Shop for items used in this blog post or video
Favorite Cereal Making Supplies
Amazon Shop and Shopping Guide
Recommended Reading
**Disclaimer: I am not a medical doctor, a medical professional, a dietician, or a nutritionist. All content found on the MarysNest.com website, including text, images, videos, eBooks or eGuides, social media, or other formats, were created solely for informational purposes only. The content is not intended to be a substitute for professional medical advice, diagnosis, or treatment. Always seek the advice of your physician or other qualified healthcare provider with any questions you may have regarding a medical condition or proper nutritional advice. Never disregard professional medical advice or delay in seeking it because of something you have watched in a video or read on this website. Use caution when following the recipe in this video. The creator and publisher of this video and website will not be held responsible for any adverse effects that may arise from the use of this recipe and method or any other recipe and method on this website or corresponding video channel.