Affiliates note: As an Amazon Associate I earn from qualifying purchases. My content may contain affiliate links to products and services. If you click through and make a purchase, I'll receive a small commission. It does not affect the price you pay.
How to Make Whole Grain Blender Batter Pancakes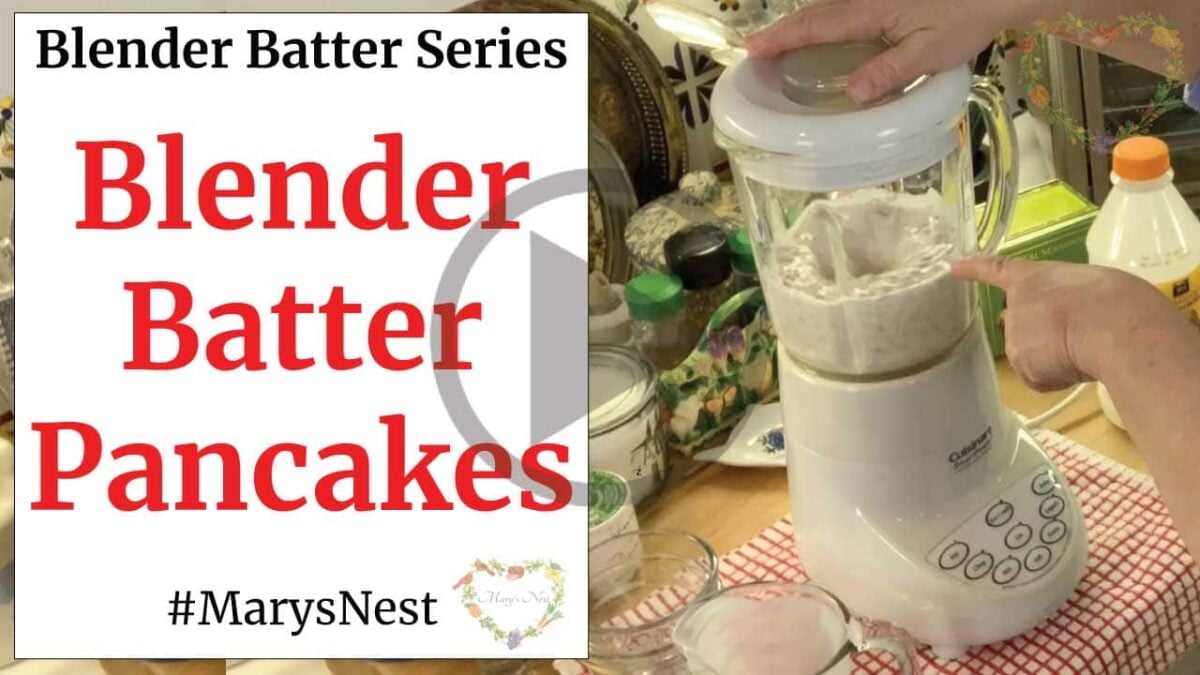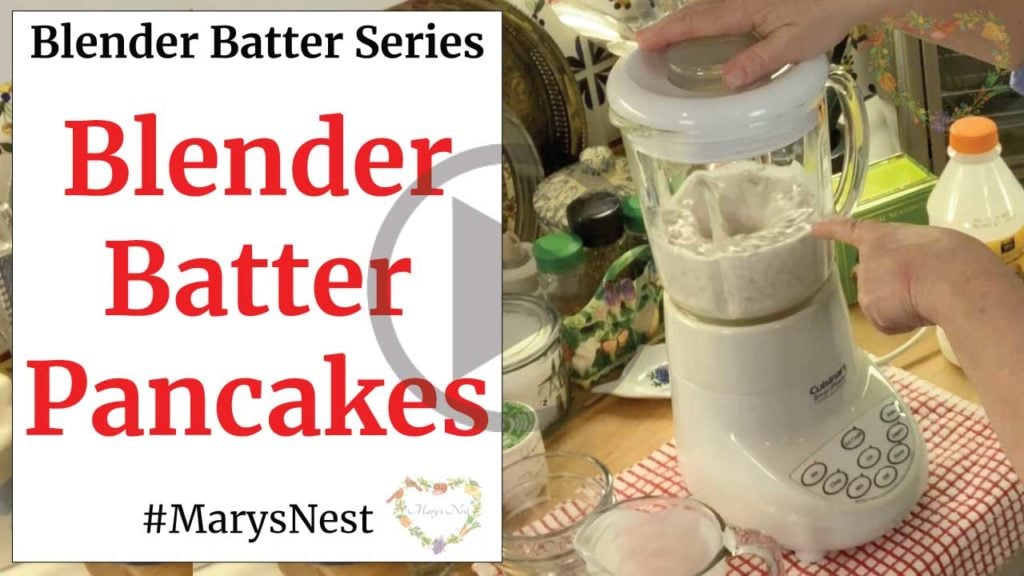 Learn how to make Whole Grain Blender Batter Pancakes using the actual whole grain and a simple blender. No special equipment required!
*Affiliates note: As an Amazon Associate I earn from qualifying purchases. My content may contain affiliate links to products and services. If you click through and make a purchase, I'll receive a small commission. It does not affect the price you pay.
Whole Grain Blender Batter Pancakes
Is it possible to make whole-grain pancakes with fresh whole grain flour without a grain mill? You bet! Home cook Sue Gregg popularized this revolutionary and straightforward technique for those who want to incorporate fresh whole grains into their baking but have not yet purchased a grain mill.
To make whole grain blender batter pancakes, all you need are whole grains of your choice and a simple blender. No high-speed blender required! You'll add the whole grains to your blender along with some liquid, and you'll whirl the two together, making sure there is a vortex in the middle of the mixture. I show you how easy this is to do in my recipe video.
Making the Grains Easier to Digest
Once you whirl the grains and liquid together, you'll let the entire mixture soak overnight, and this process neutralizes some of the phytic acid in the grains. Don't worry if you have never heard of phytic acid before. All you need to know is that you make the grains easier to digest and the nutrients easier for your body to assimilate by deactivating some of the phytic acid.
You can learn more about phytic acid in Sally Fallon's book Nourishing Traditions.
Sue Gregg and Blender Batter Pancakes
If you are intrigued by the idea of Blender Batter Pancakes and the Blender Batter Method, check out some of Sue's amazing cookbooks. Using her unique method, you'll expand your recipe repertoire using more whole grains to make delicious and nutritious meals.
More Blender Batter Recipes
If you enjoyed making Blender Batter Pancakes, try out these other delicious blender batter recipes, including whole grain waffles and a simple quick bread.
When You're Ready for a Grain Mill
Although the Blender Batter Method provides an excellent way for you to introduce freshly-ground whole grains into your diet, it has its limitations. Pancakes, waffles, and quick breads can turn out great with this method, but when it comes to making sourdough breads or yeast-risen bread with freshly milled whole grains, you really need a grain mill.
When it comes to grain mills, there are many options available. After my extensive research, I decided to buy the very affordable, German-made Mockmill. And I am SO happy I did, and I have wonderful news to share with you.
If you are interested in purchasing a Mockmill, the wonderful folks over at Mockmill have provided me with a discount coupon code for my sweet friends. You can use the discount for any of their grain mills and the many whole grains they sell, including the ancient grains Einkorn and Spelt.
Stay in Touch with Mary's Nest
Subscribe to My YouTube Channel for Traditional Foods Videos (Free) - When you subscribe, be sure to click on the notification bell that will let you know each time I upload a new video.
Subscribe to Mary's Traditional Foods Newsletter (Free) - Get a free 36-page eBook for signing up: How to Stock Your Essential Traditional Foods Four-Corners Pantry.
Join the Traditional Foods Kitchen Academy (Optional Paid) - For more detailed videos, live streams, and exclusive members-only perks, join my YouTube membership community.
Order The Modern Pioneer Cookbook (Optional Paid) - Get a printed book of Mary's nourishing recipes from a Traditional Foods Kitchen. This bestselling cookbook is published by Penguin Random House with their DK imprint.
I look forward to having you join me in my Texas Hill Country Kitchen!
Whole Grain Blender Batter Pancakes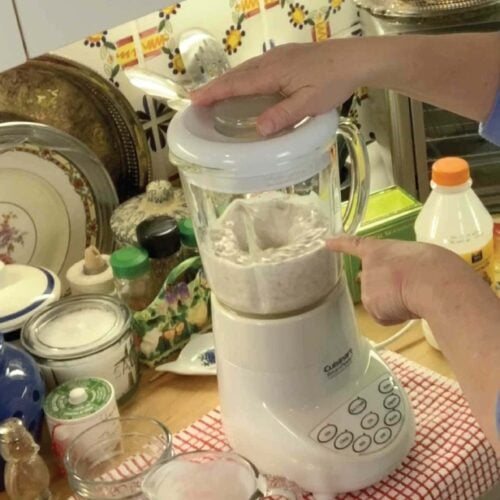 Make pancakes using freshly-ground whole grains.
Ingredients
1

cup

Whole grain such as whole wheat berries, Einkorn, spelt, etc.

Whole oat groats may be used, but only up to 1/2 cup can be substituted for the whole grain.

1 – 1 ¼

cups

Buttermilk

More if needed to maintain the "vortex." (See video.) Alternatively, you can use other acid-based liquid, such as water with a tablespoon of apple cider vinegar, lemon juice, or whey added.

1

large

Egg

1

tsp

Vanilla extract

2

tbsp

Honey

Another whole sweetener may be substituted, such as maple syrup, sucanat, coconut sugar, etc.

½

tsp

Salt

½

tsp

Baking soda

1

tsp

Baking powder

1

tbsp

Butter, unsalted

Additional butter may be needed.
Instructions
Add whole grains to the blender along with 1 cup of buttermilk, and blend for at least one minute until the whole grains are completely pulverized, and the mixture is smooth. Add additional buttermilk if needed to maintain the vortex. (See video.)

Once the mixture is smooth, turn off the blender and allow the mixture to soak in the blender from 6-12 hours.

After allowing the mixture to soak, add the egg, vanilla, and honey and blend the mixture for 1 minute. Add more buttermilk if the mixture appears too thick to blend smoothly.

Stop the blender and add in salt, baking soda, and baking powder. Blend for approximately 10 seconds and turn off the blender.

In a frying pan, melt 1 tablespoon of butter over medium heat and ladle in approximately 1/2 cup of batter into the frying pan. After 2-3 minutes, bubbles should begin to appear on top of the pancake. When this happens, flip the pancake over and cook for another 30 seconds to 1 minute.

Transfer the cooked pancake to an oven-proof plate. To keep the cooked pancakes warm, place the plate in an oven preheated to 200°F. Alternatively, you can cover the cooked pancakes with a clean kitchen towel.

Continue cooking the pancakes, adding more butter to the frying pan if needed.

Once all the pancakes are cooked, serve them immediately and enjoy.

Well-wrapped pancakes can be stored in the refrigerator for 2-3 days and up to 3 months in the freezer.

To re-warm pancakes, place them on a lined baking sheet or a non-stick baking sheet and cover the pancakes on the baking sheet tightly with aluminum foil. Place in a preheated 350°F oven for 5-10 minutes until pancakes are heated through.
Notes
Don't flip the pancakes too early! The trick is to wait until you have plenty of bubbles on top and notice they start to pop and don't fill in.
Make sure to plan ahead when making whole grain blender pancakes. The grains need to soak at least six hours though longer is better.
If using oat groats, make sure you use half a cup of another whole grain along with it otherwise your pancakes will not have a great texture.
Find this recipe and video at https://marysnest.com/how-to-make-whole-grain-blender-batter-pancakes/
Copyright © 2021 Mary's Nest, LLC, All Rights Reserved
Nutrition
Calories:
291
kcal
|
Carbohydrates:
48
g
|
Protein:
11
g
|
Fat:
7
g
|
Saturated Fat:
4
g
|
Polyunsaturated Fat:
0.5
g
|
Monounsaturated Fat:
2
g
|
Trans Fat:
0.1
g
|
Cholesterol:
62
mg
|
Sodium:
653
mg
|
Potassium:
127
mg
|
Fiber:
7
g
|
Sugar:
12
g
|
Vitamin A:
279
IU
|
Vitamin C:
0.1
mg
|
Calcium:
176
mg
|
Iron:
2
mg
Watch Mary's Nest on YouTube
Shop for items used in this blog post or video
Favorite Kitchen Supplies
Use promo code MARYSNST for a one-time 15% off Masontops and Breadsmart products on Amazon.com.
Learn more about Mockmill electric grain mills for making fresh flour and their Flake Lover's Flaker that flakes whole grain in minutes.
Amazon Shop and Shopping Guide
Recommended Reading
**Disclaimer: I am not a medical doctor, a medical professional, a dietician, or a nutritionist. All content found on the MarysNest.com website, including text, images, videos, eBooks or eGuides, social media, or other formats, were created solely for informational purposes only. The content is not intended to be a substitute for professional medical advice, diagnosis, or treatment. Always seek the advice of your physician or other qualified healthcare provider with any questions you may have regarding a medical condition or proper nutritional advice. Never disregard professional medical advice or delay in seeking it because of something you have watched in a video or read on this website. Use caution when following the recipe in this video. The creator and publisher of this video and website will not be held responsible for any adverse effects that may arise from the use of this recipe and method or any other recipe and method on this website or corresponding video channel.