Learn all about the 3 best survival garden seed collections to buy now to stock in your Prepper Pantry. It may be November, but this is the perfect time to get your survival seeds because they are available and have a shelf life of 3 to 8 years.
These heirloom seeds are open-pollinated, non-GMO, and non-hybrid, and you can use my special code to get them at a discount!
Why Get Garden Seeds in the Fall and Winter?
With cold fronts moving across North America and everyone bundling up with the cooler weather, why should we think about vegetable and herb seeds in the fall and winter? Here are a few good reasons:
You're stocking the seeds for the long term in your Prepper Pantry. These are not just regular seeds; they are survival garden seeds!
You're looking for unique Christmas gifts for your Modern Pioneer in the kitchen and garden.
Your seeds will be ready for planting in the spring. You won't have to worry about the seeds being out of stock when everyone is trying to get them.
You may still be able to grow a fall garden and enjoy the fruits (or vegetables) of your labor in your climate zone.
Growing Plants in the Winter
You may be able to plant seeds and grow selected vegetables during the fall and winter seasons, depending on what climate zone you're in. Visit your local extension service website to learn more about the plants that do well in your area.
For example in Central Texas, I live in USDA Hardiness Zone 8b, which defines a specific climate area where plant life can optimally grow during selected times of the year. For my region, my local extension service guide shows that the following plants have a growing season during November and December:
Asian and other cool-season greens
Lettuce
Radish
Spinach
And when January rolls around, I can start planting a lot more vegetables, according to my Vegetable Garden Planting Guide. These plants and more will be able to enjoy the warmer and wetter spring months too.
But what about freezing weather, which we start to get in Central Texas around November 27th? My extension service says, "Plants that grow in winter will benefit from protection during freezing weather." So it's good advice to cover up any winter plants you may be nurturing during freezing or wintery weather.
Survival Garden Seeds
In my video, I show you seed packages that are not the typical seeds from your local big box store. Instead, these are survival garden seeds with a shelf life of 3 to 8 years. You don't have to plant these seeds right away. Rather, you can store the seeds in your Prepper Pantry for when you need them to create a kitchen garden.
You may want to create a backyard garden because you love homegrown vegetables and herbs and the joy of working in the garden and seeing your plants grow. But unfortunately, you may also need to plant your own vegetables for another stream of food for your family because you may not be able to readily get them from your grocery store.
Supply chain shortages, natural disasters, or a repeat of the problems we encountered in 2020 may prevent you from buying vegetables or other foods you are accustomed to. By growing your own food, you'll provide your family with the food you can enjoy at harvest time and afterward as you preserve any extra food you have. Having shelf-stable heirloom seeds can help you create the additional stream of food you need.
Discount Coupon on Survival Garden Seeds
I've been looking for heirloom and non-GMO vegetable seeds to restart my kitchen garden after not being able to enjoy a backyard garden this summer because of the terrible Texas drought in 2022. That is why I was delighted when my sweet friend Karly with Survival Garden Seeds contacted me and offered to send me some of their seed collections to peruse.
In my research into the best vegetable seeds, I had been considering their products, so I was glad to receive a sampling of their seeds and share their seed collections with you. This is not a sponsored post. I believe in the mission of this small family-owned company, and I'm glad to support them and share their products with you.
I am also happy that they've provided my viewers with a special MARYSNEST discount code to be able to get 10% off any of the three following products:
And while you're on their website, take a tour of the many seeds in their curated collections so you can choose the best ones to grow in your own Victory Garden or to store in your Prepper Pantry. They also have a free Growing Guide eBook you can download.
2022 Holiday Gift Guide: Here's a link to their special holiday gift guide where you may find other products that you and your family may enjoy.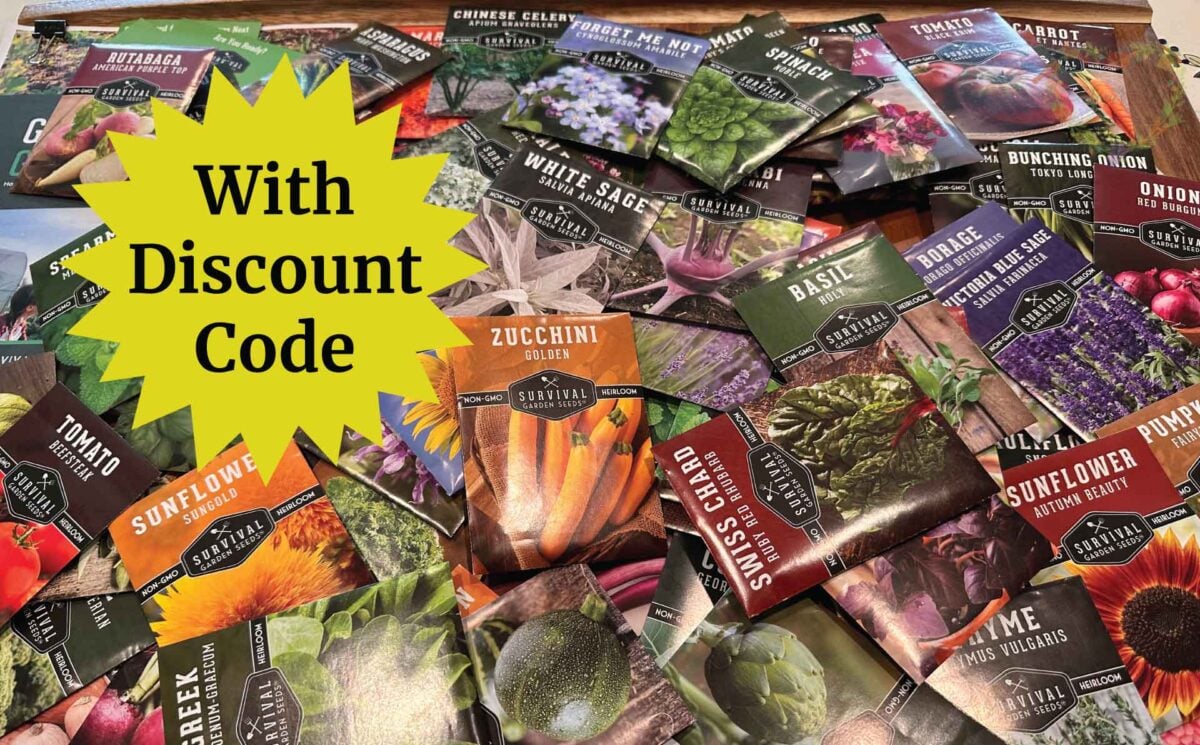 Create a Vegetable Garden from Scraps
Did you know that the vegetable scraps you may be tossing in your trash can actually grow into fresh vegetables? It's true. And it's very easy to do. In the video below, I show you how to take 10 kitchen scraps and get them started regrowing into new vegetables.
And then join my son and me as we plant our growing vegetable scraps in my kitchen garden.
Tour My Kitchen Garden
In the videos below, I share with you how I have a simple and relatively small kitchen garden, but even within those confines, I am able to produce a bumper crop of fresh vegetables and herbs! I hope this helps encourage you to get started gardening, even if all you have is a small space.
Want to learn more about small space gardening or what is commonly referred to as square foot gardening? Then be sure to check out my favorite book on the subject, All New Square Foot Gardening.
Grow Medicinal Herbs in Your Garden
When you have a vegetable garden, you also want to make sure that you include growing some herbs. Herbs provide variety to your garden and help attract insects and bees to help with pollination. And herbs also serve other purposes.
Herbs add flavor to your home-cooked dishes, and they also have medicinal properties. To learn more about the herbs I like to grow and keep in my pantry, be sure to watch the following videos.
More Garden Videos
When starting a garden or working in the one you have already established, you'll often find that you need various tools, stakes, pots, and more. Unfortunately, these items can be expensive when purchased new. Join me in the video below, where I share with you the garden treasures I rescued from the trash and put to good use in my kitchen garden. You can look for these finds too!
You know that I love books, so no discussion about gardening would be complete without me sharing some of my favorite garden design books.
All the publications in my top 10 best gardening books video will provide you with ideas and inspiration to create your own cozy kitchen garden. The books cover all types of gardens, even if all you have is a simple sunny windowsill.
Garden Harvest Recipes
Once you begin to grow your own vegetables and herbs, you can start to stock your pantry with your home canned goods. In the video below, I get you started with making everyone's favorite: Bread and Butter Pickles. Then I walk you through, step-by-step, how to home can them. This recipe is perfect for beginners to learn about water bath canning.
Mint is probably one of the easiest herbs to grow. So if you have some on hand, be sure to make this refreshing "Mocktail" that combines a combination of pineapple and fresh mint.
Create Your Prepper Pantry
You'll want to store your survival garden seeds for the long term in your extended or Prepper Pantry. But what if you don't have a Prepper Pantry? I'll show you how to create one over time with real food and a strategy that's within your budget.
However, if you want to accelerate stocking your Prepper Pantry, I'll show you how in the following video. And be sure to download the free printable inventory list too.
Masontops Mason Jar Fermentation Kit Discount Coupon
Once you harvest the vegetables grown from your survival garden seeds, you can ferment your leftovers to make them shelf-stable, so you can store them in your Prepper Pantry. This gives you another stream of food for yourself and your family.
Although you don't need any special equipment to start making ferments, the Masontops kit can help you simplify the process and enable you to create your ferment successfully. In my Masontops unboxing video, I show you my Masontops Complete Mason Jar Fermentation Kit and go over everything the kit includes.
Download Your Free 36-Page Pantry Listing
For an extensive list of the traditional foods you can make and purchase to stock your pantry, be sure to download my free 36-page Traditional Foods Pantry List. This comprehensive eBook is full of links to recipe videos, helpful articles, and more!
Kitchen Academy Videos
Are you looking for more traditional foods videos? If so, I invite you to join the Traditional Foods Kitchen Academy. Members of this optional paid YouTube community get access to exclusive videos, live streams, and other members-only perks. Plus, your YouTube comments include a special members-only badge.
With your survival garden seeds, you can create your own Victory Garden, just like our ancestors. In the following members-only video, I talk about Digging for Victory: Land Girls and Food Shortages in WWII.
Stay in Touch with Mary's Nest
Subscribe to My YouTube Channel for Traditional Foods Videos (Free) - When you subscribe, be sure to click on the notification bell that will let you know each time I upload a new video.
Subscribe to Mary's Traditional Foods Newsletter (Free) - Get a free 36-page eBook for signing up: How to Stock Your Essential Traditional Foods Four-Corners Pantry.
Join the Traditional Foods Kitchen Academy (Optional Paid) - For more detailed videos, live streams, and exclusive members-only perks, join my YouTube membership community.
Order The Modern Pioneer Cookbook (Optional Paid) - Get a printed book of Mary's nourishing recipes from a Traditional Foods Kitchen. This bestselling cookbook is published by Penguin Random House with their DK imprint.
I look forward to having you join me in my Texas Hill Country Kitchen!
Shop for items used in this blog post or video
Survival Garden Seeds
Use the MARYSNEST discount code for 10% off the following seed collections:
Favorite Gardening Supplies
Favorite Prepper Pantry Supplies
Favorite Kitchen Supplies
More Kitchen Supplies with Discount Codes
Learn more about Mockmill electric grain mills for making fresh flour and their Flake Lover's Flaker that flakes whole grain in minutes.
Use promo code MARYSNST for a one-time 15% off Masontops and Breadsmart products on Amazon.com.
Amazon Shop and Shopping Guide
Visit my Shopping Guide page
Get up to 15% off for stocking your Traditional Foods Pantry and equipping your Modern Pioneer Kitchen, including discounts from US Wellness Meats, Farmhouse Teas, Lehman's, Masontops, Cultures for Health, Survival Garden Seeds, Redmond Real Salt, Plan to Eat, and More!
Recommended Reading