5 More Essential Medicinal Herbs to Grow in Your Garden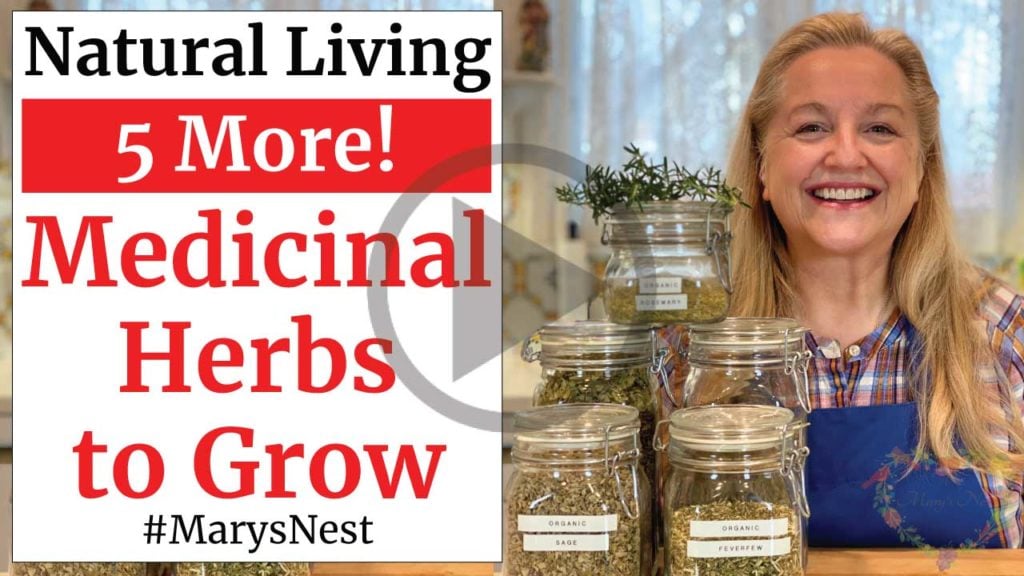 Discover 5 More Essential Medicinal Herbs to Grow in Your Garden for Making Home Remedies. I start with Basil, specifically the revered Holy Basil, and work my way down to Sage. I also talk about two very special BONUS HERBS that you, my sweet friends, shared with me.
In my latest video, I share how to grow and use these additional wonderful healing herbs, and I also include links to research papers where you can learn more about these medicinal herbs. (Remember to be sure to consult your medical professional before using any type of medicinal herb.)
Here are the 5 additional essential medicinal herbs that I cover in my video and this blog post:
Plus, I've included two more herbs that viewers have recommended:
Note that this is not a sponsored blog post. I purchased all the herbs used in this video and blog post.
*Affiliates note: As an Amazon Associate I earn from qualifying purchases. My content may contain affiliate links to products and services. If you click through and make a purchase, I'll receive a small commission. It does not affect the price you pay.
Starting with 10 Essential Medicinal Herbs
If you have not had a chance to see my first video in this series on herbs, you can watch my 10 Essential Medicinal Herbs to Grow in Your Garden video. You don't want to miss out on learning about these herbs that you can use to make home remedies.
When I talk about growing herbs in the United States, I refer to hardiness zones. Get to know the hardiness zone that you live in.
A Word of Caution as to Medicinal Herbs
Although we may think of herbs as just ingredients that we add to our pasta sauce, many herbs have potent medicinal properties and have been used as medicine for centuries. With this in mind, you need to approach herbs with knowledge and caution.
If you are pregnant, nursing, taking medication (over the counter or prescription), having allergies, or thinking of using medicinal herbs with children, make sure you first talk to your doctor, pediatrician, or other health care professional. You want to ensure that the herbs you plan to use will not adversely affect you or your children. I can't stress this enough! Herbs are medicine. Never be casual or negligent in their use.
Ok, let's start reviewing our 5 More Essential Medicinal Herbs!
Holy Basil – The King of Essential Medicinal Herbs
Basil in any variety is a wonderful culinary herb, but when it comes to using Basil as a medicinal herb, you can't go wrong with Holy Basil, which is also referred to as Tulsi. I include the Rama variety of Holy Basil in my list of additional essential medicinal herbs. This well-known herb is used in traditional Indian Ayurvedic herbal medicine.
Note: Holy Basil is NOT intended for use by pregnant women as it might cause the uterus to contract. (Again, be sure to talk with your medical professional before using any herbs.)
Holy Basil is one of those herbs that has been used in Ayurvedic medicine for centuries, and this herb variety may offer solutions to modern problems. Scientists have been intrigued by the healing properties attributed to Holy Basil. Knowledge of these ancient medicinal practices has led modern scientists to conduct extensive scientific research on the herb, such as with the following study on Holy Basil:
As described in this research paper, Holy Basil can help to normalize blood glucose and blood pressure levels, positively affect memory and cognitive function, and fight colds and flu thanks to its broad-spectrum antimicrobial activity. This herb also shows promise as a hand sanitizer, mouthwash, water purifier, and wound healer.
Growing Basil of any kind is easy, but Holy Basil likes nice warm weather. So wait to sow this herb's seeds in your garden after the danger of frost has passed and when temperatures start to hover around 70°F.
Holy Basil, Rama (Ocimum tenuiflorum) – Mountain Rose Herbs product links:
Ayurvedic Herbal Medicine
If you're interested in Ayurvedic recipes, watch my How to Make Kitchari video, and if you've joined my optional YouTube membership community, you can also get a behind-the-scenes look at the making of my recipe video.
Feverfew
As the name implies, Feverfew is often used in traditional herbal medicinal preparations to lower fevers and help with other ailments. This characteristic intrigued scientists who began studying Feverfew's medicinal properties, and their research confirmed the effects of the folk use of the Feverfew herb. How about that!
Note: Feverfew is another one of those herbs that pregnant women should avoid. Are you noticing a trend here? When it comes to using herbs in a medicinal form—and even in a culinary form—pregnant women really need to be cautious! Always talk with your health care professional before using any herbs when you are pregnant.
Scientists discovered that Feverfew can help reduce a fever, common cold symptoms, and arthritis pain. As the following research study shows, this herb can even alleviate the symptoms associate with migraine headaches. So, if you are prone to headaches, like me, and even migraines, Feverfew might just come to our aid!
I added Feverfew to my list of 5 more essential medicinal herbs, not only for its healing properties, but because you can easily grow this herb as a perennial. Feverfew does well in hardiness zones 5-9, and you can sow the seeds right into your garden soil. Generally, Feverfew likes full sun, but in climates where the afternoon sun can be very strong, it won't object to a bit of partial shade.
Feverfew (Tanacetum parthenium) – Mountain Rose Herbs product links:
Rosemary
When it comes to growing Rosemary, keep in mind that this plant is native to the Mediterranean. It likes warm weather and gentle breezes, so you will have your best luck growing Rosemary in hardiness zones 7-10. (You may even be able to squeak by in zone 6.)
But don't despair if you live in a colder climate. You can still grow Rosemary. Just make sure that you grow this herb in pots and bring it inside before cold winter temperatures strike.
You'll want to start growing Rosemary with small plants or root cuttings. This is much easier for you than trying to grow Rosemary from seed.
Now, why do we want to grow Rosemary? First, Rosemary is an excellent culinary herb that you can use in any traditional kitchen, especially when it comes to making your own seasoning blends. In my How to Make Homemade Seasoning Blends video, I show you how to make seasonings with Rosemary, including Italian Seasoning and Herbs de Provence.
Second, when it comes to using Rosemary for its medicinal purposes, scientific research discovered that it helps make an excellent brain tonic by enhancing the uptake of oxygen to the brain, which may show promise in the treatment of Alzheimer's disease.
Rosemary has been studied extensively by scientists, not only for its properties as a natural preservative, but also for its anti-inflammatory and analgesic properties when used to treat arthritis pain. Learn more about Rosemary's healing properties with the following resources:
Rosemary (Rosmarinus officinalis) – Mountain Rose Herbs product links:
Sage
When it comes to planting Sage in your garden, start with small plants or root cuttings. Sage can be difficult to start from seed. In most climates, Sage likes full sun. However, if you live in a hot climate, as I do, you may find that your Sage prefers partial shade, especially from the hot afternoon sun!
When you go shopping for Sage plants, don't be overwhelmed by the selection. There are over 700 varieties of Sage! You're looking for Common Sage or Common Garden Sage with its scientific name, Salvia Officinals.
Note: Before I share the medicinal properties associated with Sage, I want to add that Sage should not be used by pregnant women as it can cause contractions of the uterus. You want to avoid this when you're pregnant! Plus, nursing mothers should also avoid Sage, as it can dry up one's milk supply. So before using Sage or other herbs, be sure to talk with your health care professional.
There are many uses for Sage in your herbal kitchen or herbal medicine cabinet, and that's why I added it to my list of 5 more essential medicinal herbs. Sage is a helpful addition to dishes that include fatty meats because this culinary herb aids in digestion, especially when it comes to animal fats.
As a medicinal herb, Sage has been used for centuries to help treat colds and flu. The following study describes how Sage can make soothing throat sprays that ease the discomfort of a sore throat.
Sage also has mild hormonal properties and has been used in traditional medicine for centuries to help women regulate their menstrual cycles. Intrigued by this feature, scientists have begun to study the effects of Sage on menstruating women. They found that Sage oil, along with other essential oils, can help to relieve the pain associated with menstruation.
Sage (Salvia officinalis) – Mountain Rose Herbs product links:
Moringa – The Queen Tree of Medicinal Herbs
I put Moringa at the end of my 5 Essential Medicinal Herbs list because technically, Moringa is not an herb but a tree. Not just any tree, but one that you may have heard referred to as the Tree of Life or the Miracle Tree.
Moringa is a tropical tree, so it may not be very easy for you to grow unless you live in hardiness zones 8-10. But because it is so popular for its medicinal properties, it's easy to buy Moringa leaves in their dried form and even in teabags for ease of use.
Speaking of the Moringa tree leaves, many gardeners will prune their Moringa to keep its size in check. This tree can grow up to 18 feet or even a bit taller. So pruning it down to the size of a large bush makes picking the leaves much easier.
Since Moringa has received such nicknames of distinction, scientists have studied this tree to understand its health benefits. Moringa tree leaves are high in vitamin C and can be used to make tea or added to salads. But this morning tree offers so much more! Ongoing animal studies show promise that Moringa leaves may play a role in alleviating certain chronic conditions, including hypercholesterolemia, high blood pressure, diabetes, insulin resistance, non-alcoholic liver disease, and general inflammation.
Scientists look forward to conducting human studies using standardized Moringa extracts to learn more about the possible benefits of this healing tree. To date, human trials have found that Moringa has anti-inflammatory properties that may help reduce the symptoms associated with urinary tract infections in humans.
Moringa (Moringa oleifera) – Mountain Rose Herbs product links:
Additional Herb Recommendations
Here are two more essential medicinal herbs that viewers recommended that I want to share with everyone!
Mullein
I had heard of Mullein before but never took the time to research it. Silly me! Thanks to many of you, I am now well acquainted with this wonderful herb. Mullein is used as a traditional herbal medicine and is credited as an excellent expectorant and soother of irritated bronchial passages.
But what fascinates scientists the most is Mullein's potential anti-tuberculosis (TB) agents. Further research needs to be conducted, but scientists are hopeful that extracts of Mullein may be able to combat antibiotic-resistant strains of TB.
If you want to try growing Mullein, it will do well in hardiness zones 3-9. Just make sure that you give it full sun and dry soil. (These environmental conditions sound perfect for growing here in central Texas.) But be sure to provide it with plenty of room. It can grow 10 feet high!
Mullein seeds can be sowed right into your garden soil, and the flowers will self-seed (self-sow) at the end of the season. Keep in mind, this is a perennial, and it will come back year after year. And since it self-seeds, you might find yourself with lots of Mullein!
Mullein (Verbascum thapsus) – Mountain Rose Herbs product links:
Plantain
When I researched Plantain (despite sharing its name, it is unrelated to the Plantain fruit), it was music to my gardener's ears when I read how easy it can be to grow. Basically, my research advised you to set aside a little plot of dirt in the sun, loosen the soil, water it from time to time, and Plantain will come and visit you! It's so prolific in nature that Plantain seeds will make it to your garden, and they'll start growing without you having to plant them. That's amazing!
I bet when you look at this picture of Plantain, you will say, "I know that herb!" Chances are you have seen Plantain growing in fields, by the roadside, or even in your own garden. I certainly have. And here all along, I thought it was nothing more than a useless weed!
Like Mullein, you can use Plantain leaves to make a tea or tincture as an expectorant to bring up phlegm associated with an upper respiratory infection. As an added bonus, this herb will also soothe irritated bronchial passages.
And if you are plagued with acid reflux, be sure to visit my friend Jackie over at Little Country Cabin and learn more about her experience using Plantain to calm her acid indigestion.
Plantain (Plantago lanceolata) – Mountain Rose Herbs product links:
Mountain Rose Herbs
If you need seeds to plant these medicinal herbs, Mountain Rose Herbs is a high-quality organic seed resource. You can also get the dried versions of these herbs and essential oils from Mountain Rose Herbs if you don't have the opportunity to plant these herbs in your garden but would like to keep dried herbs and essential oils in your herbal medicine cabinet.
And please know, this is NOT a sponsored post. I'm a long-time customer of Mountain Rose Herbs because the quality of their products is far superior to anything else I have ever found. Plus, their website provides helpful information about the herbs they offer. They also share lots of recipes for how to use herbs in a culinary and medicinal way.
Making Herbal Home Remedies and More
If you enjoy learning about essential medicinal herbs and making home remedies, be sure to check out some of the videos below where I show you how to make a homemade herbal cough syrup, fire cider, and turmeric tea. I also have a three-part series to show you how to make your own homemade apple cider vinegar that you can use in many homemade remedies.
Kitchen Academy Videos
Are you looking for more traditional foods videos? I invite you to join the Traditional Foods Kitchen Academy. Members of this optional paid YouTube community get access to exclusive videos, live streams, and other members-only perks.
In the following members-only LIVE video, we chat about Herb Gardening, Milk Kefir, and more.
Stay in Touch with Mary's Nest
Subscribe to My YouTube Channel for Traditional Foods Videos (Free) - When you subscribe, be sure to click on the notification bell that will let you know each time I upload a new video.
Subscribe to Mary's Traditional Foods Newsletter (Free) - Get a free 36-page eBook for signing up: How to Stock Your Essential Traditional Foods Four-Corners Pantry.
Join the Traditional Foods Kitchen Academy (Optional Paid) - For more detailed videos, live streams, and exclusive members-only perks, join my YouTube membership community.
Order The Modern Pioneer Cookbook (Optional Paid) - Get a printed book of Mary's nourishing recipes from a Traditional Foods Kitchen. This bestselling cookbook is published by Penguin Random House with their DK imprint.
I look forward to having you join me in my Texas Hill Country Kitchen!
---
Shop for items used in this blog post or video
Favorite Mountain Rose Herbs Supplies
Favorite Gardening Supplies
Favorite Kitchen Supplies
Use promo code MARYSNST for a one-time 15% off Masontops and Breadsmart products on Amazon.com.
Use my Mockmill affiliate link for a special one-time 5% discount on Mockmill Stone Grain Mill products, including the new Flake Lover's Flaker. (The Mockmill discount will appear when you checkout.)
Amazon Shop and Shopping Guide
Recommended Reading
**Disclaimer: I am not a medical doctor, a medical professional, a dietician, or a nutritionist. All content found on the MarysNest.com website, including text, images, videos, eBooks or eGuides, social media, or other formats, were created solely for informational purposes only. The content is not intended to be a substitute for professional medical advice, diagnosis, or treatment. Always seek the advice of your physician or other qualified healthcare provider with any questions you may have regarding a medical condition or proper nutritional advice. Never disregard professional medical advice or delay in seeking it because of something you have watched in a video or read on this website. Use caution when following the recipe in this video. The creator and publisher of this video and website will not be held responsible for any adverse effects that may arise from the use of this recipe and method or any other recipe and method on this website or corresponding video channel.