Affiliates note: As an Amazon Associate I earn from qualifying purchases. My content may contain affiliate links to products and services. If you click through and make a purchase, I'll receive a small commission. It does not affect the price you pay.
Here are the seven best vegetables to plant in your kitchen garden in August so you can have an abundant harvest this fall. And you can grow these veggies no matter what size garden you have, even if you just garden in pots on a patio or balcony!
Which Vegetables Should I Plant in August for a Fall Harvest?
When planning your fall garden, you first need to decide what you want to plant. I have laid out the seven vegetables I recommend for you, but these are general suggestions. Once you choose which vegetables you want to plant, you have to decide which varieties you want to plant.
Deciding on which varieties you want to plant is influenced by learning which types do best in your area. You will want to discover which varieties of vegetables thrive in the area where you live so you can be guaranteed a plentiful fall harvest.
To determine which varieties of vegetables you will choose, there are numerous questions you will have to answer. A sampling of these include:
Is it rainy and damp in your area, and you need vegetables that are resistant to mold?
Do you live in a hot, dry climate and need to grow drought-tolerant vegetables?
Do you have lush rich soil or rocky soil?
Do certain hybrid vegetables do best in your area, or are you better off growing heirlooms?
Are you planning on saving the seeds from your plants, or starting with new seeds each year?
Can you sow seeds directly into the soil, or will you need to start your seeds indoors?
Do you have a full-size kitchen garden, or will you be growing in pots on a patio, deck, or balcony?
Will you be gardening in raised beds or vertical planters?
What is your Plant Hardiness Zone?
And speaking of plant hardiness zones, that is probably one of the most important things you will need to determine because it will play the most significant role in which varieties of vegetables you will choose to grow in your garden!
What is My Plant Hardiness Zone?
Learning which plant hardiness zone you live in is crucial to success with not only fall gardening but gardening any time of year. An easy way to think of a plant hardiness zone is simply what plants will grow well in your area. Knowing your zone allows you to be informed as to when your first frost date is as well as your last frost date.
The First Frost Date
Your last frost date is essential to know when it comes to spring gardening, but your first frost date is important to fall gardening. Once you know when your first frost may hit, you will know the best time to get your vegetable transplants or seeds into the soil. You want to make sure you give your vegetables plenty of time to grow before that first frost. This will ensure that you will have a plentiful crop to harvest.
Now, can some varieties of vegetables handle a light frost? Yes, but generally, a light frost simply means that temperatures might get down to 32°F (0°C) or just a bit lower and only for a few hours and then warm right back up again. So you need to be careful, so when possible, it's always best to try to plant veggies that can be harvested before your first fall frost date.
The Importance of Agricultural Extension Services
I also share a link to my agricultural extension service, which is chock full of excellent information for those of us gardening in the myriad of hardiness zones here in Texas. It is a big state, after all, and we have eight hardiness zones ranging from 6b, 7a, 7b, 8a, 8b, 9a, 9b, 10a! I live in hardiness zone 8b, right in the middle of the state, and I have found the gardening information provided by my extension service to be invaluable.
Lastly, I share is how to find your agricultural extension service wherever you may live in the United States. But don't worry if you live outside the US Many other countries have plant hardiness zones that are provided by local or regional services in a particular country. And conversion formulas are also available to help you equate your area of the world based on the US system.
So now that you understand the basics, let's dive in and review the seven best vegetables to plant in August for a fall harvest!
(1) Beets
The first vegetable I recommend planting to harvest in the fall is beets. If you are new to gardening, beets are easy to grow, and the varieties are endless. So finding a variety that grows well in your area and will mature within the proper time frame to beet your first frost(forgive the pun!), will be easy to do.
And once you harvest your beets, I have three easy recipes for you. If you think you don't like beets, then try my Pickled Beets. I promise you will be a convert and love beets!
Next, try your hand at making an easy fermented beverage with beets called Beet Kvass. It's not only tasty; it's great for gut health!
And finally, if you are a fan of those powdered beet drinks which are ridiculously expensive, you can stop buying them and make your own beetroot powder! It will be fresher, tastier, and more nutritious than anything you can buy!
(2) Carrots
When it comes to growing carrots for a fall harvest, you can't beat the dwarf varieties of carrots, and my favorite one is the Thumbelina. This dwarf variety is especially ideal if you are limited in space and are growing your veggies in pots. If you remember the little fairytale character Thumbelina, you can probably guess what type of carrots these are. Yes, just like Thumbelina, they are very small!
The Thumbelina carrots are round and rarely need to be peeled, making them quick and easy to add to any recipe calling for carrots. They are also super sweet, making them a wonderful treat to snack on raw.
Whatever variety of carrots you decide to grow, be sure to try the two recipes below. Both are ferments that create carrots that are not only tasty but wonderful for gut health too!
(3) Cucumbers
Just like the Thumbelina carrots, my favorite type of cucumber to grow is a small variety too! And if you have children, they will be delighted to watch this variety known as cornichons grow. You may also know these as gherkins. They mature quickly due to their size, which makes them a perfect fall variety to grow. And they are delicious when pickled!
No matter what type of variety you decide to grow from cornichons to kirby cucumbers, be sure to try the recipes below. I've got something for the home canner as well as the lacto-fermenter.
(4) Leafy Greens
When it comes to fall vegetable crops, you can never go wrong with planting a variety of leafy greens. Some of my favorites include:
Arugula
Kale
Mustard Greens
Sorrel
Swiss Chard
I especially love sorrel's lemony bite and arugula's peppery bite. Be sure the try the recipe below for a tart made with arugula. It's scrumptious!
(5) Radishes
As with the Thumbelina carrots and the cornichon cucumbers, radishes are another superb compact crop, perfect for growing in pots. They certainly do well in any kitchen garden, but I like knowing they can be a boon to the small or new gardener since they often provide a successful harvest.
Radishes are excellent raw in a salad or roasted in the oven, but even better, first enjoy them as radish sandwiches. These sandwiches are simply sliced thin and then smeared with a generous amount of butter and sprinkled with a dash of sea salt. And if you have any leftover radish scraps, be sure to pickle them!
(6) Turnips
When I think of turnips, it brings back memories of my childhood. It's somewhat of an old-fashioned vegetable that is a comfort food for me. My paternal grandmother Mary (after whom I was named), loved to cook them and mash them with potatoes. My dad shared this memory with my mom, and so after my parents were married, my mom often prepared mashed potatoes with turnips. I still love them to this day!
Turnips are relatively easy to grow in the fall because they actually like cool weather. So give them a try. Chances are you will be rewarded with a bountiful harvest. And then you can mash some with potatoes for a tasty, comforting dish!
(7) Zucchini
It may surprise you to know that you can actually plant zucchini in August for a fall harvest! There are a number of round baby zucchini varieties that can be ready to harvest in about 45 days. Just keep in mind your frost date because that is one thing zucchini do not like! So just make sure you sow your seeds at the right time in August to give your zucchini time to mature and be harvested before your first frost.
BONUS Fall Veggie Ideas!
Bonus #1
I have a little bonus to share with you if you live in plant hardiness zones 8 – 11. You can plant tomatoes in August and harvest them in the fall! This is a real treat to those of us in the hotter zones since we are generally wrapping up our tomato gardening in early June! But we can now enjoy a second round of tomatoes by late October!
Bonus #2
And second, I don't want to leave out the cruciferous veggies (the brassicas). Some do great depending on what zone you live in, with cauliflower often doing the best!
More Ideas for Your Fall Garden
Be sure to enjoy the videos below, where I share my kitchen garden with you!
IIf you are completely new to gardening and a bit hesitant to grow vegetables from seed, how about trying your hand at growing vegetables from your kitchen scraps? Yes, you can actually regrow vegetables from scraps you might have otherwise thrown in the compost or the garbage. It's easy to do, and I show you how in the video below.
Finding Those Treasures from the Garbage
When it comes to creating your kitchen garden, whether large or small, be sure to scour thrift shops and even what others throw out (if your city ordinance allows!) for inexpensive solutions for flower pots, garden stakes, and lots more.
And once your neighbors start enjoying the bounty of your garden that you will be sharing with them, ask them to save anything they think might be useful for you to use in your garden. I share lots more tips in the video below.
And if you are a junker like me, you will really enjoy the video below! Not only will you be outfitting your garden from the garbage, you'll find lots of treasures from the garbage for your kitchen too!
Survival Garden Seeds
In my research into the best vegetable seeds, I discovered Survival Garden Seeds and their extensive collection of heirloom seeds. If you're looking for high-quality, open-pollinated, non-GMO, and non-hybrid garden seeds, be sure to use my special MARYSNEST discount code to be able to get 10% off any of the three following products: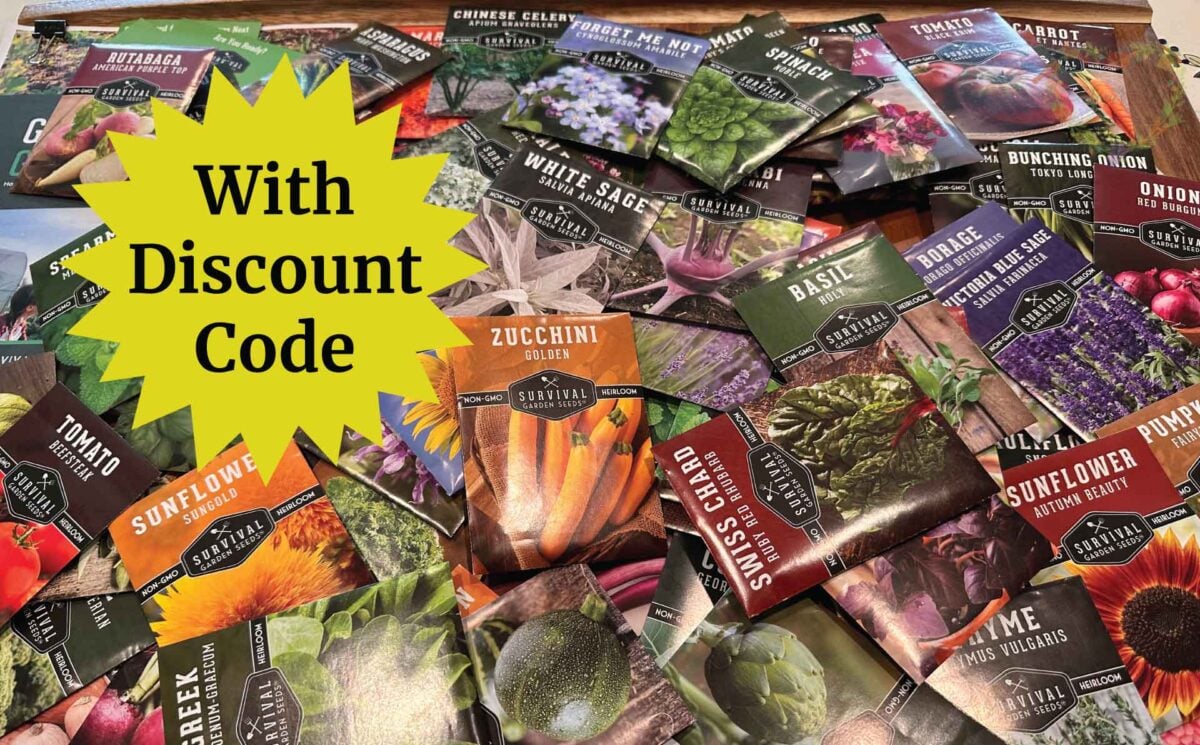 Download Your Free 36-Page Pantry List
For an extensive list of the traditional foods you can make and purchase to stock your pantry, be sure to download my free 36-page Traditional Foods Pantry List. This comprehensive eBook is full of links to recipe videos, helpful articles, and more!
And if you're looking for a printed book full of my traditional foods recipes that shows you how to create a traditional foods kitchen, be sure to order your copy of my new book, The Modern Pioneer Cookbook.
Join the Traditional Foods Kitchen Academy
Are you looking for more traditional foods videos? If so, I invite you to join the Traditional Foods Kitchen Academy. Members of this optional paid YouTube community get access to exclusive videos, live streams, and other members-only perks. Plus, your YouTube comments include a special members-only badge.
During this month's members-only live stream, we talked about a variety of topics, including a preview of upcoming videos.
I talk about the people I met at this year's conference and share some behind-the-scenes of my new cookbook.
Get ready to harness the power of gluten-free buckwheat to help a healthy diet.
Stay in Touch with Mary's Nest
Subscribe to My YouTube Channel for Traditional Foods Videos (Free) - When you subscribe, be sure to click on the notification bell that will let you know each time I upload a new video.
Subscribe to Mary's Traditional Foods Newsletter (Free) - Get a free 36-page eBook for signing up: How to Stock Your Essential Traditional Foods Four-Corners Pantry.
Join the Traditional Foods Kitchen Academy (Optional Paid) - For more detailed videos, live streams, and exclusive members-only perks, join my YouTube membership community.
Order The Modern Pioneer Cookbook (Optional Paid) - Get a printed book of Mary's nourishing recipes from a Traditional Foods Kitchen. This bestselling cookbook is published by Penguin Random House with their DK imprint.
I look forward to having you join me in my Texas Hill Country Kitchen!
---
Shop for items used in this blog post or video
Favorite Gardening Supplies
Amazon Shop and Shopping Guide
Visit my Shopping Guide page
Get up to 15% off for stocking your Traditional Foods Pantry and equipping your Modern Pioneer Kitchen, including discounts from Lehman's, Mockmill Grain Mill, Masontops, Cultures for Health, Survival Garden Seeds, Redmond Real Salt, Plan to Eat, US Wellness Meats, and More!
Recommended Reading