Affiliates note: As an Amazon Associate I earn from qualifying purchases. My content may contain affiliate links to products and services. If you click through and make a purchase, I'll receive a small commission. It does not affect the price you pay.
How to Pickle Beets – Old Fashioned Pickled Beets Recipe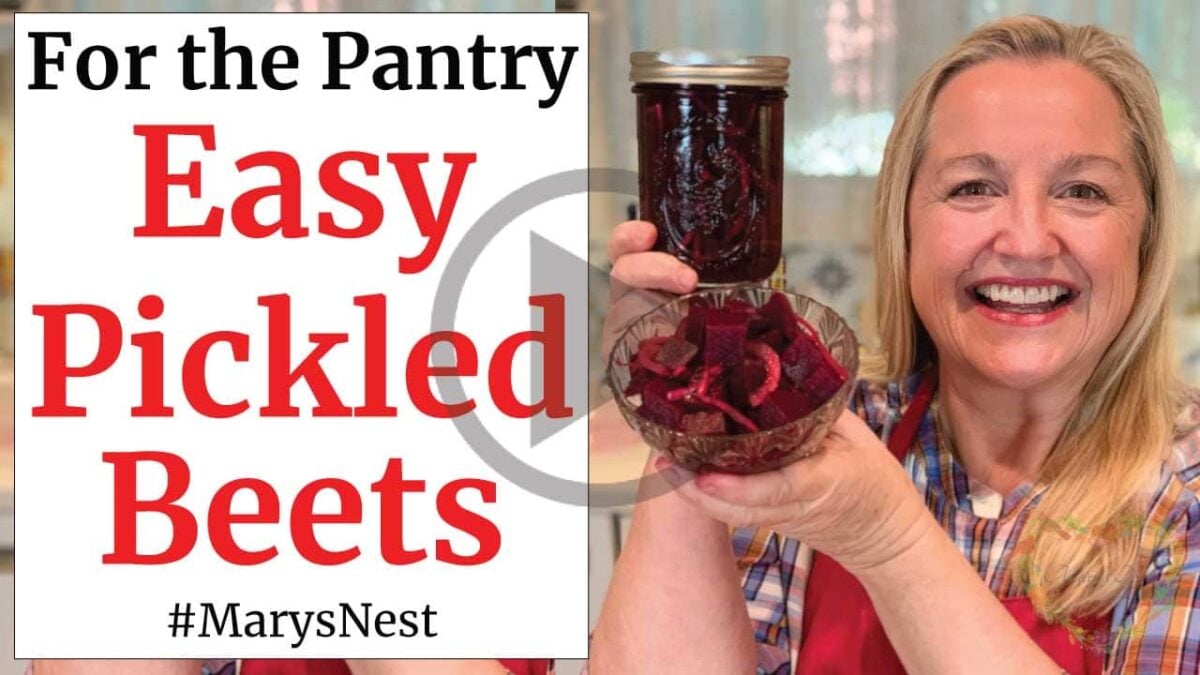 Learn How to Pickle Beets with this Old Fashioned Pickled Beets Recipe. These Beets are a bit sweet, a bit tangy, and oh so flavorful!
Yes, Pickled Beets Are Delicious!
Pickled beets are one of those foods that seem to have been around for forever. I grew up eating them and loved them. Now, I know there are those of you out there who may say, "Beets! No Thank You!" But trust me. These are delicious. Even my husband, who was never a fan of beets growing up, was surprised at how delicious these pickled beets are!
The Secret Is in the Brine for Pickling Beets
So what makes these beets so tasty…and not that dreaded "earthy" flavor that some complain about? Well, the secret is in the brine. This old fashioned brine recipe was made by moms who wanted to get their families to eat—and enjoy—beets because of their nutritional value.
The brine for pickling beets includes:
Sugar
Salt
Lots of warming spices, including cinnamon, nutmeg, and cloves
For our traditional foods kitchen, this is a very healthy brine because I modified the original recipe, omitted the white sugar, and replaced it with Sucanat. (As I described in an earlier video and recipe, Sucanat is dried sugar cane juice with all the vitamins and minerals intact.)
Don't worry if you are at the beginning of your journey from transitioning from a processed foods kitchen to a traditional foods kitchen. You can still use white sugar in this recipe. The most important outcome is that you will be eating beets! 😉
Nutritional Benefits of Beets
So what's so great about beets? Beets are loaded with essential nutrients, including:
Folate
Manganese
Potassium
Iron
Vitamin C
Plus, beets are high in fiber, which improves digestion.
As the George Mateljan Foundation article on beets describes, the health benefits associated with beets include improved blood flow and lower blood pressure. If you are an athlete, you will be especially interested in adding beets to your diet because they may contribute to better athletic performance.
Don't Be Afraid of Beets
So don't be afraid to try Pickled Beets if you have not liked beets in the past. This printable recipe gives you a tasty way to incorporate them into your diet. And as you will see in my recipe video, these beets are easy to prepare and can be ready in minutes and eaten warm or allowed to chill in the fridge. Either way, they'll be delicious, and you and your body will be happy that you tried them.
Related Videos
Now that you've learned to make pickled beets—and enjoyed them…you're ready to try your hand at making Beet Kvass, a probiotic-rich, effervescent drink that's wonderful for gut health. And if you want something that's "instant," be sure to try drying some beets that can be turned into a powder and then reconstituted into a quick homemade nutrient-rich drink.
If you would like to water bath can your pickled beets, you can follow the same canning process that I use in this step-by-step video for Bread and Butter Pickles:
This Pickled Beets recipe uses Sucanat. You can learn more about Sucanat in the How to Make Brown Sugar – Light, Dark, and Unrefined Sugar video:
Stay in Touch with Mary's Nest
Subscribe to My YouTube Channel for Traditional Foods Videos (Free) - When you subscribe, be sure to click on the notification bell that will let you know each time I upload a new video.
Subscribe to Mary's Traditional Foods Newsletter (Free) - Get a free 36-page eBook for signing up: How to Stock Your Essential Traditional Foods Four-Corners Pantry.
Join the Traditional Foods Kitchen Academy (Optional Paid) - For more detailed videos, live streams, and exclusive members-only perks, join my YouTube membership community.
Order The Modern Pioneer Cookbook (Optional Paid) - Get a printed book of Mary's nourishing recipes from a Traditional Foods Kitchen. This bestselling cookbook is published by Penguin Random House with their DK imprint.
I look forward to having you join me in my Texas Hill Country Kitchen!
Easy Pickled Beets – an Old Fashioned Recipe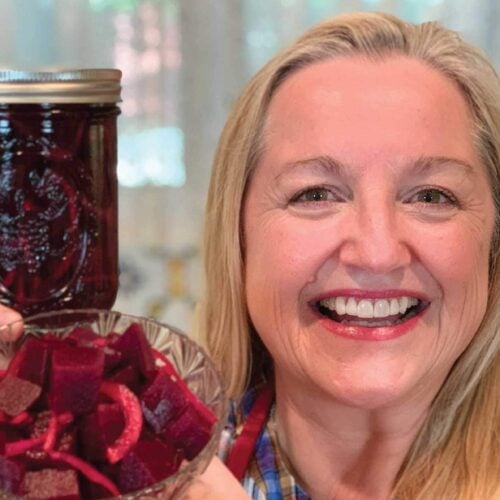 Learn How to Pickle Beets with this Old Fashioned Pickled Beets Recipe. These are a bit sweet, a bit tangy, and oh so flavorful!
Ingredients
3

pounds

Beets, washed with greens removed

Approximately 6 large beets.

1

Large onion

Yellow, white, or red. If small, use two onions.

3

cups

Apple cider vinegar

1/2

cup

Sucanat

Brown sugar. Alternatively, light or dark or white sugar can be substituted.

1

tsp.

Whole allspice

1

tsp.

Whole cloves

1

Cinnamon stick

1

tsp

Salt

1

cup

Water
Instructions
Bring a large pot of water to a boil for approximately 20-30 minutes. Add beets and cook until the beets can be pierced with a fork but with a bit of resistance.

Drain beets and submerge in cold water. When beets have cooled, remove the skins and cut beets into approximately 1-inch cubes. (See video.) Place in a large bowl.

Peel onion and slice into 1/4 inch half-moon slices. Add to bowl with beets and toss well.

Fill jars with beet and onion mixture. Press down gently on the mixture to make sure that the jars are packed tightly. Set aside.

In a saucepan, add vinegar, water, Sucanat, spices, and salt. Place on high heat and bring to a boil, constantly stirring until the sugar has dissolved. Turn heat down to medium and simmer for 10 minutes. Remove from heat. This is your brine.

Ladle brine (taking care to filter out the spices with a strainer) over your beet and onion mixture in each jar. Fill each jar to within a 1/2 headspace from the top of the jar. Allow the jars to cool slightly, then put the lid on each jar and refrigerate. The Pickled Beets should stay fresh in the refrigerator for at least 3 months.
Notes
You may want to water bath can these beets to extend their unrefrigerated shelf-life to 18 months by following the same canning procedure in the printable recipe and video where I show how to water bath can bread and butter pickles at https://marysnest.com/bread-and-butter-pickles-recipe-with-water-bath-canning-tutorial/
Find this recipe and video at https://marysnest.com/how-to-pickle-beets/
Copyright © 2020 Mary's Nest, LLC, All Rights Reserved
Watch Mary's Nest on YouTube
Shop for items used in this blog post or video
Favorite Pickling Supplies
Recommended Reading
Amazon Shop and Shopping Guide
Visit my Shopping Guide page
Get up to 15% off for stocking your Traditional Foods Pantry and equipping your Modern Pioneer Kitchen, including discounts from US Wellness Meats, Farmhouse Teas, Lehman's, Masontops, Cultures for Health, Survival Garden Seeds, Redmond Real Salt, Plan to Eat, and More!
*Affiliates note: As an Amazon Associate I earn from qualifying purchases. My content may contain affiliate links to products and services. If you click through and make a purchase, I'll receive a small commission. It does not affect the price you pay.
**Disclaimer: I am not a medical doctor, a medical professional, a dietician, or a nutritionist. All content found on the MarysNest.com website, including text, images, videos, eBooks or eGuides, social media, or other formats, were created solely for informational purposes only. The content is not intended to be a substitute for professional medical advice, diagnosis, or treatment. Always seek the advice of your physician or other qualified healthcare provider with any questions you may have regarding a medical condition or proper nutritional advice. Never disregard professional medical advice or delay in seeking it because of something you have watched in a video or read on this website. Use caution when following the recipe in this video. The creator and publisher of this video and website will not be held responsible for any adverse effects that may arise from the use of this recipe and method or any other recipe and method on this website or corresponding video channel.