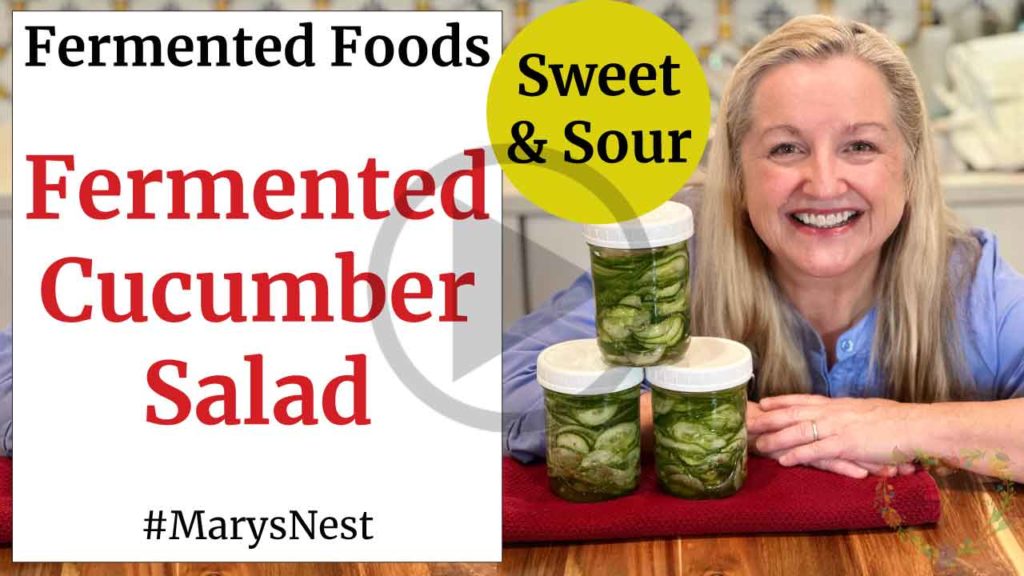 Here is a Sweet and Sour Fermented Cucumber Salad Recipe that is easy to make and is full of probiotics for good gut health. This tasty way to boost your immune system is a tart, spicy, and refreshing treat!
*Affiliates note: As an Amazon Associate I earn from qualifying purchases. My content may contain affiliate links to products and services. If you click through and make a purchase, I'll receive a small commission. It does not affect the price you pay.
What is a Fermented Cucumber Salad?
With this fermented cucumber salad, you'll bring together thinly-sliced cucumbers with some herbs, spices, and a bit of sea salt to ferment at room temperature. It's a delicious way to introduce your palate to fermented vegetables!
You'll make this fermented cucumber salad recipe even more memorable because you'll top it off with a bit of maple syrup (or honey) to create the perfect balance of that sweet and sour taste that so many of us crave!
Why I Like Using a Mandoline Slicer
The way you prepare your recipe ingredients when making this fermented cucumber salad can add to your enjoyment of this recipe. For example, you can use a kitchen knife to cut your cucumber into medium-sized slices for this recipe, and these thicker slices will still help you create a delicious fermented cucumber salad.
However, the thinner you can cut your cucumber, the better it will taste after fermentation. The thin slices of cucumber will give your salad an enticing look, as well as impart a delightful crunch as you enjoy it with your meal.
I used a mandoline slicer to cut my cucumbers into consistently thin slices. You can find these mandolines at various places; I found mine at my local grocery store. It's easy to set the thickness level for the cutter. (In my recipe video, I used the second thickness setting for my device, so the slices are thin but not too thin that they start to fall apart.)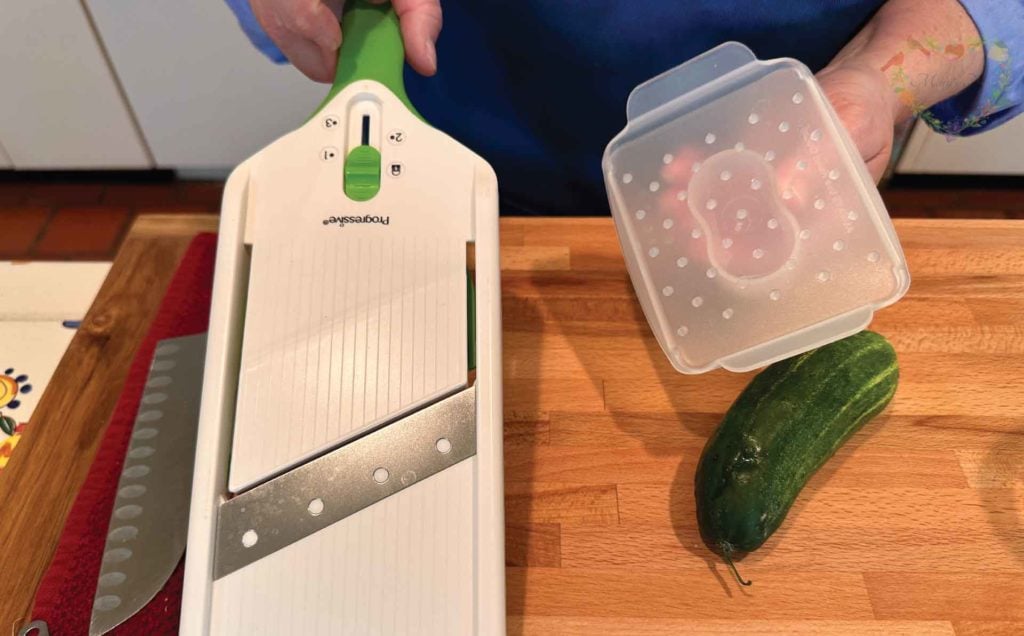 You can use your mandoline slicer for more than just making thin cucumber slices for your fermented cucumber salad. You can also use this device to slice up potatoes so you can make potato chips. Zucchini and other vegetables are also tasty when cut up thin.
Note: When using a mandoline slicer, always be careful to be conscious of the blade. Any good mandoline device will come with a food holder or other safety mechanism. Be sure to use the safety features to keep you safe, especially when working with smaller pieces of vegetables.
How to Make Fermented Pickles
If you're looking for more tasty recipes using cucumbers, try out this fermented pickles recipe. I'll show you how to ensure your fermented pickles come out delicious, crisp, and loaded with beneficial probiotics.
How to Make Bread and Butter Pickles
If you want to try your hand at making pickles and then home canning them, try out this bread and butter pickles recipe without fermentation. In my video, I also show you how to water bath can your pickles so you can save them for long-term storage.
More Pickling Recipes
Fermented Cucumber Salad and other fermented foods provide you with probiotics that help your gut health, but the fermentation process takes time. If you want to enjoy the tang that's associated with fermented vegetables, you can quick pickle them and have a delightful side that's ready in just a few hours.
Here are two recipes that you can use to quick pickle cucumbers, carrots, cauliflower, pearl onions, and more! One uses a traditional sugar brine, and the other includes a recipe for a basic pickling spice mix without sugar.
Do You Need Special Equipment to Ferment?
Other than a few canning jars, you don't need any special equipment to start fermenting. For example, with today's fermented cucumber salad recipe, you can use a pint-size canning jar with a small weight and lid to hold your ferment after you pack the contents into the jar with your hand.
However, there are a few kitchen devices that will make your fermenting life easier and that you may want to consider if you enjoy fermenting and find you want to make fermentation recipes throughout the year.
Glass Pickle Weight
For example in today's video, I show you how to use a glass pickle weight to help compress the contents in your canning jar after you tighten the lid. Being able to weigh down the vegetables you want to ferment is essential because you always want to keep everything under the brine to avoid spoilage.
Pickle Pipes
And instead of removing the lid daily to manually release the carbon dioxide that's building up in your ferment, you could use Pickle Pipes to help release the fermentation gas when the pressure builds up.
pH Strips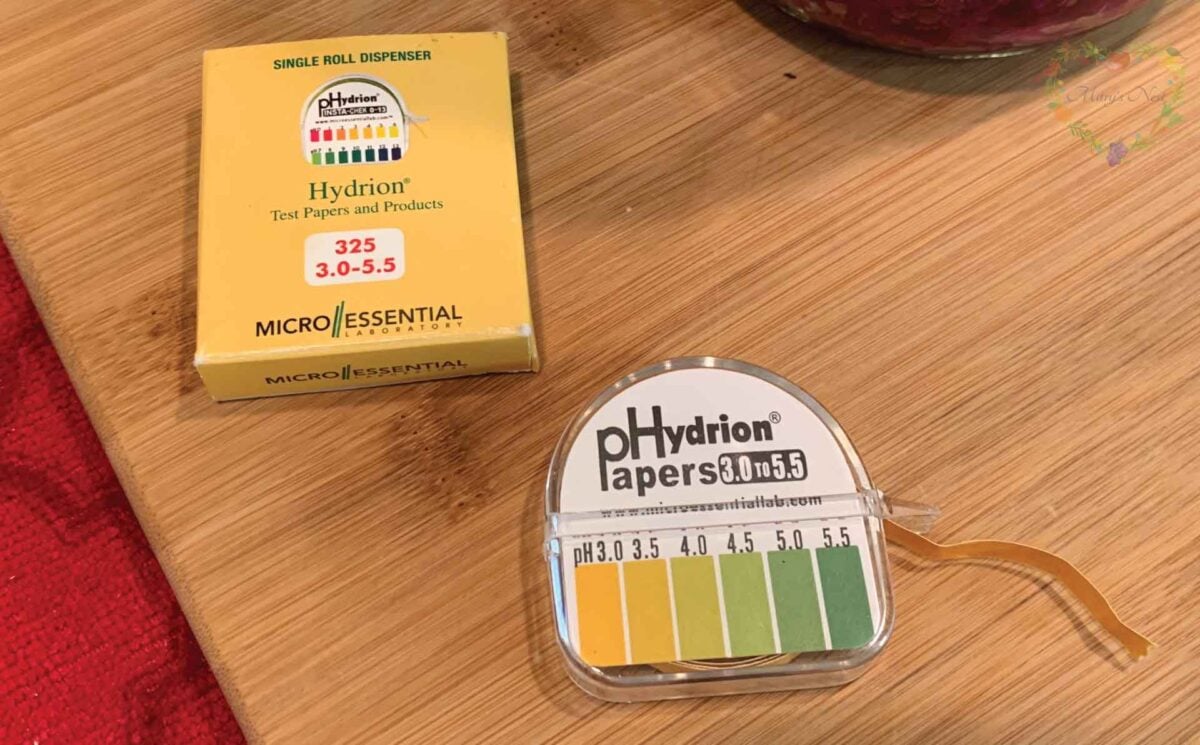 And although your senses could help you determine if your fermentation was successful, using pH strips makes it easier. If you're a beginning fermenter, you can use the strips to test if your ferment has reached a pH level of 4.6 or lower, which is a sign of a successful fermentation. Without the pH strips, you'll have to rely on your previous experience with ferments, such as the smell, amount of bubbles, etc.
Kraut Pounder
Additionally, if you were making sauerkraut, you might also want a kraut pounder to make it easier for you to press your cabbage down and mash it up for easier fermentation.
Masontops Mason Jar Fermentation Kit Discount Coupon
Although you don't need any special equipment to start making ferments, the Masontops kit can help you simplify the process and enable you to create your ferment successfully. In my Masontops unboxing video, I show you my Masontops Complete Mason Jar Fermentation Kit and go over everything the kit includes.
Download Your Free 36-Page Pantry List
For an extensive list of the traditional foods you can make and purchase to stock your pantry, be sure to download my free 36-page Traditional Foods Pantry List. This comprehensive eBook is full of links to recipe videos, helpful articles, and more!
Kitchen Academy Videos
Are you looking for more traditional foods videos? If so, I invite you to join the Traditional Foods Kitchen Academy. Members of this optional paid YouTube community get access to exclusive videos, live streams, and other members-only perks. Plus, your YouTube comments include a special members-only badge.
The following members-only video series talks all about how you can master the art of fermentation, including an overview of the process and anaerobic and aerobic fermentations.
Stay in Touch with Mary's Nest
Subscribe to My YouTube Channel for Traditional Foods Videos (Free) - When you subscribe, be sure to click on the notification bell that will let you know each time I upload a new video.
Subscribe to Mary's Traditional Foods Newsletter (Free) - Get a free 36-page eBook for signing up: How to Stock Your Essential Traditional Foods Four-Corners Pantry.
Join the Traditional Foods Kitchen Academy (Optional Paid) - For more detailed videos, live streams, and exclusive members-only perks, join my YouTube membership community.
Order The Modern Pioneer Cookbook (Optional Paid) - Get a printed book of Mary's nourishing recipes from a Traditional Foods Kitchen. This bestselling cookbook is published by Penguin Random House with their DK imprint.
I look forward to having you join me in my Texas Hill Country Kitchen!
Trending Posts on Mary's Nest
Shop for items used in this blog post or video
Favorite Fermentation Supplies
Favorite Kitchen Supplies
More Kitchen Supplies with Discount Codes
Use my Mockmill affiliate link for a special one-time 5% discount on Mockmill Stone Grain Mill products, including the new Flake Lover's Flaker. (The Mockmill discount will appear when you checkout.)
Use promo code MARYSNST for a one-time 15% off Masontops and Breadsmart products on Amazon.com.
Amazon Shop and Shopping Guide
Visit my Shopping Guide page
Get up to 15% off for stocking your Traditional Foods Pantry and equipping your Modern Pioneer Kitchen, including discounts from Lehman's, Mockmill Grain Mill, Masontops, Cultures for Health, Survival Garden Seeds, Redmond Real Salt, Plan to Eat, US Wellness Meats, and More!
Recommended Reading
**Disclaimer: I am not a medical doctor, a medical professional, a dietician, or a nutritionist. All content found on the MarysNest.com website, including text, images, videos, eBooks or eGuides, social media, or other formats, were created solely for informational purposes only. The content is not intended to be a substitute for professional medical advice, diagnosis, or treatment. Always seek the advice of your physician or other qualified healthcare provider with any questions you may have regarding a medical condition or proper nutritional advice. Never disregard professional medical advice or delay in seeking it because of something you have watched in a video or read on this website. Use caution when following the recipe in this video. The creator and publisher of this video and website will not be held responsible for any adverse effects that may arise from the use of this recipe and method or any other recipe and method on this website or corresponding video channel.