Affiliates note: As an Amazon Associate I earn from qualifying purchases. My content may contain affiliate links to products and services. If you click through and make a purchase, I'll receive a small commission. It does not affect the price you pay.
Wow! This week, I received the amazing news that my new book, The Modern Pioneer Cookbook, hit number 7 on the Publishers Weekly Non-Fiction Bestsellers List.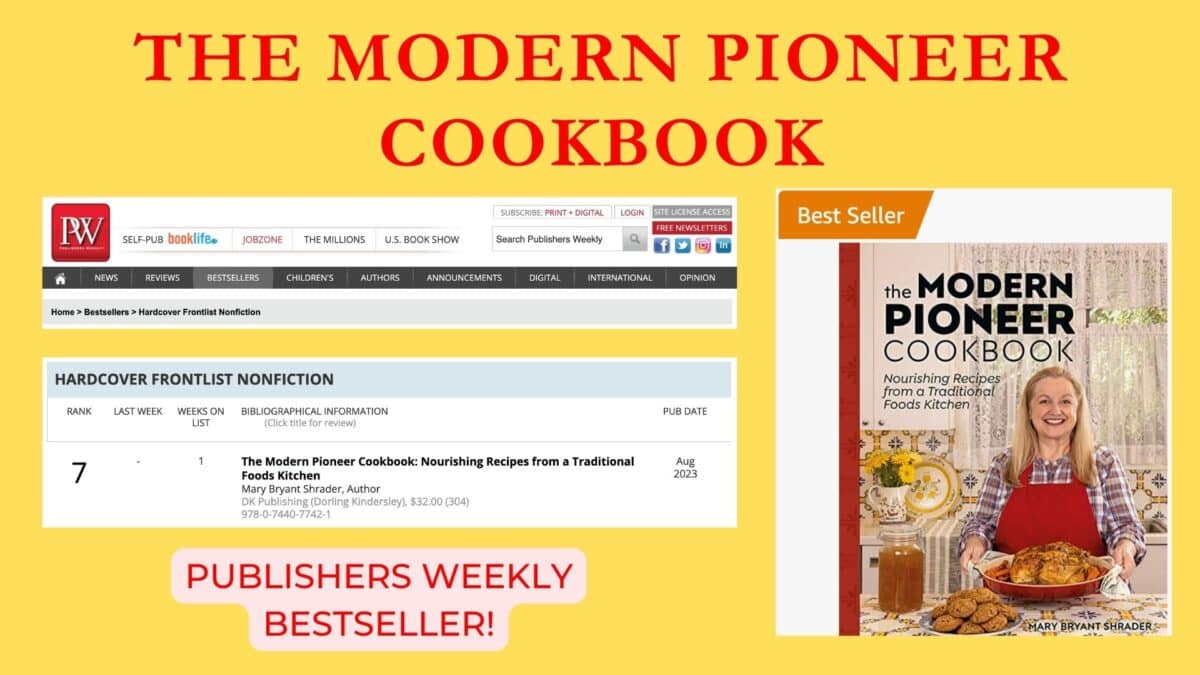 A Milestone for Traditional Foods on the Publishers Weekly Bestsellers List
Thank you so much for your support to reach this milestone on the Publishers Weekly Bestsellers List since there's a lot of competition currently in the marketplace, not only with other food-related books but also all the latest general non-fiction titles.
By getting a copy of my book, you've also helped to keep traditional foods and kitchen techniques alive. If you see the cookbook shelves at your local bookstore, there are a lot of books on quick and easy meals. Making bone broth or culturing dairy, two of the recipes in my book, are not quick foods, and they are unlikely to become Superbowl favorites any time soon. (But that's a good thing!)
Our parents and grandparents prepared these recipes in the kitchens of their day without precise measurements or digital scales. They relied on their ancestors' experience and knowledge to use real foods and traditional techniques to create nutritious and healthy meals for their families, whether in their urban or rural kitchens.
I wanted to capture these time-tested and time-honored recipes and techniques in my new book. It's more than just a cookbook; it's a manual for how to transform your processed foods kitchen into a traditional foods kitchen. You can do this! And I help you with detailed recipes and guidance based on what my mother taught me and my own lifetime of creating meals in the kitchen.
Book Font and Layout
Thank you for all the book reviews you've been leaving on the websites from which you purchased my book. These reviews help other readers and home cooks discover my book and learn about how to prepare traditional foods in their kitchens. The more reviews and sales a book has, the more booksellers will recommend the book to others.
I've received many positive comments on the layout and font of my book. With Penguin Random House and their DK imprint, I knew they would produce a beautiful book. (We grew up with DK books in our household as we homeschooled our son.)
When I first started writing my book, I was concerned about the trend of cookbooks being printed with small fonts. Now, this isn't a problem with eBooks, such as on Amazon Kindle devices, where you can digitally increase the font size. However, it is of concern with paper books since the font size is always fixed, given the printed nature of the book. (And I love having printed books since you'll always have access to them, even if you're out of power or they are no longer available in the "cloud".)
I can't easily read books with a small font, and I don't enjoy books with tiny fonts either. I expressed my concern about this to my editor, and he and the book designer thought about how to best serve my content and readers. They picked an easy-to-read font along with an inviting layout with lots of room for pictures. I was so happy to see this when they sent me the first layout draft. Beautiful!
And based on the comments that I've seen and reviews that I've read, many of you love the font size, type, dark bold print, and book presentation too!
Thank You for Your Support!
So, thank you for purchasing my book, taking the time to leave book reviews, and helping me reach this Publishers Weekly Bestsellers milestone. In doing so, you've also helped spread the word about traditional recipes and kitchen techniques, and that helps other home cooks who are searching for a better way in this processed foods world.
If you're still thinking about purchasing my book but haven't picked up a copy yet, you can visit your local bookstore and pick up The Modern Pioneer Cookbook while you're out and about this Labor Day weekend in the United States. Or, if you're taking a break at home this weekend, you can also get my book from online bookstores located worldwide.
And if you like social media, be sure to take a picture of my book and tag it with @marysnest on Facebook, Instagram, or Twitter (or is it called X now?). I look forward to seeing where my cookbook and the good news of traditional foods are around the world. Thank you for sharing and for all your support! 😊
More Information
Download Your Free 36-Page Pantry List
For an extensive list of the traditional foods you can make and purchase to stock your pantry, be sure to download my free 36-page Traditional Foods Pantry List. This comprehensive eBook is full of links to recipe videos, helpful articles, and more!
And if you're looking for a printed book full of my traditional foods recipes that shows you how to create a traditional foods kitchen, be sure to order your copy of my new book, The Modern Pioneer Cookbook. (It's on the Publishers Weekly Bestsellers List!)
Join the Traditional Foods Kitchen Academy
Are you looking for more traditional foods videos? If so, I invite you to join the Traditional Foods Kitchen Academy. Members of this optional paid YouTube community get access to exclusive videos, live streams, and other members-only perks. Plus, your YouTube comments include a special members-only badge.
During this month's members-only live stream, we talked about a variety of topics, including a preview of upcoming videos.
I talk about the people I met at this year's conference and share some behind-the-scenes of my new cookbook.
Get ready to harness the power of gluten-free buckwheat to help a healthy diet.
Stay in Touch with Mary's Nest
Subscribe to My YouTube Channel for Traditional Foods Videos (Free) - When you subscribe, be sure to click on the notification bell that will let you know each time I upload a new video.
Subscribe to Mary's Traditional Foods Newsletter (Free) - Get a free 36-page eBook for signing up: How to Stock Your Essential Traditional Foods Four-Corners Pantry.
Join the Traditional Foods Kitchen Academy (Optional Paid) - For more detailed videos, live streams, and exclusive members-only perks, join my YouTube membership community.
Order The Modern Pioneer Cookbook (Optional Paid) - Get a printed book of Mary's nourishing recipes from a Traditional Foods Kitchen. This bestselling cookbook is published by Penguin Random House with their DK imprint.
I look forward to having you join me in my Texas Hill Country Kitchen!
---
Favorite Kitchen Supplies
Amazon Shop and Shopping Guide
Recommended Reading