Affiliates note: As an Amazon Associate I earn from qualifying purchases. My content may contain affiliate links to products and services. If you click through and make a purchase, I'll receive a small commission. It does not affect the price you pay.
I was honored to have my new book, The Modern Pioneer Cookbook, chosen as the Lake Travis Reads selection in 2023. They only choose one book per year, and they thought my cookbook was the perfect choice!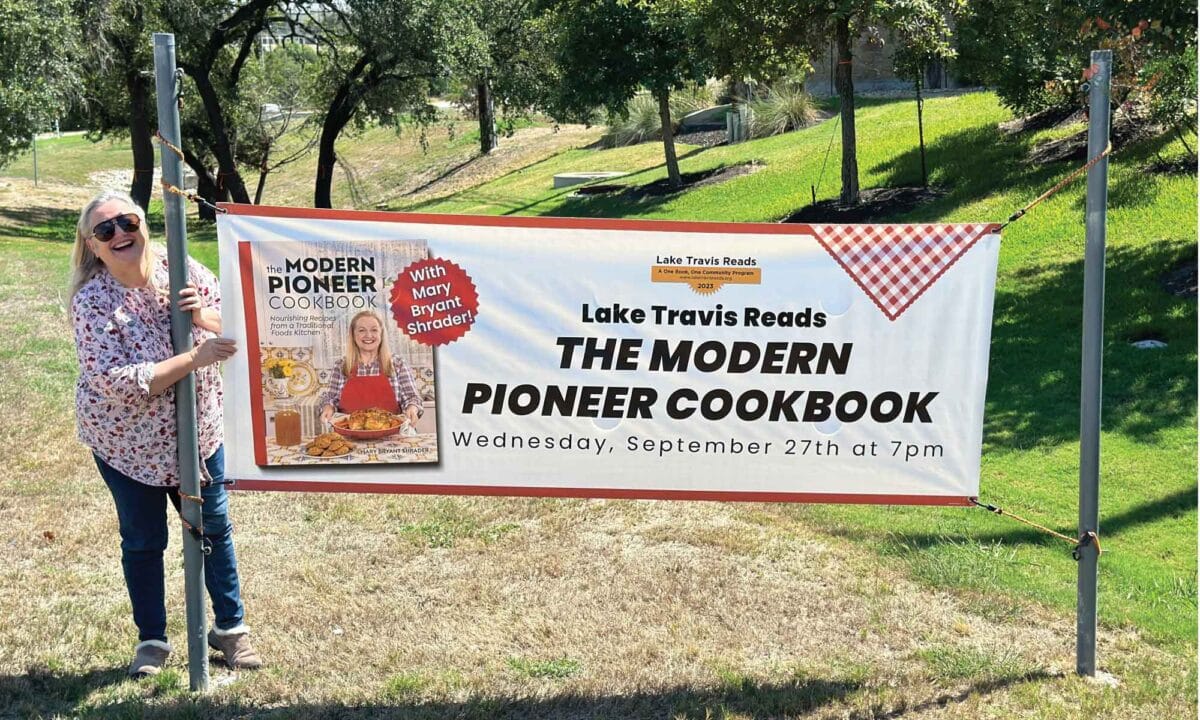 Talking at the Lake Travis Community Library
As part of the Lake Travis Reads event, I'll be speaking at the Lake Travis Community Library tomorrow, Wednesday, September 27, 2023, at 7:00 pm CT. I'll share my YouTube journey and how my video adventures caught the attention of a Penguin Random House (PRH) editor.
You never know what path life may lead you down, but I will confess I never thought I would get an email from an editor from PRH! And when he told me he would like me to write a cookbook for their Dorling Kindersley (DK) imprint, I almost fell out of my chair!
I spent eight years homeschooling our son, Ben, and during that time, DK books played a huge part in our educational process. (And they're very popular at the library too!) To this day, Ben still loves their books with their amazing photography and has made a point to keep all his DK Eyewitness books.
Kitchen Turned into a Studio
During my chat at the library, I will talk about my YouTube and cookbook journey. And some journey that was! Thanks to having the best editor on the planet who held my hand through the entire process, I learned how to write a cookbook and all the ins and outs of what goes into creating a beautiful book from start to finish, including recipe testing, photography, food styling, layout, and finally publication.
For about a week, the DK team turned my kitchen into a studio. I was cooking and baking, the food stylist was arranging the food, the photographer was snapping away, and my editor was guiding the process and approving it all. It's hard to believe it all occurred right here in my kitchen. And if you have already purchased my book (and if so, Thank you!), I hope you have enjoyed all the pictures of my kitchen…a scene you have become familiar with from my videos.
Thanks to Lake Travis Reads
The Lake Travis Reads organization is co-sponsored by Bee Cave Public Library, Lake Travis Community Library, and Spicewood Community Library. My thanks to the Lake Travis Reads organization, including Morgan McMillian, Lake Travis Community Librarian, and Barbara Hathaway, Bee Cave Public Library Librarian, for selecting my cookbook as this year's featured book.
If you have not purchased my cookbook yet but would like to, Austin's Vintage Bookstore will sell copies of my book at tomorrow's event. If you can't make it to tomorrow's event, you can also find my cookbook on the bookshelves of all your favorite retailers who sell books, and you can also order my cookbook online. (Thank you in advance for your support and for keeping traditional foods and kitchen techniques alive!)
So, if you live in the Austin area, I hope you can join me tomorrow. I look forward to meeting you and giving you a big hug! And if you can't make it, I hope one day we will find ourselves together in person—maybe at one of the homesteading conferences—and can meet then and exchange a hug. 😊
More Information
Download Your Free 36-Page Pantry List
For an extensive list of the traditional foods you can make and purchase to stock your pantry, be sure to download my free 36-page Traditional Foods Pantry List. This comprehensive eBook is full of links to recipe videos, helpful articles, and more!
And if you're looking for a printed book full of my traditional foods recipes that shows you how to create a traditional foods kitchen, be sure to order your copy of my new book, The Modern Pioneer Cookbook.
Join the Traditional Foods Kitchen Academy
Are you looking for more traditional foods videos? If so, I invite you to join the Traditional Foods Kitchen Academy. Members of this optional paid YouTube community get access to exclusive videos, live streams, and other members-only perks. Plus, your YouTube comments include a special members-only badge.
I share upcoming recipes and what I have planned for my Mary's Nest YouTube channel in 2024.
During this month's members-only live stream, we talked about a variety of topics, including a preview of upcoming videos.
I talk about the people I met at this year's conference and share some behind-the-scenes of my new cookbook.
Stay in Touch with Mary's Nest
Subscribe to My YouTube Channel for Traditional Foods Videos (Free) - When you subscribe, be sure to click on the notification bell that will let you know each time I upload a new video.
Subscribe to Mary's Traditional Foods Newsletter (Free) - Get a free 36-page eBook for signing up: How to Stock Your Essential Traditional Foods Four-Corners Pantry.
Join the Traditional Foods Kitchen Academy (Optional Paid) - For more detailed videos, live streams, and exclusive members-only perks, join my YouTube membership community.
Order The Modern Pioneer Cookbook (Optional Paid) - Get a printed book of Mary's nourishing recipes from a Traditional Foods Kitchen. This bestselling cookbook is published by Penguin Random House with their DK imprint.
I look forward to having you join me in my Texas Hill Country Kitchen!
---
Shop for items used in this blog post or video
Favorite Kitchen Supplies
Amazon Shop and Shopping Guide
Recommended Reading