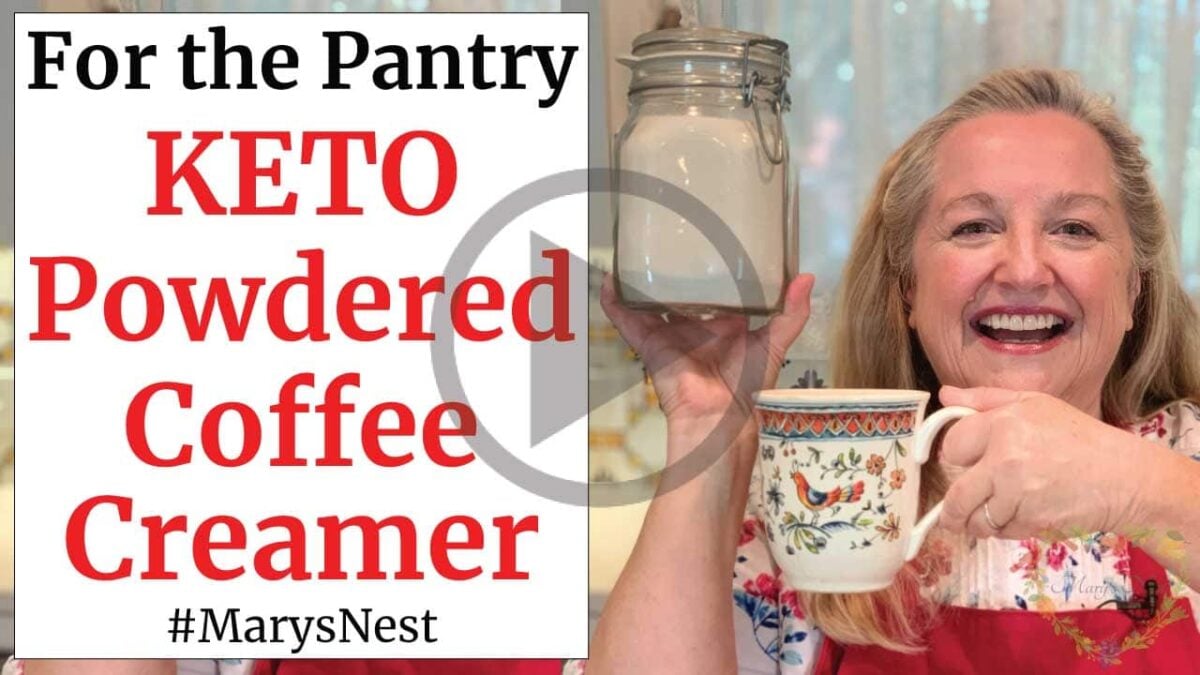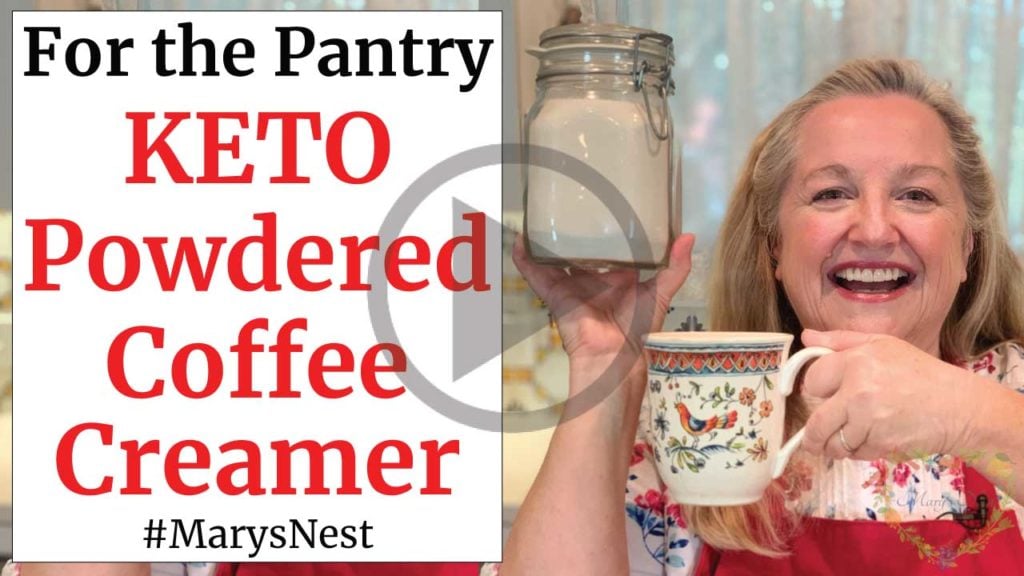 Learn how to make a healthy KETO powdered coffee creamer with this recipe for a shelf-stable pantry staple.
When You Don't Want Half and Half
When I published my first video about How to Make a Healthy Powdered Coffee Creamer, I was thrilled with how popular it was. But the one request that I received over and over was: "How do I make a Keto version of this?" That's a great question! And the good news is that it's quite easy to do.
To make a powdered coffee creamer that's Keto friendly, you can't use powdered milk. You can't even use a combination of powdered milk and powdered cream. (Most Keto enthusiasts don't approve of any type of milk when it comes to following the Keto diet.)
However, when used alone, powdered cream or powdered heavy cream makes the perfect ingredient to create a Keto powdered coffee creamer!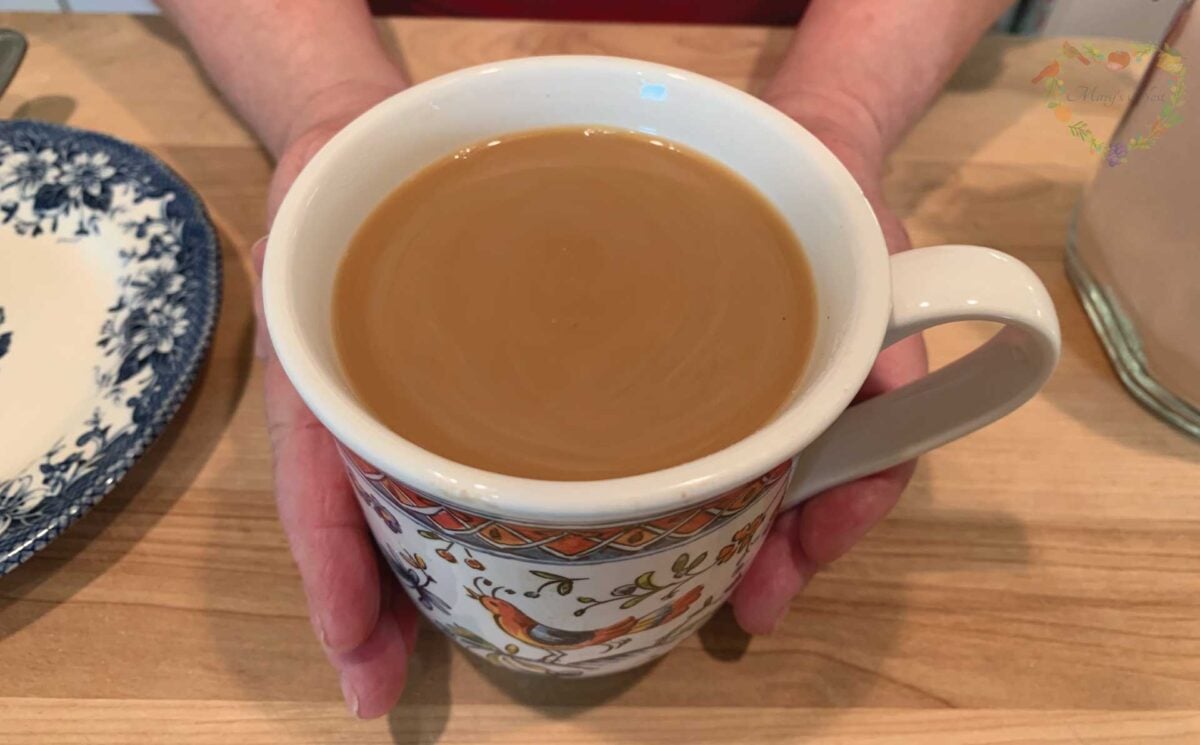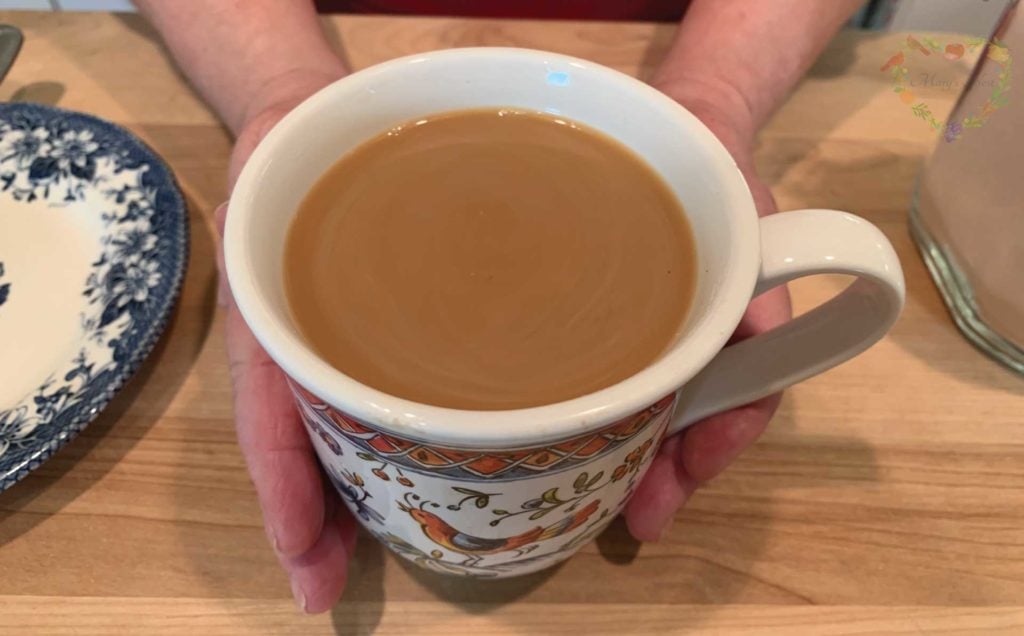 What are the Different Types of Alternative Keto Sweeteners?
Now, if you just want to use powdered heavy cream in your coffee, you certainly can. It's a great product to keep in your pantry in case you run out of regular heavy cream in your fridge or if you want to be able to take some "cream" for your coffee with you when traveling.
But what if you want your creamer to have a sweetness like the beverages you enjoy at your favorite coffee house? In that case, you have plenty of options for turning your powdered heavy cream into a sweet treat—but one that is basically carbohydrate-free and calorie-free!
After taste testing and experimenting with different alternative sweeteners, I like Allulose the best. I was surprised at what a clean flavor it had with no after taste. But everyone's palate is different, so in my recipe video, I go over all the sweeteners that I taste-tested and discuss their pros and cons.
I talk about the following Keto approved sweeteners in my recipe video.
Allulose
Allulose Monk Fruit Blend
Erythritol
Monk Fruit
Erythritol Monk Fruit Blend
Stevia
Stevia Inulin Blend
Xylitol
(NOTE: If you can't find these products at your local grocery store, I have links to them in my list of favorite Keto Powdered Coffee Creamer Making Supplies.)
All these alternative sweeteners have a low glycemic index. They are also low in carbohydrates and calories. Some sweeteners have a cooling or minty taste, a few can upset the digestive system for some folks, and others actually prevent tooth decay! I recommend that you taste small amounts of each and see what agrees with you and what taste you enjoy the best for your creamer.
Customize Your Keto Coffee Creamer Ingredients
If you want to flavor your powdered coffee creamer, that's where the fun begins (or continues, as it's fun to pick your sweetener too). Here are just a few of the additional ingredients you can add:
Vanilla-flavored Keto approved sweetener or vanilla powder
Different spice mixtures (such as pumpkin pie spice or apple pie spice)
Dried mint
Cocoa powder
Cocoa powder AND espresso powder for a delicious mocha coffee creamer and an extra kick of caffeine! (Wow!)
With my printable recipe, you can try out these ingredients and others that you may enjoy for a tasty treat during holiday time or anytime you'd enjoy a special beverage.
Storing Your Powdered Creamer
In my recipe video, I talk about how you can store your Keto coffee creamer in a mason jar with an airtight lid. If you live in a very humid climate, you can include a food-grade silica gel pack in the jar with your coffee creamer to help keep out moisture. Watch the following videos to learn more about storage options and the difference between oxygen absorbers and silica gel packs.
To learn about all the homemade and store-bought items you can store in your pantry, download my free 36-page Pantry List eBook.
More Keto Recipes
Now that you've made your Keto Powdered Coffee Creamer, be sure to try out these other Keto-friendly recipes, including:
The Modern Pioneer Cookbook
And if you're looking for a printed book full of my traditional foods recipes and that shows you how to create a traditional foods kitchen, be sure to preorder your copy of my new book, The Modern Pioneer Cookbook.
Kitchen Academy Videos
Are you looking for more traditional foods videos? If so, I invite you to join the Traditional Foods Kitchen Academy. Members of this optional paid YouTube community get access to exclusive videos, live streams, and other members-only perks. Plus, your YouTube comments include a special members-only badge.
I chat about why it was important for me to create this comprehensive curriculum for students in grades K-12.
I share upcoming recipes and what I have planned for my Mary's Nest YouTube channel in 2024.
During this month's members-only live stream, we talked about a variety of topics, including a preview of upcoming videos.
Stay in Touch with Mary's Nest
Subscribe to My YouTube Channel for Traditional Foods Videos (Free) - When you subscribe, be sure to click on the notification bell that will let you know each time I upload a new video.
Subscribe to Mary's Traditional Foods Newsletter (Free) - Get a free 36-page eBook for signing up: How to Stock Your Essential Traditional Foods Four-Corners Pantry.
Join the Traditional Foods Kitchen Academy (Optional Paid) - For more detailed videos, live streams, and exclusive members-only perks, join my YouTube membership community.
Order The Modern Pioneer Cookbook (Optional Paid) - Get a printed book of Mary's nourishing recipes from a Traditional Foods Kitchen. This bestselling cookbook is published by Penguin Random House with their DK imprint.
I look forward to having you join me in my Texas Hill Country Kitchen!
Shop for items used in this blog post or video
Favorite Keto Powdered Coffee Creamer Making Supplies
These heavy cream powders serve as the base for your coffee creamer recipe:
Here are some Keto acceptable alternative sweeteners that you can choose from:
If you're looking for additional custom ingredients, you can try the following:
UPDATE: Thanks to a viewer's comment, I added the following links on the Laird products that I enjoy using:
And here are some options for measuring, pulverizing, and storing your creamer, along with some beautiful aprons too!
Amazon Shop and Shopping Guide
Visit my Shopping Guide page
Get up to 15% off for stocking your Traditional Foods Pantry and equipping your Modern Pioneer Kitchen, including discounts from US Wellness Meats, Farmhouse Teas, Lehman's, Masontops, Cultures for Health, Survival Garden Seeds, Redmond Real Salt, Plan to Eat, and More!
Recommended Reading
**Disclaimer: I am not a medical doctor, a medical professional, a dietician, or a nutritionist. All content found on the MarysNest.com website, including text, images, videos, eBooks or eGuides, social media, or other formats, were created solely for informational purposes only. The content is not intended to be a substitute for professional medical advice, diagnosis, or treatment. Always seek the advice of your physician or other qualified healthcare provider with any questions you may have regarding a medical condition or proper nutritional advice. Never disregard professional medical advice or delay in seeking it because of something you have watched in a video or read on this website. Use caution when following the recipe in this video. The creator and publisher of this video and website will not be held responsible for any adverse effects that may arise from the use of this recipe and method or any other recipe and method on this website or corresponding video channel.