Affiliates note: As an Amazon Associate I earn from qualifying purchases. My content may contain affiliate links to products and services. If you click through and make a purchase, I'll receive a small commission. It does not affect the price you pay.
How to Make a Healthy Powdered Coffee Creamer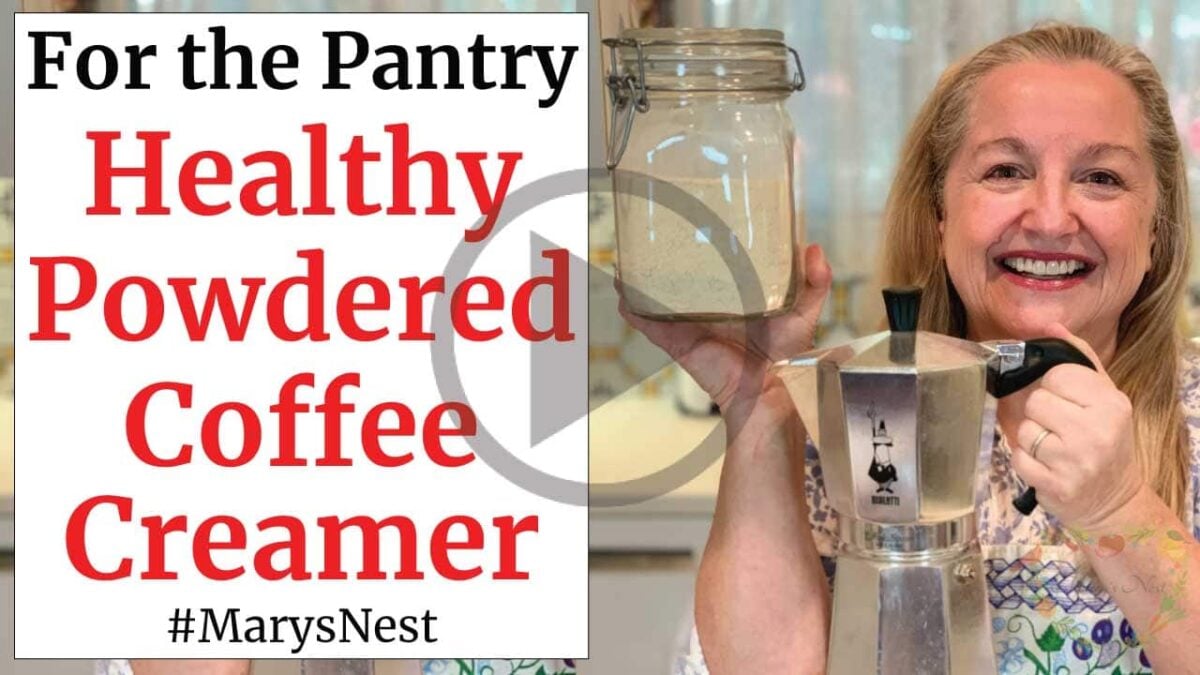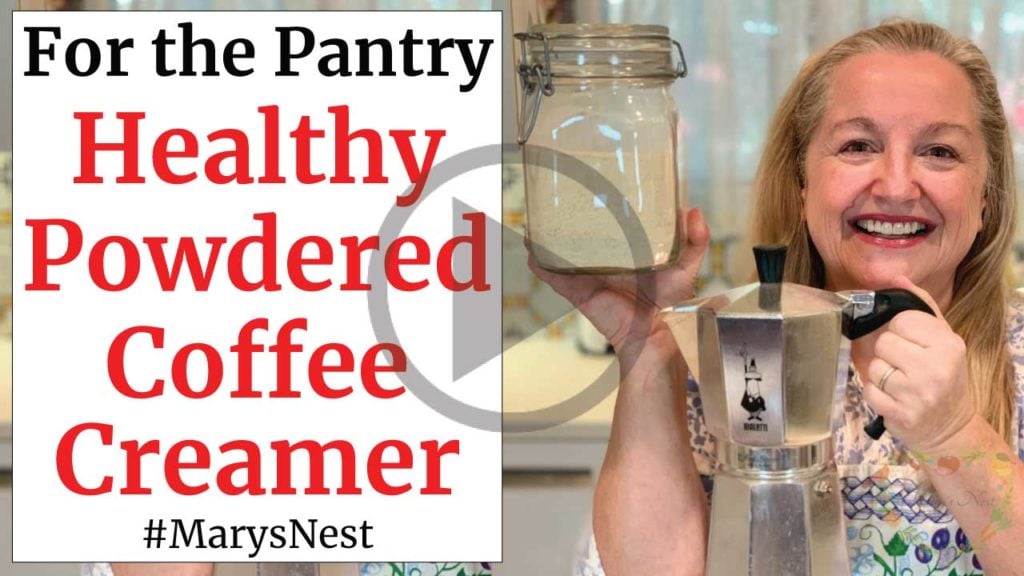 Learn how to make a healthy powdered coffee creamer with this recipe for a shelf-stable pantry staple.
With this recipe, you'll know exactly what wholesome ingredients are in your creamer. Some powdered creamers include corn syrup solids and partially hydrogenated soybean oil as ingredients. Egad! Those two ingredients are definitely not welcome in the Traditional Foods Kitchen, and this recipe ensures that only the ingredients you want are in your shelf-stable creamer.
*Affiliates note: As an Amazon Associate I earn from qualifying purchases. My content may contain affiliate links to products and services. If you click through and make a purchase, I'll receive a small commission. It does not affect the price you pay.
Customize Your Coffee Creamer's Ingredients
When you make homemade coffee creamer, you can tailor the ingredients to suit your dietary needs. For example, you can choose to make a non-fat or a full-fat creamer to enjoy with your morning coffee. You can even make a dairy-free homemade coffee creamer!
And when it comes to sweeteners, you have lots of options. For a simple sweet flavor, Sucanat, coconut sugar, or date sugar all work wonderfully. For a bit of a maple flavor, you can add maple sugar.
But the fun begins when you decide how to flavor your powdered coffee creamer. Here are just a few of the ingredients you can add:
Vanilla flavored sugar or vanilla powder
Different spice mixtures (such as pumpkin pie spice or apple pie spice)
Coconut powder
Dried mint
Cocoa powder (makes a delicious mocha coffee creamer!)
Watch my recipe video to see which ingredients I bring together to show you how easy and delicious your powdered creamer can be.
Related Pantry Staple Videos
For more homemade shelf-stable pantry staples, check out the videos below where I share how to make a hot cocoa mix, five cookie mixes, three cake mixes, and muffin mix with a crumb topping. All healthy and all delicious!
Ready to store your powdered creamer in your Four Corners Pantry? Be sure to download my free 36-page pantry list to learn about all the homemade and store-bought goods you can store in your extended or Prepper Pantry.
Stay in Touch with Mary's Nest
Subscribe to My YouTube Channel for Traditional Foods Videos (Free) - When you subscribe, be sure to click on the notification bell that will let you know each time I upload a new video.
Subscribe to Mary's Traditional Foods Newsletter (Free) - Get a free 36-page eBook for signing up: How to Stock Your Essential Traditional Foods Four-Corners Pantry.
Join the Traditional Foods Kitchen Academy (Optional Paid) - For more detailed videos, live streams, and exclusive members-only perks, join my YouTube membership community.
Order The Modern Pioneer Cookbook (Optional Paid) - Get a printed book of Mary's nourishing recipes from a Traditional Foods Kitchen. This bestselling cookbook is published by Penguin Random House with their DK imprint.
I look forward to having you join me in my Texas Hill Country Kitchen!
Healthy Powdered Coffee Creamer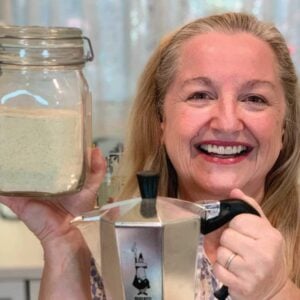 Customize this shelf-stable pantry staple for a delicious companion for your morning coffee.
Equipment
Food processor, blender (regular or high-speed), or spice/coffee bean grinder

Measuring cups

Measuring spoons

Quart-sized jar with lid, preferably airtight
Ingredients
Basic Powdered Coffee Creamer Recipe
3

cups

Powdered milk, non-fat or full-fat

You can also use powdered creamer to replace up to half of the powdered milk in the 3 cup measurement. Also, for a dairy-free alternative, you can use 3 cups of coconut milk powder.

1

cup

Whole sweetener such as Sucanat

Optional whole sweeteners include coconut sugar, date sugar, or maple sugar. You can add an additional 1/8 cup of sweetener to this mix for a very sweet tasting creamer.
Optional Flavorings for Basic Powdered Coffee Creamer Recipe Above
Vanilla Flavoring
1

tbsp

Vanilla powder or 1/2 vanilla bean pod

Alternatively, you can use sugar that you have scented with 1 vanilla bean pod over a few weeks. Use the scented sugar in place of the vanilla powder or the 1/2 vanilla bean pod.
Mocha Flavoring
2

tbsp

Unsweetened cocoa powder

1

tsp

Espresso powdered or freeze-dried coffee powder, optional

This ingredient provides an intense mocha coffee flavor.
Coconut Flavoring
2

tbsp

Coconut "milk" powder
Mint Flavoring
1

tsp

Dried mint

NOTE: Mix this with the sweetener first, then sift out any bits of dried mint that did not fully pulverize.
Instructions
Add your sweetener of choice to a food processor, blender, or other electrical mixer, and pulverize the sweetener until it turns into a fine powder. This process can take up to 2 minutes, depending on the type of device you are using. (If you are using the small spice/coffee bean grinder, you will need to do this in multiple batches) (See video.)

Add your flavoring of choice to the powdered sweetener and pulverize for 30 seconds.

Add powdered milk of choice to sweetener mixture and blend for 60 seconds or until fully blended.

Transfer the mixture to an airtight jar and store in your pantry. This mixture has a shelf life of one year.

To use your powdered coffee creamer, add 1 tablespoon to an 8-12 ounce mug and pour in hot coffee. You can add more creamer if you want.) Stir and enjoy!
Notes
Find this recipe and video at https://marysnest.com/how-to-make-a-healthy-powdered-coffee-creamer/
Copyright © 2020 Mary's Nest, LLC, All Rights Reserved
Watch Mary's Nest on YouTube
Shop for items used in this blog post or video
Favorite Powdered Coffee Creamer Making Supplies
Here are some milk options you can choose from:
I like these whole sweeteners, coca powder, and cinnamon selections:
And here are some options for measuring, pulverizing, and storing your creamer, along with some beautiful aprons too!
Amazon Shop and Shopping Guide
Visit my Shopping Guide page
Get up to 15% off for stocking your Traditional Foods Pantry and equipping your Modern Pioneer Kitchen, including discounts from US Wellness Meats, Farmhouse Teas, Lehman's, Masontops, Cultures for Health, Survival Garden Seeds, Redmond Real Salt, Plan to Eat, and More!
Recommended Reading
**Disclaimer: I am not a medical doctor, a medical professional, a dietician, or a nutritionist. All content found on the MarysNest.com website, including text, images, videos, eBooks or eGuides, social media, or other formats, were created solely for informational purposes only. The content is not intended to be a substitute for professional medical advice, diagnosis, or treatment. Always seek the advice of your physician or other qualified healthcare provider with any questions you may have regarding a medical condition or proper nutritional advice. Never disregard professional medical advice or delay in seeking it because of something you have watched in a video or read on this website. Use caution when following the recipe in this video. The creator and publisher of this video and website will not be held responsible for any adverse effects that may arise from the use of this recipe and method or any other recipe and method on this website or corresponding video channel.