How to Make a Healthy Make Ahead Hot Chocolate Mix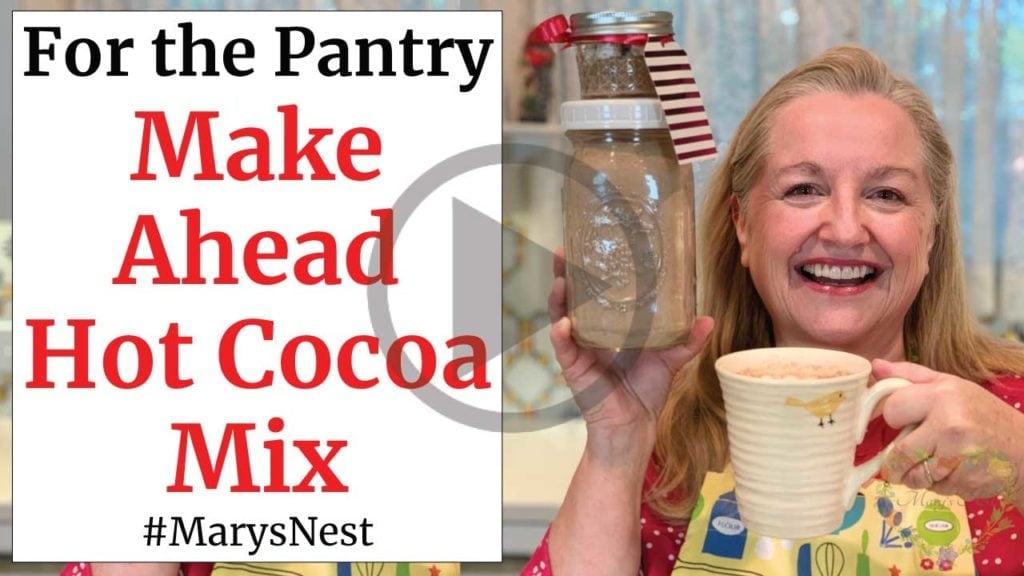 Learn how to make this Healthy Make Ahead Hot Chocolate Mix. This shelf-stable pantry staple is the perfect recipe to store in your Working Pantry or your Extended Pantry…what we call our "Prepper Pantry."
A Better, Healthier Hot Chocolate Mix
A store-bought Hot Chocolate Mix often contains ingredients that you won't want in your Traditional Foods Kitchen.
Pick up a common powdered instant hot chocolate drink from your grocery store shelf, and you will probably find the following ingredients: Sugar, Corn Syrup, Modified Whey, Cocoa (Processed With Alkali), Hydrogenated Coconut Oil, Nonfat Milk, Calcium Carbonate, Salt, Dipotassium Phosphate, Mono- And Diglycerides, Carrageenan, Acesulfame Potassium, Sucralose, and Artificial Flavors!
Wow!! All that in one mug of Hot Cocoa! I certainly don't want to drink anything I can't pronounce! But not to worry. A homemade Hot Chocolate Mix is very easy to make, and it only contains four ingredients:
Dry Milk Powder
Unsweetened Cocoa Powder
Whole Sweetener, like Sucanat
A tiny pinch of salt
That's it for this healthy Hot Chocolate Mix recipe! 😊
A Shelf-Stable Hot Chocolate Mix
In addition to natural ingredients, another benefit about this Make-Ahead Hot Chocolate Mix is that it is shelf-stable. You can store this mix right in your pantry without the need for refrigeration. And the shelf-life, depending on which type of powdered milk you use, can range anywhere from six months to two years!
If you want to give your Hot Chocolate Mix an extra bit of preservation, you can add a few teaspoons of:
Cornstarch
Arrowroot powder, or
White rice flour
Choose the ingredient that best agrees with your digestion. Any of these ingredients work to keep your mixture from clumping if you live in a particularly humid climate. (I show you how to add arrowroot powder in my recipe video.)
Alternatively, to help keep moisture out of your container, you can use a small silica gel pack tucked into your mix. But don't worry if you don't have any of these options. If your mixture clumps a bit, you can easily break up the clumps with a quick stir of your fork.
Preparing Your Mug of Hot Chocolate
When you're ready to enjoy a mug of Hot Chocolate, all you have to do is add a quarter of a cup of your Hot Chocolate Mix to a mug and top it off with about 8 ounces of boiling hot water. Stir well for about 60 seconds, and then top with marshmallows, if you wish, and enjoy!
For double the calcium nutrition, you can certainly use hot milk as your liquid to make your hot chocolate. Using milk, especially whole full-fat milk, creates an exceptionally rich hot chocolate!
Related Mix-Ahead Videos
If you enjoy preparing make-ahead mixes to store in your pantry and make your meal prep easier, check out the videos below. I show you how to jar up many healthy make-ahead mixes, including:
Healthy Baking Mixes

Pancake
Cornbread
Brownie
Biscuit
All-Purpose (Bisquick Copycat)

Healthy Cookies Mixes

Soft Cut-Out Sugar
Chocolate Chip
Soft and Chewy Oatmeal Raisin
Peanut Butter (or other "nut" butter)
Snickerdoodle
Store Make-Ahead Mixes in Your Pantry
You can store your Make-Ahead Hot Chocolate Mix as part of your Four Corners Pantry. Download this free 36-page pantry list to learn about all the foods you can store (and make-ahead) in your extended or Prepper Pantry. The following videos will also help you learn more about why you need a Prepper Pantry and how to use Silica Gel Packs, which you can use to keep moisture out of your make-ahead mixes.
Stay in Touch with Mary's Nest
Subscribe to My YouTube Channel for Traditional Foods Videos (Free) - When you subscribe, be sure to click on the notification bell that will let you know each time I upload a new video.


Subscribe to Mary's Traditional Foods Newsletter (Free) - Get a free eBook for signing up: How to Stock Your Essential Traditional Foods Four-Corners Pantry.


Join the Traditional Foods Kitchen Academy (Optional Paid) - For more detailed videos, live streams, and exclusive members-only perks, join my YouTube membership community.
I look forward to having you join me in my Texas Hill Country Kitchen!
Love,
Mary
♥
Shop for items used in this blog post or video
Favorite Make Ahead Mix Supplies
These ingredients and mixing items will help you create the perfect mix:
These supplies will help you store your Make Ahead mix in your long-term pantry:
These supplies will help you package your Make Ahead Hot Chocolate Mix into beautiful gifts:
And check out these additional supplies for your everyday kitchen:
Use promo code MARYSNST for a one-time 15% off Masontops and Breadsmart products on Amazon.com.
Use my Mockmill affiliate link for a special one-time 5% discount on Mockmill Stone Grain Mill products, including Ancient Grains, like Einkorn, Emmer, and Spelt. (The Mockmill discount will appear when you checkout.)
Amazon Shop and Shopping Guide
Visit my Shopping Guide page
Learn where I buy my beef bones, electric grain mills, sprouted grains, and more…and get special discounts for Mary's Nest visitors, including from US Wellness Meats, Mockmill, Masontops, and Cultures for Health.
Recommended Reading
*Affiliates note: As an Amazon Associate I earn from qualifying purchases. My videos and blog posts may contain affiliate links to products and services. If you click through and make a purchase, I'll receive a small commission. It does not affect the price you pay.
**Disclaimer: I am not a medical doctor, a medical professional, a dietician, or a nutritionist. All content found on the MarysNest.com website, including text, images, videos, eBooks or eGuides, social media, or other formats, were created solely for informational purposes only. The content is not intended to be a substitute for professional medical advice, diagnosis, or treatment. Always seek the advice of your physician or other qualified healthcare provider with any questions you may have regarding a medical condition or proper nutritional advice. Never disregard professional medical advice or delay in seeking it because of something you have watched in a video or read on this website. Use caution when following the recipe in this video. The creator and publisher of this video and website will not be held responsible for any adverse effects that may arise from the use of this recipe and method or any other recipe and method on this website or corresponding video channel.