In today's video, I show you how to prepare the following healthy make ahead mixes for your pantry:
Pancake Mix
Cornbread Mix
Brownie Mix
Biscuit Mix
All Purpose Baking Mix (Bisquick Copycat)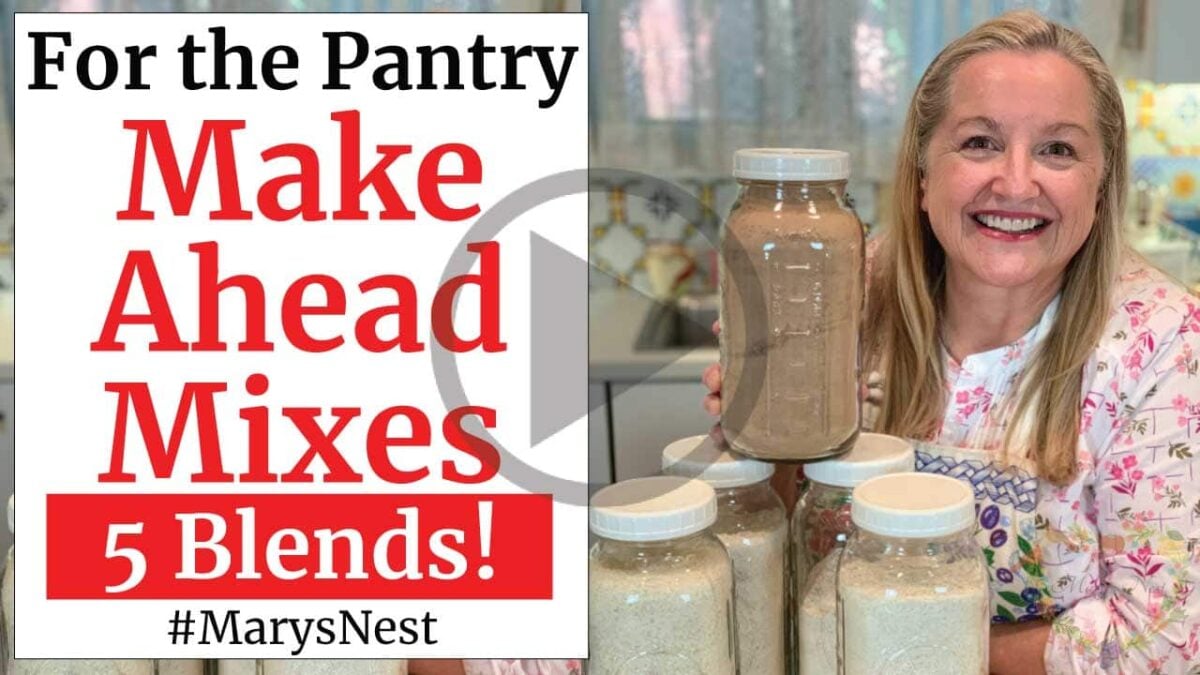 Overview of the Four Corners Pantry
I'm excited to share these 5 Healthy Make Ahead Mixes with you, and since these mixes are shelf-stable pantry staples, let's have a little pantry chat first.
As I've shared previously, I often refer to the "Pantry" as the "Four Corners Pantry" that consists of your:
Generally, when supplies in your Main Working Pantry run low, you will refill your Main Working Pantry with the foods from your Extended Pantry. Then, on your next trip to the grocery store, you will replenish those items you transferred from your Extended Pantry. Remember to check your food's expiration date and to operate on a "First In – First Out" system, so that none of the food in your Extended Pantry becomes stale.
Setup a Survival Pantry for Emergencies
You may also have a place in your Extended or Prepper Pantry that is dedicated to what is commonly referred to as a "Survival Pantry." In essence, this could be considered a "fifth corner" of your pantry system, but you will usually locate your survival food in the same place where you store your Extended Pantry supplies.
The commonly used foods in your Extended Pantry serve as backups for your Main Working Pantry under normal circumstances. Additionally, the items in your Extended Pantry can also come in handy as backup food supplies in the event of an emergency, such as bad weather, illness, job loss, or any situation that may prevent you from going grocery shopping.
But what about a dire emergency? That's when we need to rely on our Survival Pantry, which is the part of our Extended or Prepper Pantry that contains foods with a very long shelf life or nearly an indefinite shelf life. I call these items, "Forever Foods."
You can learn more about Survival Pantry Forever Foods, as well as other non-perishable foods for stocking your Extended Pantry, with the following videos:
But Where to Store the Make Ahead Mixes?
So, where do these 5 Healthy Make Ahead Mixes fit in our pantry? Since they have a shelf life anywhere from six months to one year, these mixes are perfect for your Main Working Pantry, as well as your Extended Pantry.
I like to keep small jars (about 2 cup-sized jars) of each mix in my Main Working Pantry. As I use that up, I'll refill the small jars from the larger jars that I keep in my Extended Pantry. I find that this is the best way to keep my mixes fresh because I reseal the large jars with my handheld Foodsaver device.
Plus, I keep a food-safe silica gel pack in my large jars to absorb any moisture.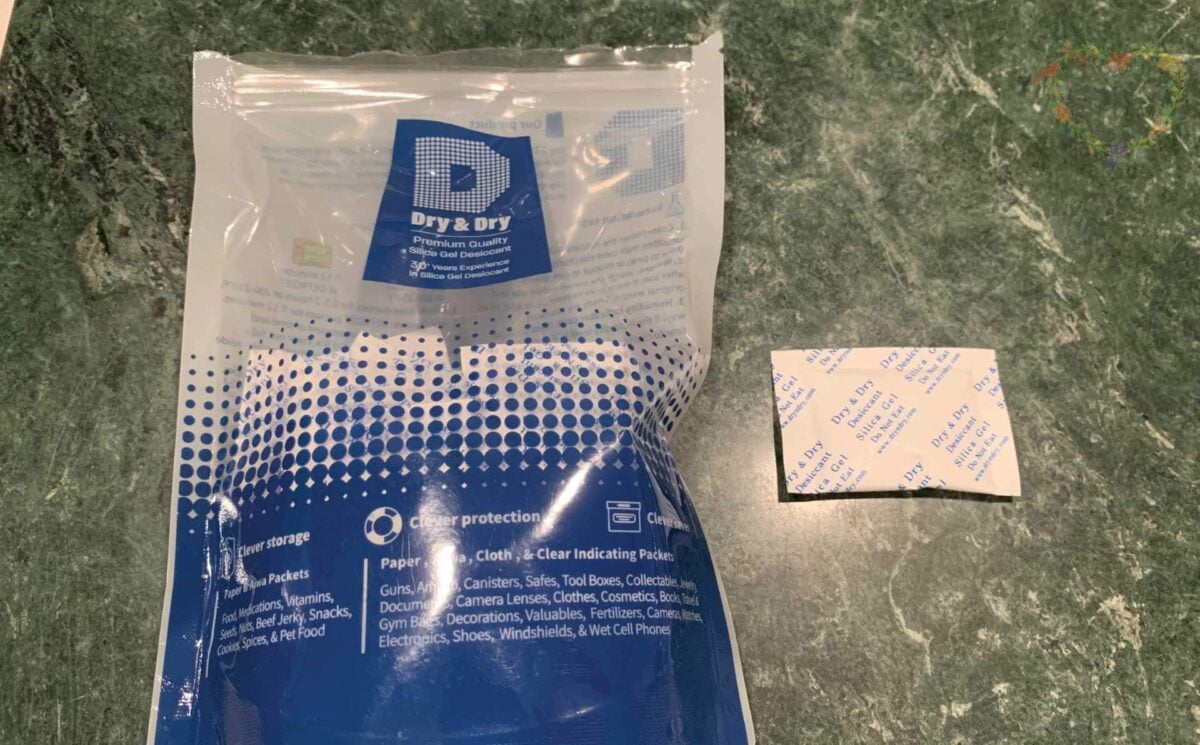 Products to Extend Your Shelf-Life
In summary, the following products will keep your Make Ahead Mixes fresh and easily extend their shelf life for up to one year and possibly longer.
Healthier Make Ahead Mixes
Many make ahead mixes often use all purpose flour as their base. In contrast, I call the mixes in my recipe video healthy make ahead mixes because I incorporate whole grain flours and whole sweeteners into each mix.
I use whole wheat flour in each mix since that is the easiest type for most people to find. However, you can use any whole grain flour that you like, including ancient grains such as Einkorn or Spelt. These mixes are perfectly suited to being made with any variety of sprouted flour as well.
Be sure to check out the printable recipe that corresponds with this video and blog post, where I share how to create and use each mix. You can print out the recipe blocks for each mix and attach them to each of your make ahead mix jars so you'll always know how to use your mix in the future.
For more information about ancient grains or sprouted flour, watch the following videos:
More Shelf-Stable Pantry Staples
Now that you have 5 Healthy Make Ahead Mixes for your pantry, be sure to try your hand at making these other great shelf-stable pantry staples so that you'll always have them handy in your Main Working Pantry or your Extended Pantry. You'll never have to buy them premade again!
Download Your Free 36-Page Pantry List
For an extensive list of the traditional foods you can make and purchase to stock your pantry, be sure to download my free 36-page Traditional Foods Pantry List. This comprehensive eBook is full of links to recipe videos, helpful articles, and more!
And if you're looking for a printed book full of my traditional foods recipes that shows you how to create a traditional foods kitchen, be sure to order your copy of my new bestselling book, The Modern Pioneer Cookbook.
Join the Traditional Foods Kitchen Academy
Are you looking for more traditional foods videos? If so, I invite you to join the Traditional Foods Kitchen Academy. Members of this optional paid YouTube community get access to exclusive videos, live streams, and other members-only perks. Plus, your YouTube comments include a special members-only badge.
I chat about why it was important for me to create this comprehensive curriculum for students in grades K-12.
I share upcoming recipes and what I have planned for my Mary's Nest YouTube channel in 2024.
During this month's members-only live stream, we talked about a variety of topics, including a preview of upcoming videos.
Stay in Touch with Mary's Nest
Subscribe to My YouTube Channel for Traditional Foods Videos (Free) - When you subscribe, be sure to click on the notification bell that will let you know each time I upload a new video.
Subscribe to Mary's Traditional Foods Newsletter (Free) - Get a free 36-page eBook for signing up: How to Stock Your Essential Traditional Foods Four-Corners Pantry.
Join the Traditional Foods Kitchen Academy (Optional Paid) - For more detailed videos, live streams, and exclusive members-only perks, join my YouTube membership community.
Order The Modern Pioneer Cookbook (Optional Paid) - Get a printed book of Mary's nourishing recipes from a Traditional Foods Kitchen. This bestselling cookbook is published by Penguin Random House with their DK imprint.
I look forward to having you join me in my Texas Hill Country Kitchen!
Shop for items used in this blog post or video
Favorite Make Ahead Mix Supplies
Amazon Shop and Shopping Guide
Recommended Reading