In today's video, I show you how to make gluten-free flour mixes, and I provide the accompanying recipes along with a special pantry list download. I share with you how to make three basic mixes, plus a fourth bonus mix for folks who love to make biscuits with self-rising flour.
Be sure to download your free Gluten-Free Flour Mixes Pantry List PDF file that contains ingredient checklists for:
All-Purpose Gluten-Free Flour Mix
Whole Grain Gluten-Free Flour Mix
Gluten-Free Cookie Mix
Gluten-Free Self-Rising Flour Mix
Note: This is not a sponsored post. I bought and use all the products that I talk about in this video and recipe post.
Homemade Gluten-Free Flour Mixes
Gluten-free baking can be a challenge, especially for beginners. The selection of gluten-free flour mixes at your local grocery store can be overwhelming, not to mention pricey. Plus, pre-prepared gluten-free mixes may contain ingredients you don't want.
I am here to show you how easy it is to make your own affordable gluten-free flour mixes. You can tailor them to use only the ingredients you want to bake with, so your baked goods will come out delicious and to your liking every time!
Start with Small Batches
Just remember that if you are at the beginning of your gluten-free baking journey, you want to start small.
Don't rush out and buy a 50-pound bag of millet flour or another gluten-free flour until you have tried a small amount of each ingredient that you're considering using. You want to make sure you like the flavor and the texture that the gluten-free flour creates in your baked good.
Speaking of millet, here's a picture of what millet flour looks like: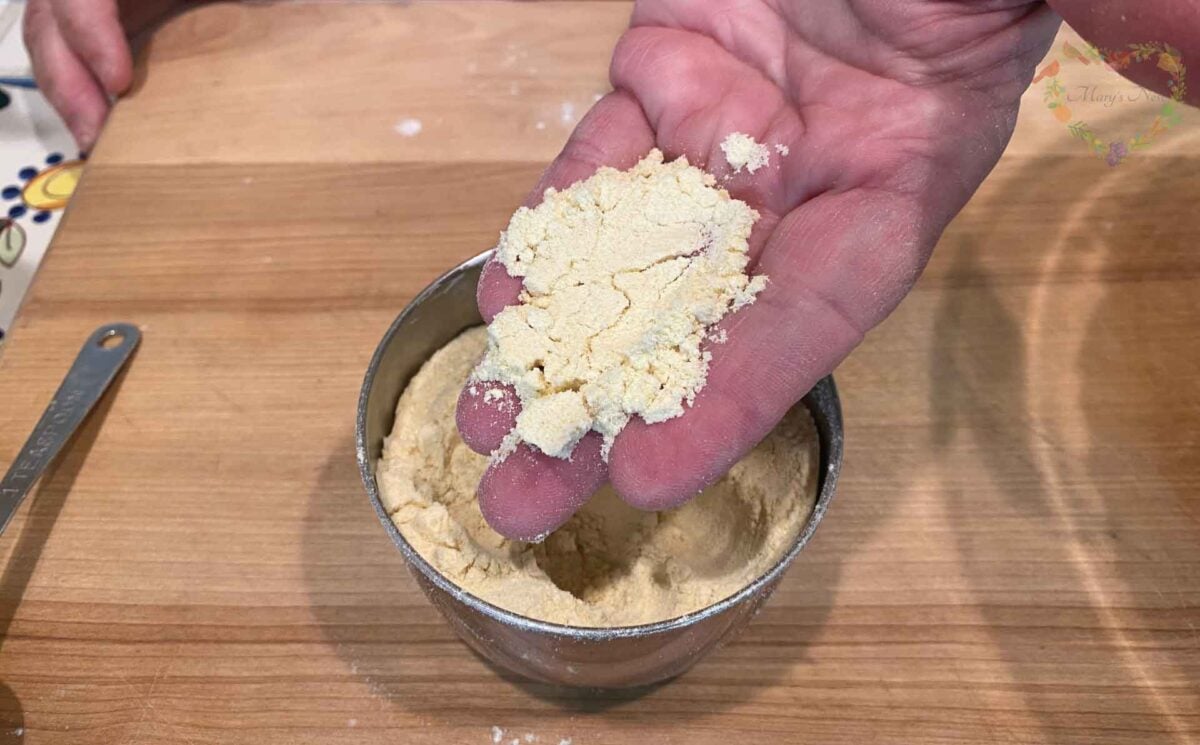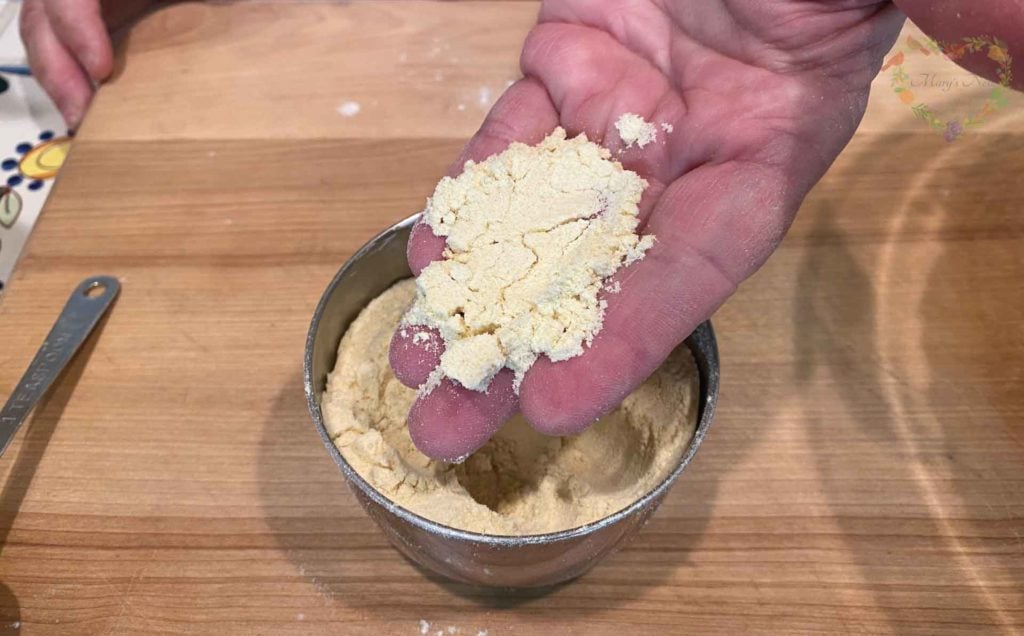 Remember that starting small will save you a lot of money!
Are You New to Gluten-Free Baking?
Most importantly, I want to share a word of encouragement to new gluten-free bakers. Don't give up if your first attempt doesn't turn out well. Instead, go easy on yourself and don't try to be perfect as you're getting started.
Start a Kitchen Journal
Culinary mistakes can happen to any new baker, whether you are baking with or without gluten. So each time you bake, you'll want to take notes to record the ingredients you used and whether or not it turned out as you expected. (And if you liked the baked good!)
Save these notes in your kitchen journal and refer back to your notes each time you begin to bake. If you don't have a kitchen journal, watch my video where I share my kitchen journal and give you ideas on how to start your own.
Keep track of the outcome of each gluten-free baking attempt. For example:
Was your first attempt at a gluten-free bread dry? Make a note to add a bit more liquid next time.
Was the bread somewhat mushy? Add less liquid next time.
Did you like the flavor of your quick bread? If not, try a different gluten-free flour next time.
Trust me. After about your third try at baking a gluten-free bread, you will begin to have success and be satisfied with your final product. (And be sure to make a note of your successes too!)
Is it Cheaper to Make Your Own Gluten-Free Flour Mixes?
Whenever you make something homemade, it is generally less expensive than something sold at the grocery that is pre-prepared for you. The same holds true for my Make Ahead Mixes and my Gluten-Free Flour Mixes in this recipe post.
But there's one more important reason to make your mixes homemade. You can tailor the ingredients to what you want in your mix, not what the manufacturer wants.
As I mentioned earlier, when you shop for gluten-free flours, I highly recommend that you buy small amounts until you discover which individual flours you like the best. Then, once you find the gluten-free flours you like to bake with, you can start shopping in bulk for better savings.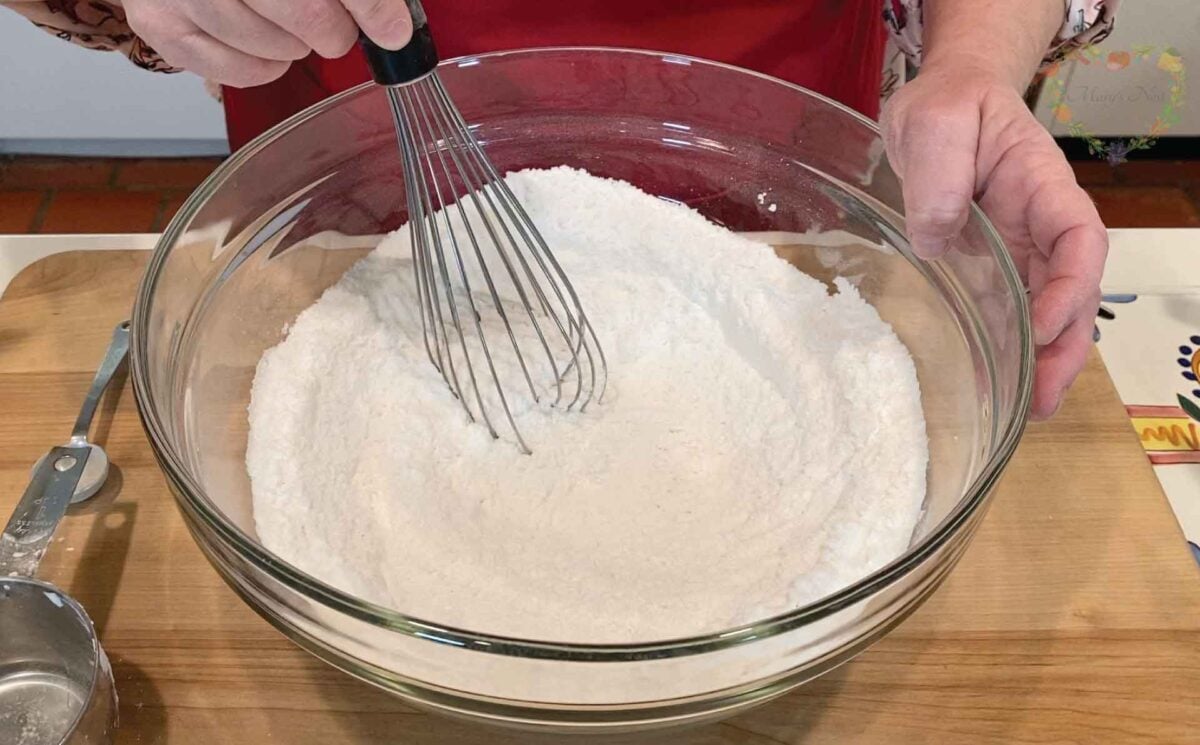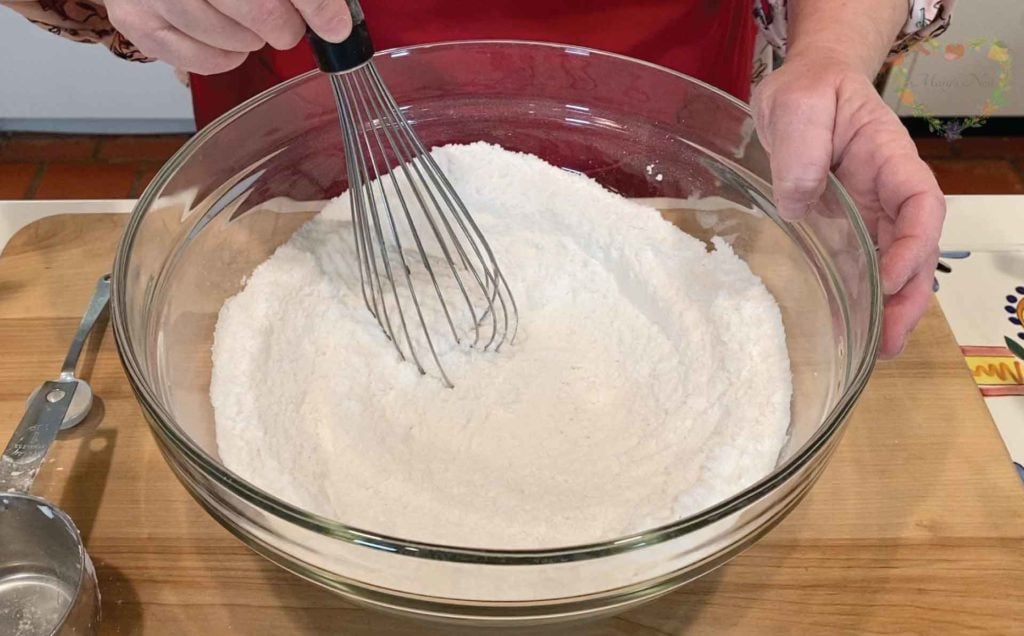 Which Rice Flour Should I choose?
In my pantry list download and recipe mixes, you'll notice that I include White Rice Flour as one of the primary ingredients for making the following mixes:
All-Purpose Gluten-Free Mix
Whole Grain Gluten-Free Mix
You'll notice that I don't include Brown Rice Flour. I don't recommend this type of flour because it has a very short shelf life and can go rancid quickly. Brown rice is an oily grain, and once ground into flour, it is those oils that can spoil quickly and create an off-flavor in your final baked good.
If you decide to bake with Brown Rice Flour, I recommend that you:
Buy a small amount
Check the Best Used By (or Best Before) date, and
Use it up quickly before the Best Used By date.
Unlike many other shelf-stable foods that can be used well after their Best Used By date, Brown Rice Flour is one of the few products that I consider to actually be BEST by the Best Used By date and should not be used after that.
Current Prices of Gluten-Free Flours
When you're buying small amounts of gluten-free flours to try them out, you can expect to pay anywhere from $3.00 per pound to as high as over $10.00 per pound.
I know that grocery prices vary from area to area, and prices are rising significantly right now. However, here is a general estimate of what you can expect to pay (based on U.S. prices) for about a pound, or a bit more, of various gluten-free flours and gluten-free baking additives:
Amaranth Flour: $8
Arrowroot Starch: $6
Chickpea Flour: $3
Coconut Flour: $4
Millet Flour: $4
Oat Flour: $4
Potato Starch: $4
Quinoa Flour: $10
Sorghum Flour: $4
Tapioca: $3
White Rice Flour: $3
Xanthan Gum: $9
I describe specific prices from my local grocery store in Central Texas in the video accompanying this recipe post, 3 Ways to Make Gluten Free Flour Mixes.
If you can't find these gluten-free flours at your grocery store, I also provide online links to my favorite ingredients in my supplies section.
Download Your FREE Gluten-Free Flour Mixes Pantry List
To make it easy for you to stock your pantry with Gluten-Free baking ingredients, I prepared a free printable Gluten-Free Flour Mixes Pantry List PDF file that you can download.
Print out my checklist or store it on your mobile phone and use it as your shopping list when you go to the grocery store to ensure you have everything you need to start Gluten-Free baking.
More Free Downloads
How to Store Your Gluten-Free Mixes
Your home has what I like to call a Four-Corners Pantry that includes your:
Working Pantry
Refrigerator
Freezer
Extended or Prepper Pantry
Once you create your gluten-free mixes, you can store them in your working pantry, or if they have a longer shelf-life, you can keep them in your extended or Prepper Pantry.
If you don't plan to use it often, you can store your all-purpose mix or self-rising mix in your Prepper Pantry because it has a shelf-life from one and a half to two years.
The other two mixes (whole grain and cookie) have a shelf-life that's dependent on the whole grains that you use in the mixes. Check your whole grain packaging's Best Used By (or Best Before) date for the recommended shelf life, which can range from 6 months to a year and a half.
Just remember that whole grain flours, whether they contain gluten or not, will go rancid quicker than all-purpose flours. So your whole grain flours are probably best stored in your working pantry, where you can keep an eye on their shelf-life.
How to Start a Prepper Pantry
Not sure what a Prepper Pantry is? Watch the following videos to learn why you need a Prepper Pantry and how you can get started stocking your Prepper Pantry for just $5 a week.
Inflation-Proof Your Prepper Pantry
Our grocery prices have been going up lately, and the prices I listed for gluten-free flours earlier in this recipe post will probably climb higher in the coming months. In the following video, I talk about five steps you can take to inflation-proof your Prepper Pantry.
And in the following video, I share 10 Thrifty Kitchen Tips to Incorporate Every Week into Your Traditional Foods Kitchen. Plus, I share how to implement these tips using the handy FREE Thrifty Kitchen Tips Checklist download.
All About Gluten-Free Whole Grains
Did you know that some of the gluten-free grains you can choose from are known as Ancient Grains?
To learn more about many of the gluten-free whole grains you can get from local grocery stores, be sure to watch my video where I discuss the essential grains to stock in your Prepper Pantry. I have an entire section of the video devoted to gluten-free whole grains beginning at the 41:45 timestamp.
And keep in mind, regardless of what type of whole grains you buy, including gluten-free grains, it is almost always more affordable to purchase whole grains and then grind them into grain yourself.
The Mockmill Grain Mill
Speaking of grinding your own grain, I searched far and wide before I bought my electric grain mill, and after careful research, I finally settled on the Mockmill.
It is an outstanding grain mill, and I am so pleased with my purchase! And the best news is that the lovely folks at Mockmill have provided a special discount code for my viewers if you decide you want to add a Mockmill grain mill to your traditional foods kitchen.
This is not a sponsored post. I bought my Mockmill 100 Grain mill and fell in love with it. You can see me unbox and try out my Mockmill 100 Grain mill in the following video.
Baker's Note: When you start to grind whole grains, be sure to check your Mockmill owner's manual for instructions on specific requirements or limitations on grinding oily grains, such as corn or brown rice.
Download Your Complete Baking Pantry List
Be sure to download your FREE (no email required) Complete Baking Pantry List. You can take this list with you to the grocery store to help you stock your baking pantry, especially as we go into the holiday baking season!
I list everything you will need to fully stock your baking pantry. Plus, I also have a section devoted to gluten-free flours.
Download Your Free 36-Page Pantry List
If you are beginning your journey transitioning from a processed foods kitchen to a traditional foods kitchen, be sure to download my Essential Traditional Food Pantry List.
This comprehensive eBook is so much more than just a list of pantry items. I also share videos and printable recipes for how to use all the items in your pantry to make nutritious and delicious meals.
Kitchen Academy Videos
Are you looking for more traditional foods videos? If so, I invite you to join the Traditional Foods Kitchen Academy. Members of this optional paid YouTube community get access to exclusive videos, live streams, and other members-only perks. Plus, your YouTube comments include a special members-only badge.
In the following members-only video, I talk about How to Make Salt Part of a Healthy Diet.
Stay in Touch with Mary's Nest
Subscribe to My YouTube Channel for Traditional Foods Videos (Free) - When you subscribe, be sure to click on the notification bell that will let you know each time I upload a new video.
Subscribe to Mary's Traditional Foods Newsletter (Free) - Get a free 36-page eBook for signing up: How to Stock Your Essential Traditional Foods Four-Corners Pantry.
Join the Traditional Foods Kitchen Academy (Optional Paid) - For more detailed videos, live streams, and exclusive members-only perks, join my YouTube membership community.
Order The Modern Pioneer Cookbook (Optional Paid) - Get a printed book of Mary's nourishing recipes from a Traditional Foods Kitchen. This bestselling cookbook is published by Penguin Random House with their DK imprint.
I look forward to having you join me in my Texas Hill Country Kitchen!
Shop for items used in this blog post or video
Favorite Baking Supplies
Favorite Gluten-Free Flours
More Kitchen Supplies with Discount Codes
Use my Mockmill affiliate link for a special one-time 5% discount on Mockmill Stone Grain Mill products, including the new Flake Lover's Flaker. (The Mockmill discount will appear when you checkout.)
Use promo code MARYSNST for a one-time 15% off Masontops and Breadsmart products on Amazon.com.
Amazon Shop and Shopping Guide
Visit my Shopping Guide page
Get up to 15% off for stocking your Traditional Foods Pantry and equipping your Modern Pioneer Kitchen, including discounts from Lehman's, Mockmill Grain Mill, Masontops, Cultures for Health, Survival Garden Seeds, Redmond Real Salt, Plan to Eat, US Wellness Meats, and More!
Recommended Reading
**Disclaimer: I am not a medical doctor, a medical professional, a dietician, or a nutritionist. All content found on the MarysNest.com website, including text, images, videos, eBooks or eGuides, social media, or other formats, were created solely for informational purposes only. The content is not intended to be a substitute for professional medical advice, diagnosis, or treatment. Always seek the advice of your physician or other qualified healthcare provider with any questions you may have regarding a medical condition or proper nutritional advice. Never disregard professional medical advice or delay in seeking it because of something you have watched in a video or read on this website. Use caution when following the recipe in this video. The creator and publisher of this video and website will not be held responsible for any adverse effects that may arise from the use of this recipe and method or any other recipe and method on this website or corresponding video channel.