My Kitchen Journal for the Traditional Foods Kitchen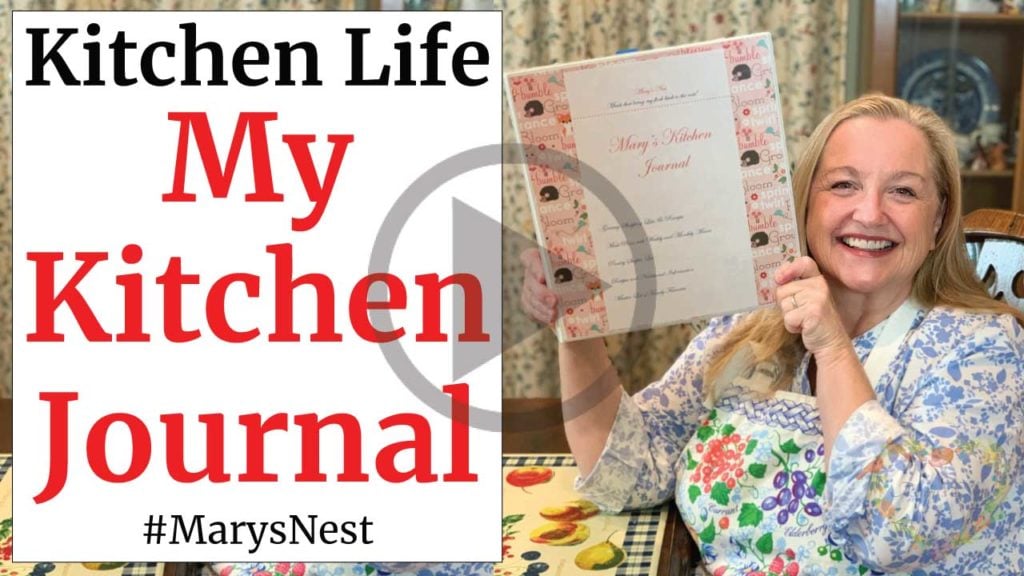 Today, I am sharing how I put together My Kitchen Journal for the Traditional Foods Kitchen. Some people call this a Recipe Journal or a Recipe Notebook, but my Kitchen Journal is packed full of more than just recipes. But no matter what you call it, having a Kitchen Journal is essential to the Traditional Foods Kitchen!
Why Create a Kitchen Journal?
Although my mom taught me how to cook traditional foods, when I married and started running my own kitchen, I quickly realized that it was quite a chore to have to keep referring back to cookbooks and nutrition books to refresh my memory about a particular recipe or technique.
That's when I realized that if I put everything in one place—a notebook—it would always be right there at my fingertips! No more searching for what I needed. All I needed to do was open my notebook…what eventually I started calling My Kitchen Journal.
What to Put in a Kitchen Journal
My particular kitchen journal is very much geared to the traditional foods kitchen. I have six primary sections:
Meal Planning
In-Season Produce
Cuts of Meat
Pantry List
Nourishing Traditions
Recipes
My Thoughts on Meal Planning
As I show in the kitchen journal video, the first section in my binder is Meal Planning. This topic could take up an entire post and a video all to itself! And that is what I plan on doing in the future. But for now, I will share that I like to meal plan two ways—both on paper…and electronically…which I describe in more detail below. (Be sure to stay in touch with Mary's Nest to be notified when I publish my future video and blog post about meal planning.)
Eating Produce In-Season
My kitchen journal has a section with lists of the fruits and vegetables that are in season. Organized by month, these handy lists focus on the foods in my area of the country. It's important to me to eat produce that is in season for two reasons:
First, eating food in season is more cost-effective and easier on our food budgets. Food in season will almost always be less expensive than other produce.
Second, I have read a number of books that share scientific evidence to indicate that our gut bacteria may change with the season. These books include The Three Season Diet and Eat Wheat, both by John Douillard. Author Douillard explains that we digest seasonal food when eaten in season better than when eaten out of season.
Examples of produce in season are berries in summer, apples and pears in fall, and citrus in winter. In my video, I show examples of pages from my local HEB and Central Market grocery store publications that show all the produce in season in my area of central Texas.
If you want to know what is in season in your area, you have a variety of options in addition to searching online. Check and see if your local grocery store offers a publication on this subject. And if not, you can always contact your local agricultural extension service, who will be able to provide you the seasonal information for your area.
Learning about Cuts of Meat
As I plan for meals that include beef, I like to consult the Cuts of Meat section in my journal. Check out the Beef Cuts Chart, which provides a more up-to-date version of the "Beef Made Easy" print out that I show in my video.
Bone broth plays a key role in a Nourishing Traditions kitchen. If you can't find locally-sourced beef bones, US Wellness Meats has a great selection to choose from, and as a sweet friend of Mary's Nest, you can use promocode MARYNEST to save 15% off regular-priced items on your order from US Wellness Meats.
The following videos will help you make rich and gelatinous beef bone broth, starting by selecting the best bones to make your broth.
Printout my Free Pantry List
As you begin to put your kitchen journal together, be sure to download and print my free "How to Stock Your Essential Traditional Foods Four-Corners Pantry" eBook to include in your Kitchen Journal. This eBook will help you to stock your four-corners pantry. Plus, I include a lot of fun and informational sidebar articles that will give your kitchen journal additional helpful reading.
What is Nourishing Traditions?
The book Nourishing Traditions by Sally Fallon plays an important role in my cooking, and that's why I dedicate an entire section to it in my kitchen journal. In addition to regularly referring to the book, I like to print out specific articles of interest that I find on the Internet about traditional nutrient-dense foods.
My favorite resource for such information is the Nourishing Traditions website. Sally created the website and founded the Weston A Price Foundation. The foundation's website is the consummate resource for all things traditional nutrient-dense foods and is my go-to site on the Internet whenever I have a question about nutrient-dense foods. (In my journal video, I show you the Timeless Principles of Healthy Traditional Diets article by The Weston A Price Foundation.)
The website and corresponding foundation are named after Dr. Weston A. Price, who wrote the book Nutrition and Physical Degeneration in the 1920s. Dr. Price compared the diets of traditional cultures to that of the diets eaten by those living in cities. As a dentist, he was initially interested in the teeth of the people he studied, but while conducting his research, he also observed the robust health of those eating a traditional diet. If you've not had a chance to read Dr. Price's original work, I highly recommend it!
In the following videos, I give you an overview of Nourishing Traditions and an introduction to traditional foods.
Printed or Electronic Recipes?
So if you're a recipe collector, should you print your recipes or store them electronically?
My kitchen journal is a bit of tome with all the printed recipes that I like to save, but it is so handy. All the information (especially recipes!) that I like to have reminders about, or want to review, before making a meal or heading out to the grocery store are stored together in one place—My Kitchen Journal.
Printed recipes are useful since you'll always have them, and I still enjoy reading a hard copy. (I'm still one of the three people in my neighborhood that subscribe to the printed newspaper! 😊) But you can also store your recipes electronically.
For example, all of the recipes on my website have an option for you to print the ingredients, directions, and recipe notes. But rather than actually printing out a hard copy of my recipes, you can use the functionality on your computer or mobile device to print my recipes to a PDF file so that you can save them electronically. (Computers usually have this option built into print feature of their Mac and Windows operating systems.)
However, I do recommend that you print out the recipes that are part of my "Mastering the Basics of Traditional Nutrient-Dense Foods Cooking" video series since they provide the essentials to getting started with cooking traditional foods. You can add these recipes to your kitchen journal and easily review them as you flip through and enjoy your journal.
So the answer is both! You can save your recipes electronically and print them out too!
Electronically Storing Recipes and Meal Plans
Another way to store your recipes electronically is through time-saving applications, such as with the Plan to Eat website. The Plan to Eat folks also have an accompanying mobile app that you can install and use on your mobile phone when you're at your grocery store. They generate grocery lists that are based on your selected recipes, and these lists will help you make sure you bring home all the ingredients that you need for your weekly meal planning.
Check out my Meal Planning for These Challenging Times blog post for more information about their features and learn about the special 60-day trial period that they're offering to Mary's Nest viewers.
What about Grocery Receipts?
Some people like to tack their printed grocery receipts on a bulletin board, but I like to keep mine in my kitchen journal. This way, I have everything to do with my groceries in one place. (Be sure to check out my kitchen journal video to see the simple, but clever way I keep my receipts in my binder so that they are front and center to help me keep track—and stay within—my grocery budget!)
Of course, you can always store your receipts electronically, especially if they are for online orders when only an email receipt may be available. However, when it comes to major purchases, such as online grass-fed beef or wild-caught fish orders, I always like to have two copies. One that I store electronically, and another that I print out and save in my kitchen journal. That way, I know if I don't remember the name of my electronic file receipt or can't locate it in my backup directories, I always know that I can find my printed receipt in my kitchen journal.
Related Videos
I hope this blog post gives you ideas on how to create or enhance your kitchen journals. The following videos also provide you with additional insights about must-have foods, forever foods, and essential home remedies to include in your journal.
Stay in Touch with Mary's Nest
Subscribe to My YouTube Channel for Traditional Foods Videos (Free) - When you subscribe, be sure to click on the notification bell that will let you know each time I upload a new video.
Subscribe to Mary's Traditional Foods Newsletter (Free) - Get a free 36-page eBook for signing up: How to Stock Your Essential Traditional Foods Four-Corners Pantry.
Join the Traditional Foods Kitchen Academy (Optional Paid) - For more detailed videos, live streams, and exclusive members-only perks, join my YouTube membership community.
Order The Modern Pioneer Cookbook (Optional Paid) - Get a printed book of Mary's nourishing recipes from a Traditional Foods Kitchen. This bestselling cookbook is published by Penguin Random House with their DK imprint.
I look forward to having you join me in my Texas Hill Country Kitchen!
---
Shop for items used in this blog post or video
Favorite Kitchen Journal Supplies
Favorite Kitchen Supplies
Use promo code MARYSNST for a one-time 15% off Masontops and Breadsmart products on Amazon.com.
Recommended Reading
Amazon Shop and Shopping Guide
Visit my Shopping Guide page
Get up to 15% off for stocking your Traditional Foods Pantry and equipping your Modern Pioneer Kitchen, including discounts from Lehman's, Mockmill Grain Mill, Masontops, Cultures for Health, Survival Garden Seeds, Redmond Real Salt, Plan to Eat, US Wellness Meats, and More!
*Affiliates note: As an Amazon Associate I earn from qualifying purchases. My content may contain affiliate links to products and services. If you click through and make a purchase, I'll receive a small commission. It does not affect the price you pay.
**Disclaimer: I am not a medical doctor, a medical professional, a dietician, or a nutritionist. All content found on the MarysNest.com website, including text, images, videos, eBooks or eGuides, social media, or other formats, were created solely for informational purposes only. The content is not intended to be a substitute for professional medical advice, diagnosis, or treatment. Always seek the advice of your physician or other qualified healthcare provider with any questions you may have regarding a medical condition or proper nutritional advice. Never disregard professional medical advice or delay in seeking it because of something you have watched in a video or read on this website. Use caution when following the recipe in this video. The creator and publisher of this video and website will not be held responsible for any adverse effects that may arise from the use of this recipe and method or any other recipe and method on this website or corresponding video channel.