Affiliates note: As an Amazon Associate I earn from qualifying purchases. My content may contain affiliate links to products and services. If you click through and make a purchase, I'll receive a small commission. It does not affect the price you pay.
Meal Planning for These Challenging Times
Right now, with so many of us homebound, meal planning with what we have in our pantry, or what limited supplies we might be able to find at our grocery—if we go to the grocery store at all—has become a top priority.
Ordering meals to be delivered might be fun once in a while as a special treat, but if continued too long, eating takeout meals is a habit that is likely to bust your budget. At some point, we have to get into the kitchen and start cooking our meals.
But when you're ready to get started with meal planning, and you look into your pantry, your fridge, and your freezer and you see a mishmash of ingredients, where do you begin? This is where Plan to Eat, the online Meal Planner, can come to your rescue!
I Never Thought I Would Use a Meal Planner
For the longest time, I never used a meal planning service because I didn't want someone planning meals for me that might use foods my family didn't like or incorporated foods that were simply not part of my traditional foods kitchen. But all that changed when I discovered Plan to Eat!
Plan to Eat is an online customizable meal planner that puts you in charge. You can find recipes on the Internet or in cookbooks, or you can even make up your own recipes and then add them to your personal library of recipes on the Plan to Eat site. You can also share recipes with other Plan to Eat members.
And adding recipes to Plan to Eat is truly the fun part. I had such a great time scanning the Internet for all my favorite recipes and then with one click—magic!—I was able to add them to my Plan to Eat library of recipes with their browser extension. It couldn't be easier. I was even able to add my own recipes right here from my website.
Viewing Recipes on Plan to Eat
My recipe for Beef Bone Broth below is an example of what a recipe page looks like on the Plan to Eat site.
So start scanning the Internet for all your favorite recipes and add them one by one to your heart's content. I must confess, I think I have over 2000 recipes in my Plan to Eat recipe library! This way, I know I have a wide variety of recipes to choose from for my meal planning, especially when my ingredients may be limited.
But don't think you're bounded to just what you can find online. You can add recipes by typing them into your recipe library, giving you an even greater source of recipes from which to choose!
Then, once you have a collection of recipes, you can select the ones you want to prepare and simply drag and drop them into your Weekly Meal Planner. You select the recipes you love, using the foods that you and your family enjoy eating.
Here's what a Weekly Meal Planner page looks like after I dragged and dropped my Beef Bone Broth recipe to the weekly calendar.
Searching for Recipes
But what if you don't know what recipes you want to prepare? Or if you look into your pantry and you see a variety of ingredients, where should you begin? You can search your library of recipes on the Plan to Eat site by course, cuisine, main ingredient, with additional ingredients, without ingredients—the choice and combination are up to you.
Here is a picture of what the search grid looks like. As you can see, there are a variety of options available to you based on what you might feel like eating and what ingredients you have on hand.
Feel like Italian, but have no tomatoes? Just choose your cuisine, fill in tomatoes in the "Without ingredients" category, and voila! Italian recipes without tomatoes will pop up. Chose the one you like and drag it into your Weekly Meal Planner.
And don't forget, you're not just searching your recipes, you're also searching through all the recipes of the other Plan to Eat users that you've friended. Your expanded library of recipes can become ever-expanding depending on how many folks you choose to friend!
Web or Mobile Access to Your Recipes
And you don't have to worry about doing all of this from your laptop. If you're at the grocery store, you can access Plan to Eat right from your mobile phone! Their app will automatically create a shopping list for you based on the recipes that you've placed in your menu planner. Your shopping list will come in handy when you're able to travel to the store or if you're ordering groceries online.
Here's an example of what my Stovetop Beef Bone Broth Recipe looks like from a mobile phone.
Plan to Eat Special Offer for Mary's Nest Viewers
If you're like me and Plan to Eat is the type of meal planner you like, then be sure to give it a try. I have been a long time user for many years.
It's so easy to get started…especially with the special deal that the great folks over at Plan to Eat are offering to my viewers—A free 60-day trial! Normally, the free trial period is only 30 days…but you'll get two months to try Plan to Eat to see if you like it. And I'm sure you will!
Note: This is not a sponsored post. I have been a long time user of Plan to Eat. If you sign up for Plan to Eat using my affiliate link with them, you will receive a special 60-day trial period to use their service to see if it can help you and your family. (Their normal trial period is only 30 days, so they wanted to give my viewers a special benefit to try their services.)
Meal Planning Videos
As you're planning your meals and you want to plan for making meals for a Traditional Foods Kitchen, be sure to watch my Mastering the Basics of Traditional Foods playlist below where I walk you through all the basics of nutrient-dense foods cooking, including bone broth, cultured dairy, ferments, sourdough, and much more!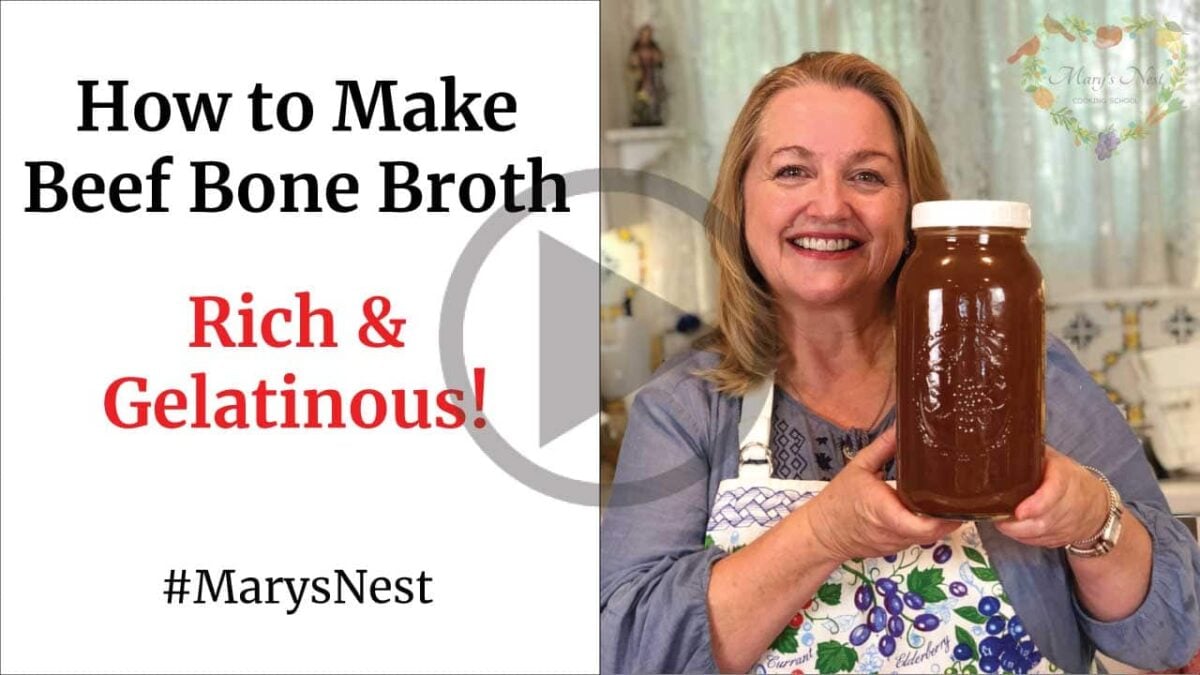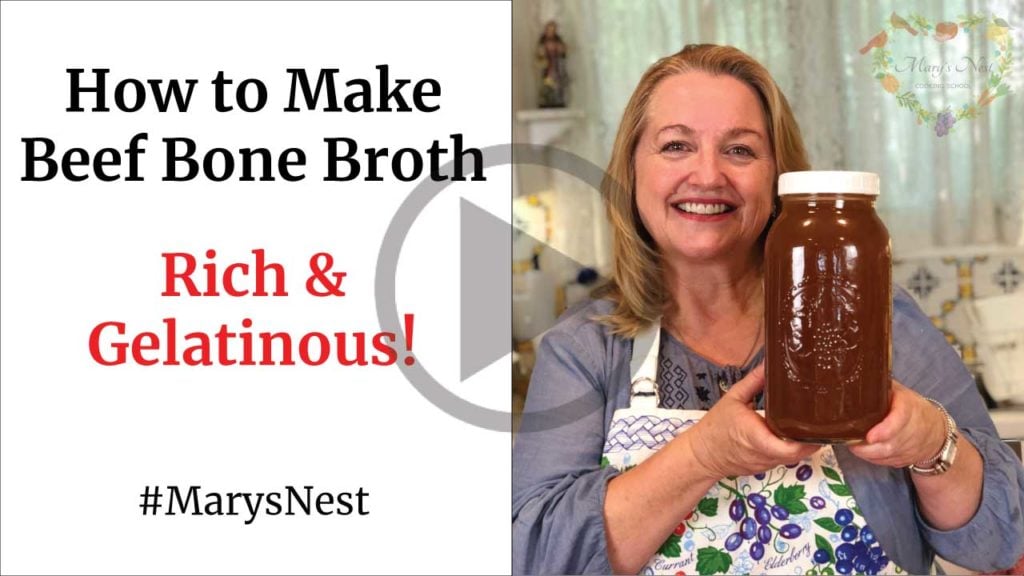 Stay in Touch with Mary's Nest
Subscribe to My YouTube Channel for Traditional Foods Videos (Free) - When you subscribe, be sure to click on the notification bell that will let you know each time I upload a new video.
Subscribe to Mary's Traditional Foods Newsletter (Free) - Get a free 36-page eBook for signing up: How to Stock Your Essential Traditional Foods Four-Corners Pantry.
Join the Traditional Foods Kitchen Academy (Optional Paid) - For more detailed videos, live streams, and exclusive members-only perks, join my YouTube membership community.
Order The Modern Pioneer Cookbook (Optional Paid) - Get a printed book of Mary's nourishing recipes from a Traditional Foods Kitchen. This bestselling cookbook is published by Penguin Random House with their DK imprint.
I look forward to having you join me in my Texas Hill Country Kitchen!
---
Shop for items used in this blog post or video
Recommended Reading
Amazon Shop and Shopping Guide
Visit my Shopping Guide page
Get up to 15% off for stocking your Traditional Foods Pantry and equipping your Modern Pioneer Kitchen, including discounts from Lehman's, Mockmill Grain Mill, Masontops, Cultures for Health, Survival Garden Seeds, Redmond Real Salt, Plan to Eat, US Wellness Meats, and More!
*Affiliates note: As an Amazon Associate I earn from qualifying purchases. My content may contain affiliate links to products and services. If you click through and make a purchase, I'll receive a small commission. It does not affect the price you pay.
**Disclaimer: I am not a medical doctor, a medical professional, a dietician, or a nutritionist. All content found on the MarysNest.com website, including text, images, videos, eBooks or eGuides, social media, or other formats, were created solely for informational purposes only. The content is not intended to be a substitute for professional medical advice, diagnosis, or treatment. Always seek the advice of your physician or other qualified healthcare provider with any questions you may have regarding a medical condition or proper nutritional advice. Never disregard professional medical advice or delay in seeking it because of something you have watched in a video or read on this website. Use caution when following the recipe in this video. The creator and publisher of this video and website will not be held responsible for any adverse effects that may arise from the use of this recipe and method or any other recipe and method on this website or corresponding video channel.