How to Make Meals in a Jar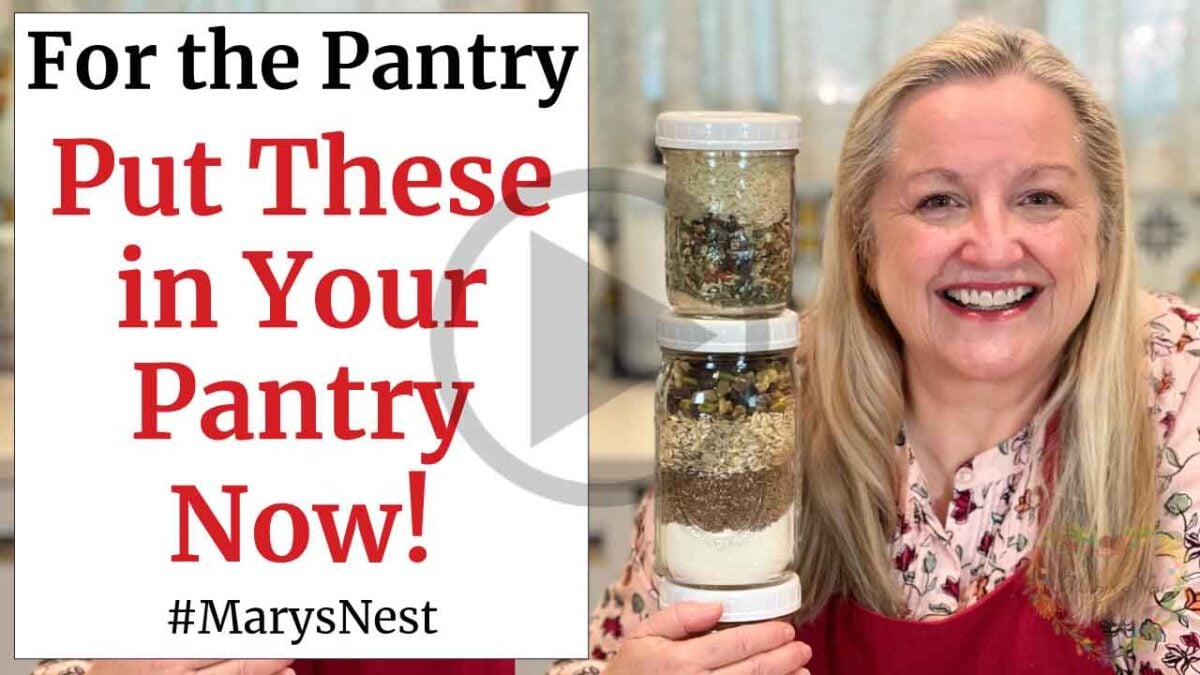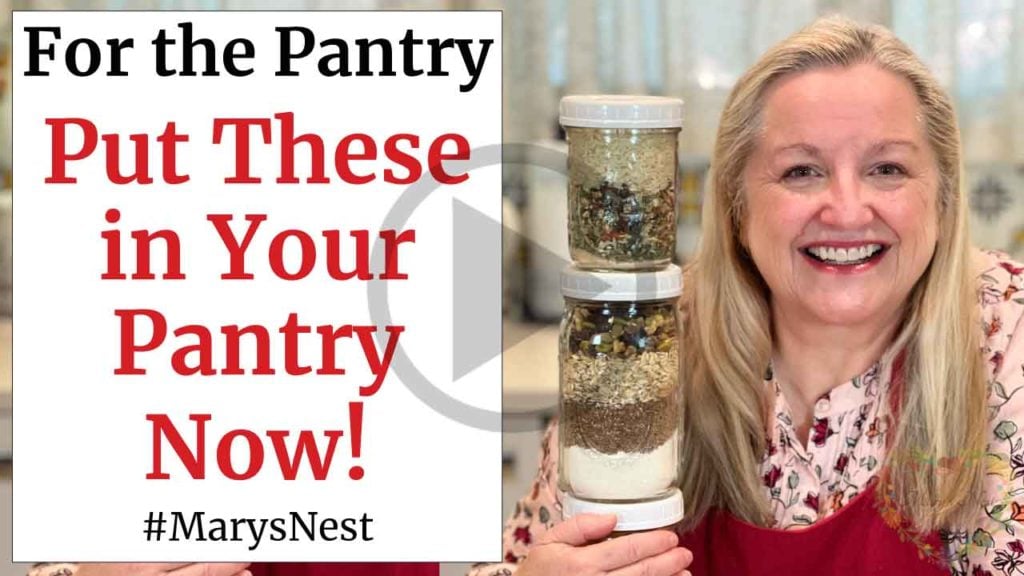 Learn how to make meals in a jar for quick and easy breakfasts, main dishes, side dishes, and desserts too. These are excellent time savers when you are in a rush to get a meal or a snack on the table fast. You won't have to hunt through your pantry for various ingredients because you will have pretty much everything you need right in your jar!
In my tutorial video and this recipe post, I show you how to make the following:
Oatmeal Bread in a Jar
Herb Crackers in a Jar
Rice Pilaf in a Jar
Vegetable Pasta in Jar
*Affiliates note: As an Amazon Associate I earn from qualifying purchases. My content may contain affiliate links to products and services. If you click through and make a purchase, I'll receive a small commission. It does not affect the price you pay.
What are Meals in a Jar?
Meals in a jar are commonly a mixture of preprepared ingredients that you can quickly pour into a pot to cook. Typical meals in a jar often consist of soups, but in this recipe post, I share some clever ways to create a variety of mixtures that include main meals and side dishes.
How to Make Meals in a Jar
The first step for how to make meals in a jar is to pull together a collection of quart-size and pint-size jars. Next, you'll want to scan your pantry for all those shelf-stable, dried, and dehydrated foods you stock.
Now the fun begins! You can mix and match a variety of ingredients to create easy-to-prepare pasta dishes and grain-based side dishes. But meals in a jar go beyond this. You can also create mixes in a jar to preprepare a host of ingredients that will make it very easy to bake up quick breads or crackers.
What Are Mixes in a Jar?
It can get confusing when you hear home cooks talk about "meals in a jar" and "mixes in a jar." Here's an easy way to distinguish between the two:
Meals in a jar create a complete meal that can be served for breakfast, lunch, or dinner.
Mixes in a jar make a single item. This single item may be a bread or other baked good, a side dish, or a dessert.
In my video, I share both meals in a jar and mixes in a jar because they complement each other beautifully. For example, you can have your main meal in one jar, but you can also have other jars filled with the mixes of items you can make to enjoy alongside your main meal or as dessert!
Meals in a Jar and Mixes in a Jar Recipes
When it comes to putting together recipes for meals or mixes in a jar, I always like to make sure that they require adding the least amount of additional ingredients when you are ready to prepare them. You will find that some of the recipes I share with you here today require that you add nothing more than water!
But don't just rely on the recipes that I share with you. Start to experiment with your own combinations with the following steps:
Look through your cookbooks for recipes that call for many shelf-stable ingredients or ingredients you know you can dehydrate.
Check which additional non-shelf-stable ingredients the recipe calls for. (My general rule is to keep any additional ingredients to three or less.)
Once you've identified those recipes, gather the shelf-stable ingredients and place them into your pint-size or quart-size jar. (It's nice to place the ingredients in layers rather than mix them together to make it easy for you to see all the ingredients after placing the completed jar in your pantry.)
Optionally, place a silica gel pack into your jar to help prevent the buildup of moisture.
Place a lid on your jar and tighten it.
Print or write out the recipe on a notecard so you know what additional ingredients you may need, such as water or eggs, when you make your recipe.
Attach the recipe to the jar with a rubber band, tape, or label.
Place your completed meal in a jar or mix in a jar in your working pantry or your extended or Prepper Pantry.
Now, you are on your way to creating a delightful variety of meals in a jar and mixes in a jar! They'll look splendid on your pantry shelf and give you peace of mind, knowing that you have recipes ready to go whenever you need them.
Food Storage in Your Prepper Pantry
In the following videos, I give you an overview of the best food storage supplies for your Prepper Pantry, and I also talk about the difference between oxygen absorbers and silica gel packs. Remember that silica gel packs may help keep the ingredients in your meals in a jar dry in humid environments.
How to Dehydrate Bone Broth
In my video, I add dehydrated bone broth to some of my meals in a jar recipes. Bone broth provides an excellent liquid base for many recipes, including making rice, since it provides you with more nutrition than water alone. Since you can't pre-prepare a meal in a jar with liquid bone broth, you can dehydrate your bone broth to add it to your jar's ingredients.
Additionally, If you have been buying collagen powders or other forms of dried bone broth powders, you can stop doing that today. I show you how to make your own bone broth and then dehydrate it!
You don't need any special equipment to do this. You can certainly use a dehydrator, but an oven works too. I show you how to make bone broth powder in the following recipe video.
And once you have dehydrated bone broth, it makes an excellent addition to many types of meals in a jar where you might otherwise add a broth or stock.
Here are some additional videos to help you learn about food dehydrating.
How to Dehydrate Tomato Skins
Whenever you have tomato scraps, don't throw them out. Instead, dehydrate them into tomato powder. Once dry, you can easily store the powder in your pantry and rehydrate it whenever you want to make a quick tomato soup or sauce. And speaking of sauce, adding tomato powder to your pasta meals in a jar creates an instant tomato sauce!
How to Dehydrate Vegetables
Dehydrated veggies are perfect additions to your meals in a jar. In the following video, I show you the easy way to dehydrate vegetables. As a bonus, I also show you how to rehydrate your dehydrated vegetables for soups, casseroles, or a delightful side dish.
Are the Nutrients in Vegetables Destroyed by Dehydrating?
Although drying food is an ancient method of food preservation, the dehydration process can cause some nutrient loss. The National Center for Home Food Preservation shares an extensive set of information on dehydrating food.
Specifically, as to nutrients, their website links to additional detailed information from the Colorado State University Cooperative Extension about dehydrating vegetables.
Here are a few of their highlights, covering some of the nutritional changes that occur when drying food:
Iron

is not destroyed by drying.

Minerals show some possible loss during rehydration, if soaking water is not used.
Thiamin, riboflavin, and niacin show some loss during blanching but fairly good retention if the water used to rehydrate also is consumed.
Vitamin A is fairly well retained under controlled heat methods.
Vitamin C is mostly destroyed during the blanching and drying of vegetables.
The Extension service also recommends the following for the best retention of nutrients in dried foods:
Store the dried foods in a cool, dark, and dry place.
Use the dried foods within a year.
So despite the minimal loss of some nutrients, it's still worthwhile dehydrating your foods for long-term storage.
Which Vegetables Benefit from Cooking?
The good news is that some vegetables benefit from being heated because once they are cooked, it is easy for our digestive systems to absorb the nutrients they offer. These vegetables include:
Asparagus
Cabbage
Carrots
Mushrooms
Peppers
Spinach
Tomatoes
Even though the cooking process may sometimes destroy some of the Vitamin C, the other nutrients in these vegetables are significantly increased when heated, and the heated vegetables may prove more powerful than Vitamin C!
More Make Ahead Mix Recipes
In addition to the recipes I share here for meals in a jar, for more videos on how to make a wide variety of make-ahead mixes, check out the following recipes:
Watch the Healthy Make Ahead Mixes playlist for a complete list of video recipes.
Download Your Free 36-Page Pantry List
In addition to creating make ahead mixes, you can stock a whole host of foods in your four corners pantry, which consists of your:
Working Pantry
Refrigerator
Freezer
Extended or Prepper Pantry
For an extensive list of the traditional foods you can make and purchase to stock your four corners pantry, be sure to download my free 36-page Traditional Foods Pantry List. This comprehensive eBook is full of links to recipe videos, helpful articles, and more!
Kitchen Academy Videos
Are you looking for more traditional foods videos? If so, I invite you to join the Traditional Foods Kitchen Academy. Members of this optional paid YouTube community get access to exclusive videos, live streams, and other members-only perks. Plus, your YouTube comments include a special members-only badge.
In the following members-only video, I talk about Mix and Match for Easy Weeknight Meals.
Stay in Touch with Mary's Nest
Subscribe to My YouTube Channel for Traditional Foods Videos (Free) - When you subscribe, be sure to click on the notification bell that will let you know each time I upload a new video.
Subscribe to Mary's Traditional Foods Newsletter (Free) - Get a free 36-page eBook for signing up: How to Stock Your Essential Traditional Foods Four-Corners Pantry.
Join the Traditional Foods Kitchen Academy (Optional Paid) - For more detailed videos, live streams, and exclusive members-only perks, join my YouTube membership community.
Order The Modern Pioneer Cookbook (Optional Paid) - Get a printed book of Mary's nourishing recipes from a Traditional Foods Kitchen. This bestselling cookbook is published by Penguin Random House with their DK imprint.
I look forward to having you join me in my Texas Hill Country Kitchen!
Trending Posts on Mary's Nest
Shop for items used in this blog post or video
Favorite Meals in a Jar Supplies
Favorite Kitchen Supplies
More Kitchen Supplies with Discount Codes
Use my Mockmill affiliate link for a special one-time 5% discount on Mockmill Stone Grain Mill products, including the new Flake Lover's Flaker. (The Mockmill discount will appear when you checkout.)
Use promo code MARYSNST for a one-time 15% off Masontops and Breadsmart products on Amazon.com.
Amazon Shop and Shopping Guide
Visit my Shopping Guide page
Get up to 15% off for stocking your Traditional Foods Pantry and equipping your Modern Pioneer Kitchen, including discounts from Lehman's, Mockmill Grain Mill, Masontops, Cultures for Health, Survival Garden Seeds, Redmond Real Salt, Plan to Eat, US Wellness Meats, and More!
Recommended Reading
**Disclaimer: I am not a medical doctor, a medical professional, a dietician, or a nutritionist. All content found on the MarysNest.com website, including text, images, videos, eBooks or eGuides, social media, or other formats, were created solely for informational purposes only. The content is not intended to be a substitute for professional medical advice, diagnosis, or treatment. Always seek the advice of your physician or other qualified healthcare provider with any questions you may have regarding a medical condition or proper nutritional advice. Never disregard professional medical advice or delay in seeking it because of something you have watched in a video or read on this website. Use caution when following the recipe in this video. The creator and publisher of this video and website will not be held responsible for any adverse effects that may arise from the use of this recipe and method or any other recipe and method on this website or corresponding video channel.