How to Make Tomato Powder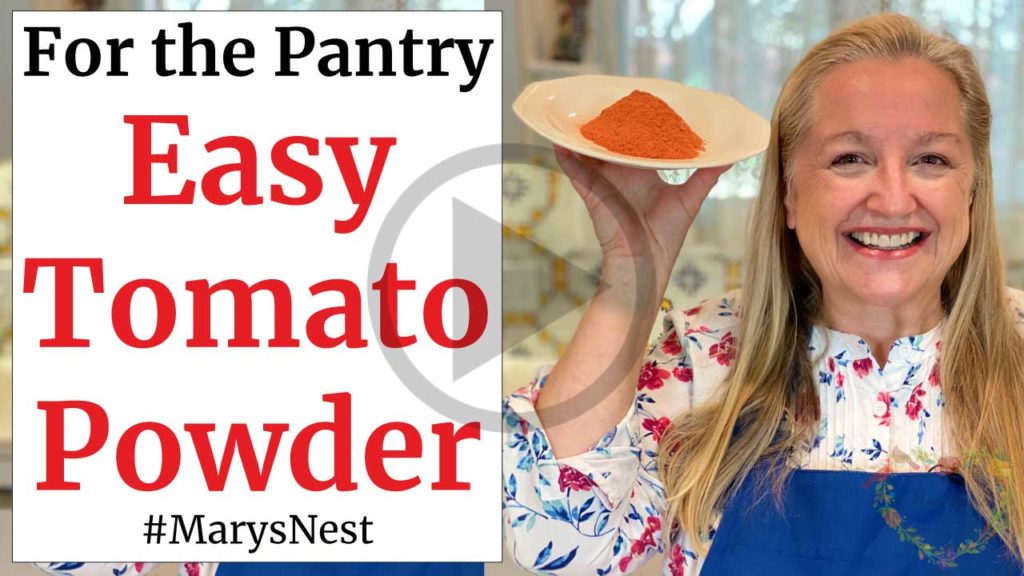 Learn how to make tomato powder from tomato skins to create a tasty flavoring powder you can add to recipes or sprinkle on food. The tomatoey aroma is amazing!
You can easily dehydrate your tomato skins in the oven or with a dehydrator to make this delicious powder. If you love making homemade food and running a no-waste kitchen, this recipe is for you!
*Affiliates note: As an Amazon Associate I earn from qualifying purchases. My content may contain affiliate links to products and services. If you click through and make a purchase, I'll receive a small commission. It does not affect the price you pay.
What Tomatoes Are Best for Making Tomato Powder?
When it comes to making tomato powder, you can use any tomato you like, but my favorites are the Italian plum tomatoes. And if you are lucky enough to find fresh San Marzano tomatoes, you've hit the jackpot! They have an unbeatable flavor.
Tasty Italian Plum Tomatoes
Italian plum tomatoes are my favorite for making tomato powder because I like to use the skins to make the powder and save the rest of the tomato for another recipe.
For example, I'll peel and dehydrate the tomato skins and use the skinless tomatoes to make a homemade marinara sauce. Oh, and when making any type of tomato sauce, plum tomatoes are an excellent choice because they are full of flavor and generally have very few seeds.
Use Tomato Skins or the Whole Tomato for Tomato Powder?
To make tomato powder, I like to use dried tomato skins, but you can also choose to use whole tomatoes that you have cut into slices for drying. (Don't try to dehydrate a whole tomato without cutting it into slices! 😊)
However, keep in mind, if you decide to use slices cut from a whole tomato, you want to use a dehydrator for this process. This is because drying tomato slices in the oven can take quite a bit of time.
Tomato Skins Are Packed with Flavor and Nutrition
Speaking of flavor, you will be pleased to know that the flavor of dehydrated tomato skins is equally as robust as dehydrated slices from the entire tomato.
So don't worry that you will be missing out on a richer tomato flavor if you only use the skins. And the tomato skins are also loaded with nutrients, so you won't lose out on those either!
What Equipment Do You Need to Dehydrate Tomatoes?
You don't need any special equipment to dehydrate tomatoes. You can use your oven or a dehydrator. However, using a dehydrator will make the process easier, since you can usually set your drying temperature lower in a dehydrator than in an oven. For example, I use an Excalibur Food Dehydrator in my recipe video.
The following subsections describe how you can dehydrate tomato skins or tomato slices in your oven or dehydrator.
Dehydrating Tomato Skins: Dehydrator
In my printable recipe, I explain that if you use a dehydrator, you will need to set your equipment temperature to 135°F for about six hours to allow your skins to dry to a crisp texture.
Dehydrating Tomato Skins: Oven
If you decide to dry your tomato skins in your oven, you'll want to set the oven to its lowest temperature, preferably under 200°F. The drying time will be less than that of the dehydrator.
Most importantly, you'll need to keep your eyes on the tomato skins and ensure they are drying and not cooking. (If you notice the tomatoes bubbling instead of shrinking, your tomatoes are probably cooking and not drying.) Plus, you never want to allow the skins to burn!
Dehydrating Whole Tomato Slices: Dehydrator
Like tomato skins, you can dry whole tomato slices in a dehydrator. You'll use the same 135°F temperature setting as the skins. However, the time to dry the slices to a crisp will most likely take at least eight hours and possibly up to 12 hours, depending on the thickness of the slices.
Dehydrating Whole Tomato Slices: Oven
Trying to dry whole tomato slices in the oven will be a challenge. It will be difficult to get them to dry to a crisp, and you will need to run your oven for at least 12 hours. (Understandably, few of us want to leave our ovens running for twelve or more hours!)
Plus, when you try to dehydrate whole tomato slices in the oven, you will need to contend with two potential problems:
You need to avoid cooking them.
You need to prevent them from burning.
You're going to spend a lot of time babysitting your tomato skins between the 12 hour drying time and trying to avoid cooking or burning your slices. So, as you can imagine, I don't recommend trying to dry whole tomato slices in the oven.
Can I Use My Pilot or Electric Oven Light for Dehydrating?
But what if your oven has a pilot light or an electric light? Would turning your oven off, but keeping your oven light on, mimic the environment of a dehydrator?
Unfortunately, based on my experience, I have not found this to work. By itself, your oven light doesn't produce enough heat for dehydrating. A dehydrator machine also constantly circulates air to help the drying process, and you can't replicate the airflow with an oven light. And with the lack of heat and airflow, sadly, mold often sets in too!
So, no don't try to use your pilot or electric oven light for dehydrating.
How to Grind Crisp Tomato Skins or Slices into Tomato Powder
Once your tomato skins or tomato slices are dried to a crisp, it's time to grind them into a powder, and you can use different kitchen tools for this job:
Blender or food processor
Mortal and Pestle (If you're feeling particularly like a pioneer, you can grind your dehydrated tomatoes by hand.)
Small spice or coffee bean grinder (I use this equipment in my video, and it's my favorite way to make tomato powder.)
Plus, you can decide what texture of tomato powder you want. I like to grind my powder finely so that I can mix it with other seasonings, like the ones in my Homemade Seasoning Blends recipe video, to make a perfect homemade blend for topping focaccia. However, you can also just do a quick pulse with any grinder to create tomato flakes.
How Can You Use Tomato Powder?
Here are just a few ways for you to use your homemade tomato powder:
Seasoning
Soup or Juice
Dry Rub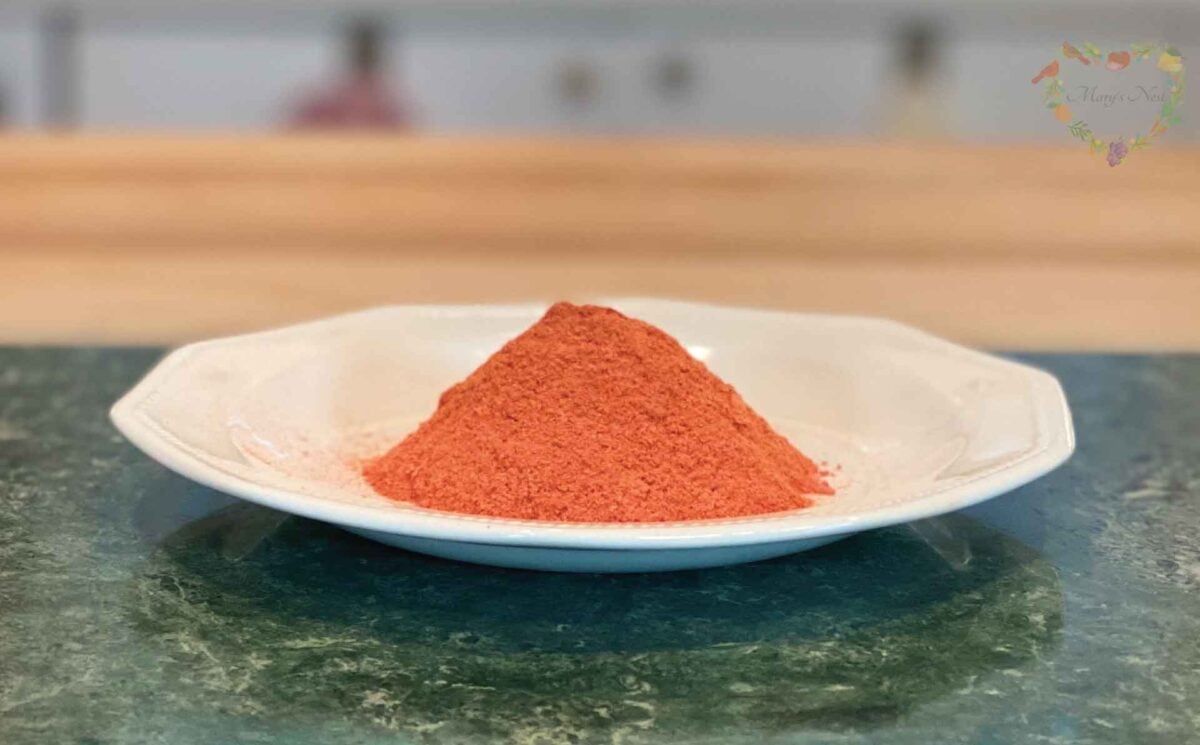 Using Tomato Powder: Seasoning
I like to use my tomato powder as a seasoning. It's tasty mixed with some sea salt, red pepper flakes, and dried oregano. Afterward, you can add your seasoning to olive oil for a flavorful dipping sauce for Italian bread.
Want to boost the flavor profile of your homemade barbecue sauce? Add tomato powder. You'll notice the taste of your delightful homemade tomato powder even more when adding it to a store-bought barbecue sauce, since store-bought is usually not as flavorful as a homemade sauce.
Using Tomato Powder: Soup or Juice
You can also add a tablespoon of tomato powder to a mug along with some hot water for instant tomato soup! Or you can use cold water for instant tomato juice.
Tomato powder also comes in handy as a flavor boost for soups and stews, and it will even act as a bit of a thickener.
Using Tomato Powder: Dry Rub
The next time you need a dry rub before grilling your meat, chicken, or fish, try adding tomato powder to the rub. Everyone will be asking you what's that amazing flavor!
And best of all, you can even use tomato powder as a substitute to any dish that calls for tomato paste. The possibilities for using tomato powder in recipes are endless!
More Tomato Recipes
Now that you have stocked your pantry with homemade tomato powder, be sure to try some of my other tomato recipes, including this easy-to-make tomato sauce.
New to fermenting? How about trying your hand at fermenting tomatoes? Not only are these fermented tomatoes tasty, but they are also rich in gut-loving good bacteria, otherwise known as probiotics. These fermented cherry tomatoes with basil are easy to make, and I walk you through the entire process step-by-step.
Want a tasty treat that does not include any added sugar? Candied tomatoes are the answer. These are so simple to make, and they are one of the most delicious ways you will ever enjoy tomatoes!
If you are new to home canning, water bath canning is the easiest place to start. So be sure to try canning some of your own homegrown tomatoes or those you found at the farmer's market so you can have tomatoes in your pantry all year long!
More Traditional Foods Dehydrator Recipes
If you are interested in learning more about dehydrating a whole host of foods, including beet powder and chicken bouillon, check out the following videos.
Food Dehydrating 101 Videos
If you are new to dehydrating, you might enjoy my Food Dehydrating 101 series that's perfect for beginners. I walk you through the entire process of what equipment you need, as well as suggestions for helpful books and more.
Use Tomato Powder with Your Seasonings
Want to mix your tomato powder with a homemade seasoning? I've got you covered with the following video, where I show you how to make 10 seasoning blends, including homemade:
Italian seasoning
Ranch dressing mix
Barbecue dry rub
And more!
If you want to introduce more vitamins into your diet, check out my nutrient-dense all-purpose seasoning mix.
And with Thanksgiving just a few months away, be sure to stock up with your own Homemade Bell's Poultry Seasoning mix.
Download Your Free 36-Page Pantry List
When stocking a traditional foods pantry, you want to make as much as you can homemade. And when homemade isn't possible, you want to buy real food and steer clear of processed or packaged food.
Initially stocking a traditional foods pantry might seem overwhelming, but that's where my FREE 36-page Essential Traditional Foods Pantry List comes to the rescue. I list everything you need.
Plus, I provide recipe links to show you how to make traditional and nutritious foods and complete meals with everything you've stocked in your pantry. So download the list today and start stocking your pantry before winter arrives to guard against supply chain problems at your local grocery store.
Kitchen Academy Videos
Are you looking for more traditional foods videos? Then, I invite you to join the Traditional Foods Kitchen Academy. Members of this optional paid YouTube community get access to exclusive videos, live streams, and other members-only perks. Plus, your YouTube comments include a special members-only badge.
In the following members-only videos, I talk about how to equip your traditional food kitchen with essential and optional equipment.
Stay in Touch with Mary's Nest
Subscribe to My YouTube Channel for Traditional Foods Videos (Free) - When you subscribe, be sure to click on the notification bell that will let you know each time I upload a new video.
Subscribe to Mary's Traditional Foods Newsletter (Free) - Get a free 36-page eBook for signing up: How to Stock Your Essential Traditional Foods Four-Corners Pantry.
Join the Traditional Foods Kitchen Academy (Optional Paid) - For more detailed videos, live streams, and exclusive members-only perks, join my YouTube membership community.
Order The Modern Pioneer Cookbook (Optional Paid) - Get a printed book of Mary's nourishing recipes from a Traditional Foods Kitchen. This bestselling cookbook is published by Penguin Random House with their DK imprint.
I look forward to having you join me in my Texas Hill Country Kitchen!
Shop for items used in this blog post or video
Favorite Kitchen Supplies
More Kitchen Supplies with Discount Codes
Learn more about Mockmill electric grain mills for making fresh flour and their Flake Lover's Flaker that flakes whole grain in minutes.
Use promo code MARYSNST for a one-time 15% off Masontops and Breadsmart products on Amazon.com.
Amazon Shop and Shopping Guide
Visit my Shopping Guide page
Get up to 15% off for stocking your Traditional Foods Pantry and equipping your Modern Pioneer Kitchen, including discounts from US Wellness Meats, Farmhouse Teas, Lehman's, Masontops, Cultures for Health, Survival Garden Seeds, Redmond Real Salt, Plan to Eat, and More!
Recommended Reading
Trending Posts on Mary's Nest
**Disclaimer: I am not a medical doctor, a medical professional, a dietician, or a nutritionist. All content found on the MarysNest.com website, including text, images, videos, eBooks or eGuides, social media, or other formats, were created solely for informational purposes only. The content is not intended to be a substitute for professional medical advice, diagnosis, or treatment. Always seek the advice of your physician or other qualified healthcare provider with any questions you may have regarding a medical condition or proper nutritional advice. Never disregard professional medical advice or delay in seeking it because of something you have watched in a video or read on this website. Use caution when following the recipe in this video. The creator and publisher of this video and website will not be held responsible for any adverse effects that may arise from the use of this recipe and method or any other recipe and method on this website or corresponding video channel.