How to Make Marinara Sauce with Fresh or Canned Tomatoes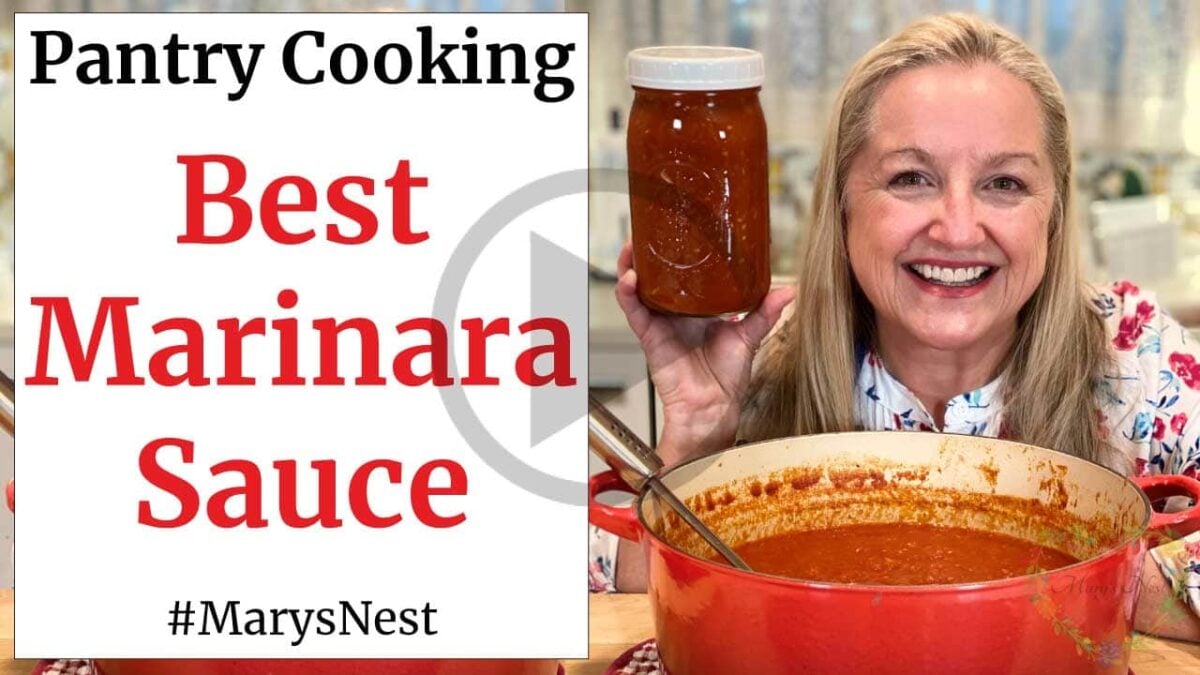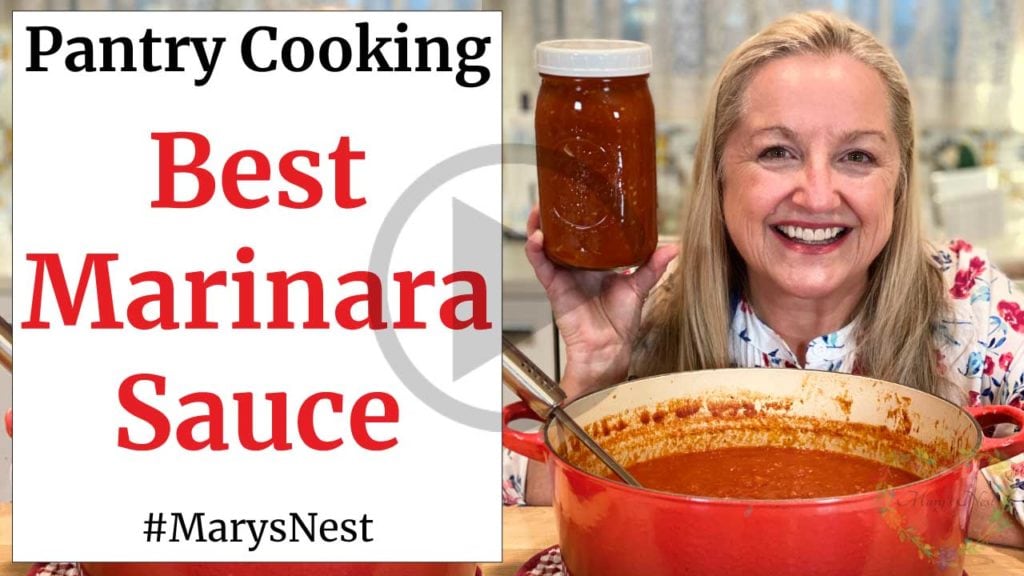 Learn how to make a tasty marinara sauce using fresh or canned tomatoes. You can use your homemade sauce with many recipes, including:
Spaghetti
Chicken parmigiana
A base for minestrone or other soup
A dipping sauce for breaded and fried cheese sticks
And much more!
*Affiliates note: As an Amazon Associate I earn from qualifying purchases. My content may contain affiliate links to products and services. If you click through and make a purchase, I'll receive a small commission. It does not affect the price you pay.
What is Marinara Sauce?
Marinara is an Italian tomato sauce that is thinner, yet chunkier, than traditional Italian "Sunday" spaghetti sauce. It's also easier to make since marinara cooks up very quickly. Marinara only needs about an hour of simmering time as opposed to traditional spaghetti sauce, which generally has to simmer all day.
Even though marinara has a short simmering time, it acquires its rich flavor from the addition of a generous amount of garlic and Italian herbs, such as basil, oregano, or both. You can also add a bit of crushed red pepper flakes to give it a bit of zing.
Fresh Tomatoes or Canned Tomatoes for Marinara Sauce?
You can make marinara with any type of tomato, but Italian tomatoes in the plum family work the best. Roma tomatoes are perfect, but for a truly classic and traditional version, choose San Marzano tomatoes if you can find them!
You can make a great-tasting marinara sauce with either fresh or canned tomatoes. Using canned tomatoes, especially the San Marzano, helps you cut down on the prep and cooking times.
However, I really like making my marinara with fresh Italian Roma tomatoes. The little bit of extra time involved in the prep and cooking—about 15 minutes in all—brings a delightfully fresh taste to marinara that can't be beat.
Ingredients for Making Marinara Sauce
As you'll see in the printable recipe, you only need a simple list of ingredients to make the marinara sauce:
Tomatoes, canned or fresh
Olive oil
Lots and lots of garlic!
Basil, oregano, or both
Salt and pepper
A pinch of red pepper flakes
How to Make Marinara Sauce
As I show you in my recipe video, making marinara sauce couldn't be easier:
Heat the olive oil.
Add the garlic and sauté until fragrant.
Add your tomatoes, herbs, salt, pepper, and red pepper flakes.
Bring your delightful mixture up to a simmer and cover.
In about an hour, you'll have a delicious marinara sauce ready for your spaghetti or a host of other dishes.
How to Use Marinara Sauce
When it comes to using marinara sauce, most people will think of the classic spaghetti marinara dish. As the name implies, this traditional recipe consists of spaghetti tossed with marinara sauce.
But you can use marinara in so many other ways. It is the classic sauce ladled on top of chicken parmigiana, and you can also use your homemade sauce to make these tasty dishes:
Base for Sloppy Joe sandwiches
Cream of tomato soup
Dipping sauce (especially for fried mozzarella sticks)
Eggs in Purgatory (Shakshuka)
Minestrone
Pizza sauce
Ratatouille
Any soup or stew recipe calling for tomatoes
And in any recipe calling for tomato sauce!
More Tomato Recipes
Want more ideas for what to do with a bountiful tomato harvest from your own garden or the farmer's market? Then be sure to watch the following videos.
I show you how to make tomato powder using the tomato skins you peel from the tomatoes you can use to make marinara sauce. (I show you the blanching process in the video, so you see how easily the tomato skins come off.) Between the tomato powder and marinara recipes, you'll use every last scrap of your tomatoes and be proud to have a no-waste kitchen!
Are you new to fermenting or an old pro? Either way, these fermented tomatoes with basil and fermented salsa recipes are easy to make and are a welcome treat at any meal.
If you have a food mill, I'll show you the easiest tomato sauce you'll ever make. No peeling! Just throw everything into a pot, simmer it up, then run your cooked tomatoes through your food mill for the smoothest and most flavorful spaghetti sauce ever!
Are you looking for a sweet treat with NO ADDED SUGAR? Then homemade candied tomatoes are for you. You can eat these luscious little flavor bursts straight out of the oven, or you can pack them in olive oil and pop them into the fridge. They'll make the perfect addition to your next antipasto platter!
If you have never home canned food before, you will love learning how to water bath can tomatoes. It's easy to do, and I walk you through the entire process step-by-step. This is the perfect canning "class" for beginners. 😉
Download Your Free 36-Page Pantry List
As we approach the fall season, be sure to download your FREE 36-Page Traditional Foods Pantry List so that you can start stocking your pantry today. Not only will you have an extensive list of what to buy or make homemade, I also provide you with plenty of recipes so that you can use everything you stock in your pantry to make easy and delicious meals!
Kitchen Academy Videos
Are you looking for more traditional foods videos? Then, I invite you to join the Traditional Foods Kitchen Academy. Members of this optional paid YouTube community get access to exclusive videos, live streams, and other members-only perks. Plus, your YouTube comments include a special members-only badge.
In the following members-only video, I talk about what is the real Mediterranean diet.
Trending Posts on Mary's Nest
Stay in Touch with Mary's Nest
Subscribe to My YouTube Channel for Traditional Foods Videos (Free) - When you subscribe, be sure to click on the notification bell that will let you know each time I upload a new video.
Subscribe to Mary's Traditional Foods Newsletter (Free) - Get a free 36-page eBook for signing up: How to Stock Your Essential Traditional Foods Four-Corners Pantry.
Join the Traditional Foods Kitchen Academy (Optional Paid) - For more detailed videos, live streams, and exclusive members-only perks, join my YouTube membership community.
Order The Modern Pioneer Cookbook (Optional Paid) - Get a printed book of Mary's nourishing recipes from a Traditional Foods Kitchen. This bestselling cookbook is published by Penguin Random House with their DK imprint.
I look forward to having you join me in my Texas Hill Country Kitchen!
Shop for items used in this blog post or video
Favorite Kitchen Supplies
More Kitchen Supplies with Discount Codes
Use my Mockmill affiliate link for a special one-time 5% discount on Mockmill Stone Grain Mill products, including the new Flake Lover's Flaker. (The Mockmill discount will appear when you checkout.)
Use promo code MARYSNST for a one-time 15% off Masontops and Breadsmart products on Amazon.com.
Amazon Shop and Shopping Guide
Visit my Shopping Guide page
Get up to 15% off for stocking your Traditional Foods Pantry and equipping your Modern Pioneer Kitchen, including discounts from Lehman's, Mockmill Grain Mill, Masontops, Cultures for Health, Survival Garden Seeds, Redmond Real Salt, Plan to Eat, US Wellness Meats, and More!
Recommended Reading
**Disclaimer: I am not a medical doctor, a medical professional, a dietician, or a nutritionist. All content found on the MarysNest.com website, including text, images, videos, eBooks or eGuides, social media, or other formats, were created solely for informational purposes only. The content is not intended to be a substitute for professional medical advice, diagnosis, or treatment. Always seek the advice of your physician or other qualified healthcare provider with any questions you may have regarding a medical condition or proper nutritional advice. Never disregard professional medical advice or delay in seeking it because of something you have watched in a video or read on this website. Use caution when following the recipe in this video. The creator and publisher of this video and website will not be held responsible for any adverse effects that may arise from the use of this recipe and method or any other recipe and method on this website or corresponding video channel.