How to Make 3 Healthy Make Ahead Cake Mixes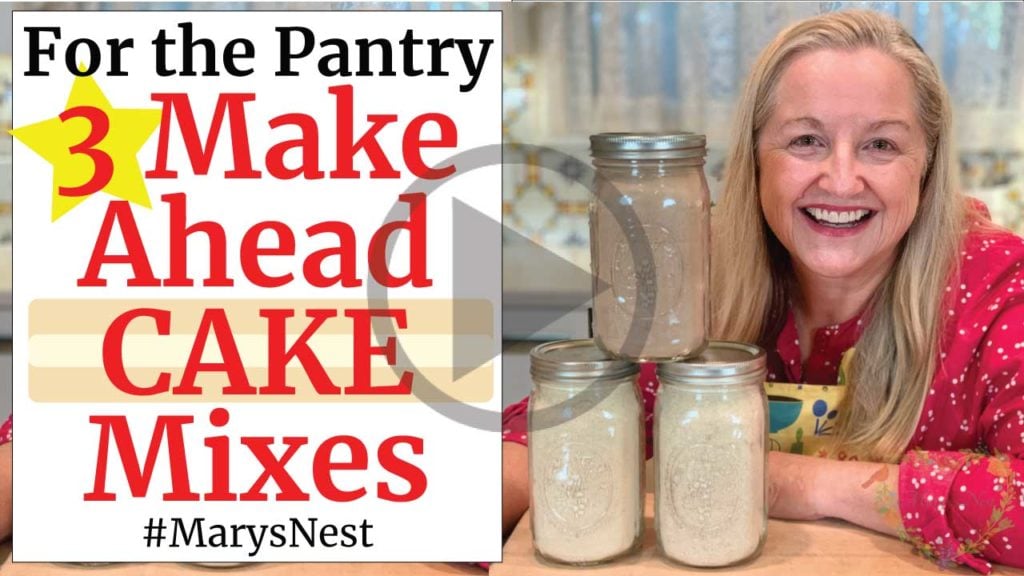 Thank you so much for all the wonderful feedback you've given me on my Make Ahead series. We've covered mixes for pancakes, brownies, cornbread, biscuits, a Bisquick copycat, five types of cookies, hot chocolate, and even a cream of soup mix! I've received a lot of request for cake mixes, so in today's video, I'll show you how to create the following Make Ahead Cake Mixes:
Chocolate Cake Mix
Yellow Cake Mix
Spice Cake Mix
You'll be able to decide which healthy ingredients you want, and you'll never have to buy a boxed cake mix again.
*Affiliates note: As an Amazon Associate I earn from qualifying purchases. My videos and blog posts may contain affiliate links to products and services. If you click through and make a purchase, I'll receive a small commission. It does not affect the price you pay.
Why Healthy Make Ahead Cake Mixes?
When boxed cake mixes are so common—and so inexpensive—why would anyone ever want to make them homemade? Great question! Have you ever read the ingredient list on a box of cake mix? It sounds like a scary science experiment!
Enriched Flour Bleached (wheat flour, niacin, iron, thiamin mononitrate, riboflavin, folic acid), Sugar, Corn Syrup, Leavening (baking soda, sodium aluminum phosphate, monocalcium phosphate), Modified Corn Starch, Corn Starch, Palm Oil, Propylene Glycol Mono and Diesters, Salt, Distilled Monoglycerides, Dicalcium Phosphate, Sodium Stearoyl Lactylate, Xanthan Gum, Cellulose Gum, Natural and Artificial Flavor, Yellows 5&6.

Sampling of the ingredients of your "basic" mix (and I use the term very loosely as you see there is nothing basic about this cake mix).
Since we all pride ourselves on running a Traditional Foods Kitchen, do we really want anything in our pantry that contains the ingredients listed above? I don't think traditional cultures or even our grandmothers had propylene glycol in their pantries!
How to Keep the Yellow Cake Color
When it comes to healthy make ahead cake mixes, one of the biggest challenges is how to keep a yellow cake…yellow! Whole grain flours are darker in color than all-purpose flour, and when you use these whole grain flours in your mixes, they can create a darker colored cake. Thankfully, white whole wheat flour comes to the rescue.
White whole wheat flour is a whole grain flour. This type of flour is just a different wheat variety than the typical red whole wheat flour that is commonly sold as whole wheat flour. Both are 100% whole grain flours. The only difference is that white whole wheat flour is lighter in color and creates a slightly lighter baked good. This makes it perfect for making a yellow cake mix!
White whole wheat flour is becoming more common, so be sure to look for it at your local grocery store. I have seen it sold under both the King Arthur brand and the Bob's Red Mill brand. I've also added links to my kitchen supplies section to help you find these items online if you are unable to find a local source.
Wheat Grains and Wheat Berries
Often in my videos, I'll use the terms "wheat grains" and "wheat berries" interchangeably. I do this to help beginners, who may be new to whole grains, understand that the two are alike.
The "wheat berries" term can be confusing if you are beginning your journey from a processed foods kitchen to a traditional foods kitchen. "Berries?" You may ask, "What type of berries are those?" But yes, wheat grains—in their whole form—are known as wheat berries. Mystery solved! 😊
How to Store Your Make Ahead Cake Mixes
I like to pack my shelf-stable Make Ahead Mixes tightly, filled to the rim of the jar. But if you find that you have a bit of air space that may lead to moisture accumulation, you can add a silica gel packet to your jar before sealing it with a regular screw-on lid and storing it in your pantry. Adding the packet will help preserve your mix if you live in a humid climate,
You can also use one of the leak-proof Ball lids that are also airtight. And in a pinch, you can use the canning lid and canning ring with the canning jar you may be using. (However, note that you are not canning these mixes in the traditional sense.)
Learn How to Stock Your Pantry
For more information about stocking your pantry – what I like to call the Four Corners Pantry – be sure to download my free 36-Page Essential Traditional Foods Pantry List. This eBook will help you learn about more shelf-stable pantry items that you can store in your everyday Working Pantry, as well as your Extended Pantry (what we also call a Prepper Pantry).
This pantry list covers not only non-perishable foods, but also foods that you'll want to store in your fridge and freezer as you build your pantry for your Traditional Foods Kitchen!
More Make Ahead Mixes
In case you missed my previous Make Ahead Mixes, you can catch up with the following videos. These mixes are perfect for storing in your Working Pantry or your Extended Pantry.
Stay in Touch with Mary's Nest
Subscribe to My YouTube Channel for Traditional Foods Videos (Free) - When you subscribe, be sure to click on the notification bell that will let you know each time I upload a new video.


Subscribe to Mary's Traditional Foods Newsletter (Free) - Get a free eBook for signing up: How to Stock Your Essential Traditional Foods Four-Corners Pantry.


Join the Traditional Foods Kitchen Academy (Optional Paid) - For more detailed videos, live streams, and exclusive members-only perks, join my YouTube membership community.
I look forward to having you join me in my Texas Hill Country Kitchen!
Love,
Mary
♥
Shop for items used in this blog post or video
Favorite Make Ahead Mix Supplies
In addition to ingredients, the following kitchen supplies may help you create and store your make ahead cake mixes.
Amazon Shop and Shopping Guide
Visit my Shopping Guide page
Learn where I buy my beef bones, electric grain mills, sprouted grains, and more…and get special discounts for Mary's Nest visitors, including from US Wellness Meats, Mockmill, Masontops, and Cultures for Health.
Recommended Reading
**Disclaimer: I am not a medical doctor, a medical professional, a dietician, or a nutritionist. All content found on the MarysNest.com website, including text, images, videos, eBooks or eGuides, social media, or other formats, were created solely for informational purposes only. The content is not intended to be a substitute for professional medical advice, diagnosis, or treatment. Always seek the advice of your physician or other qualified healthcare provider with any questions you may have regarding a medical condition or proper nutritional advice. Never disregard professional medical advice or delay in seeking it because of something you have watched in a video or read on this website. Use caution when following the recipe in this video. The creator and publisher of this video and website will not be held responsible for any adverse effects that may arise from the use of this recipe and method or any other recipe and method on this website or corresponding video channel.