How to Make a Healthy Make-Ahead Noodle Soup Mix in a Jar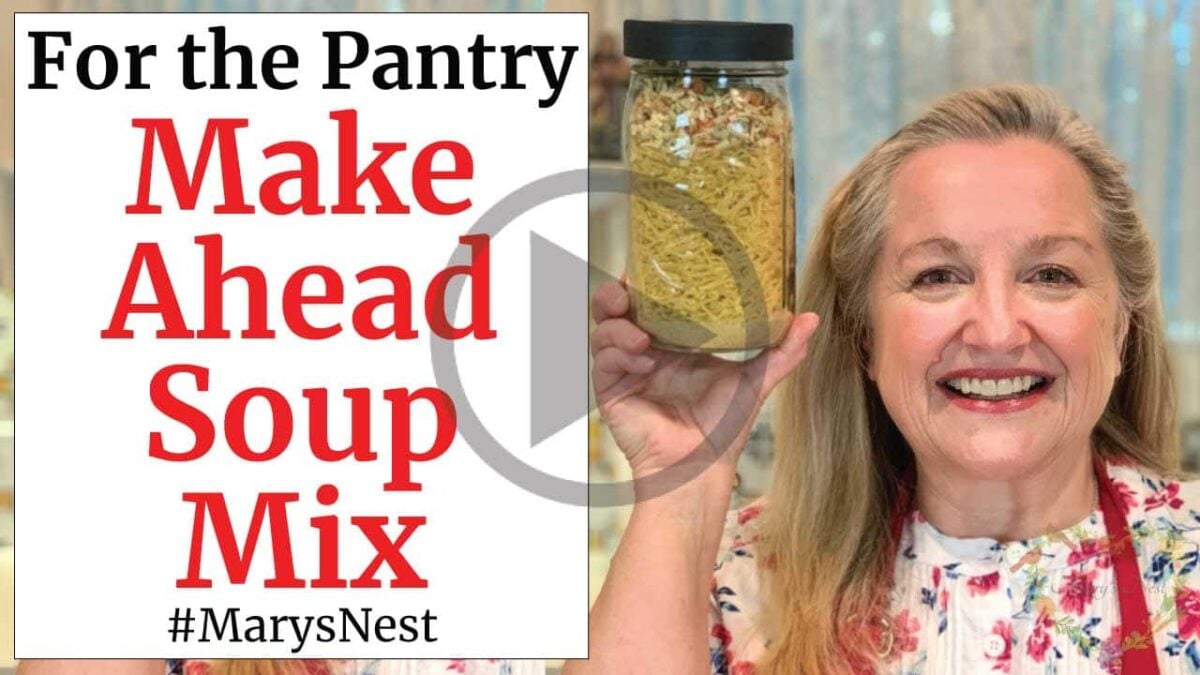 Learn how to create a Make Ahead Noodle Soup Mix in a Jar using a shelf-stable pantry staple recipe.
*Affiliates note: As an Amazon Associate I earn from qualifying purchases. My content may contain affiliate links to products and services. If you click through and make a purchase, I'll receive a small commission. It does not affect the price you pay.
A Healthy Homemade Dried Soup Mix
Sometimes when you want to get dinner on the table quickly, it can be easy to reach in your pantry to grab a dried soup mix that you purchased from the grocery store. You can dump the soup mix contents into a pot, add water, and get dinner ready from the stovetop in just a few minutes. But like so many things that come prepackaged, there are often all sorts of ingredients in the dried soup mix we really don't want in our traditional foods kitchens.
Did you know that you can gather the ingredients for a copycat dried soup together in minutes, store the mix in a jar, and place the jar on your pantry shelf so that it's waiting and ready for anytime you want to make soup? Well, you can! And I show you how in my recipe video.
In my printable recipe, I show you that all it takes is a bit of pasta, some dried veggies, a few seasonings, bouillon powder, and you're done. (And as I show you in the next section, using homemade bouillon powder is the best!)
Homemade Bouillon Powder
The nice feature about making your own Make Ahead Soup Mix is that you can control all the ingredients—even the bouillon powder. Many store-bought bouillon powders are loaded with ingredients I can't pronounce, and most of us don't want in our traditional foods kitchens.
But good news! It's so easy to make these homemade bouillon powders:
And you don't need any special equipment. You can make these bouillon powders right in your oven. Be sure to watch the following videos for step-by-step instructions.
Soups On!
When you are ready to make soup, just boil up some water, add the jar's contents, and your dinner will be ready in about 10 minutes.
Have some leftover cooked chicken? Go ahead and throw it in. Or clean out your crisper and throw in a few extra veggies. Add whatever "extras" you want, but the bulk of the work is done for you. Basically, all you have to do is boil the water!
How to Store Your Make Ahead Soup Mix
Your Make Ahead Noodle Soup Mix should last about six months in your pantry, and you can store your mix in a jar with an airtight lid. If you live in a very damp climate, including a food-safe Silica Gel Pack in the jar will help keep out moisture.
To learn more about the various options for how best to store food in both your Working Pantry and your Extended Pantry—your Prepper Pantry—check out the following videos.
To discover the homemade foods that you can make and the products that you can buy for your Four Corners Pantry, be sure to download my free 36-page traditional foods pantry list.
More Make Ahead Recipes
And if you're ready to stock your pantry with more Make Ahead Mixes, the following videos will cover all your needs from cream of soup to coffee creamers:
Stay in Touch with Mary's Nest
Subscribe to My YouTube Channel for Traditional Foods Videos (Free) - When you subscribe, be sure to click on the notification bell that will let you know each time I upload a new video.
Subscribe to Mary's Traditional Foods Newsletter (Free) - Get a free 36-page eBook for signing up: How to Stock Your Essential Traditional Foods Four-Corners Pantry.
Join the Traditional Foods Kitchen Academy (Optional Paid) - For more detailed videos, live streams, and exclusive members-only perks, join my YouTube membership community.
Order The Modern Pioneer Cookbook (Optional Paid) - Get a printed book of Mary's nourishing recipes from a Traditional Foods Kitchen. This bestselling cookbook is published by Penguin Random House with their DK imprint.
I look forward to having you join me in my Texas Hill Country Kitchen!
Shop for items used in this blog post or video
Favorite Soup Mix in a Jar Supplies
Favorite Kitchen Supplies
Use promo code MARYSNST for a one-time 15% off Masontops and Breadsmart products on Amazon.com.
Use my Mockmill affiliate link for a special one-time 5% discount on Mockmill Stone Grain Mill products, including the new Flake Lover's Flaker. (The Mockmill discount will appear when you checkout.)
Amazon Shop and Shopping Guide
Recommended Reading
**Disclaimer: I am not a medical doctor, a medical professional, a dietician, or a nutritionist. All content found on the MarysNest.com website, including text, images, videos, eBooks or eGuides, social media, or other formats, were created solely for informational purposes only. The content is not intended to be a substitute for professional medical advice, diagnosis, or treatment. Always seek the advice of your physician or other qualified healthcare provider with any questions you may have regarding a medical condition or proper nutritional advice. Never disregard professional medical advice or delay in seeking it because of something you have watched in a video or read on this website. Use caution when following the recipe in this video. The creator and publisher of this video and website will not be held responsible for any adverse effects that may arise from the use of this recipe and method or any other recipe and method on this website or corresponding video channel.