How to Make Keto Bone Broth with Anti-Inflammatory Herbs and Spices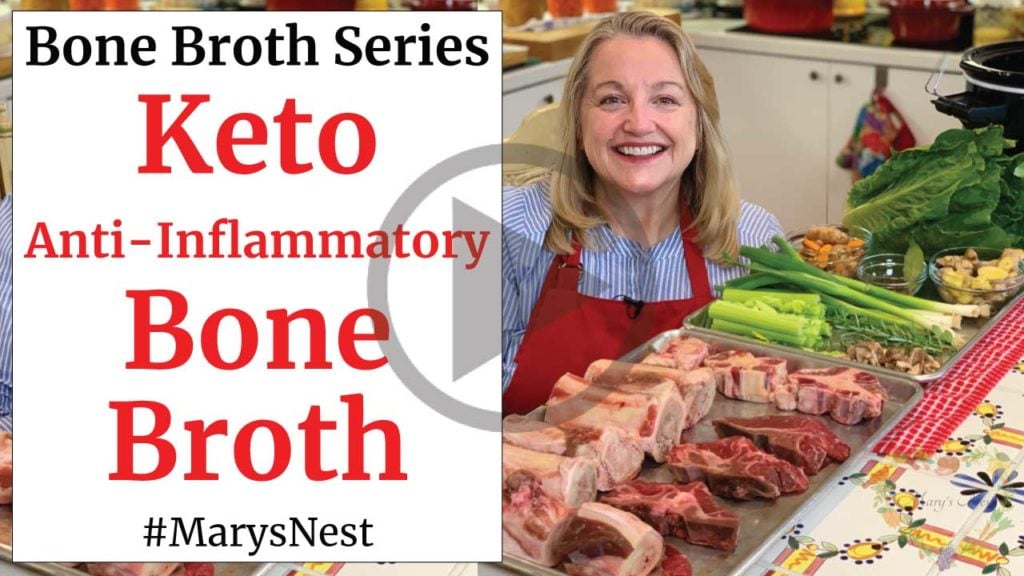 Bone Broth has become an essential recipe in many kitchens. I have shared different ways of making bone broth with you, but I have not yet made a Keto bone broth, which many of you have requested.
So today, I thought I would share a bone broth recipe that is perfect for those who follow the Keto Diet. Plus, this version has added anti-inflammatory herbs and spices for extra benefits to help those following any diet!
Using a Fat Separator
In my video, I talk about how you can refrigerate your bone broth to have the fat congeal at the top. You can also use the Fat Separator device. It's a handy way to quickly separate the fat from your bone broth when you decant it into your storage containers. Watch my How to Make Turkey Bone Broth in the Slow Cooker video to see how easy it is to use a Fat Separator.
Best Vegetables for Keto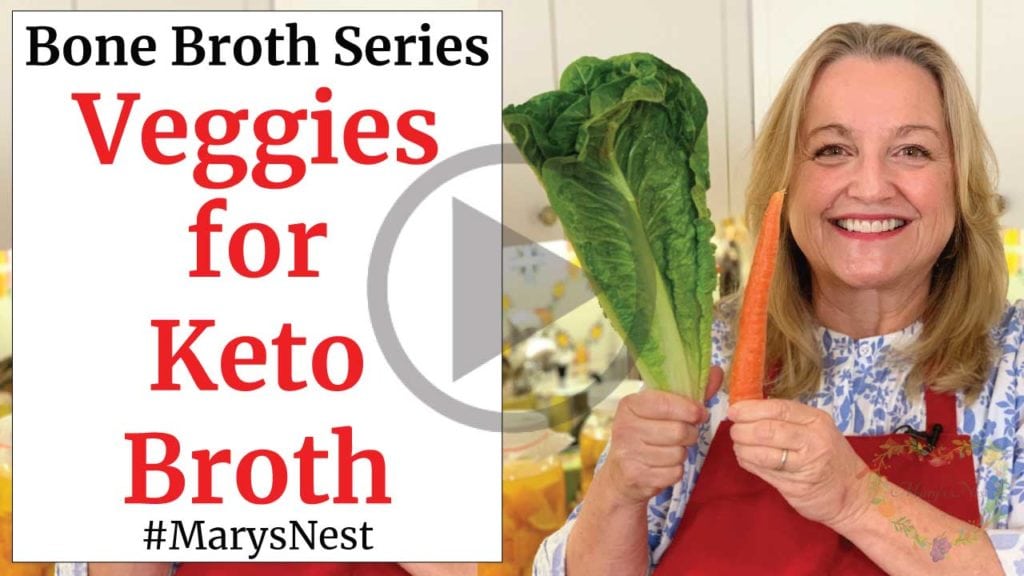 While you're planning for your bone broth, be sure to watch my Best Vegetables for Keto video to pick the optimal ingredients for your broth.
More Bone Broth Recipes
After you've learned how to make bone broth for Keto, learn about the different ways to make bone broth, discover the different types of bone broth, and get printable recipes so you can create your own traditional foods cookbook.
Stay in Touch with Mary's Nest
Subscribe to My YouTube Channel for Traditional Foods Videos (Free) - When you subscribe, be sure to click on the notification bell that will let you know each time I upload a new video.


Subscribe to Mary's Traditional Foods Newsletter (Free) - Get a free eBook for signing up: How to Stock Your Essential Traditional Foods Four-Corners Pantry.


Join the Traditional Foods Kitchen Academy (Optional Paid) - For more detailed videos, live streams, and exclusive members-only perks, join my YouTube membership community.
I look forward to having you join me in my Texas Hill Country Kitchen!
Love,
Mary
♥
Print Recipe
How to Make Keto Bone Broth with Anti-Inflammatory Herbs and Spices
This version of beef bone broth uses vegetables that are low in carbohydrates to make it suitable for those who follow the Keto Diet. This recipe is well adapted for the slow cooker or a stock pot.
Ingredients
5

pounds

Beef bones

a mix of marrow bones, neck bones, and oxtails

1/4

cup

Apple cider vinegar

or 1 cup wine or fortified wine, if allowed on diet

6

leaves

Romaine lettuce

chopped

1

bunch

Green onions

chopped

4

stalks

Celery

chopped

1

cup

Dried shitake mushrooms

Fresh herbs

small handful; if using dried, start with no more than a teaspoon.

1

cup

Fresh ginger

chopped; if organic, leave unpeeled otherwise peel.

1

cup

Fresh turmeric*

chopped; if organic, leave unpeeled otherwise peel.

1

tablespoon

Whole black peppercorns

1

Bay leaf

Filtered water
Instructions
Place marrow bones in a 10-quart** slow cooker and cover with filtered water. Add vinegar. Allow marrow bones to soak in acidulated water for 1 hour.

Place the oxtails and neck bones on a baking sheet and roast in the oven at 425°F until well browned, 45 minutes to 1 hour.

Once the oxtails and neck bones are browned, add them to the slow cooker. Deglaze the baking sheet with filtered water and add it to the slow cooker.

Turn the slow cooker to high and bring the water up to a boil. As soon as it comes to a boil, turn the slow down to "keep warm". When it comes down to the "keep warm" temperature, it should register 180°F. (You can check this by inserting a cooking thermometer into the liquid.) This is the perfect temperature at which to make bone broth. If you are doing this on the stove top in a stock pot, turn the heat down to the lowest setting.

Skim any foam that floats to the top of the liquid.

To the slow cooker, add all of the remaining ingredients. Add additional water to cover.

Place the lid on to the slow cooker and simmer on the "keep warm" setting for 12 hours.

After 12 hours, turn off the heat and remove the bones and all the other ingredients from the broth. Do not discard the bones. They can be used to make a second batch of bone broth. If you are not going to make a new batch of bone broth immediately, the bones can be wrapped well and refrigerated for 2-3 days or frozen for 2-3 months.

Strain the broth through a lined colander or strainer (you can line it with cheesecloth or a flour sack towel) into a bowl. Refrigerate. The next day, the fat that has risen to the top of the bowl and solidified may be removed and saved to use for frying. The broth should be quite gelatinous and can be gently warmed on the stove top and consumed as a beverage or used as a base for soups, sauces, or gravies.

The broth will stay fresh refrigerated for 2-3 days or 2-3 months if frozen. If the solidified fat is left intact on top of the refrigerated broth, it can create somewhat of an airtight seal and will keep the broth fresh for about one week.
Video
Notes
*In place of the fresh ginger and turmeric, you can use 1 teaspoon dry of each.
**If you use an 8-quart slow cooker, decrease the bones to 4 pounds. If you use a 6-quart slow cooker, decrease the bones to 3 pounds. Instead of a slow cooker, you can make this bone broth recipe on the stove top in a stock pot.
Find this recipe and video at https://marysnest.com/recipe/how-to-make-keto-bone-broth-with-anti-inflammatory-herbs-and-spices/
Copyright © 2019 Mary's Nest, LLC, All Rights Reserved
Shop for items used in this blog post or video
Visit my Shopping Guide page
Learn where I buy my Beef Bones, Wild-Caught Fish, Sprouted Grains, and more...and learn about Special Discounts for Mary's Nest visitors, including from US Wellness Meats, Vital Choice, Masontops, and Breadsmart.
Favorite Bone Broth Making Supplies:
*Affiliates note: As an Amazon Associate I earn from qualifying purchases. My videos and blog posts may contain affiliate links to products and services. If you click through and make a purchase, I'll receive a small commission. It does not affect the price you pay.
**Disclaimer: I am not a medical doctor, a medical professional, a dietician, or a nutritionist. All content found on the MarysNest.com website, including text, images, videos, eBooks or eGuides, social media, or other formats, were created solely for informational purposes only. The content is not intended to be a substitute for professional medical advice, diagnosis, or treatment. Always seek the advice of your physician or other qualified healthcare provider with any questions you may have regarding a medical condition or proper nutritional advice. Never disregard professional medical advice or delay in seeking it because of something you have watched in a video or read on this website. Use caution when following the recipe in this video. The creator and publisher of this video and website will not be held responsible for any adverse effects that may arise from the use of this recipe and method or any other recipe and method on this website or corresponding video channel.