What is a Traditional Foods Kitchen? You Might Be Surprised!
What is a Traditional Foods Kitchen? You might be surprised by my answer! Come join me in this video where I discuss what it means to transition from a processed foods kitchen to a Traditional Foods Kitchen and why we should all be on this journey.
*Affiliates note: As an Amazon Associate I earn from qualifying purchases. My content may contain affiliate links to products and services. If you click through and make a purchase, I'll receive a small commission. It does not affect the price you pay.
What is a Processed Foods Kitchen?
Before we start talking about a Traditional Foods Kitchen, we need to clarify what exactly I mean when I use the term processed foods kitchen.
The definition is actually quite simple. A processed foods kitchen is one in which most of the foods you bring into your kitchen and store in your pantry are foods that have already been prepared for you. As a matter of fact, my mother has always referred to processed foods as prepared foods!
What Are Processed Foods?
Processed or prepared foods are basically anything you can buy from the grocery store that you could instead make homemade with healthier ingredients and for less money.
Now, I know what you are thinking. You may want to cut back on buying so many processed or prepared foods. However, you may feel that you can't because you don't have the time to make all these foods homemade.
Time-Saving Tips to Make Food Homemade
I hear you! And that's why I always have plenty of time-saving tips for you. The recipes that I share with you are quick and easy to make, including:
I have been a busy working woman, a wife, and a mother throughout my adult life, so I know how time can get away from all of us. Therefore, I am never going to burden you with time-consuming and difficult recipes.
Plus, I am the queen of substitutions! So if you don't have a particular ingredient in your pantry, don't worry. I always recommend plenty of substitutions for most of the recipes that I share with you.
What is a Traditional Foods Kitchen?
A Traditional Foods Kitchen is one where you make as much food as you can homemade. Does having a Traditional Foods Kitchen mean you need to make everything homemade? Definitely not!
This is where my answer to the question in the title of this post and in my video is going to surprise you! Your Traditional Foods Kitchen may look very different than mine. For example, you might make bread with yeast and not have yet graduated to sourdough. Furthermore, you may never want to make sourdough bread. And that's OK.
Traditional foods you can make homemade consist of:
Familiar foods, such as yeasted bread, salad dressings, and cereals
Nutrient-Dense foods, such as bone broth and sourdough bread
If you only make familiar foods in your traditional foods kitchen, I'm fine with that. I'm glad that you're making recipes homemade for good nutrition and to save money.
However, traditional foods encompass a lot more. As you gain more confidence in preparing familiar traditional foods, you may want to progress further in your traditional foods journey by exploring more of the world of traditional "nutrient-dense" foods. These nutrient-dense foods are the best of the best for homemade recipes, including bone broth and sourdough bread.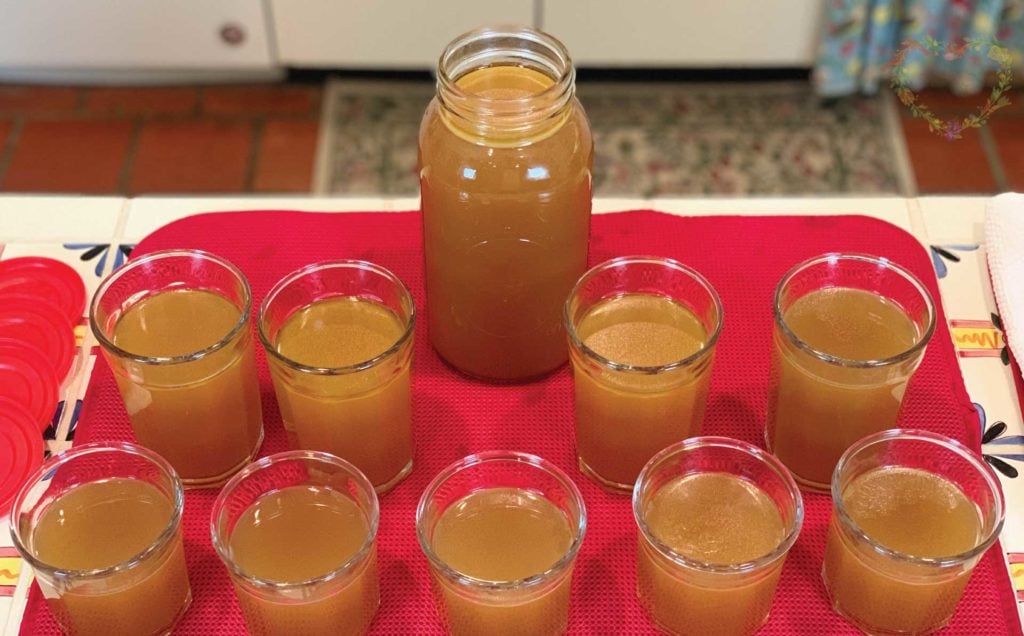 Traditional Foods Journey
But don't feel you have to jump in and learn how to make nutrient-dense foods overnight. It is—as I am fond of saying—a journey. It takes time, patience, and persistence to learn how to make nutrient-dense foods successfully.
That is why I always tell you to:
Start slow
Take your time
Don't rush the process
Go easy on yourself
No one expects you to be perfect. This journey can easily take a year or longer to master. I have been cooking traditional nutrient-dense foods for half my life now, and I still learn something new every day!
A Traditional Foods Kitchen for Everyone
So, it may surprise some, if you are new here, to learn that I am not a purist or a zealot when it comes to making traditional foods.
I am not going to tell you that you have to make everything homemade or that everything you make has to be a traditional nutrient-dense food. That can be way too overwhelming to so many people, especially if you are also learning how to cook.
I want you to succeed in creating your traditional foods kitchen, so learn to make those foods that best fit your life. In time, I am confident you will find yourself making more and more food homemade and expanding your repertoire to include nutrient-dense foods too!
Transitioning to a Traditional Foods Kitchen
As you begin to transition from a processed foods kitchen to a Traditional Foods Kitchen, I am here to help you. As you progress on your traditional foods journey, I have a series of 15 mastering the basics videos that walk you through how to make traditional "nutrient-dense" foods, including:
Bone broth
Cultured dairy
Ferments
Sourdough starter and sourdough bread
Soaked and sprouted grains
Sprouted flour
And more!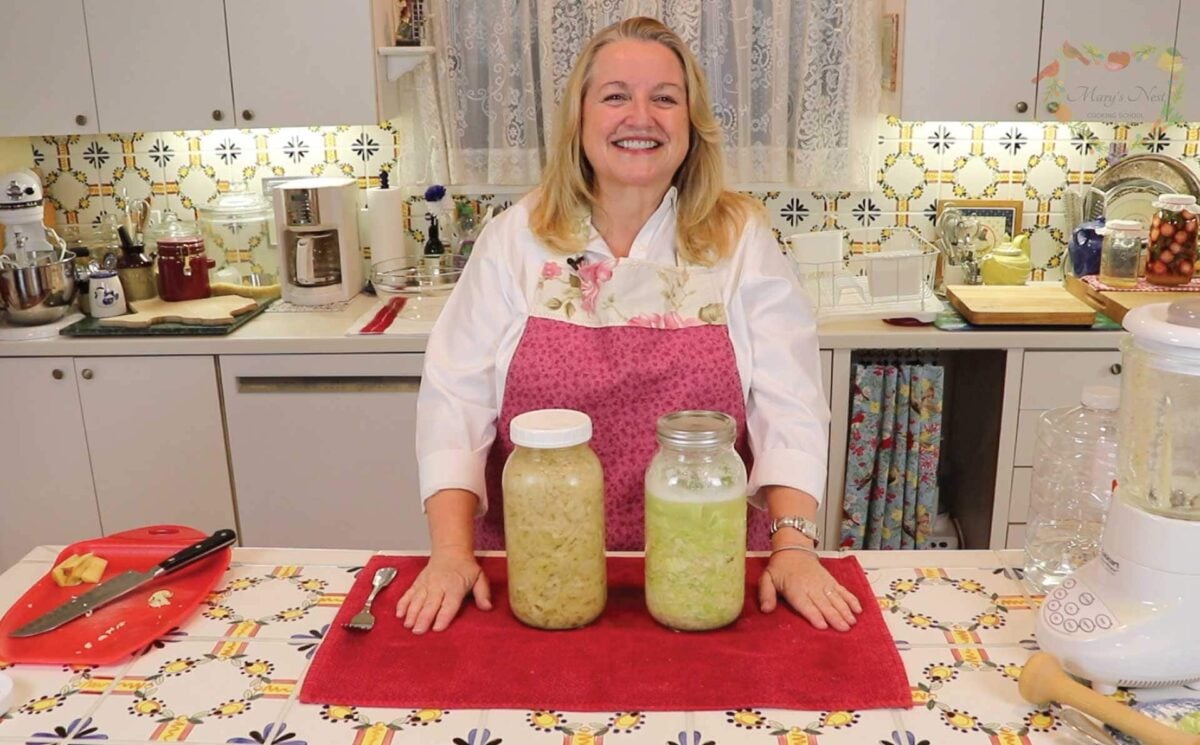 But as I shared above, does this mean that you need to start making all these foods right away? No way! You can begin by simply learning how to make a super soft loaf of sandwich bread—with commercial yeast—to replace the bread you might be buying in that plastic packaging.
Easy Homemade Sandwich Bread Recipes
For a simple recipe to get started with making familiar traditional food homemade, I show you how easy it is to make your own No-Knead Sandwich Bread with yeast. I am confident you, your family, and your friends will love this bread so much that you will never buy sandwich bread at the grocery store ever again!
If you prefer no-knead whole wheat sandwich bread, it's just as easy to make as the sandwich bread with all-purpose flour.
Just Start with a Roast Chicken
In addition to learning how to make sandwich bread, I often tell people that the best place to start when it comes to making the transition to a Traditional Foods Kitchen is simply by learning how to make a roast chicken.
In my how to make a simple roast chicken video, I go over the variety of chickens that you can buy at the grocery store for every budget. If you can afford an organic chicken, that's great, but I am not going to be a stickler and tell you that you must buy an organic, pasture-raised chicken.
I am fine with you buying any chicken you can afford. Spending money that is beyond your food budget will only cause you stress. And as far as I am concerned, it doesn't matter what food you eat if you put yourself under unnecessary stress by spending more money than you can afford.
In time, as you begin to make more homemade foods and eat out less, you will find that you have more money available to you to spend on better quality ingredients. So don't overspend! Simply allocate your funds toward improving the foods you can buy as your budget allows.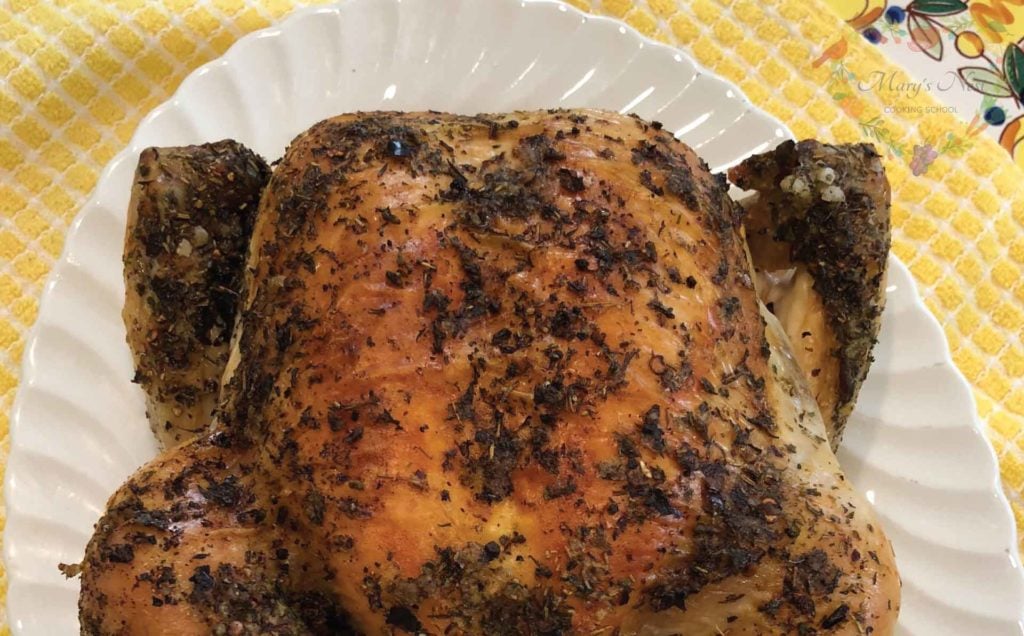 So go ahead and buy the chicken you can afford, roast that chicken, serve it with love, sit down at the table, and give thanks for the food in front of you. No matter how it was raised, this chicken is going to offer you more nutrition than any fast food meal that you can pick up from a drive-thru!
More Chicken Recipes
Want to learn how to roast a chicken in a cast-iron frying pan just like the pioneers? It's one of the easiest and tastiest one-pot meals you'll ever make. And clean-up is a breeze!
Praised chicken is another simple chicken recipe you can make on the stovetop. Nigella Lawson created this classic recipe, and I show you how to make it in the following video. So be prepared to enjoy some of the most tender and flavorful chicken you have ever had!
Learn to Make What You Can Homemade
Want to get started stocking your pantry with easy-to-make homemade items today? I've got you covered with a whole host of pantry staples in the following recipe videos.
And this is just a start! Be sure to visit the Traditional Foods Pantry Playlist on my YouTube channel, where I show you how to make over 60 familiar homemade foods!
Two Nutrient-Dense Traditional Food Recipes
Ready to make a nutrient-dense traditional food recipe? Try out these beef bone broth and no knead sourdough bread recipes.
I never want you to feel overwhelmed, especially as you start incorporating nutrient-dense foods into your repertoire. So if you find the leap to sourdough too challenging, I share a little secret sourdough shortcut that's perfect for beginners.
How to Create a Prepper Pantry
While you're transitioning from a processed foods kitchen to a Traditional Foods Kitchen, be sure to create your Prepper Pantry. After everything we have been through over the last 18 months, never let yourself be unprepared again! I show you how easy it is to start your Prepper Pantry and how to stock your Prepper Pantry on as little as $5.00 per week.
Download Your Free 36-Page Pantry List
As you venture on your Traditional Foods Kitchen journey, I am here to help you with my FREE 36-Page Essential Traditional Foods Pantry List. This list will help you identify those foods you should consider adding to your Four Corners Pantry, which consists of your:
The Main Working Pantry (what you access every day)
The Refrigerator
The Freezer
The Extended or Prepper Pantry (where you store your backup supplies)
More "What is" Introductory Videos
If you are new to the world of traditional nutrient-dense foods, I am confident that you will enjoy the videos below, where I discuss various nutrient-dense topics in detail. The first conversational video talks about the rebirth of traditional foods cooking as promoted in the book Nourishing Traditions by Sally Fallon.
Have you ever wondered what is the difference between broth, stock, and bone broth? In the following video, I walk you through the details of each as well as how to make them.
It's easy to get confused when surveying all the varieties of wheat berries. In my Wheat Berries FAQ video, I explain the differences between modern wheats and ancient grains, so you will know exactly which ones you want to add to your pantry.
When it comes to grains, Kamut might have a funny name, but it is very nutritious and certainly worth learning more about!
Kitchen Academy Videos
In the following members-only video, I talk about the Surprising Differences Between Mainstream and Traditional Super Foods.
Trending Posts on Mary's Nest
Stay in Touch with Mary's Nest
Subscribe to My YouTube Channel for Traditional Foods Videos (Free) - When you subscribe, be sure to click on the notification bell that will let you know each time I upload a new video.
Subscribe to Mary's Traditional Foods Newsletter (Free) - Get a free 36-page eBook for signing up: How to Stock Your Essential Traditional Foods Four-Corners Pantry.
Join the Traditional Foods Kitchen Academy (Optional Paid) - For more detailed videos, live streams, and exclusive members-only perks, join my YouTube membership community.
Order The Modern Pioneer Cookbook (Optional Paid) - Get a printed book of Mary's nourishing recipes from a Traditional Foods Kitchen. This bestselling cookbook is published by Penguin Random House with their DK imprint.
I look forward to having you join me in my Texas Hill Country Kitchen!
---
Shop for items used in this blog post or video
Favorite Kitchen Supplies
More Kitchen Supplies with Promo Codes
Use promo code MARYSNST for a one-time 15% off Masontops and Breadsmart products on Amazon.com.
Use my Mockmill affiliate link for a special one-time 5% discount on Mockmill Stone Grain Mill products, including the new Flake Lover's Flaker. (The Mockmill discount will appear when you checkout.)
Amazon Shop and Shopping Guide
Visit my Shopping Guide page
Get up to 15% off for stocking your Traditional Foods Pantry and equipping your Modern Pioneer Kitchen, including discounts from Lehman's, Mockmill Grain Mill, Masontops, Cultures for Health, Survival Garden Seeds, Redmond Real Salt, Plan to Eat, US Wellness Meats, and More!
Recommended Reading
**Disclaimer: I am not a medical doctor, a medical professional, a dietician, or a nutritionist. All content found on the MarysNest.com website, including text, images, videos, eBooks or eGuides, social media, or other formats, were created solely for informational purposes only. The content is not intended to be a substitute for professional medical advice, diagnosis, or treatment. Always seek the advice of your physician or other qualified healthcare provider with any questions you may have regarding a medical condition or proper nutritional advice. Never disregard professional medical advice or delay in seeking it because of something you have watched in a video or read on this website. Use caution when following the recipe in this video. The creator and publisher of this video and website will not be held responsible for any adverse effects that may arise from the use of this recipe and method or any other recipe and method on this website or corresponding video channel.