How to Make Praised Chicken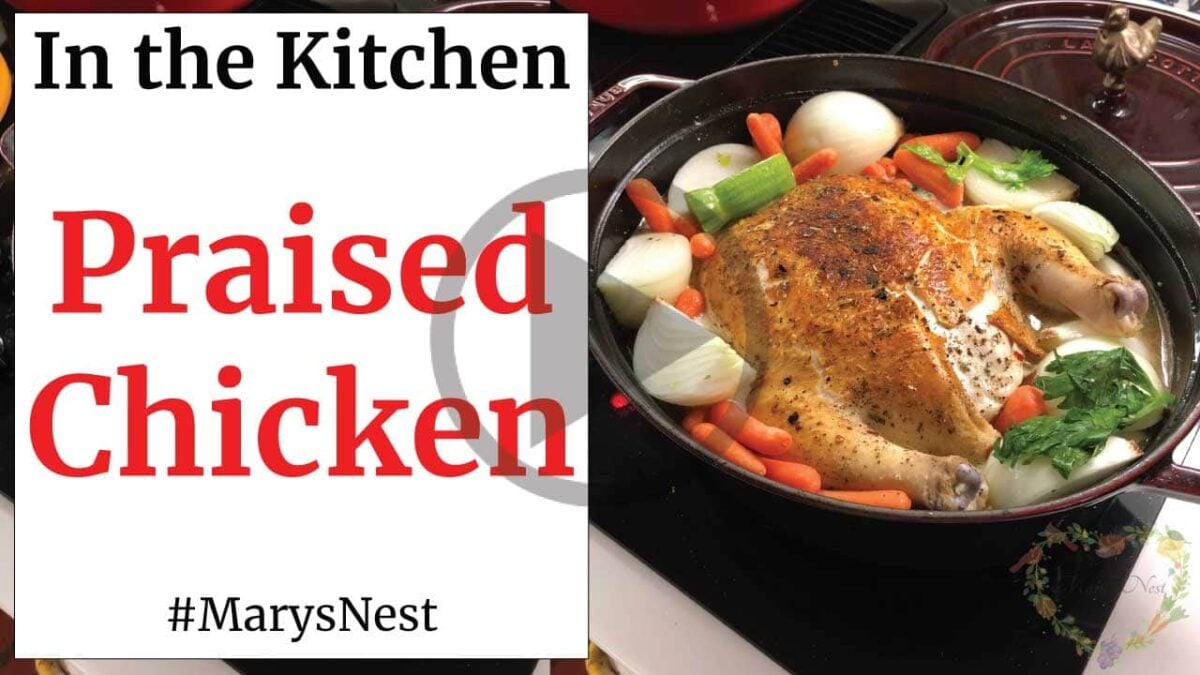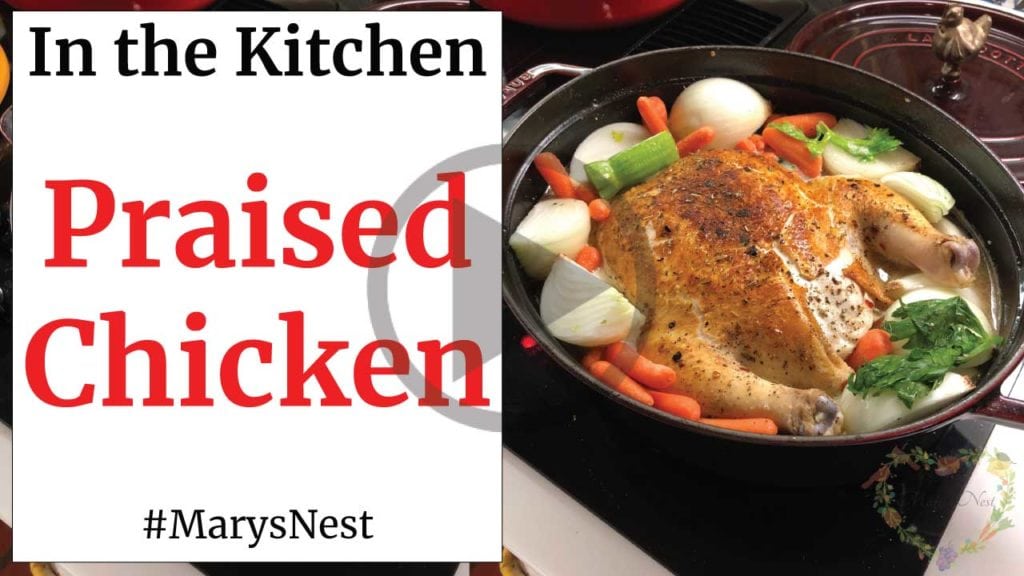 Learn how to make Praised Chicken, which is a cross between a poached chicken and a braised chicken. This easy-to-make dish feeds a crowd and is the quintessential home-cooked meal that everyone will love!
*Affiliates note: As an Amazon Associate I earn from qualifying purchases. My content may contain affiliate links to products and services. If you click through and make a purchase, I'll receive a small commission. It does not affect the price you pay.
How Praised Chicken Got Its Name
Nigella Lawson is one of my favorite cookbook authors. When I came across a recipe in her cookbook, Nigella Kitchen: Recipes from the Heart of the Home, for what she loving calls her Mother's Praised Chicken, I was intrigued!
It turns out that she uses the word praised as a combination of the two culinary words "poached" and "braised." Her recipe combines the two cooking techniques to create a flavorful dish that is better than either a poached chicken or a braised chicken.
The Simple Way to Feed a Crowd
In addition to being easy to make, this recipe for Praised Chicken can also feed a crowd affordably. After cooking the chicken with vegetables in a water base, you create a delicious broth with incredibly tender chicken meat.
You can shred the chicken meat and add vegetables to stretch this recipe and comfortably feed a minimum of eight diners.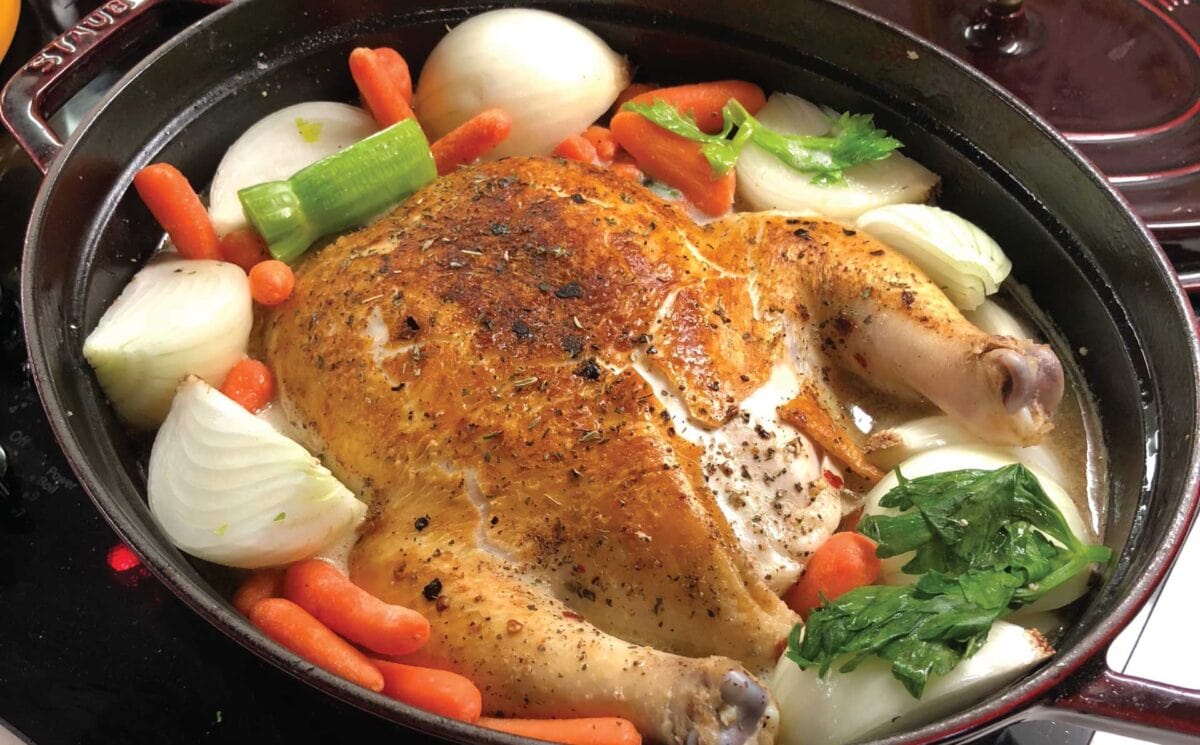 Praised Chicken Makes a Quick and Gelatinous Broth
When making Praised Chicken, you'll find the broth it creates is rich and delicious. And if you have any leftovers to refrigerate, you'll discover that it gels beautifully, proving that it is rich in cooked collagen, which is also known as gelatin.
And it's this gelatin that we are after whenever we make broth or bone broth because gelatin is terrific for nourishing our digestive system. It also provides much-needed protein for our skin, hair, and nails!
Praised Chicken is a Mid-Century Classic
Although Nigella Lawson coined the adorable name for this particular chicken recipe, this meal was a fairly common dish made by many a mid-century mom who had a large family or group to feed.
As I mentioned earlier, Praised Chicken can feed a crowd because you can shred the chicken and extend this dish to fill many plates. Plus, depending on how many vegetables you add, you can stretch this dish even further.
And as Nigella shares in her cookbook, this dish isn't just for a family meal. It is so appetizing and tasty that she often serves this recipe to company. As a matter of fact, my own mom often served this as a special wintertime Sunday dinner. (And how appropriate that this recipe is called Praised Chicken, especially when served on Sunday!)
More Chicken Recipes
In addition to making Praised Chicken on the stovetop, I show you how to cook a whole chicken in the oven or Instant Pot in the following videos. I'll also show you how to spatchcock a chicken to make an easy sheet pan chicken dinner in just 45 minutes.
Chicken Bone Broth Recipes
After you make your whole chicken recipes, be sure to save your chicken carcass to make a delicious and nutritious chicken bone broth. Depending on what kitchen appliance you want to use, I'll show you how to make:
Looking for Free-Ranged Chickens?
If you can't find free-ranged chicken in your neighborhood supermarket or farmer's market, check out US Wellness Meats for whole chickens and more quality meats.
Use discount code MARYNEST and my link to save 15% off regular-priced items on your US Wellness Meats order. You can shop for a variety of products, including:
This post is not sponsored. I'm a long-time customer of US Wellness Meats because I have always been impressed by the quality of their products. Check out my US Wellness Meats unboxing video to see the types of products you can get, including bones for beef bone broth!
Download Your Free 36-Page Pantry List
Making Praised Chicken is an excellent way to start cooking traditional foods using ingredients from your four corners pantry, which includes your:
Working pantry
Refrigerator
Freezer
Extended pantry (or Prepper Pantry)
For an extensive list of the traditional foods you can make and purchase to stock your pantry, be sure to download my free 36-page Traditional Foods Pantry List. This comprehensive eBook is full of links to recipe videos, helpful articles, and more!
If you don't have a Prepper Pantry, I show you how to easily get started in the following videos:
Kitchen Academy Videos
Are you looking for more traditional foods videos? If so, I invite you to join the Traditional Foods Kitchen Academy. Members of this optional paid YouTube community get access to exclusive videos, live streams, and other members-only perks. Plus, your YouTube comments include a special members-only badge.
In the following members-only video, I talk about the Ten Staples for the Traditional Foods Kitchen.
Stay in Touch with Mary's Nest
Subscribe to My YouTube Channel for Traditional Foods Videos (Free) - When you subscribe, be sure to click on the notification bell that will let you know each time I upload a new video.
Subscribe to Mary's Traditional Foods Newsletter (Free) - Get a free 36-page eBook for signing up: How to Stock Your Essential Traditional Foods Four-Corners Pantry.
Join the Traditional Foods Kitchen Academy (Optional Paid) - For more detailed videos, live streams, and exclusive members-only perks, join my YouTube membership community.
Order The Modern Pioneer Cookbook (Optional Paid) - Get a printed book of Mary's nourishing recipes from a Traditional Foods Kitchen. This bestselling cookbook is published by Penguin Random House with their DK imprint.
I look forward to having you join me in my Texas Hill Country Kitchen!
Trending Posts on Mary's Nest
Shop for items used in this blog post or video
Favorite Kitchen Supplies
More Kitchen Supplies with Discount Codes
Use my Mockmill affiliate link for a special one-time 5% discount on Mockmill Stone Grain Mill products, including the new Flake Lover's Flaker. (The Mockmill discount will appear when you checkout.)
Use promo code MARYSNST for a one-time 15% off Masontops and Breadsmart products on Amazon.com.
Amazon Shop and Shopping Guide
Visit my Shopping Guide page
Get up to 15% off for stocking your Traditional Foods Pantry and equipping your Modern Pioneer Kitchen, including discounts from Lehman's, Mockmill Grain Mill, Masontops, Cultures for Health, Survival Garden Seeds, Redmond Real Salt, Plan to Eat, US Wellness Meats, and More!
Recommended Reading
**Disclaimer: I am not a medical doctor, a medical professional, a dietician, or a nutritionist. All content found on the MarysNest.com website, including text, images, videos, eBooks or eGuides, social media, or other formats, were created solely for informational purposes only. The content is not intended to be a substitute for professional medical advice, diagnosis, or treatment. Always seek the advice of your physician or other qualified healthcare provider with any questions you may have regarding a medical condition or proper nutritional advice. Never disregard professional medical advice or delay in seeking it because of something you have watched in a video or read on this website. Use caution when following the recipe in this video. The creator and publisher of this video and website will not be held responsible for any adverse effects that may arise from the use of this recipe and method or any other recipe and method on this website or corresponding video channel.