How to Make the Best Roast Goose with Sage and Onion Stuffing and a Port Wine Cherry Sauce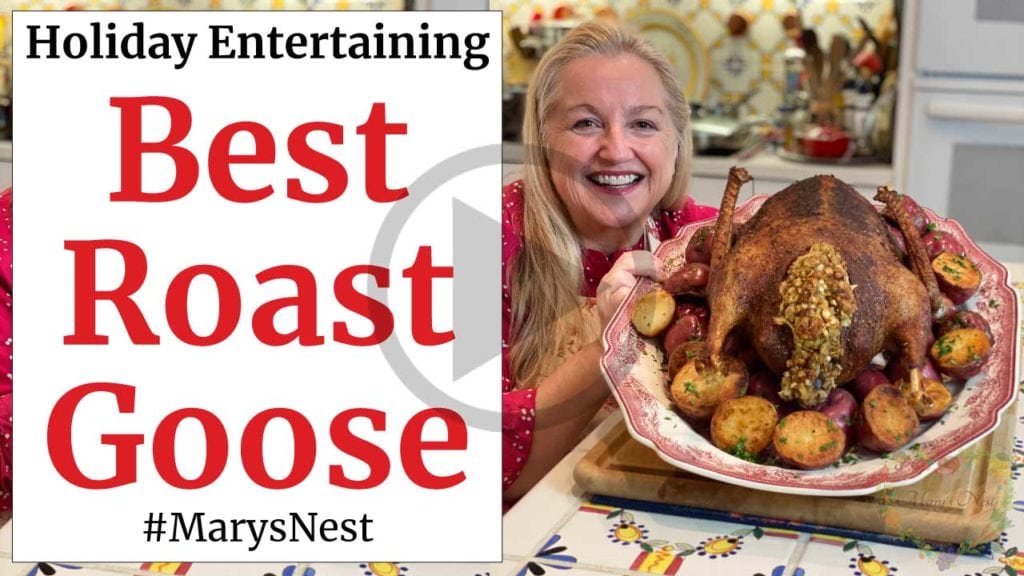 Learn how to make this delicious Roast Goose with Sage and Onion Stuffing and a scrumptious Port Wine Cherry Sauce for the perfect Charles Dickens Christmas Carol Dinner!
*Affiliates note: As an Amazon Associate I earn from qualifying purchases. My content may contain affiliate links to products and services. If you click through and make a purchase, I'll receive a small commission. It does not affect the price you pay.
A Roast Goose Just Like Mrs. Cratchit Made
One of my all-time favorite stories is A Christmas Carol by Charles Dickens. Mr. Scrooge's journey of redemption brings such joy to my heart, especially during the Christmas season. And what better way to thoroughly enjoy this story than by recreating the tasty Christmas dinner Mrs. Cratchit made and lovingly served to her family.
So today, we'll prepare Mrs. Cratchit's roast goose with sage and onion stuffing. The skin of the goose will be delightfully crisp, and I guarantee that the stuffing will be some of the best you have ever tasted!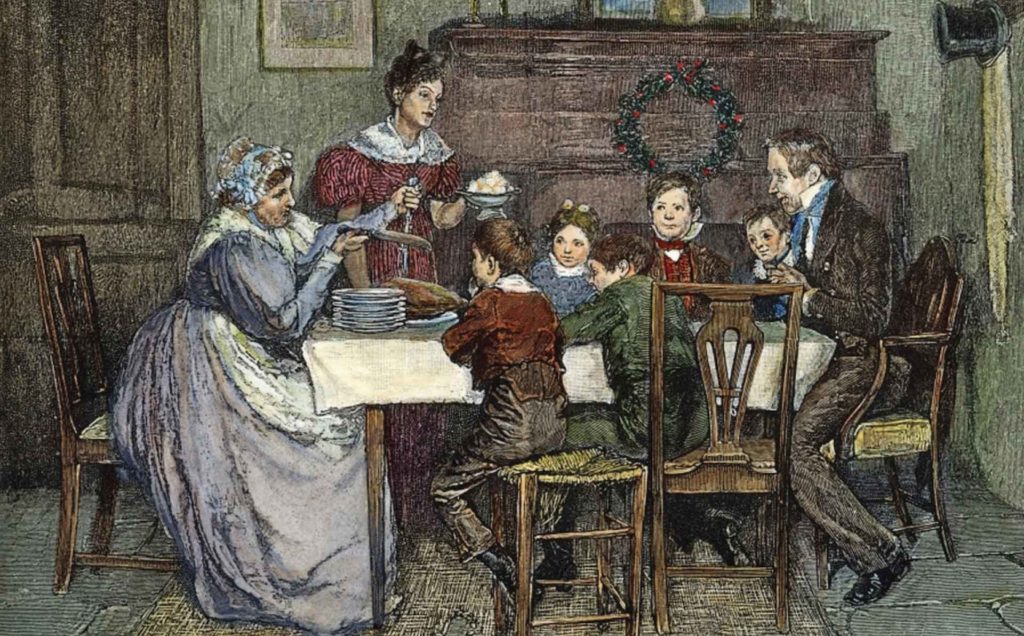 British Royal Favorite: Sage and Onion Stuffing
Sage and onion stuffing has a long history in England, and this recipe is over 500 years old. The stuffing was a favorite of Queen Elizabeth the First, who ruled England during the 1500s, and it is still enjoyed today by the modern-day Queen Elizabeth the Second.
A Variation on the Roast Goose Dinner
We will deviate just a bit from the actual Cratchit's Christmas dinner, but I don't think you'll mind.
Instead of the mashed potatoes and apple sauce that Mrs. Cratchit served, we'll enjoy the most delicious potatoes roasted in goose fat and a sweet-tart Port wine cherry sauce that is the perfect accompaniment to a roast goose.
What is the Best Cooking Temperature for Roast Goose?
If you have seen my discussion about the best cooking temperature for roast duck, you will not be surprised when I share here with you that I like my poultry well cooked!
How the Professionals Make Roast Goose
Chefs may tell you that you can roast the breast of a goose to 135°F-145°F for rare to medium-rare meat. The United States Department of Agriculture recommends that you should roast your goose to 165°F for safety, but I simply can't eat goose cooked to either of these temperatures!
I find that goose meat cooked to these temperatures varies in color from a deep purple to a deep red. However, it's not just the color of the poultry meat that bothers me. I find the texture to be rubbery. This combination of color and texture is simply the last thing that I want to eat or would serve to my guests.
How I Make Roast Goose
I recommend that you roast your goose to a minimum of 170°F. And even 180°F is OK too. And I especially recommend these internal temperatures if you are serving this recipe at a celebratory meal or Christmas dinner, especially if your guests have never enjoyed goose before.
When cooked to a temperature of 170°F or 180°F, I am confident that anyone who enjoys poultry will enjoy this roast goose. At these higher temperatures, you will not encounter unsightly undercooked meat, and the meat's texture will not be rubbery. Instead, every bite of your goose will be melt-in-your-mouth tender.
Roast Goose Cooked to Perfection
Goose roasted to an internal temperature of 170°F will be delightfully tasty and juicy. But, as you will see when I slice into the roast goose's breast in my recipe video, the meat will not be dry.
If you find that 170°F is still a bit too pink for you, you can roast your goose to an internal temperature of 180°F, and it will be fine. If you encounter the least bit of dryness, which I really don't expect, you will have the delightful Port wine cherry sauce to drizzle across the meat to add moisture and amazing flavor.
Use a Roasting Pan when Making Roast Goose
When roasting a duck, you can get away with using a baking sheet with a rack. However, a goose is generally quite a bit larger than a duck. Therefore, when roasting a goose, you need a full-size roasting pan with a rack.
When it comes to a roasting rack, if you have an angled one as I use in the video, all the better. The higher you can lift your goose off of the base of the roasting pan, the better.
A goose will render a lot of goose fat, and you do not want the bottom of your goose resting in that fat. Instead, you want the bottom of your goose raised above the rendered fat so that the entire skin of the goose will become delightfully crisp!
What Can I do with Goose Fat after Making a Roast Goose?
If you have never had goose fat before, you are in for a treat! Goose fat is a real delicacy, and it is getting harder and harder to find, at least here in the United States.
The good news is that your roast goose is going to render out a considerable amount of fat. When I roasted my goose, I was blessed with about 3 cups of glorious goose fat!
When it comes to cooking with goose fat, the possibilities are endless! Here are a few ideas just to get you started. You can use goose fat for:
Oven-roasted potatoes or other tubers
Oven-roasted root vegetables, including carrots, turnips, beets, and more
Sautéing vegetables, especially greens
Frying eggs
A spread on toasted baguettes or other breads
A baking ingredient to replace other fats like butter or lard
More Specialty Poultry Recipes
If you enjoyed learning how to make roast goose, be sure to watch the videos below where I show you how to make Rock Cornish Hens, as well as how to roast a duck. These specialty poultry make for a tasty celebratory meal or Christmas dinner.
Download Your Free 36-Page Pantry List
As this year winds down and we head into a new year, this is the ideal time to begin your journey of leaving a processed foods kitchen behind to be able to create a traditional foods kitchen going forward. And I have exactly what you need for the journey!
For an extensive list of the traditional foods you can make and purchase to stock your pantry, be sure to download my free 36-page Traditional Foods Pantry List. This comprehensive eBook is full of links to recipe videos, helpful articles, and more!
More Holiday Recipes
As you get ready for your Christmas or New Years's Day dinner, here are some tasty recipes you can prepare for your dinner table. You'll find cloud-soft yeast dinner rolls, Italian Christmas cookies, and fermented cranberry sauce. The sauce is delicious and outstanding for digestion!
If you have been disappointed with other Instant Pot mac and cheese recipes, your hunt for the perfect recipe is over! I contacted the manufacturer for the best tips for making perfectly creamy macaroni and cheese every time, and I share these tips with you in the following video.
Need an idea for an informal holiday get-together? Be sure to put together a giant party platter that will feed a crowd but requires very little work on your part!
Merry Christmas, My Sweet Friends!
My Sweet Friends, I wish you a very Merry Christmas and a Happy, Healthy, and Blessed New Year!
Kitchen Academy Videos
Are you looking for more traditional foods videos? If so, I invite you to join the Traditional Foods Kitchen Academy. Members of this optional paid YouTube community get access to exclusive videos, live streams, and other members-only perks. Plus, your YouTube comments include a special members-only badge.
During this time last year, we chatted about traditional Christmas foods. You can watch the following members-only live stream replay for a bit of nostalgia.
Stay in Touch with Mary's Nest
Subscribe to My YouTube Channel for Traditional Foods Videos (Free) - When you subscribe, be sure to click on the notification bell that will let you know each time I upload a new video.
Subscribe to Mary's Traditional Foods Newsletter (Free) - Get a free 36-page eBook for signing up: How to Stock Your Essential Traditional Foods Four-Corners Pantry.
Join the Traditional Foods Kitchen Academy (Optional Paid) - For more detailed videos, live streams, and exclusive members-only perks, join my YouTube membership community.
Order The Modern Pioneer Cookbook (Optional Paid) - Get a printed book of Mary's nourishing recipes from a Traditional Foods Kitchen. This bestselling cookbook is published by Penguin Random House with their DK imprint.
I look forward to having you join me in my Texas Hill Country Kitchen!
Trending Posts on Mary's Nest
Shop for items used in this blog post or video
Favorite Kitchen Supplies
More Kitchen Supplies with Discount Codes
Use my Mockmill affiliate link for a special one-time 5% discount on Mockmill Stone Grain Mill products, including the new Flake Lover's Flaker. (The Mockmill discount will appear when you checkout.)
Use promo code MARYSNST for a one-time 15% off Masontops and Breadsmart products on Amazon.com.
Amazon Shop and Shopping Guide
Visit my Shopping Guide page
Get up to 15% off for stocking your Traditional Foods Pantry and equipping your Modern Pioneer Kitchen, including discounts from Lehman's, Mockmill Grain Mill, Masontops, Cultures for Health, Survival Garden Seeds, Redmond Real Salt, Plan to Eat, US Wellness Meats, and More!
Recommended Reading
**Disclaimer: I am not a medical doctor, a medical professional, a dietician, or a nutritionist. All content found on the MarysNest.com website, including text, images, videos, eBooks or eGuides, social media, or other formats, were created solely for informational purposes only. The content is not intended to be a substitute for professional medical advice, diagnosis, or treatment. Always seek the advice of your physician or other qualified healthcare provider with any questions you may have regarding a medical condition or proper nutritional advice. Never disregard professional medical advice or delay in seeking it because of something you have watched in a video or read on this website. Use caution when following the recipe in this video. The creator and publisher of this video and website will not be held responsible for any adverse effects that may arise from the use of this recipe and method or any other recipe and method on this website or corresponding video channel.