How to Make Rock Cornish Game Hens
Rock Cornish game hens are easy to prepare, especially if you're new to cooking whole poultry. Plus, the cooked hens make the most lovely presentation when you bring them to the dinner table. They are perfect for any special occasion entertaining!
*Affiliates note: As an Amazon Associate I earn from qualifying purchases. My videos and blog posts may contain affiliate links to products and services. If you click through and make a purchase, I'll receive a small commission. It does not affect the price you pay.
What are Rock Cornish Game Hens?
Rock Cornish game hens are a very young breed of broiler chicken that is a cross between a Cornish chicken and a Plymouth Rock chicken. They are ready to be served when they weigh no more than 2 pounds, as opposed to a more mature chicken that generally weighs 4 or more pounds.
Rock Cornish game hens are highly prized for their exceptionally tender meat. Because of their tenderness, many folks often prefer them over the meat of older and larger chickens.
Since the hens are smaller, they are easier to prepare, which is great news for new home cooks who might find cooking a full-sized chicken a bit unwieldy.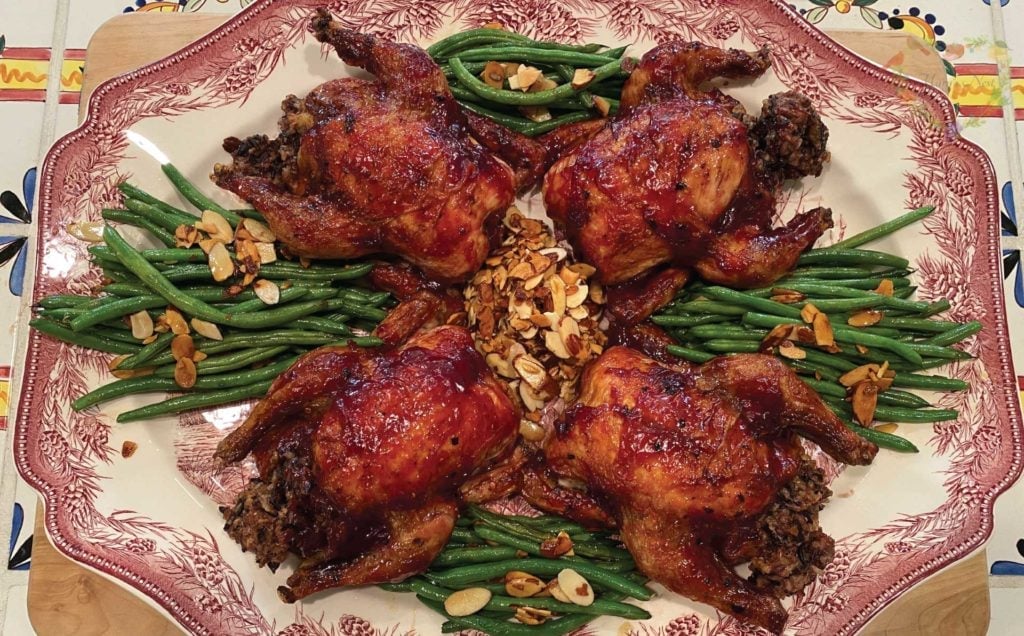 A Few Fun Facts about Rock Cornish Game Hens
Yes. They're tasty and tender, but do you also know these other facts about Rock Cornish game hens?
Even though the name of these birds includes the word game, they are actually not game birds.
When you buy these hens at your grocery store, they aren't always hens! Rock Cornish game hens may be female or male. The good news is that no matter what type of "hen" you get, they are always delicious!
Where to Find Rock Cornish Game Hens
You'll generally find Rock Cornish game hens in the freezer section of most grocery stores next to other types of poultry, including turkey, duck, and goose. Most often, they are sold in a package containing two hens.
After purchasing your frozen hens, you can store them in your freezer for up to six months. When you're ready to defrost and cook them, allow them to thaw overnight in your refrigerator.
Stuffing Rock Cornish Game Hens
I love to stuff my Rock Cornish game hens with a wild rice blend. It's the perfect accompaniment to the hens, plus it saves you the work of having to make another side dish. You can literally make a one pan meal!
However, if you want to serve these hens with an additional side, I highly recommend some type of green vegetable. For example, I like to make green beans almondine, which is an easy recipe yet looks special.
Easiest Raspberry Sauce for Rock Cornish Game Hens
You can simply roast your Rock Cornish game hens as you might roast any chicken or other poultry. However, by adding the raspberry sauce that I share in this recipe, you will bring your hens to a new level of deliciousness.
The raspberry sauce provides a bit of sweetness and a bit of tang for the perfect balance of flavors. Plus, if you are serving this at holiday time, the red hue cast over the hens by the sauce looks exceptionally festive!
When you add in a side of green beans almondine, the contrast between the red raspberry sauce and the green beans makes this dish perfect for your Christmas dinner table.
And don't tell anyone how easy it was to make the sauce. You literally just warm a jar of jelly or jam and spoon it over your hens before you pop them under the broiler. That's it! It couldn't be easier, yet the resulting meal looks so gourmet.
Cooking the Rock Cornish Game Hens
In my recipe, I recommend cooking the Rock Cornish game hens to an internal temperature of 180°F. This temperature is higher than the general U.S. Department of Agriculture (USDA) guidelines for cooking poultry to an internal temperature of 165°F.
Costco Recommends Cooking Chicken to 185°F
I choose to cook my Rock Cornish game hens to an internal temperature of 180°F is because I like to lean towards the Costco guidelines for cooking poultry.
Costco labels the raw chickens they sell with instructions to cook them to an internal temperature of 185°F at home. Since my Rock Cornish game hens are smaller than regular chickens, I'm cooking them to 180°F.
USDA Recommendations on Cooking Poultry
Although the USDA recommends that it is sufficient to cook our poultry to an internal temperature of 165°F, the agency states that consumers:
"…for reasons of personal preference, many chose to cook poultry to higher temperatures…higher final temperatures may be needed for consumer acceptability and palatability…in order to remove the pink appearance and rubbery texture."

Center for Infectious Disease Research and Policy
And that is exactly why I cook my Rock Cornish game hens to an internal temperature of 180°F and my chickens to 185°F. At 165°F, I often see pink chicken meat and juices that are not running clear. That's just downright unappetizing!
So, yes, you can cook your hens to an internal temperature of 165°F. However, as the USDA indicates, you may not find your hens palatable if their meat has a pink appearance and rubbery texture!
But rest assured. As I show you in today's video, your hen's meat will be tender and juicy and not the least bit dry even when cooked to an internal temperature of 180°F.
More Poultry Recipes
If you enjoy poultry, try one of the following recipes that are exceptionally easy for the new traditional foods home cook.
Download Your Free 36-Page Pantry List
If you are new to creating a traditional foods kitchen and moving away from buying processed foods, I'm here to help you with ideas for stocking your pantry with my FREE 36-page Essential Traditional Foods Pantry List.
You will find this list so helpful. It shows you how to stock your traditional foods pantry, and it also includes lots of recipes and ideas for how to stock your pantry with homemade items. I also include links to show you how to use your pantry items to create nutritious and delicious meals!
More Holiday Recipes
As you plan your upcoming holiday menus, check out the following video recipes where I share ideas for:
Kitchen Academy Videos
Are you looking for more traditional foods videos? If so, I invite you to join the Traditional Foods Kitchen Academy. Members of this optional paid YouTube community get access to exclusive videos, live streams, and other members-only perks. Plus, your YouTube comments include a special members-only badge.
In the following members-only video, I talk about How to Boost Your Immunity in part one of my special three-part series.
Stay in Touch with Mary's Nest
Subscribe to My YouTube Channel for Traditional Foods Videos (Free) - When you subscribe, be sure to click on the notification bell that will let you know each time I upload a new video.


Subscribe to Mary's Traditional Foods Newsletter (Free) - Get a free eBook for signing up: How to Stock Your Essential Traditional Foods Four-Corners Pantry.


Join the Traditional Foods Kitchen Academy (Optional Paid) - For more detailed videos, live streams, and exclusive members-only perks, join my YouTube membership community.
I look forward to having you join me in my Texas Hill Country Kitchen!
Love,
Mary
♥
Trending Posts on Mary's Nest
Shop for items used in this blog post or video
Favorite Kitchen Supplies
More Kitchen Supplies with Discount Codes
Use my Mockmill affiliate link for a special one-time 5% discount on Mockmill Stone Grain Mill products, including Ancient Grains, like Einkorn, Emmer, and Spelt. (The Mockmill discount will appear when you checkout.)
Use promo code MARYSNST for a one-time 15% off Masontops and Breadsmart products on Amazon.com.
Amazon Shop and Shopping Guide
Visit my Shopping Guide page
Learn where I buy my beef bones, electric grain mills, sprouted grains, and more…and get special discounts for Mary's Nest visitors, including from US Wellness Meats, Mockmill, Masontops, and Cultures for Health.
Recommended Reading
**Disclaimer: I am not a medical doctor, a medical professional, a dietician, or a nutritionist. All content found on the MarysNest.com website, including text, images, videos, eBooks or eGuides, social media, or other formats, were created solely for informational purposes only. The content is not intended to be a substitute for professional medical advice, diagnosis, or treatment. Always seek the advice of your physician or other qualified healthcare provider with any questions you may have regarding a medical condition or proper nutritional advice. Never disregard professional medical advice or delay in seeking it because of something you have watched in a video or read on this website. Use caution when following the recipe in this video. The creator and publisher of this video and website will not be held responsible for any adverse effects that may arise from the use of this recipe and method or any other recipe and method on this website or corresponding video channel.