How to Make Chicken Patties with Canned Chicken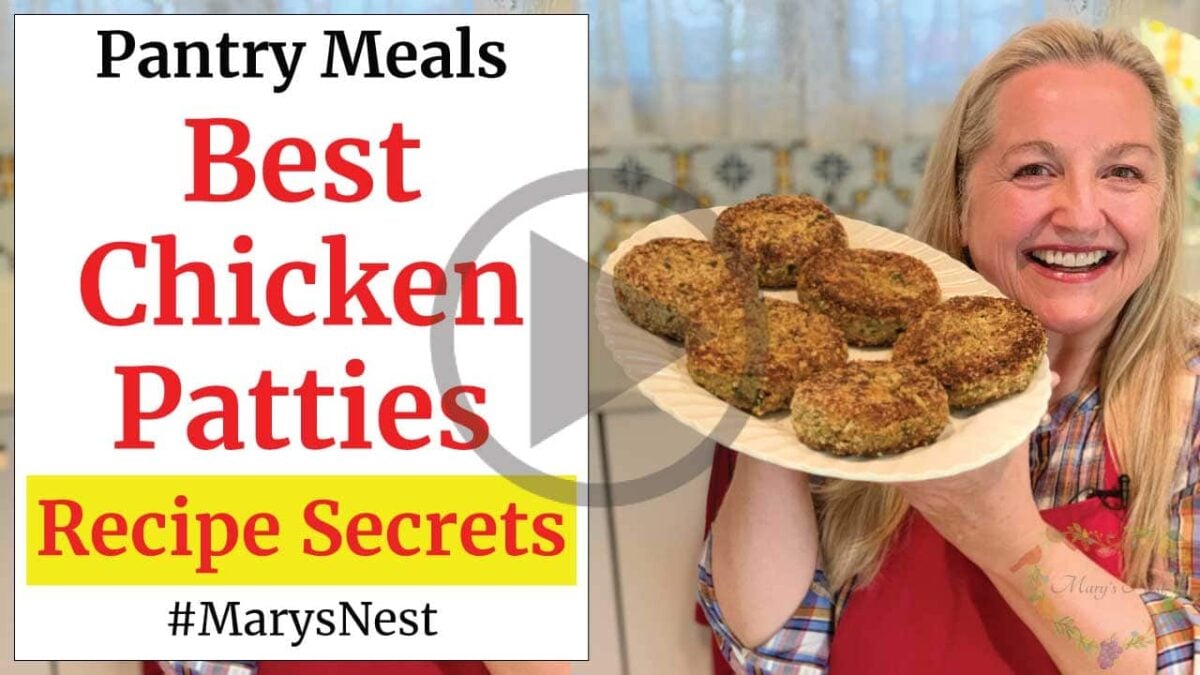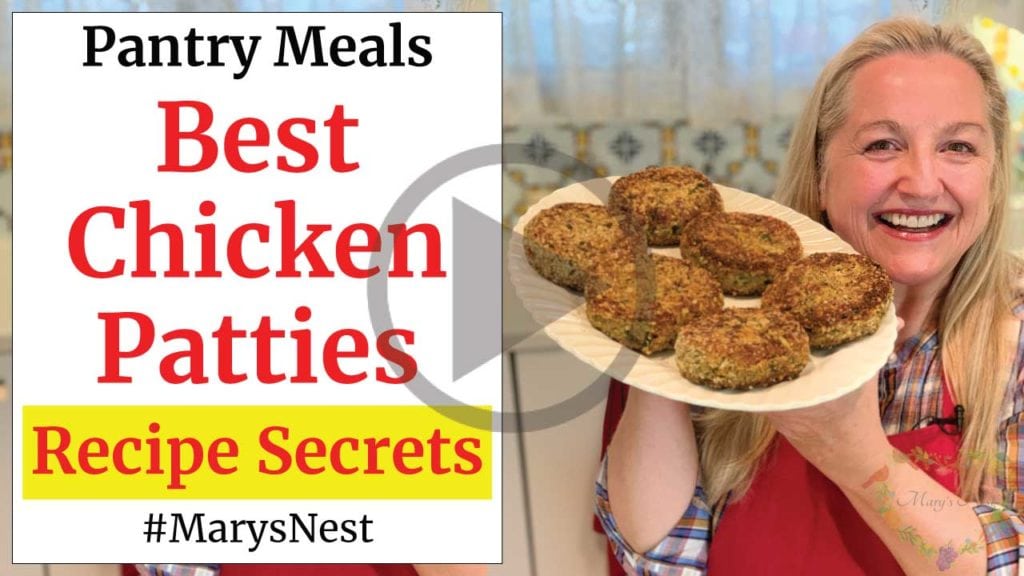 Learn how to make the best chicken patties ever! I show you how to make delicious chicken patties that are full of flavor with some recipe secrets to keep your patties tender, flaky, and never dry.
*Affiliates note: As an Amazon Associate I earn from qualifying purchases. My content may contain affiliate links to products and services. If you click through and make a purchase, I'll receive a small commission. It does not affect the price you pay.
Chicken Patties to the Rescue
If you have forgotten to defrost something for dinner or simply have not had the time to go grocery shopping, it's time to turn to your pantry. And if you have canned chicken in your working pantry or your extended pantry, you can have a great meal on the table in about 30 minutes. Chicken patties are easy to make and will be very flavorful, thanks to a few secrets I have to share with you in my recipe video.
If you have shied away from keeping canned chicken on hand because you think it looks and tastes like tuna fish, I understand completely! But thanks to a good rinse and some tasty seasoning, you can bring the canned chicken back to life and have some of the best chicken patties you've ever tasted!
Seasonings for Chicken Patties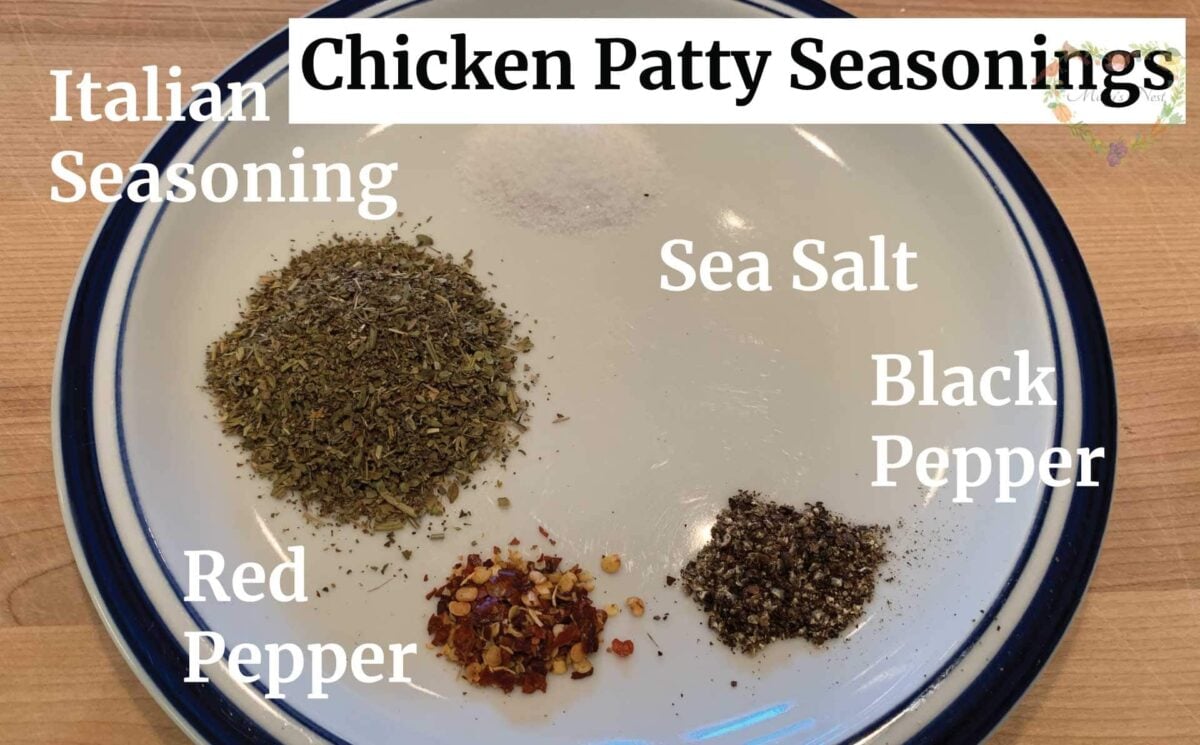 I decided that I would serve my chicken patties with spaghetti and marinara sauce, so I used a mix of seasonings to give my chicken patties an Italian twist! But as I describe in my printable recipe, you can use any type of seasoning. Be creative and flavor your canned chicken any way you want.
Ideas for Seasoning Chicken Patties
In the video below, I share how to make 10 different seasoning blends, any of which can be used to flavor your canned chicken. And all of these are easy to make. I bet you already have the ingredients in your pantry!
To really kick up the nutrition, try adding a tablespoon of my nutrient-dense all-purpose seasoning mix. This recipe is easy to make and takes the nutrients in your chicken patties—or anything you add it to—to a whole 'nother level!
And you can never go wrong with an old-fashioned but tried and true classic, like poultry seasoning to bring out the flavor of any chicken dish!
Make Your Own Chicken Patty Ingredients
Want to try your hand at making your breadcrumbs to use when making these chicken patties? It's easy! And I show you how in my homemade breadcrumbs recipe video. The best part is that you'll never throw out stale bread again. So nothing goes to waste!
And if you would like to add some "candied" tomatoes to your chicken patties for a real burst of flavor, learn how to make slow roasted candied tomatoes. These are easy to make and absolutely scrumptious…even as a snack!
Want to fry up your chicken patties in butter? You can certainly do that! And what better way to do that than with your own homemade butter.
Source for Beef Tallow
Beef tallow is an excellent and healthier ingredient to use when you need a fat made for frying with a 400°F smoke point. If you're looking for beef tallow to pan-fry your chicken patties or to use in other recipes, I like to get my beef tallow, bones for bone broth, and many other products from US Wellness Meats. This is not a sponsored post. I have been a long-time customer, and I have always been impressed with the quality and taste of their products.
In the following videos, I show you an unboxing of one of my shipments, and I also show you the best bones for bone broth using beef bones that I purchased from US Wellness Meats.
More Recipes for Pantry Meals
Need more ideas for quick and easy pantry meals? No problem! I've got you covered with a 10-minute chicken tortilla soup and a very flavorful canned salmon recipe. And if you think you don't like sardines, think again. Try my sardines recipe, and you'll start craving these little cans of fish again and again!
Download Your Free 36-Page Pantry List
Not sure what to stock in your kitchen pantry? Learn how to download my free 36-page pantry list eBook so you can discover what items you can get or make to ensure your four corners pantry is well stocked for making delicious traditional foods meals for you and your family. (Your four corners pantry consists of your working pantry, refrigerator, freezer, and extended pantry.)
More Chicken Recipes
When you have more time available, be sure to try roasting a chicken and then use the carcass to make bone broth that you can use for a delicious soup. You'll easily have enough food for another meal. And when you are craving something crispy, be sure to try my chicken cutlets.
Kitchen Academy Videos
Are you looking for more traditional foods videos? I invite you to join the Traditional Foods Kitchen Academy. Members of this optional paid YouTube community get access to exclusive videos, live streams, and other members-only perks.
In the following members-only video, I talk about the Importance of Cooking with Traditional Fats: Butter and Ghee.
Stay in Touch with Mary's Nest
Subscribe to My YouTube Channel for Traditional Foods Videos (Free) - When you subscribe, be sure to click on the notification bell that will let you know each time I upload a new video.
Subscribe to Mary's Traditional Foods Newsletter (Free) - Get a free 36-page eBook for signing up: How to Stock Your Essential Traditional Foods Four-Corners Pantry.
Join the Traditional Foods Kitchen Academy (Optional Paid) - For more detailed videos, live streams, and exclusive members-only perks, join my YouTube membership community.
Order The Modern Pioneer Cookbook (Optional Paid) - Get a printed book of Mary's nourishing recipes from a Traditional Foods Kitchen. This bestselling cookbook is published by Penguin Random House with their DK imprint.
I look forward to having you join me in my Texas Hill Country Kitchen!
Shop for items used in this blog post or video
Favorite Kitchen Supplies
Use promo code MARYSNST for a one-time 15% off Masontops and Breadsmart products on Amazon.com.
Use my Mockmill affiliate link for a special one-time 5% discount on Mockmill Stone Grain Mill products, including the new Flake Lover's Flaker. (The Mockmill discount will appear when you checkout.)
Amazon Shop and Shopping Guide
Visit my Shopping Guide page
Get up to 15% off for stocking your Traditional Foods Pantry and equipping your Modern Pioneer Kitchen, including discounts from Lehman's, Mockmill Grain Mill, Masontops, Cultures for Health, Survival Garden Seeds, Redmond Real Salt, Plan to Eat, US Wellness Meats, and More!
Recommended Reading
**Disclaimer: I am not a medical doctor, a medical professional, a dietician, or a nutritionist. All content found on the MarysNest.com website, including text, images, videos, eBooks or eGuides, social media, or other formats, were created solely for informational purposes only. The content is not intended to be a substitute for professional medical advice, diagnosis, or treatment. Always seek the advice of your physician or other qualified healthcare provider with any questions you may have regarding a medical condition or proper nutritional advice. Never disregard professional medical advice or delay in seeking it because of something you have watched in a video or read on this website. Use caution when following the recipe in this video. The creator and publisher of this video and website will not be held responsible for any adverse effects that may arise from the use of this recipe and method or any other recipe and method on this website or corresponding video channel.