Affiliates note: As an Amazon Associate I earn from qualifying purchases. My content may contain affiliate links to products and services. If you click through and make a purchase, I'll receive a small commission. It does not affect the price you pay.
Easy Chicken Soup Recipe Made with Bone Broth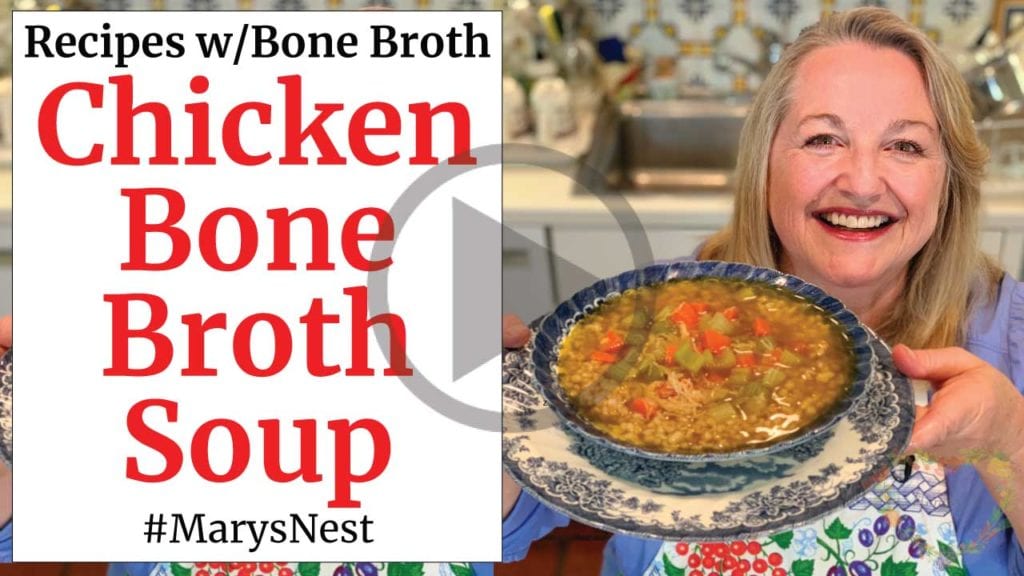 Today, I'm sharing an Easy Chicken Soup Recipe made with chicken bone broth. I make so much bone broth, and I have learned that all of you do too!
But other than drinking it, what can we do with it? In a previous video, I shared Five Ways to Use Bone Broth, and this is one of those ways…make soup!
Why is Bone Broth Important?
If you're new to my site, first of all…Welcome! But you may be wondering why so much emphasis on bone broth? The reason is that bone broth is so nutritious because it is rich in collagen.
Collagen is good for our bodies. It's great for making our hair thick, our nails strong, and our skin smooth. But most importantly, collagen soothes our gut lining. If our gut is healthy, we're better at fending off illness. So soup made with bone broth is a perfect way to work this wonderful elixir into our diets.
An Easy and Customizable Recipe
This easy recipe provides the basic building blocks for creating a delicious Chicken Soup using bone broth. But don't stop there!
With this formula, you can create any type of chicken soup you like. Add a different mix of vegetables, spices and/or herbs, and you'll make it your own. And you'll never grow tired of it because you can make it different every time!
Perfect for Cooler Months
Chicken Soup can be wonderful at any time of the year, especially when you have a cold! With Fall here and temperatures cooling, this is the perfect time for a warming bowl of comfort. So be sure to try making soup with bone broth, and let me know in the comments below how you made it to your liking.
Related Bone Broth and Soup Videos
If you haven't made bone broth yet and want to try your hand at it, be sure to try my Roast Chicken Bone Broth. It couldn't be easier because you use the leftover carcass from a roast chicken. This chicken bone broth literally just costs pennies to make!
And once you master bone broth, be ready to find so many ways to use your broth, such as in these wonderful soups listed below:
Stay in Touch with Mary's Nest
Subscribe to My YouTube Channel for Traditional Foods Videos (Free) - When you subscribe, be sure to click on the notification bell that will let you know each time I upload a new video.
Subscribe to Mary's Traditional Foods Newsletter (Free) - Get a free 36-page eBook for signing up: How to Stock Your Essential Traditional Foods Four-Corners Pantry.
Join the Traditional Foods Kitchen Academy (Optional Paid) - For more detailed videos, live streams, and exclusive members-only perks, join my YouTube membership community.
Preorder The Modern Pioneer Cookbook (Optional Paid) - Get a printed book of Mary's nourishing recipes from a Traditional Foods Kitchen. This cookbook will be published by Penguin Random House with their DK imprint.
I look forward to having you join me in my Texas Hill Country Kitchen!
How to Make Chicken Soup with Bone Broth
This recipe provides the basic building blocks for making an easy chicken soup using bone broth.
Ingredients
1

tbsp

Olive oil

1

tbsp

Butter

1

medium

Onion, diced

2

Carrots, peeled and chopped, 1" pieces

2

stalks

Celery, chopped, 1" pieces

1

tsp

Sea salt

homemade vegetable bouillon can be substituted

1/2

tsp

Freshly ground black pepper

1/8

tsp

Crushed red pepper flakes

optional

1-2

cups

Shredded chicken

8

cups

Chicken bone broth
Instructions
Add the butter and olive oil to a large soup pot.

Once butter has melted, add onions and sauté until translucent but not browned.

Add salt, black pepper, and red pepper (if using). Stir well.

Add carrots and celery, stir well, and sauté for a minute.

Add shredded chicken. Stir well.

Bring to a boil, then turn down to medium, cover, and allow to simmer for 15 minutes.

Ladle into bowls and serve.
Notes
If you want to add grains or pasta to this soup, I recommend cooking them separately, unless the entire amount of soup will be eaten in one sitting.
Add the cooked grains or pasta to the individual serving bowls and then ladle the soup over the grains.
Find this recipe and video at https://marysnest.com/easy-chicken-soup-recipe-made-with-bone-broth/
Copyright © 2019 Mary's Nest, LLC, All Rights Reserved
Watch Mary's Nest on YouTube
Shop for items used in this blog post or video
Visit my Shopping Guide page
Get up to 15% off for Stocking your Traditional Foods Pantry and Equipping your Modern Pioneer Kitchen, including discounts from US Wellness Meats, Mockmill Grain Mill, Masontops, Cultures for Health, Survival Garden Seeds, Redmond Real Salt, Plan to Eat, and more!
Favorite soup making supplies:
*Affiliates note: As an Amazon Associate I earn from qualifying purchases. My content may contain affiliate links to products and services. If you click through and make a purchase, I'll receive a small commission. It does not affect the price you pay.
**Disclaimer: I am not a medical doctor, a medical professional, a dietician, or a nutritionist. All content found on the MarysNest.com website, including text, images, videos, eBooks or eGuides, social media, or other formats, were created solely for informational purposes only. The content is not intended to be a substitute for professional medical advice, diagnosis, or treatment. Always seek the advice of your physician or other qualified healthcare provider with any questions you may have regarding a medical condition or proper nutritional advice. Never disregard professional medical advice or delay in seeking it because of something you have watched in a video or read on this website. Use caution when following the recipe in this video. The creator and publisher of this video and website will not be held responsible for any adverse effects that may arise from the use of this recipe and method or any other recipe and method on this website or corresponding video channel.