Best Bean Soup with Ham Recipe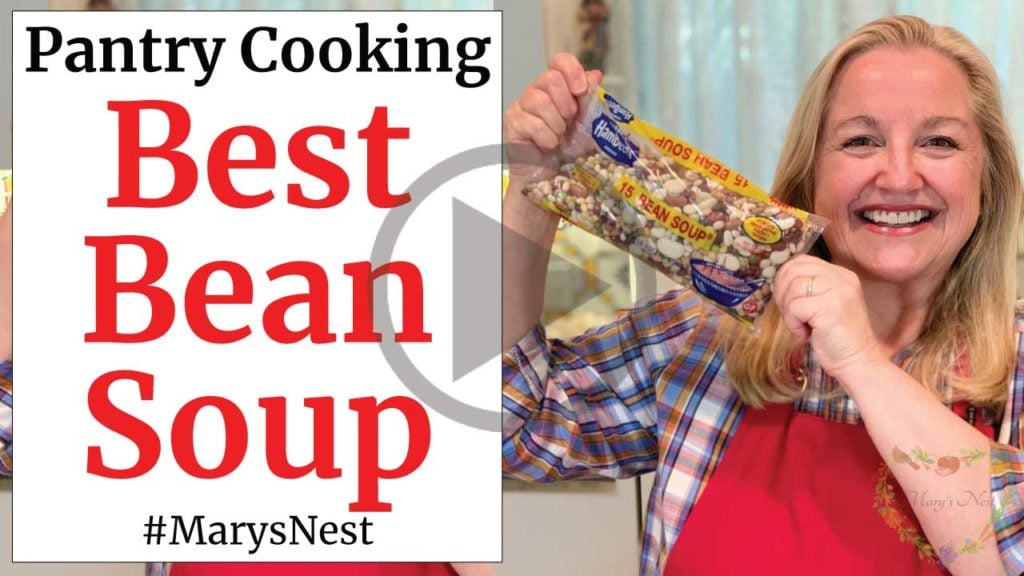 One of the most common pantry staples that most of us usually have on hand are beans. And when it comes to cooking beans, a tasty bean soup with ham can't be beat!
15 Bean Soup Mix
Now, you don't need to have an actual bag of 15 Bean Soup, but if you do, it makes a delightfully colorful soup, as well as a soup that's filled with a diverse nutritional base thanks to the variety of beans. But rest assured, you can use any beans you want to make this soup. You can use all the same beans, or you can use a mix of beans.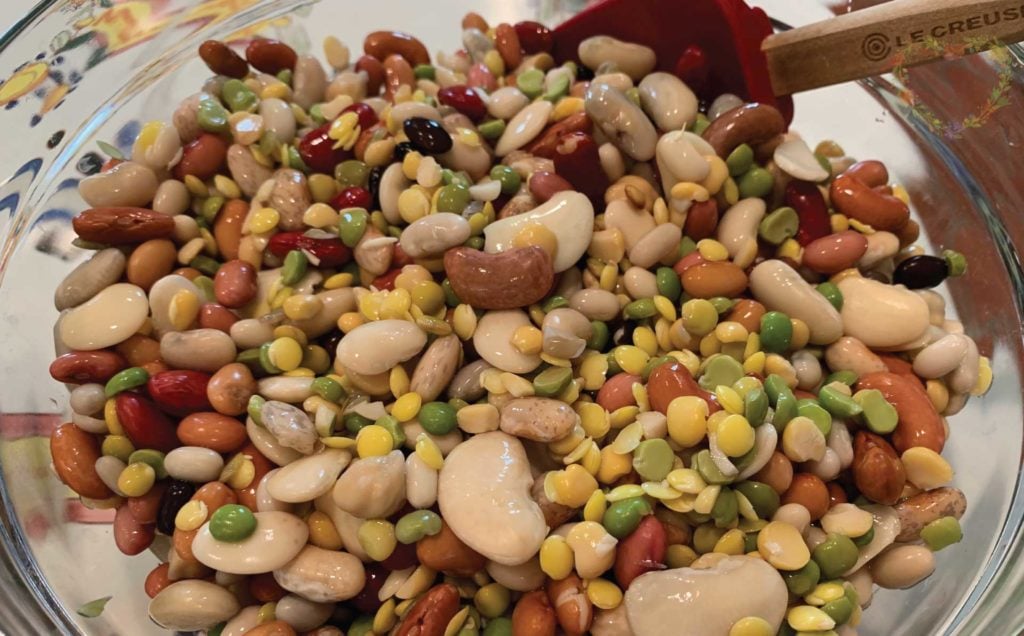 To Soak or Not to Soak?
When it comes to making bean soup, or just cooking beans for that matter, I am a firm believer that you should soak your dried beans for at least 12 hours…even up to 48 hours (changing the water, of course, throughout the soaking process). But I know that "those are fightin' words," as I've been told by some of you! 😉
If you are not a believer in soaking your beans, don't worry. In my bean soup recipe, I explain how to make this soup with soaked and unsoaked beans. But if you are curious as to why I am a supporter of soaking dried beans, be sure to watch my how to cook dried beans video where I discuss how I like to soak and cook beans to make them a versatile ingredient for many recipes.
Use a Ham Hock for Great Bean Soup Flavor
This bean soup recipe calls for using a ham hock. In the video, I used a smoked ham hock. The flavor can't be beat. And the meat that falls of the hock, is fork-tender and oh so tasty! Although ham hocks are usually easy to find, if you can't find this gem at your local grocery store, no problem. You can use some leftover ham from a baked ham or some ham that you purchase from the deli section.
US Wellness Meats
If you can't get any pork products in your local grocery store, you may be able to find a ham hock, bacon, pork chops, and other delicious beef and poultry meats from US Wellness Meats' online store. As you can see in my earlier US Wellness Meats unboxing video, the company does a nice job packing their meats to keep them cold before shipping them to your home. If you order from them, be sure to use the link below and my MARYSNEST coupon code to save 15% off regular-priced items.
This is not a sponsored post. I am a long time customer of US Wellness Meats. Because of my traditional foods cooking, they chose me as one of their featured chefs.
So Let's Get Cooking
So pick the beans you want to use to make this delicious soup recipe, and let's get started. You are going to love this bean soup that's easy to make, provides excellent nutrition, and makes excellent use of a common pantry staple!
More Pantry Staple Videos
Be sure to check out the videos below and try your hand at cooking with more of your pantry staples, including How to Cook Dried Beans in the most versatile way to be able to use them in a myriad of recipes. And for the adventurers at heart, I even show you how to sprout beans for easy digestibility.
And when you're ready to move on to creating meals with canned fish, be sure to check out my videos on how to best used canned salmon and canned sardines.
Stay in Touch with Mary's Nest
Subscribe to My YouTube Channel for Traditional Foods Videos (Free) - When you subscribe, be sure to click on the notification bell that will let you know each time I upload a new video.


Subscribe to Mary's Traditional Foods Newsletter (Free) - Get a free eBook for signing up: How to Stock Your Essential Traditional Foods Four-Corners Pantry.


Join the Traditional Foods Kitchen Academy (Optional Paid) - For more detailed videos, live streams, and exclusive members-only perks, join my YouTube membership community.
I look forward to having you join me in my Texas Hill Country Kitchen!
Love,
Mary
♥
Shop for items used in this blog post or video
Favorite Bean Cooking Supplies
Recommended Reading
Amazon Shop and Shopping Guide
Visit my Shopping Guide page
Learn where I buy my beef bones, electric grain mills, sprouted grains, and more…and get special discounts for Mary's Nest visitors, including from US Wellness Meats, Mockmill, Masontops, and Cultures for Health.
*Affiliates note: As an Amazon Associate I earn from qualifying purchases. My videos and blog posts may contain affiliate links to products and services. If you click through and make a purchase, I'll receive a small commission. It does not affect the price you pay.
**Disclaimer: I am not a medical doctor, a medical professional, a dietician, or a nutritionist. All content found on the MarysNest.com website, including text, images, videos, eBooks or eGuides, social media, or other formats, were created solely for informational purposes only. The content is not intended to be a substitute for professional medical advice, diagnosis, or treatment. Always seek the advice of your physician or other qualified healthcare provider with any questions you may have regarding a medical condition or proper nutritional advice. Never disregard professional medical advice or delay in seeking it because of something you have watched in a video or read on this website. Use caution when following the recipe in this video. The creator and publisher of this video and website will not be held responsible for any adverse effects that may arise from the use of this recipe and method or any other recipe and method on this website or corresponding video channel.