How to Cook Dried Beans – The Right Way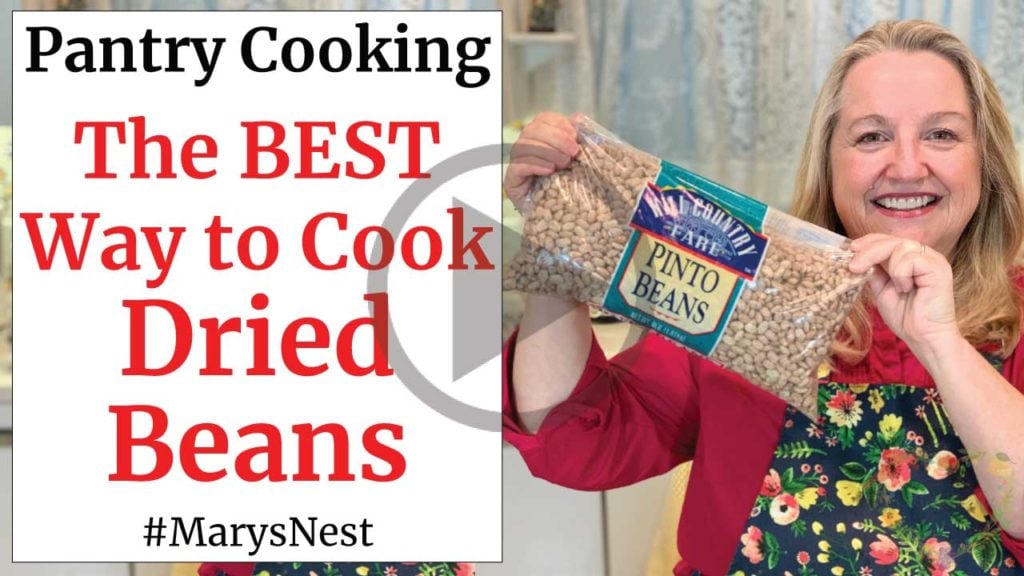 Learn How to Cook Dried Beans the right way for maximum nutrition so that you can have these nutritious and convenient foods as a staple in your traditional foods pantry.
Why Soak Dried Beans?
When it comes to the process of cooking dried beans, focus on how to maximize extracting as much nutrition out of those humble beans as possible. And that's why soaking dried beans is so important. And it's not just about reducing their gaseous effects!
The Problem With Phytic Acid
Phytic acid is a compound found in many foods and specifically in grains and beans. You can learn more about their problematic effects in grains in my article and accompanying video where I show you how to soak and sprout grains.
But when it comes to beans, it's important to soak them for an extended period of time—a minimum of 12 hours, but 48 hours is better—to activate a compound called phytase. And why activate phytase? Because phytase helps to deactivate some of the phytic acid.
We want to deactivate some of the phytic acid because it can make it difficult for us to absorb the nutrients in beans. Plus, phytic acid can also bind to certain minerals, like iron, in our bodies and strip them out of us. But the good news is that when we soak our beans, we deactivate some of that phytic acid and improve our ability to absorb and hold on to important nutrients.
But is Phytic Acid All Bad?
But don't worry. We don't need to obsess about phytic acid and deactivate every last bit in our food. Phytic acid has a bright side. It's an antioxidant that scientists believe may play a roll in the prevention of certain diseases. So retaining some phytic acid in our food may actually be a good thing.
Plus, something worth noting, certain ethnic groups benefit from having phytic acid in their diet to remove some minerals from their bodies, especially if their genetics, for one reason or another, tends to hold on to too many nutrients.
For example, scientists have found that people of Irish ancestry have a trait of sometimes holding onto too much iron. And guess what? Phytic acid helps remove some of that iron. Because just like too little iron is not a good thing, too much iron is not a good thing either. To learn more about this fascinating topic, be sure to watch my video where I discuss the pros and cons of soaking certain foods.
Getting Back to the Dried Beans
Well, that was an earful about phytic acid, but now you see why you want to soak your beans. The good news is that dried beans are very inexpensive and take little actual "hands-on" time to prepare. The bulk of the time is downtime on our part while the beans soak. And once they are done soaking, the cooking time is considerably shortened up to as much as 30 minutes.
Seasoned Perfectly
When it comes to making your beans, not only tender but tasty, I share a clever tip on how to season them perfectly. This tip allows the beans to absorb lots of flavor without affecting the cooking time—or their texture (Hint: Don't salt the water while cooking the beans! I share a much better approach.). So be sure to watch the video and learn How to Cook Dried Beans – The Right Way!
More Bean Recipes
Now that you've learned the best way to cook dried beans, you can venture further into the world of beans and learn the secret to how to sprout beans! And with my tips, it's much easier than you think—and you'll be successful every time! So even on those days when you think life is a "Hill of Beans," at least yours will be sprouted! 😉
And be sure to check out this delicious Italian Chickpea and Pork Rib soup recipe where I share a tasty way for using soaked…and sprouted…chickpeas!
Stay in Touch with Mary's Nest
Subscribe to My YouTube Channel for Traditional Foods Videos (Free) - When you subscribe, be sure to click on the notification bell that will let you know each time I upload a new video.


Subscribe to Mary's Traditional Foods Newsletter (Free) - Get a free eBook for signing up: How to Stock Your Essential Traditional Foods Four-Corners Pantry.


Join the Traditional Foods Kitchen Academy (Optional Paid) - For more detailed videos, live streams, and exclusive members-only perks, join my YouTube membership community.
I look forward to having you join me in my Texas Hill Country Kitchen!
Love,
Mary
♥
Shop for items used in this blog post or video
Favorite Bean Cooking Supplies
Recommended Reading
Amazon Shop and Shopping Guide
Visit my Shopping Guide page
Learn where I buy my beef bones, electric grain mills, sprouted grains, and more…and get special discounts for Mary's Nest visitors, including from US Wellness Meats, Mockmill, Masontops, and Cultures for Health.
*Affiliates note: As an Amazon Associate I earn from qualifying purchases. My videos and blog posts may contain affiliate links to products and services. If you click through and make a purchase, I'll receive a small commission. It does not affect the price you pay.
**Disclaimer: I am not a medical doctor, a medical professional, a dietician, or a nutritionist. All content found on the MarysNest.com website, including text, images, videos, eBooks or eGuides, social media, or other formats, were created solely for informational purposes only. The content is not intended to be a substitute for professional medical advice, diagnosis, or treatment. Always seek the advice of your physician or other qualified healthcare provider with any questions you may have regarding a medical condition or proper nutritional advice. Never disregard professional medical advice or delay in seeking it because of something you have watched in a video or read on this website. Use caution when following the recipe in this video. The creator and publisher of this video and website will not be held responsible for any adverse effects that may arise from the use of this recipe and method or any other recipe and method on this website or corresponding video channel.