Affiliates note: As an Amazon Associate I earn from qualifying purchases. My content may contain affiliate links to products and services. If you click through and make a purchase, I'll receive a small commission. It does not affect the price you pay.
Instant Pot Vegetable Soup with a Super Mineral Broth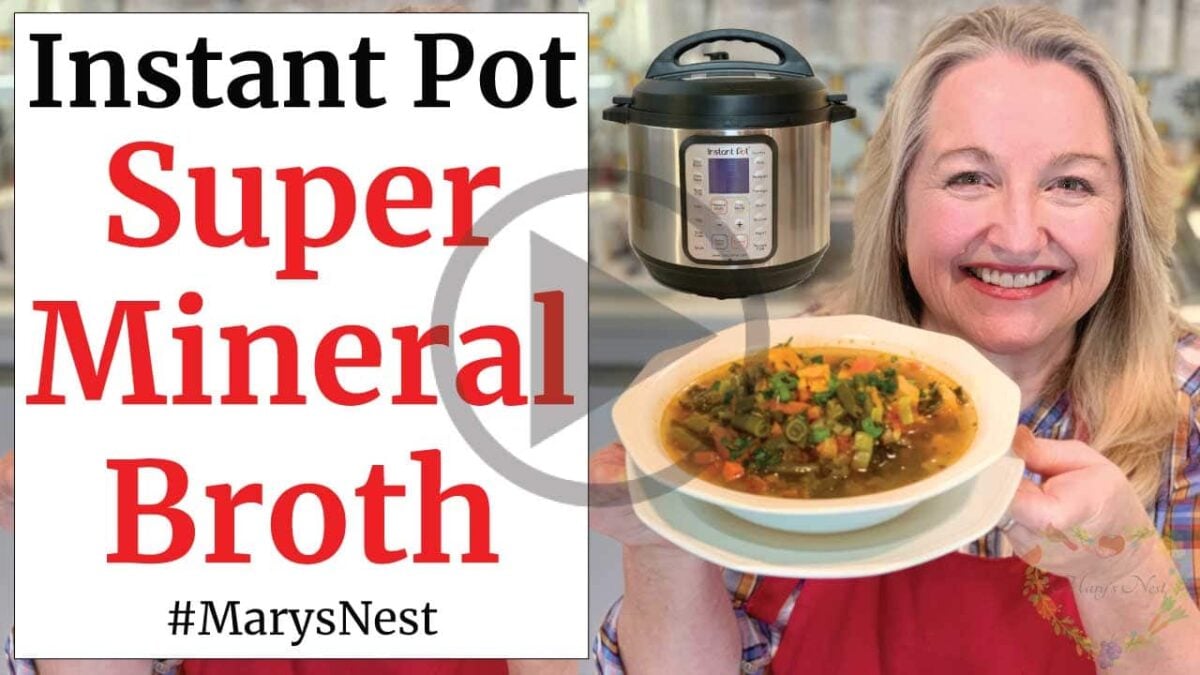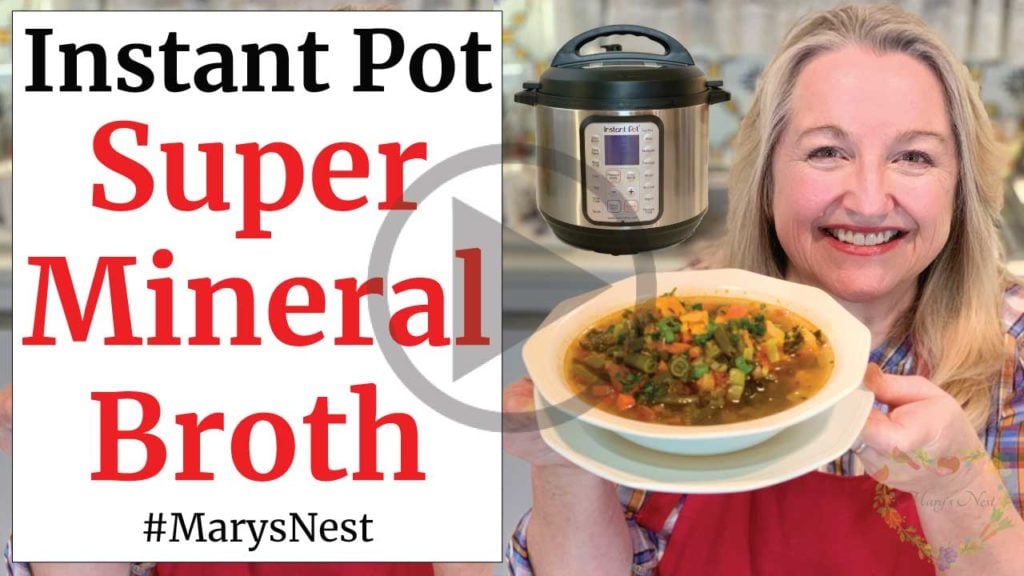 Learn How to Make Instant Pot Vegetable Soup. This recipe is not just any old vegetable soup! This is a Super Mineral Broth Vegetable Soup—a perfect respite for January (or anytime) when you need to recover from a period of holiday overeating!
Instant Pot Soup
The Instant Pot is great for making soups because it's well suited for those "fix it and forget it" type meals that are similar to those recipes made in the slow cooker. The good news is that unlike the slow cooker, soups made in the Instant Pot come together very quickly, making this an excellent option for a weeknight supper. Or anytime you're short on time!
Super Mineral Broth to the Rescue!
What makes this vegetable soup special are all the ingredients that are rich in vitamins, minerals, antioxidants, and anti-inflammatory properties too! This broth is rich in onions, garlic, ginger, turmeric, and more. Plus, by adding bay leaves, we kick up the detox property of this soup. That's a plus whenever we've been going through a season of overindulging!
Let's Get Cooking
You can pull this soup together in no time with a little bit of chopping and dicing. And then, once the Instant Pot comes up to pressure, this soup only takes 15 minutes to cook! With the first sip, you'll feel rejuvenated!
More Instant Pot Recipes
Now that you've made super mineral broth, try these other Instant Pot recipes.
Related videos
In this mineral broth Instant Pot video, I talk about a few other videos that may interest you. Below, I have a detailed video where I show you how to create a similar mineral broth on the stovetop. Plus, if you would like to learn how to make a homemade bouillon—and dehydrate it— don't miss the second video listed below.
Also, if you're interested in water bath canning, be sure to watch the third video listed below where I show you how to waterbath can crushed tomatoes with a very detailed step-by-step tutorial perfect for beginners!
Stay in Touch with Mary's Nest
Subscribe to My YouTube Channel for Traditional Foods Videos (Free) - When you subscribe, be sure to click on the notification bell that will let you know each time I upload a new video.
Subscribe to Mary's Traditional Foods Newsletter (Free) - Get a free 36-page eBook for signing up: How to Stock Your Essential Traditional Foods Four-Corners Pantry.
Join the Traditional Foods Kitchen Academy (Optional Paid) - For more detailed videos, live streams, and exclusive members-only perks, join my YouTube membership community.
Order The Modern Pioneer Cookbook (Optional Paid) - Get a printed book of Mary's nourishing recipes from a Traditional Foods Kitchen. This bestselling cookbook is published by Penguin Random House with their DK imprint.
I look forward to having you join me in my Texas Hill Country Kitchen!
Instant Pot Vegetable Soup with Super Mineral Broth
A number of years ago, I discovered Magic Mineral Broth in a cookbook entitled The Longevity Kitchen by Rebecca Katz.  I loved the idea of using actual vegetables in a broth to give my body the minerals it needed instead of turning to a bottle of vitamins.

My take on this broth is a bit different than the original recipe.  I like adding in ginger and turmeric.  And by all means—make this broth your own too by using the vegetables, herbs, and spices that you like best.  You can't make a mistake!
Equipment
6-Quart or 8-Quart Instant Pot
Ingredients
1

tablespoon

Olive oil, butter, or a combination

optional: coconut oil

1

Yellow onion, peeled and diced

3

cloves

Garlic, peeled and minced

3

Carrots, peeled and diced

3

stalks

Celery, diced

1

Leek, chopped

1

large

Sweet potato, peeled and chopped into 1 – 1/2 inch pieces

4

inch

Fresh ginger, peeled (if not organic) and grated

you can use more or less

3

inch

Fresh turmeric, peeled (if not organic) and grated

you can use more or less

1

teaspoon

Sea salt

herb sea salt or homemade bouillon

2

cups

Fresh green beans, sliced into 2-inch pieces

2

cups, packed

Fresh kale

2

cups

Crushed tomatoes

or 1 pint home-canned tomatoes or one 15 ounce can crushed tomatoes.

2

Bay leaves

Filtered water

to cover

1/2

bunch

Flat-Leaf Italian parsley, chopped

optional garnish

1

Scallion (green onion), thinly sliced

optional garnish
Instructions
Add the olive oil or butter (or both) to the Instant Pot liner. Set the Instant Pot to Saute option to the Less level. Add the onion and saute for 1 minute. Add the garlic and saute for another minute.

Add all other ginger, turmeric, vegetables, tomatoes, and bay leaf ingredients, and stir.

Cover with water to the 1/2 way mark if using an 8-quart Instant Pot or up to the 2/3 mark if using a 6-quart Instant Pot.

Turn off the Saute option.

Put the lid on the Instant Pot and lock it into place.

Set the steam release knob on the lid to the Sealing position.

Set the Instant Pot to "Pressure Cook" or "Manual".

Set the pressure cook time to 15 minutes on high pressure.

When the pressure cooking is finished, do a "Quick Release" to vent the steam from the steam release knob by turning the knob to the Venting position. (Caution! The steam is very hot when it is released. In the video, I use a wooden spoon to turn the knob to keep a safe distance from the Instant Pot when releasing the steam. Follow the manufacturer's guidelines.)

Once the steam is released, and the pressure in the Instant Pot has returned to normal, open the lid. (Caution! Open the lid away from you so that the steam does not hit your face.)

Serve the soup, and if using, top the soup with chopped parsley and sliced green onions. Enjoy!
Watch Mary's Nest on YouTube
Shop for items used in this blog post or video
Favorite Instant Pots and Supplies
Recommended Reading
Amazon Shop and Shopping Guide
Visit my Shopping Guide page
Get up to 15% off for stocking your Traditional Foods Pantry and equipping your Modern Pioneer Kitchen, including discounts from Lehman's, Mockmill Grain Mill, Masontops, Cultures for Health, Survival Garden Seeds, Redmond Real Salt, Plan to Eat, US Wellness Meats, and More!
*Affiliates note: As an Amazon Associate I earn from qualifying purchases. My content may contain affiliate links to products and services. If you click through and make a purchase, I'll receive a small commission. It does not affect the price you pay.
**Disclaimer: I am not a medical doctor, a medical professional, a dietician, or a nutritionist. All content found on the MarysNest.com website, including text, images, videos, eBooks or eGuides, social media, or other formats, were created solely for informational purposes only. The content is not intended to be a substitute for professional medical advice, diagnosis, or treatment. Always seek the advice of your physician or other qualified healthcare provider with any questions you may have regarding a medical condition or proper nutritional advice. Never disregard professional medical advice or delay in seeking it because of something you have watched in a video or read on this website. Use caution when following the recipe in this video. The creator and publisher of this video and website will not be held responsible for any adverse effects that may arise from the use of this recipe and method or any other recipe and method on this website or corresponding video channel.