Everything You Need to Know to Get Started Making Bone Broth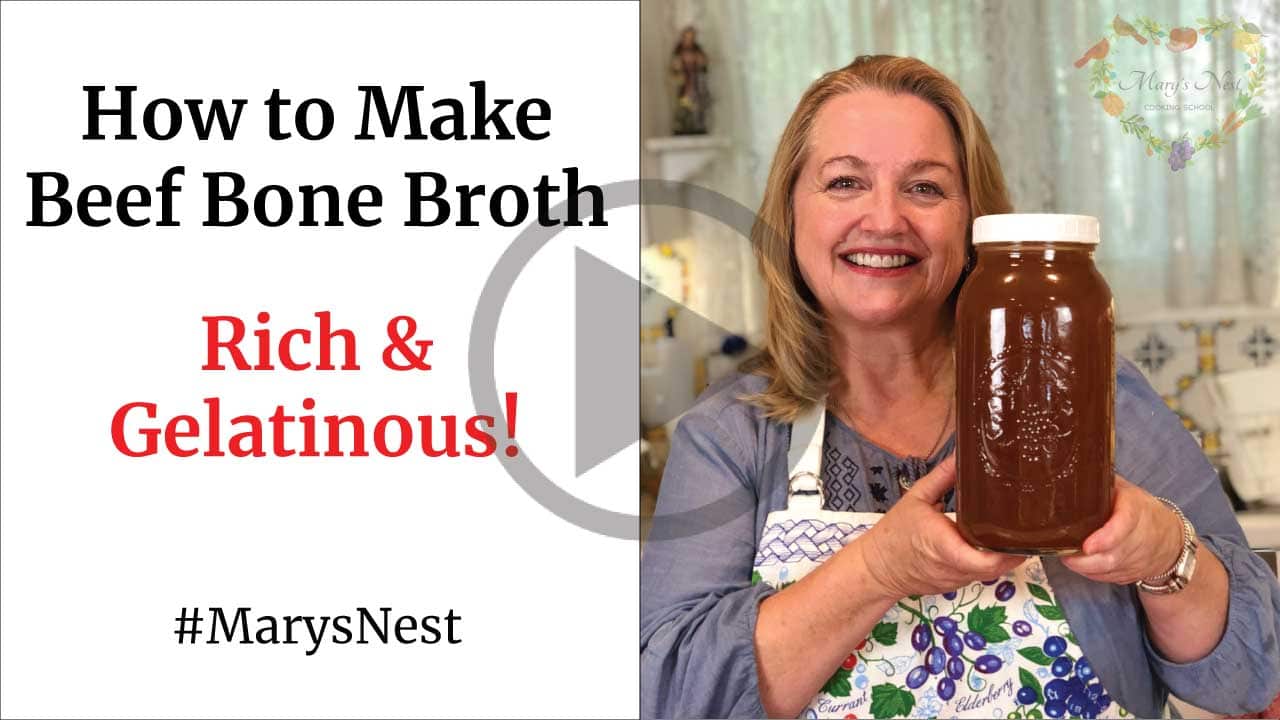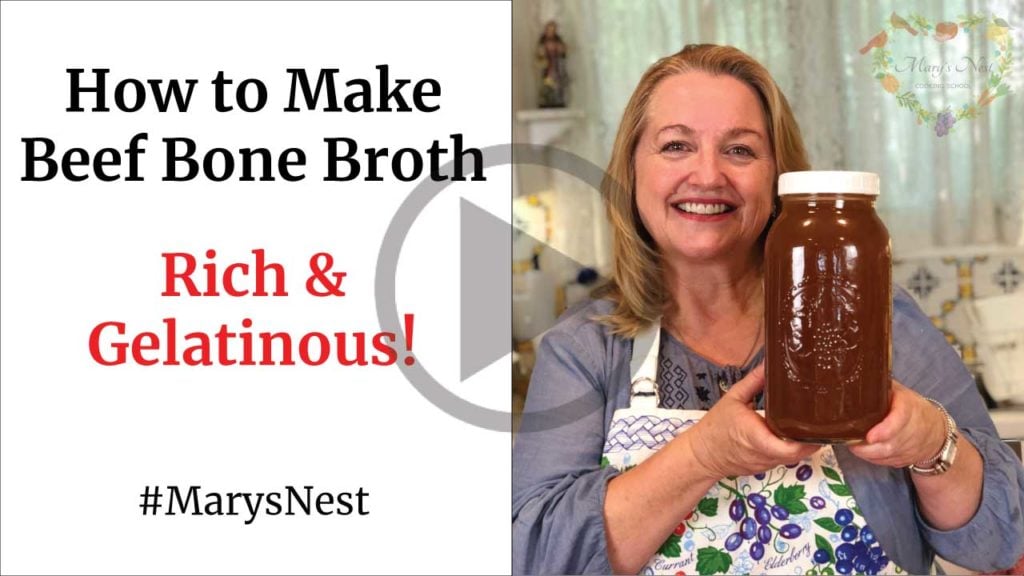 This video (above) is one in a series of videos that I have created on how to make bone broth.  This video focuses on Beef Bone Broth, but be sure to scroll down in this post, where I have links to my other bone broth videos, including Roast Chicken Bone Broth, Turkey Bone Broth (made in a multi-cooker), and Bone Broth FAQs, and the Best Bones for Making Beef Bone Broth.
Hi Sweet Friends,
Thank you so much for recently helping me reach over 3000 subscribers (and counting!)—or as I like to say…"Sweet Friends"…on my YouTube channel! As the saying goes, I have the Heart of a Teacher and am so happy to share what I have learned over the years about Traditional Foods Cooking and Natural Living.  And I am especially thrilled to share all I know about making Bone Broth!
Bone Broth FAQs
So many of you have been enjoying my Beef Bone Broth Video and have been leaving me many YouTube comments.  In addition to answering your comments, I created a Bone Broth FAQ Video that goes into more depth about some of the questions that I've received.
Bone Broth Recipe
Ready to make Rich & Gelatinous beef bone broth? Get the recipe on my original Learn How To Make Beef Bone Broth blog post.
Buying Beef Bones and More
A running question that I have received in response to my Beef Bone Broth Video, which I want to address here,  is "Where do you get your bones?"  So I wanted to share that I purchase many of the bones for my bone broths from US Wellness Meats. In addition to beef bones, US Wellness Meats sells a variety of grass-fed meats and pastured chickens.
(Note: Use promocode MARYNEST to save 15% off regular-priced items on your US Wellness Meats order.)
What kind of bones do you want to look for? Be sure to watch my Best Bones for Making Beef Bone Broth video. I especially enjoy adding a few ox tails to help guarantee that my Beef Bone Broth will be gelatinous…and a few chicken feet to make sure that my Roast Chicken Bone Broth is gelatinous.  You'll often hear me call oxtails and chicken feet my insurance policies!!  LOL!!
A Great Selection of Bone Broth Videos
So if you're ready to make bone broth, I have a whole series of Bone Broth videos that you'll enjoy and will help you get started!  In addition to Beef Bone Broth, I also share how to make Roast Chicken Bone Broth, Turkey Bone Broth (In a multi-cooker pressure cooker!), and—as I mentioned above—I also include videos where I answer Frequently Asked Questions all about Bone Broth and the Best Bones for Making Beef Bone Broth!  I plan to add a lot more videos about Bone Broth, so be sure to subscribe to my Mary's Nest YouTube Channel so you won't miss a video! 🙂
More Recipes Are Coming
If you have anything you'd like me to include on my website, let me know in the comments below.  And I will be adding recipes for many of the foods I make in the videos on my Mary's Nest YouTube Channel.
Don't Miss a Video
In the meantime, be sure to subscribe to my Mary's Nest YouTube Channel and watch my latest YouTube videos.  And be sure to leave me comments and questions on my videos, and I'll definitely respond.  I've been able to post new videos almost daily, so there's new content about cooking, natural living, and thrifting for you to enjoy!
Join Our Fun Facebook Group
You can also keep up with my latest news and discussions on my Mary's Nest Facebook Page.  And while you're there, be sure to sign-up for our private Facebook Group:  Mary's Nest Modern Pioneers.  We have a lot of fun in the group, and it's a great place to post questions and learn from each other.
And Be Sure to Get Your eGuide
And be sure to subscribe to my email list to get my free "The 7 Best Books for Your Real Foods Journey" eGuide and read the latest news about my YouTube channel and website.
Thank you again for being here and being a subscriber!  But you're more than that to me…as I share in this News from Mary's Nest Video.  I think of all of you as my Sweet Friends and I'm so glad you're here!!
Products used in my videos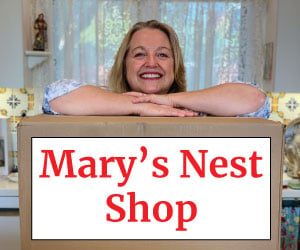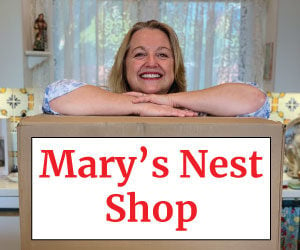 Be sure to explore my Mary's Nest Amazon shop for great ideas about kitchen tools, cookbooks, canning equipment, food preservation, self-sufficiency, preparedness, and more.
Some of you have asked me about the slow cooker that I use in my videos. The slow cooker is part of my Amazon shop, but you can also use this direct link to the 7-Quart Slow-Cooker.
Stay in Touch with Mary's Nest
Subscribe to My YouTube Channel for Traditional Foods Videos (Free) - When you subscribe, be sure to click on the notification bell that will let you know each time I upload a new video.


Subscribe to Mary's Traditional Foods Newsletter (Free) - Get a free eBook for signing up: How to Stock Your Essential Traditional Foods Four-Corners Pantry.


Join the Traditional Foods Kitchen Academy (Optional Paid) - For more detailed videos, live streams, and exclusive members-only perks, join my YouTube membership community.
I look forward to having you join me in my Texas Hill Country Kitchen!
Love,
Mary
♥
*Affiliates note: As an Amazon Associate I earn from qualifying purchases. My videos and blog posts may contain affiliate links to products and services. If you click through and make a purchase, I'll receive a small commission. It does not affect the price you pay.
**Disclaimer: I am not a medical doctor, a medical professional, a dietician, or a nutritionist. All content found on the MarysNest.com website, including text, images, videos, eBooks or eGuides, social media, or other formats, were created solely for informational purposes only. The content is not intended to be a substitute for professional medical advice, diagnosis, or treatment. Always seek the advice of your physician or other qualified healthcare provider with any questions you may have regarding a medical condition or proper nutritional advice. Never disregard professional medical advice or delay in seeking it because of something you have watched in a video or read on this website. Use caution when following the recipe in this video. The creator and publisher of this video and website will not be held responsible for any adverse effects that may arise from the use of this recipe and method or any other recipe and method on this website or corresponding video channel.