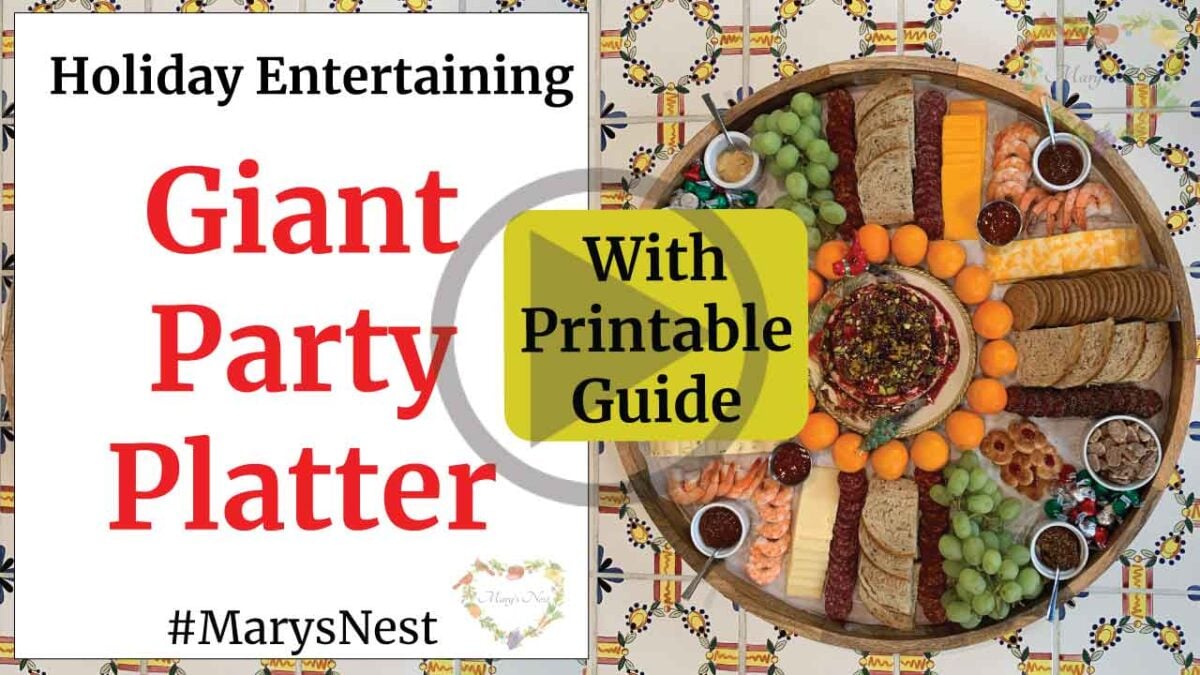 When it comes to holiday entertaining, a giant party platter is a great option that allows you to prepare everything in advance and then spend all your time enjoying the company of family and friends.
Just put the party platter in the middle of a kitchen island, a dinner table, or a coffee table and let everyone dig in. No one will go home hungry!
Update: For the 2021 holidays, I updated this blog post and download file. You'll find more delicious recipes you can make for your holiday party.
Download Your Free Party Platter Guide
To make it easy for you to plan for and arrange the ingredients, I prepared a free printable Party Platter Guide PDF file that you can download.
Store this guide on your mobile phone or print it out and take it with you to the grocery store as a visual list of everything you need. Then, use this handy guide as you put together your own giant party platter.
A large platter, like the one I put together in the Giant Party Platter video, will serve about 8-12 people. Enjoy!
Optional Party Platter Ingredients
After you set out your giant party platter, all you need to add are the beverages. However, if you want to customize your ingredients further, here are a few ideas.
You can also choose to put in other ingredients that you know your family and friends might enjoy, especially regional delicacies. For example, since I'm in Central Texas, I added cinnamon pecans to my party platter.
And you can also add pickles to your party platter to help as a digestive. If you have time to make homemade pickles, here are a few videos you can choose from to make quick or fermented pickles.
If you decide to make and water bath can bread and butter pickles, you can also give your extra cans of pickles away as Christmas gifts at your party.
Homemade Christmas Gifts
Speaking of gifts, here are more ideas on how you can make homemade Christmas gifts with lots of love and not a lot of expense.
More Free Downloads
Here are more free downloads you can print out and add to your traditional foods kitchen journal:
If you haven't had a chance to create a kitchen journal before, it's easy! I'll show you how in the following video. You'll find having a kitchen journal to be indispensable as you grow your experience in making traditional foods.
More Holiday Recipes
Here are a few more recipes you can make for a delicious holiday dinner. Add your giant party platter, and you'll have a magnificent dinner party planned for your family and friends!
Holiday Main Dish Recipes
Here's a selection of main dishes you can make, from a Christmas Ham to delicious Rock Cornish game hens that makes everyone feel like they have their own special mini-turkey.
Kitchen Academy Videos
Are you looking for more traditional foods videos? If so, I invite you to join the Traditional Foods Kitchen Academy. Members of this optional paid YouTube community get access to exclusive videos, live streams, and other members-only perks. Plus, your YouTube comments include a special members-only badge.
You can watch this members-only live stream replay where we talked about traditional Christmas foods.
Stay in Touch with Mary's Nest
Subscribe to My YouTube Channel for Traditional Foods Videos (Free) - When you subscribe, be sure to click on the notification bell that will let you know each time I upload a new video.
Subscribe to Mary's Traditional Foods Newsletter (Free) - Get a free 36-page eBook for signing up: How to Stock Your Essential Traditional Foods Four-Corners Pantry.
Join the Traditional Foods Kitchen Academy (Optional Paid) - For more detailed videos, live streams, and exclusive members-only perks, join my YouTube membership community.
Order The Modern Pioneer Cookbook (Optional Paid) - Get a printed book of Mary's nourishing recipes from a Traditional Foods Kitchen. This bestselling cookbook is published by Penguin Random House with their DK imprint.
I look forward to having you join me in my Texas Hill Country Kitchen!
---
Shop for items used in this blog post or video
Favorite Kitchen Supplies
Update: Unfortunately, the Giant Party Platter that I used from Pier 1 is no longer available. Here are a few options that may work well with your party platter setup:
More Kitchen Supplies with Discount Codes
Use my Mockmill affiliate link for a special one-time 5% discount on Mockmill Stone Grain Mill products, including the new Flake Lover's Flaker. (The Mockmill discount will appear when you checkout.)
Use promo code MARYSNST for a one-time 15% off Masontops and Breadsmart products on Amazon.com.
Amazon Shop and Shopping Guide
Recommended Reading