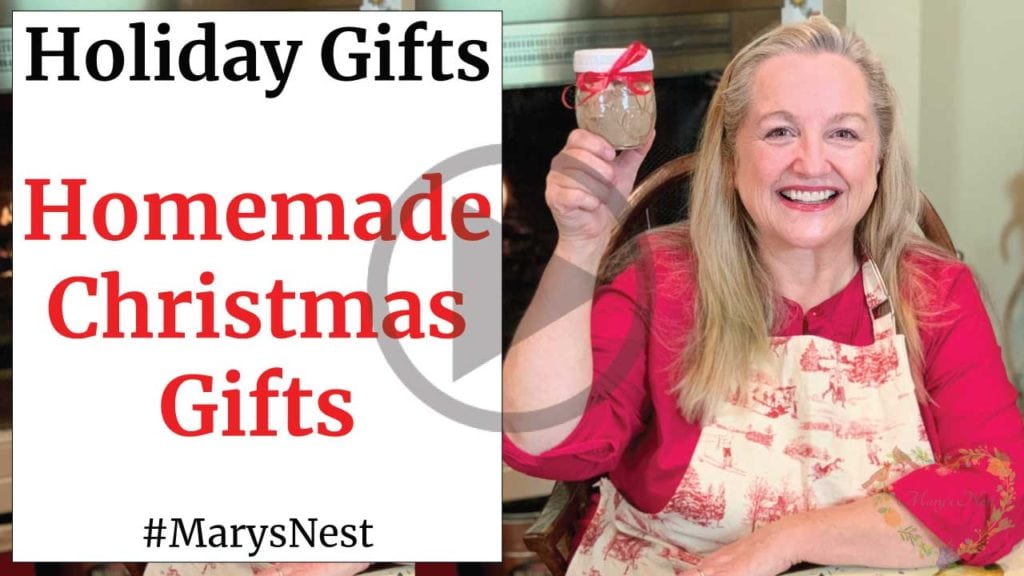 Here are some wonderful, healthy homemade Christmas gift ideas, and you can easily make many of these recipes as last-minute DIY Christmas gifts!
Levels of Homemade Christmas Gift Ideas
Based on their time and preparation, I've divided my gift-making ideas into the following categories:
Simple to Make Christmas Gifts
You can literally make these homemade Christmas gifts in minutes. Each recipe creates a Make-Ahead Mix that your lucky gift recipient can easily turn into a tasty beverage or edible treat, including hot chocolate, brownies, cookies, muffins, and more!
To make these gifts:
Click or touch one of the recipe links below to watch the tutorial video and print out the recipe.
Make the recipe with the mason jar or storage container of your choice.
From the printable recipe, cut out the instructions for making the beverage or treat and tape or glue it to the side of your container. This will make it easy for your gift recipient to make the recipe.
Tie a colorful ribbon around the top and attach a personalized gift card.
Give your gift full of goodness to the ones that you love.
UPDATE: Added more simple to make Christmas gifts:
Medium Level Christmas Gifts
Some of these medium-level Christmas gifts involve a bit of cooking since they include making jams, but not to worry! I walk you through the whole process step-by-step and show you how to water bath can your jams to make them shelf-stable. Your canned jams will be perfect for gift-giving!
As an alternative to making jam, I also share an easy recipe for making vegetable bouillon, which involves no cooking but makes an excellent base for soups and stews. Your lucky recipient can also add the vegetable bouillon to water to make a tasty sipping broth or when cooking rice or grains for a wonderful boost of flavor!
And if you want to go a step further, you can also dehydrate your vegetable bouillon to make it shelf-stable for even easier gift-giving.
Slightly More Advanced Christmas Gifts
The gifts in this category may take a bit more time to make, but they will be SO appreciated by anyone who receives them! Marmalade and Bone Broth Bouillon make the best Christmas gifts for those making the transition from a processed foods kitchen to a Traditional Foods kitchen.
Bonus Christmas Gift Ideas
If you have a real Traditional Foods devotee on your Christmas gift list, they will love these two bonus treats. These luscious homemade creams—one for the face and body and the other specifically for the feet—are both made with beef tallow! These creams are completely natural with very few ingredients and are perfect for anyone who likes natural beauty products.
Learn how to make these easy homemade gifts and discover other products perfect for your favorite traditional foods cook.
Discover the best kitchen gifts for your favorite traditional foods cook.
This sweet treat is a welcome addition to any Christmas Dessert Buffet.
Download Your Free 36-Page Pantry List
For an extensive list of the traditional foods you can make and purchase to stock your pantry, be sure to download my free 36-page Traditional Foods Pantry List. This comprehensive eBook is full of links to recipe videos, helpful articles, and more!
And if you're looking for a printed book full of my traditional foods recipes that shows you how to create a traditional foods kitchen, be sure to order your copy of my new bestselling book, The Modern Pioneer Cookbook.
Join the Traditional Foods Kitchen Academy
Are you looking for more traditional foods videos? If so, I invite you to join the Traditional Foods Kitchen Academy. Members of this optional paid YouTube community get access to exclusive videos, live streams, and other members-only perks. Plus, your YouTube comments include a special members-only badge.
I share upcoming recipes and what I have planned for my Mary's Nest YouTube channel in 2024.
During this month's members-only live stream, we talked about a variety of topics, including a preview of upcoming videos.
I talk about the people I met at this year's conference and share some behind-the-scenes of my new cookbook.
Stay in Touch with Mary's Nest
Subscribe to My YouTube Channel for Traditional Foods Videos (Free) - When you subscribe, be sure to click on the notification bell that will let you know each time I upload a new video.
Subscribe to Mary's Traditional Foods Newsletter (Free) - Get a free 36-page eBook for signing up: How to Stock Your Essential Traditional Foods Four-Corners Pantry.
Join the Traditional Foods Kitchen Academy (Optional Paid) - For more detailed videos, live streams, and exclusive members-only perks, join my YouTube membership community.
Order The Modern Pioneer Cookbook (Optional Paid) - Get a printed book of Mary's nourishing recipes from a Traditional Foods Kitchen. This bestselling cookbook is published by Penguin Random House with their DK imprint.
I look forward to having you join me in my Texas Hill Country Kitchen!
---
Shop for items used in this blog post or video
Favorite Christmas Gift Ingredients
Favorite Christmas Gift Storage Supplies
Favorite Christmas Gift Making Supplies
Favorite Apron Christmas Gifts
Amazon Shop and Shopping Guide
Recommended Reading
**Disclaimer: I am not a medical doctor, a medical professional, a dietician, or a nutritionist. All content found on the MarysNest.com website, including text, images, videos, eBooks or eGuides, social media, or other formats, were created solely for informational purposes only. The content is not intended to be a substitute for professional medical advice, diagnosis, or treatment. Always seek the advice of your physician or other qualified healthcare provider with any questions you may have regarding a medical condition or proper nutritional advice. Never disregard professional medical advice or delay in seeking it because of something you have watched in a video or read on this website. Use caution when following the recipe in this video. The creator and publisher of this video and website will not be held responsible for any adverse effects that may arise from the use of this recipe and method or any other recipe and method on this website or corresponding video channel.