How to Make the Best Roast Duck with Orange Marmalade Glaze
Learn how to make the best roast duck with an orange marmalade glaze. This recipe is perfect for any special occasion, and it's especially delightful for your Christmas or New Year's Day dinner.
*Affiliates note: As an Amazon Associate I earn from qualifying purchases. My videos and blog posts may contain affiliate links to products and services. If you click through and make a purchase, I'll receive a small commission. It does not affect the price you pay.
It's Easy to Make Roast Duck
Making a roast duck is much simpler than you may think. As I show you in my recipe video, you'll pop it into a roasting pan in the oven and rotate it once or twice to render all the luscious duck fat that you can use later. Then, in about 3 hours, your duck will be ready to serve. That's it!
This roast duck has tender falling-off-the-bone juicy meat with a crispy skin. It's glazed with an orange marmalade sauce that gives the duck a rich, roasted appearance.
What is the Best Cooking Temperature for Roast Duck?
The United States Department of Agriculture (USDA) and many chefs have different opinions on the best cooking temperature for roast duck.
USDA Recommendation for Roast Duck
USDA guidelines recommend cooking a whole duck (or goose) to a safe minimum internal temperature of 165°F measured using a food thermometer.
You can check the duck's internal temperature by placing the food thermometer in the innermost part of the thigh. Be sure to avoid the bone as you will not get an accurate reading.
Many Chefs Differ from the USDA Recommendation
If you read a number of chef-inspired recipes for cooking duck, you'll find that their recommended temperature differs from the USDA minimum. These recipes often advise cooking duck to an internal temperature of anywhere from 135°F to 145°F. Unfortunately, this temperature range creates a duck that is rare or medium-rare.
Chefs claim that cooking at this temperature creates a roast duck at its most tender and flavorful best. But is it? I'm not so sure. Personally, I find the rare or medium-rare duck meat unappetizing. And if you are new to cooking duck or any game bird for that matter, you might find it a bit unpalatable too!
How I Like to Cook a Roast Duck
I can't imagine cooking a roast duck rare or even medium-rare. The meat looks very pink, even a deep red or purple sometimes! And the meat of a duck cooked at these lower temperatures has a rubbery texture.
I like to go slightly above what the USDA recommends. Instead of cooking my duck to 165°F, I prefer to roast my duck to at least an internal temperature of 170°F. However, I would be much happier to cook my duck to an internal temperature of 180°F.
Preparing roast duck at 180°F provides lots of benefits:
Super crispy skin,
Leg and thigh meat that's thoroughly cooked and falling off the bone, and
Breast meat that is still tender and juicy
What Can I do with Duck Fat after Making a Roast Duck?
As you are cooking your roast duck, you will periodically remove the roasting pan from the oven to flip your duck so that it cooks thoroughly on both sides.
And while you have the duck out of the oven, you will have the opportunity to remove the rendered duck fat from the roasting pan.
Duck fat is prized for its excellent flavor and has many uses, such as:
Roasting potatoes or other root vegetables
Sautéing greens
Using in place of butter in baking recipes
Spreading right onto bread or toast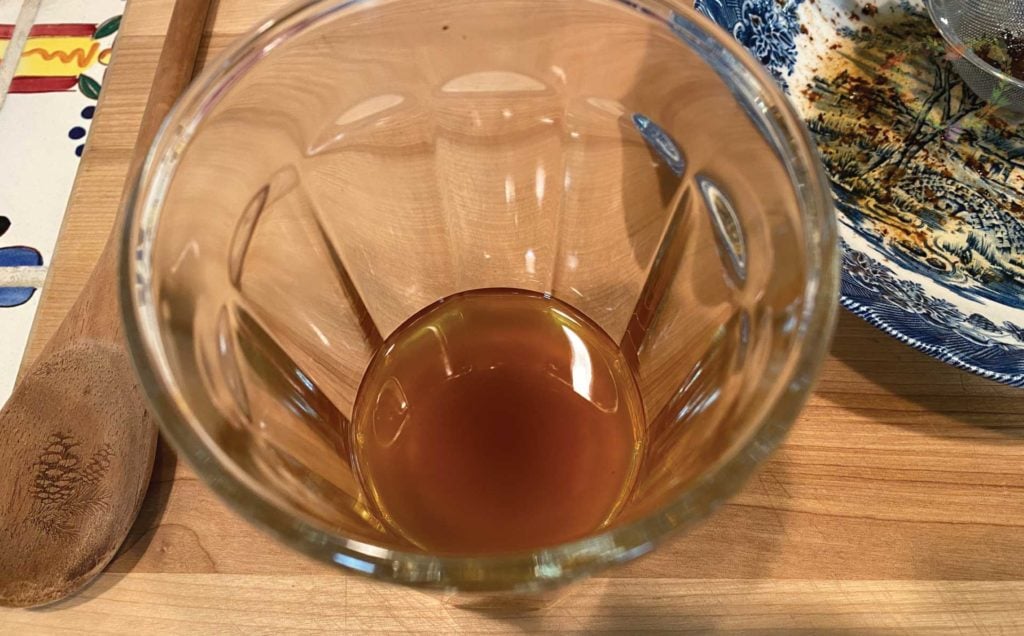 Is Duck Fat Nutritious?
You might be surprised to learn that duck fat is actually very nutritious. Duck fat contains high levels of oleic acid, which is also found in olive oil. And we have certainly all heard about the benefits of adding olive oil to our diets.
Research suggests that oleic acid may have a beneficial impact on reducing inflammation in our bodies. Reducing internal bodily inflammation is vital since it is often linked to disease. So the more we can eat foods that will tamp down inflammation, the better!
For more information, visit:
Another Specialty Poultry Recipe
If you enjoyed learning how to make a roast duck, be sure to check out the recipe video below, where I share how to roast Rock Cornish Game Hens. Like the duck, these hens make a wonderful celebratory or holiday meal!
Looking for Pastured Raised Meats and Poultry?
If you can't find grass-fed meats or pasture-raised poultry in your neighborhood supermarket or farmer's market, check out US Wellness Meats for a wide variety of beef, lamb, pork, poultry, and more.
Use discount code MARYNEST and my link to save 15% off regular-priced items on your US Wellness Meats order. You can shop for a variety of products, including:
This post is not sponsored. I'm a long-time customer of US Wellness Meats because I have always been impressed by the quality of their products. Check out my US Wellness Meats unboxing video to see the types of products you can get, including bones for beef bone broth!
Download Your Free 36-Page Pantry List
Adding duck to your holiday table is an excellent way to start incorporating traditional nutrient-dense foods into your diet. But don't stop there!
Be sure to download your FREE 36-Page Essential Traditional Foods Pantry List. This comprehensive eBook shows you how to stock a traditional foods pantry and use the foods you stock to create delicious and nutritious meals!
Looking for More Holiday Recipes?
Check out the videos below for more ideas for your holiday dinner table. You'll find a recipe for easy and delicious yeast dinner rolls and a downloadable diagram for a giant party platter that you can take to the grocery store to get the items you need for your holiday celebrations.
Kitchen Academy Videos
Are you looking for more traditional foods videos? If so, I invite you to join the Traditional Foods Kitchen Academy. Members of this optional paid YouTube community get access to exclusive videos, live streams, and other members-only perks. Plus, your YouTube comments include a special members-only badge.
In the following members-only video, I talk about Traditional Diets and How to Get Started.
Stay in Touch with Mary's Nest
Subscribe to My YouTube Channel for Traditional Foods Videos (Free) - When you subscribe, be sure to click on the notification bell that will let you know each time I upload a new video.


Subscribe to Mary's Traditional Foods Newsletter (Free) - Get a free eBook for signing up: How to Stock Your Essential Traditional Foods Four-Corners Pantry.


Join the Traditional Foods Kitchen Academy (Optional Paid) - For more detailed videos, live streams, and exclusive members-only perks, join my YouTube membership community.
I look forward to having you join me in my Texas Hill Country Kitchen!
Love,
Mary
♥
Trending Posts on Mary's Nest
Shop for items used in this blog post or video
Favorite Kitchen Supplies
More Kitchen Supplies with Discount Codes
Use my Mockmill affiliate link for a special one-time 5% discount on Mockmill Stone Grain Mill products, including Ancient Grains, like Einkorn, Emmer, and Spelt. (The Mockmill discount will appear when you checkout.)
Use promo code MARYSNST for a one-time 15% off Masontops and Breadsmart products on Amazon.com.
Amazon Shop and Shopping Guide
Visit my Shopping Guide page
Learn where I buy my beef bones, electric grain mills, sprouted grains, and more…and get special discounts for Mary's Nest visitors, including from US Wellness Meats, Mockmill, Masontops, and Cultures for Health.
Recommended Reading
**Disclaimer: I am not a medical doctor, a medical professional, a dietician, or a nutritionist. All content found on the MarysNest.com website, including text, images, videos, eBooks or eGuides, social media, or other formats, were created solely for informational purposes only. The content is not intended to be a substitute for professional medical advice, diagnosis, or treatment. Always seek the advice of your physician or other qualified healthcare provider with any questions you may have regarding a medical condition or proper nutritional advice. Never disregard professional medical advice or delay in seeking it because of something you have watched in a video or read on this website. Use caution when following the recipe in this video. The creator and publisher of this video and website will not be held responsible for any adverse effects that may arise from the use of this recipe and method or any other recipe and method on this website or corresponding video channel.