Affiliates note: As an Amazon Associate I earn from qualifying purchases. My content may contain affiliate links to products and services. If you click through and make a purchase, I'll receive a small commission. It does not affect the price you pay.
In this video, I share a Sugar Free Granola Recipe that is easy to make and is both crunchy and tasty. Plus, the best part of this homemade granola is that it contains no sugar, no artificial sweeteners, and no oil. And even though these ingredients are not included, you'll be surprised that you don't even miss them!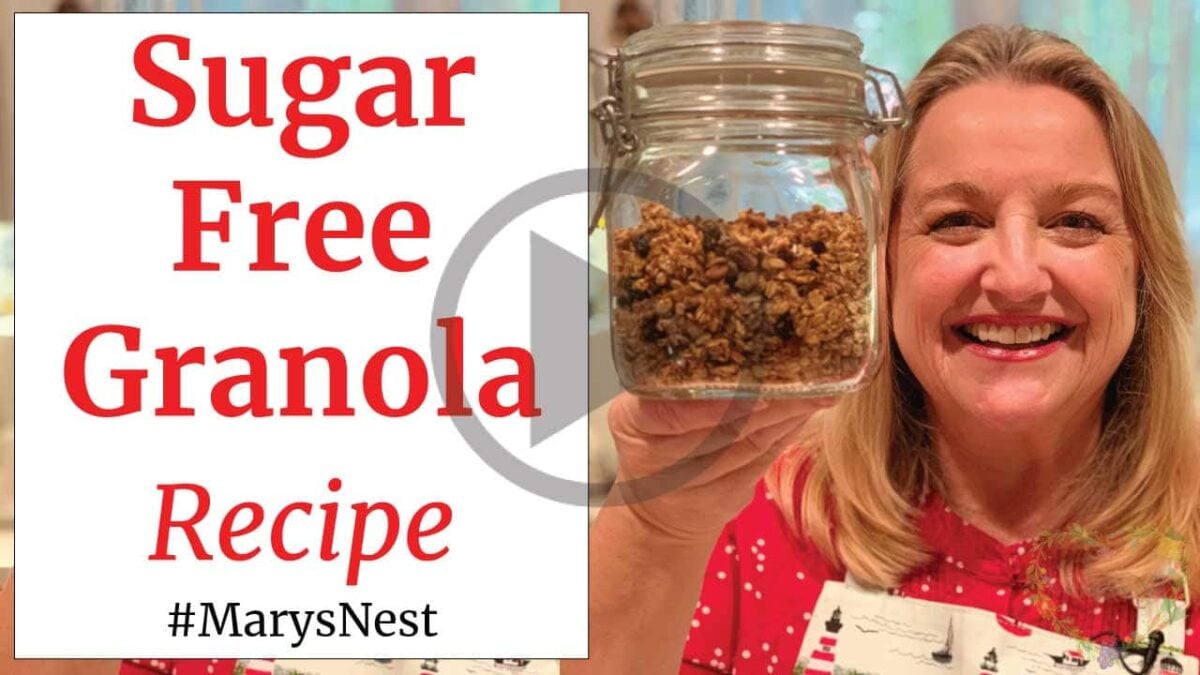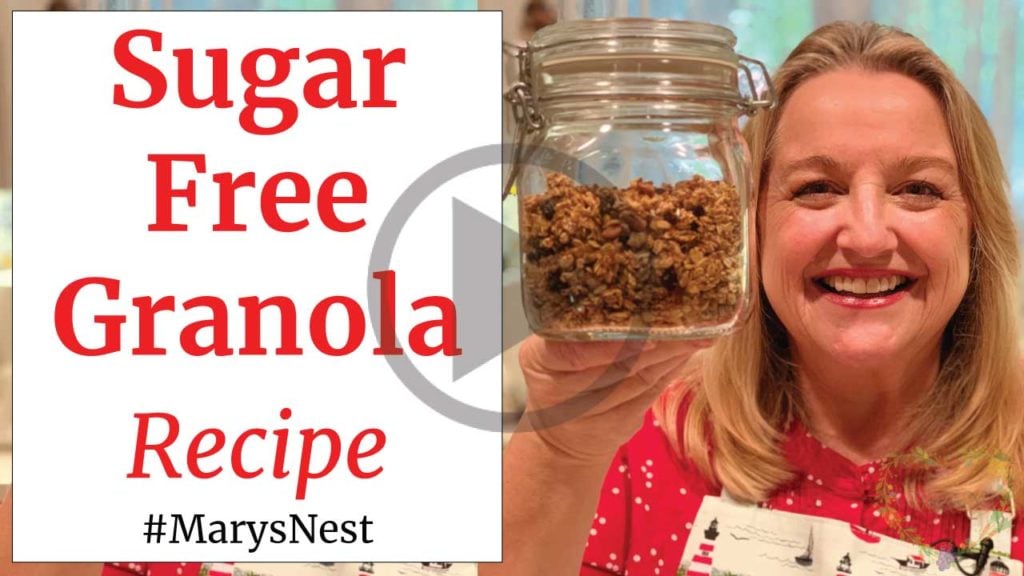 Old-Fashioned Oats Are Just the Beginning
To make this granola, start with a few simple ingredients that most kitchens already have on hand, including old-fashioned rolled oats. But that's just where you get started. Now the fun begins. Here is where you get to pick a couple of "mix-ins" to jazz things up!
And the sky is the limit here. You can add any type of soaked nuts or seeds, like crispy pecans, coconut, dried fruit, and even chocolate chips (dark chocolate is the best).
Want to Make This Gluten-Free?
The main backbone of this granola recipe is, of course, old-fashioned rolled oats. Now, oats are naturally gluten-free. However, because of various reasons, they can become exposed to gluten.
So if you are on a gluten-free diet, be sure to search out oats that are guaranteed to be gluten-free. And they should be easy to find. I have often seen them at my grocery store marketed under the Bob's Red Mill Brand.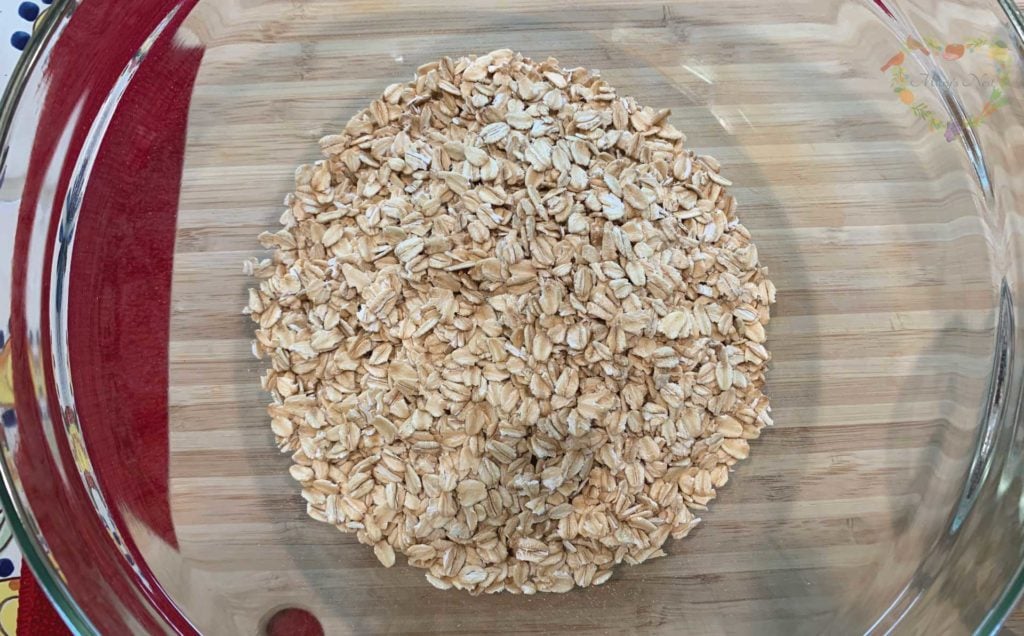 What About Sprouted Old-Fashioned Oats?
Do you prefer to soak your oats before you cook them? If so, I've got you covered. A while back, I discussed whether or not we need to soak our grains. A lot has to do with our genetics, our ancestral ties, and, when it comes right down to it, what agrees with our digestion. And if you would like to learn more about this, be sure to watch my video titled Never Soak Your Grains Again…3 Surprising Reasons Why.
If you've discovered that soaked grains or soaked and sprouted grains agree with you the best, try Sprouted Old-Fashioned Oats from the To Your Health Sprouted Flour Company.
Granola Cereal or Granola Clusters?
As you mix up a batch of this sugar free granola, you have a couple of options when it comes to baking it. First, you'll line a baking sheet with parchment paper. Next, you can spread the granola out on the baking sheet in one layer.
Or if you want, you can mold about a teaspoon-full in your hand and place the clusters onto the baking sheet. And making the clusters are fun since they make a great topping for yogurt or ice cream!
Get Ready to Bake
Once you decide on cereal or clusters, it's time to bake your homemade granola. First, you'll pop it into your oven, and within about 15 minutes, you'll have the best granola you've ever tasted. So don't wait. Make this today. You'll be glad you did!
Looking for More Granola Recipes?
And if you are looking for another tasty granola recipe, be sure to check out my Homemade Granola Bars – Easy One Bowl Recipe.
Stay in Touch with Mary's Nest
Subscribe to My YouTube Channel for Traditional Foods Videos (Free) - When you subscribe, be sure to click on the notification bell that will let you know each time I upload a new video.
Subscribe to Mary's Traditional Foods Newsletter (Free) - Get a free 36-page eBook for signing up: How to Stock Your Essential Traditional Foods Four-Corners Pantry.
Join the Traditional Foods Kitchen Academy (Optional Paid) - For more detailed videos, live streams, and exclusive members-only perks, join my YouTube membership community.
Order The Modern Pioneer Cookbook (Optional Paid) - Get a printed book of Mary's nourishing recipes from a Traditional Foods Kitchen. This bestselling cookbook is published by Penguin Random House with their DK imprint.
I look forward to having you join me in my Texas Hill Country Kitchen!
Sugar Free Granola Recipe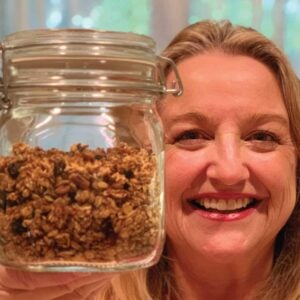 This Sugar Free Granola is easy to make and is both crunchy and tasty!
Ingredients
1 1/2

cups

Old-Fashioned Oats

1

teaspoon

Cinnamon, ground

1/2

cup

"Mix-ins"

A mixture of your choice of dried fruit, nuts, seeds, shredded coconut, etc.

Pinch

Fine ground sea salt

2

Egg whites

1/2

cup

Dry Sweetener, optional

If you want to turn this granola into a low sugar granola, you can do so by adding in a dry sweetener such as Sucanat, maple sugar, coconut sugar, date sugar, etc.
Instructions
Pre-heat oven to 350°F (177°C).

Mix the first four dry ingredients together. (If using a dry sweetener, add it now.)

Pour the egg whites into the bowl over the mixed dry ingredients. Toss well until all the dry ingredients are moistened.

Spread the mixture in one layer on a lined baking sheet. Or, as an alternative, you can take teaspoon-fulls of the granola mixture, press them into clumps, and place them on the lined baking sheet about an inch apart.

Bake for approximately 15 minutes until golden brown and crisp.

Store in an airtight jar. This will stay fresh when stored in a cool, dry place for about 2 weeks or up to one month if refrigerated.
Notes
Find this recipe and video at https://marysnest.com/sugar-free-granola/
Copyright © 2019 Mary's Nest, LLC, All Rights Reserved
Nutrition
Calories:
91
kcal
|
Carbohydrates:
16
g
|
Protein:
4
g
|
Fat:
1
g
|
Saturated Fat:
0.2
g
|
Polyunsaturated Fat:
0.5
g
|
Monounsaturated Fat:
0.4
g
|
Sodium:
18
mg
|
Potassium:
114
mg
|
Fiber:
3
g
|
Sugar:
2
g
|
Vitamin A:
1
IU
|
Vitamin C:
0.1
mg
|
Calcium:
20
mg
|
Iron:
1
mg
Watch Mary's Nest on YouTube
Shop for items used in this blog post or video
Visit my Shopping Guide page
Get up to 15% off for Stocking your Traditional Foods Pantry and Equipping your Modern Pioneer Kitchen, including discounts from US Wellness Meats, Mockmill Grain Mill, Masontops, Cultures for Health, Survival Garden Seeds, Redmond Real Salt, Plan to Eat, and more!
Items mentioned in this video: