How to Make Crispy Pecans – Easy to Digest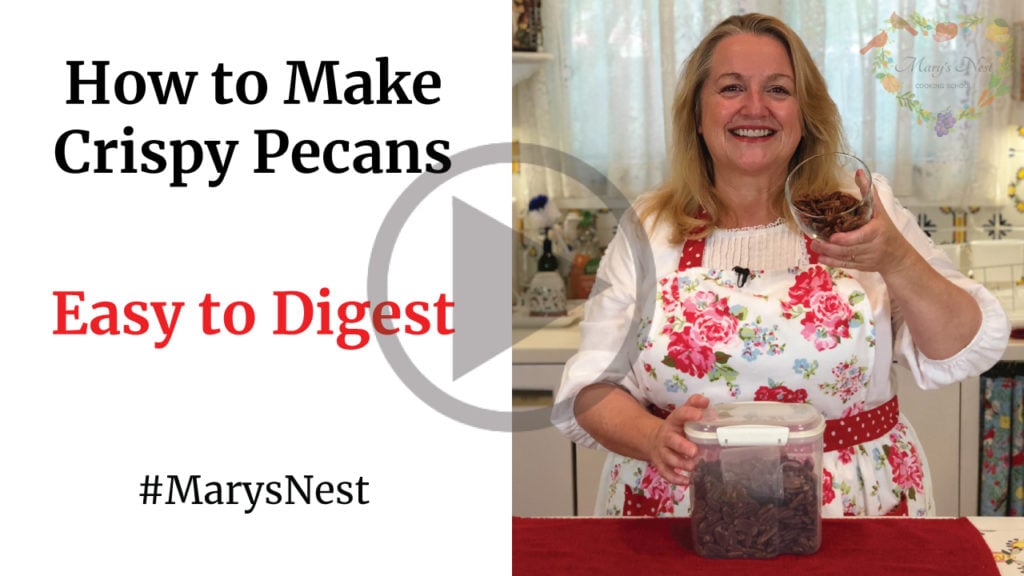 Watch this video on YouTube
Get the recipe
Hi Sweet Friends,
Just like with beans, nuts can also be soaked to increase their digestibility and nutrient absorption.  And it couldn't be easier.  In this video, I soak pecans because they are plentiful where I live in central Texas, but you can use this technique for any variety of nut.
Why "crispy" nuts?
If you're wondering why they are called "crispy" nuts, it's because after we soak them, we dry them in a low-temperature ("cool") oven.  Once they are dry, the nuts actually have a nice exterior crunch, but the center is delightfully tender.  Now if you're a purist, and you want to retain every last bit of enzymes contained in the soaked nuts, you'll want to dehydrate them at 110 degrees Fahrenheit.  But don't worry if you don't have a dehydrator.  You can dry the soaked nuts in a cool oven set to its lowest setting.
How long does it take?
If you are drying the soaked nuts in a dehydrator, it can take anywhere from 12-24 hours.  On the other hand, if you are drying them in a cool oven, it will take anywhere from 8-12 hours.  How will you know when they are dry?  The best test is to feel them.  Once they feel dry to the touch, give them a taste.  If they have a nice crispy exterior, they're done.  If you're not sure, leave them to dry for another hour or so.
Step-by-step instructions
Watch this YouTube video as I walk you through the step-by-step process of making soaked nuts.
Related videos
Stay in Touch with Mary's Nest
Subscribe to My YouTube Channel for Traditional Foods Videos (Free) - When you subscribe, be sure to click on the notification bell that will let you know each time I upload a new video.


Subscribe to Mary's Traditional Foods Newsletter (Free) - Get a free eBook for signing up: How to Stock Your Essential Traditional Foods Four-Corners Pantry.


Join the Traditional Foods Kitchen Academy (Optional Paid) - For more detailed videos, live streams, and exclusive members-only perks, join my YouTube membership community.
I look forward to having you join me in my Texas Hill Country Kitchen!
Love,
Mary
♥
You can print the recipe below.
Print Recipe
How to Make Crispy Pecans
Just like with beans, nuts can also be soaked to increase their digestibility and nutrient absorption. And it couldn't be easier to do.
Ingredients
1 1/2

pounds

Pecans

or other nut of choice

2

tbsp

Coarse ground Celtic sea salt
Instructions
Place nuts in large bowl.

Sprinkle with salt.

Cover nuts with water.

Allow to soak 8-12 hours.

Drain in a colander.

Spread nuts on a parchment-lined baking sheet and place in an oven set to its lowest setting. Allow to dry between 8-12 hours.

Alternatively, if using a dehydrator, spread nuts onto a lined dehydrator sheet and place the sheet into the dehydrator set to 110 degrees Fahrenheit. Allow to dry 12-24 hours.

Once dry and cooled, store in an air-tight container. At room temperature, the nuts will stay fresh for three months. If stored in the refrigerator, they will stay fresh for six months, or up to one year if stored in the freezer.
Notes
The drying time for making Crispy Nuts will vary depending on the type of nut you use.  Test for dryness by feeling the nuts.  If they feel dry, taste one.  If it has a crunchy exterior, they are dry.  If you are not sure, leave them to dry for another hour or so.
Find this recipe and video at https://marysnest.com/recipe/how-to-make-crispy-pecans-easy-to-digest/
Copyright © 2018 Mary's Nest, LLC, All Rights Reserved
Shop for items used in this blog post or video
Visit my Shopping Guide page
Learn where I buy my Beef Bones, Wild-Caught Fish, Sprouted Grains, and more...and learn about Special Discounts for Mary's Nest visitors, including from US Wellness Meats, Vital Choice, Masontops, and Breadsmart.
*Affiliates note: As an Amazon Associate I earn from qualifying purchases. My videos and blog posts may contain affiliate links to products and services. If you click through and make a purchase, I'll receive a small commission. It does not affect the price you pay.
**Disclaimer: I am not a medical doctor, a medical professional, a dietician, or a nutritionist. All content found on the MarysNest.com website, including text, images, videos, eBooks or eGuides, social media, or other formats, were created solely for informational purposes only. The content is not intended to be a substitute for professional medical advice, diagnosis, or treatment. Always seek the advice of your physician or other qualified healthcare provider with any questions you may have regarding a medical condition or proper nutritional advice. Never disregard professional medical advice or delay in seeking it because of something you have watched in a video or read on this website. Use caution when following the recipe in this video. The creator and publisher of this video and website will not be held responsible for any adverse effects that may arise from the use of this recipe and method or any other recipe and method on this website or corresponding video channel.