Top 7 Cheap Foods You Need to Buy Now at Aldi
In today's video, I'm excited to show you the top 7 cheap foods under a dollar that you need to buy now at Aldi. As with my other comprehensive grocery haul videos, I show you many categories containing more than one food too. And as a bonus, I show you a few foods that are over a dollar, but since they're such outstanding bargains, you can't pass them up.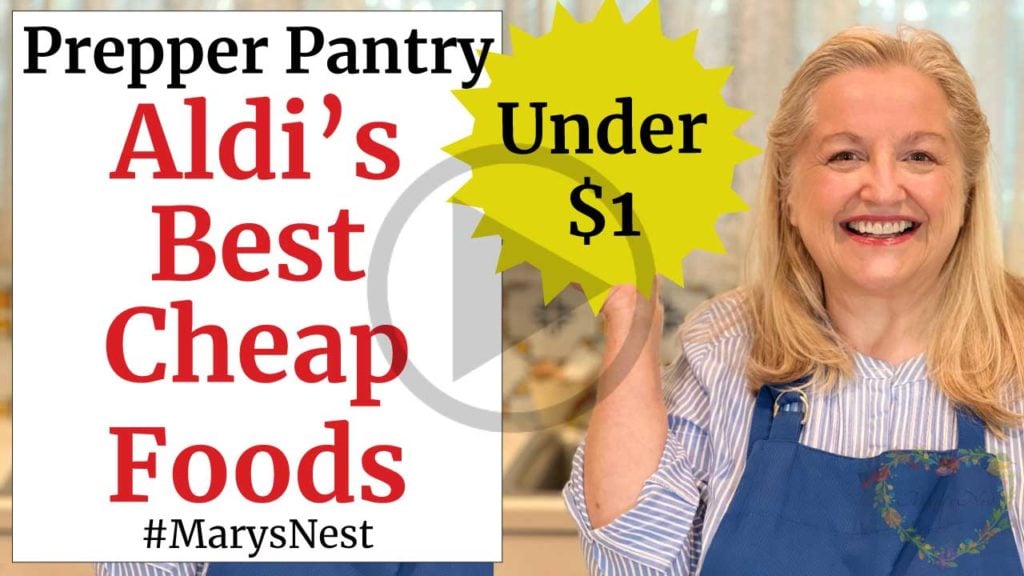 Note: this is not a sponsored post. I bought all the products that I show you in my video and this blog post.
Shopping at a New Aldi in Georgetown, Texas
This was my second visit to Aldi this year, but at a different location in Central Texas. My first Aldi visit in May was at their Pflugerville, Texas, location, and my August visit was at their Georgetown, Texas, store.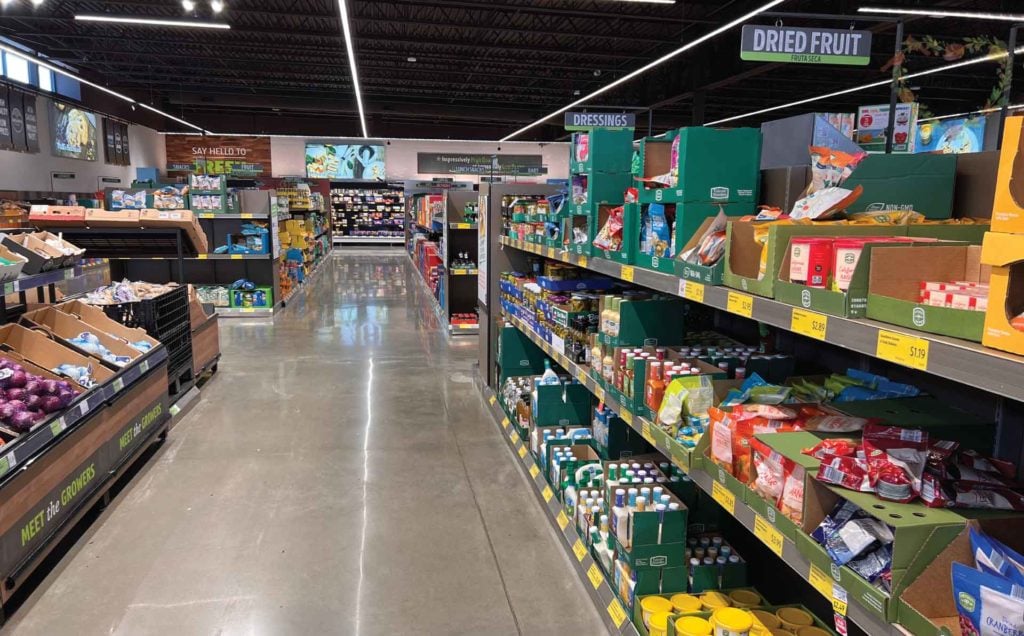 I had never visited their Georgetown location before, but it looked like their aisle layout was very similar to their Pflugerville store. Perhaps your local Aldi grocery store has the same floorplan too.
Aldi Price Differences Between May and August
I was glad to see some prices stayed the same, but there were some noticeable price increases between May and August. I'll highlight just a few, but realize that you may encounter different prices if your Aldi is having a sale or clearance on certain items.
This first example shows the price difference between Aldi's Frozen Mixed Vegetables. The sizes of the bags are the same at 12 oz each, so that's good news that this product isn't experiencing shrinkflation, but the prices are slightly higher. In May, we could get this product for 79 cents, but in just a few months, the price increased 5 cents to 84 cents.
But notice that the August price is the Aldi Savers price. Aldi shows the regular price for their Frozen Mixed Vegetables as $1.19. That's a 40-cent increase! Now, sometimes, Aldi, like many grocery stores, posts a higher price to make the sale price look like a great bargain. However, whether 84 cents or $1.19, the cost of Frozen Mixed Vegetables and other frozen products has gone up.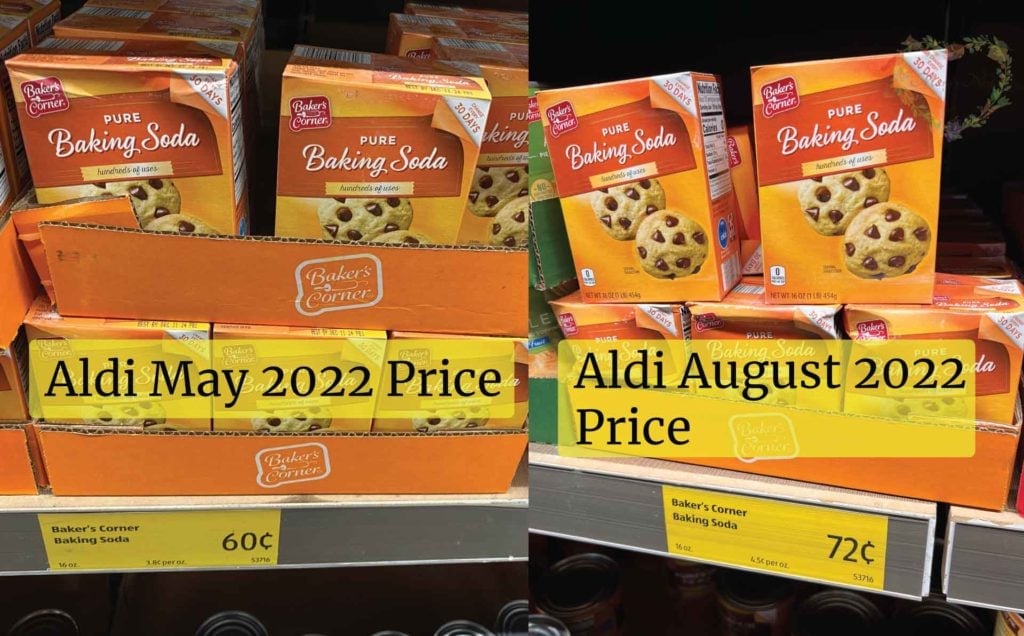 If you're a baker, you know how baking soda is a key ingredient to help make baked goods lighter and fluffier, from breads to cookies. With this latest price comparison picture, you can see a significant rise in the price of Aldi's Baker's Corner Baking Soda. The regular price jumps from 60 cents in May 2022 to 72 cents in August 2022, which is a 20% increase in just four months.
How to Fight Rising Grocery Prices
Aldi's has done a good job at keeping prices the same for many items and having them continue to be cheap foods, but as you've seen in your own grocery store, inflation is having an impact on our food budgets, so we need to plan accordingly to keep our traditional foods kitchens running smoothly.
For example, in my How to Fight Rising Grocery Prices video, I talk about steps you can take to help your grocery budget during these inflationary times. And be sure to download the video's accompanying free checklist to help you think about how to save money and best use the food you have.
Prepping or Hoarding?
My Cheap Foods at Aldi video is part of my series of grocery hauls where I highlight the bargains that I found in the hope that you'll be able to find the same or similar foods at your Aldi or neighborhood grocery store. Here are a few of the locations that I've taken you to in my videos:
I typically receive at least one comment on my grocery haul videos that goes something like this: "Mary, it's just you, your husband, and your son (whenever he's visiting) at home. What do you do with all the food that you buy?"
I've already established my Prepper Pantry, and when it starts to run low because I've used it to refill my working pantry, I'll get the items I need from my local grocery store. I donate the additional non-perishable items I purchase on my grocery hauls to my church's food pantry after I've had a chance to film them and take pictures for my video and blog post.
Note that I do not encourage hoarding. I encourage you to be prepared for yourself and your family. I want you to plan ahead so you have enough food for your family in case of a natural disaster, prolonged supply chain disruption, or another emergency. And if you have enough, you have the ability to help your friends and neighbors, which we were fortunately able to do during the terrible Texas Winter Storm of 2021.
With the foods I purchase during my hauls and any extras I can get during my regular shopping, I am able to share those non-perishable foods with my food pantry to help others who may be in need during these difficult times when inflation is running high and layoffs are increasing.
So the bottom line is that I encourage you to:
Start building your Prepper Pantry on a budget, if you haven't already, so you can be prepared for yourself and your family.
Get additional food when your budget permits so you can share it with those less fortunate.
Canned and Dried Beans at Aldi
One of the cheap foods I found at Aldi were beans, both canned and dried beans. Their store offered a wide variety of beans, and I show you the ones I thought were the best.
Beans are versatile, and you can use them to stretch your grocery budget by substituting beans in place of other, more expensive ingredients in recipes. In my top 7 meal extenders video, I show you how to use beans and other cheap ingredients to help you make budget meals.
If you're looking for a soup using beans, such as cannellini beans, check out my Italian Minestra recipe, a delicious beans and greens soup that's packed with flavor and nutrition.
Bone broth is a protein sparer, which means that it helps you extract more protein out of your recipes. So if you're making a soup with beans or some meat, be sure to add bone broth to help you and those at your dinner table get the most nutrition out of your meal. You can use any type of bone broth as a substitute for the water in a recipe.
Make Your Own Refried Beans
I show you the traditional refried beans I found at Aldi for only 80 cents. That's a good deal in the cheap foods category, especially since they're made with lard and not some hydrogenated fat or vegetable oil that's not good for us.
If you're feeling adventurous, you can make your own refried beans. I show you how to cook dried beans the right way, using pinto beans as an example. You can also make your own lard, which will be less expensive than your store-bought counterpart.
After mashing your beans, adding some spices, and cooking them in lard, you'll have homemade refried beans that will taste delicious and be nutritious too!
Pasta at Aldi
Wow! You can get great pasta deals at Aldi's, and I especially love their selection of 28-cent pastas. From their Pagasa brand, you can choose from Alphabets, Fideo, and Elbow pastas in convenient 7 oz bags. And their products are made out of durum semolina flour, which is the best for pastas. They're handy cheap foods!
In previous videos, I've talked about how much I love their Pagasa Cut Fideo product. It's basically broken up spaghetti that can help fill out a recipe and make it even more delightful. They're tasty in soups too, making your meals look more like store-bought as you're transitioning your family to a traditional foods kitchen.
I could have used a few bags of Aldi's Fideo when I was making homemade Rice-a-Roni. Instead, I broke up spaghetti, which added a bit of time to prepare the recipe. If you're short on time, these Pagasa pasta packages will help your meal prep go faster, as well as help you stretch your grocery budget.
Canned Proteins at Aldi
I found a can of tuna for 77 cents at Aldi. That's a great price, but sadly, the can is only 5 oz. In May 2022, I was able to get a 10 oz can of tuna for 95 cents. So the price of tuna has gone up, but at least each can is under a dollar. It's a cheap food, but unfortunately, we see the effects of shrinkflation.
Tuna is a protein that you can use to make delicious meals, as I show you in the following recipes. I recall growing up eating Tuna Boat Surprise on Fridays at my school. So if you or your family have never experienced the fun of this recipe, you can make it with canned tuna and have some merriment around the harbor of your dinner table.
If you like chicken pot pie, you'll love this Tuna Pie recipe that's from the Depression Era. And the topping is made out of a most curious ingredient, but one that's kind to your grocery budget.
Aldi also offers canned salmon, which has a regular price of $3.19, but I was able to snag it with an Aldi Savers price of $2.99. I'll show you how to turn canned salmon into delicious salmon patties in the following recipe. Yes. Cheap foods can be delicious!
Canned Tomatoes at Aldi
I love tomatoes, and that's not just because I'm part Italian. Tomatoes are high in lycopene, which provides us with carotenoids. As an antioxidant, carotenoids help bolster our immune system against disease.
Cooked tomatoes have lots of lycopene, and you can cook tomatoes from scratch or get a jumpstart on your recipes by using canned tomatoes. I show you different ways to prepare and use tomatoes in the following recipes, from making fresh tomato sauce to making the best marinara or tomato soup.
And if you'd like to can your crushed tomatoes to store them in your Extended or Prepper Pantry, I'll show you how. This video is you with an excellent tutorial if this is your first time using a water bath canner.
Best Buy Date and Forever Foods
In my Aldi cheap foods video, I talk about the best buy date of some of the products. Did you know that you can still eat foods after the best buy date has passed? Over time, the flavor, texture, and nutrition of canned foods may decline after their best buy date, but many canned foods are considered forever foods by the United States Department of Agriculture (USDA).
Watch my 10 Best Forever Foods for Your Survival Pantry to learn more about canned foods, best buy dates, and the foods you want to take a closer look at as you build your Prepper and Survival Pantries.
More Ways to Save on Groceries
Buying cheap foods at Aldi or your local grocery store helps to stretch your food budget. If you're looking for more ways to save, I share 10 clever tips to save money on groceries.
And I also talk about why you need to create multiple steams of food, much like you need to have multiple streams of income. Buying cheap foods and making homemade foods are just a few of the streams you can implement to help protect you and your family from supply chain disruptions or other unexpected events.
More Aldi Videos
As a budget-conscious shopper, you know you can get great buys on real food at Aldi. Here are my previous Aldi shopping videos, which also include blog posts showing how prices have changed over time on some items. (Unfortunately, you'll also see some examples of shrinkflation.)
Don't let the cost of shopping for real foods strain your grocery budget. Be sure to get these real foods at bargain prices at your local Aldi.
You know about bringing your own quarter and grocery bags, but do you know about these seven tips?
Discover the cheap real foods I found along with Easter goodies and some unusual items.
Download Your Free 36-Page Pantry List
For an extensive list of the traditional foods you can make and purchase to stock your pantry, be sure to download my free 36-page Traditional Foods Pantry List. This comprehensive eBook is full of links to recipe videos, helpful articles, and more!
And if you're looking for a printed book full of my traditional foods recipes that shows you how to create a traditional foods kitchen, be sure to order your copy of my new book, The Modern Pioneer Cookbook.
Join the Traditional Foods Kitchen Academy
Are you looking for more traditional foods videos? If so, I invite you to join the Traditional Foods Kitchen Academy. Members of this optional paid YouTube community get access to exclusive videos, live streams, and other members-only perks. Plus, your YouTube comments include a special members-only badge.
In the following members-only video, I talk about the Importance of Making Our Food Homemade.
I talk about the people I met at this year's conference and share some behind the scenes of my new cookbook.
Get ready to harness the power of gluten-free buckwheat to help a healthy diet.
Discover if the Nutritarian Diet is a Nutrient-Dense Diet.
Stay in Touch with Mary's Nest
Subscribe to My YouTube Channel for Traditional Foods Videos (Free) - When you subscribe, be sure to click on the notification bell that will let you know each time I upload a new video.
Subscribe to Mary's Traditional Foods Newsletter (Free) - Get a free 36-page eBook for signing up: How to Stock Your Essential Traditional Foods Four-Corners Pantry.
Join the Traditional Foods Kitchen Academy (Optional Paid) - For more detailed videos, live streams, and exclusive members-only perks, join my YouTube membership community.
Order The Modern Pioneer Cookbook (Optional Paid) - Get a printed book of Mary's nourishing recipes from a Traditional Foods Kitchen. This bestselling cookbook is published by Penguin Random House with their DK imprint.
I look forward to having you join me in my Texas Hill Country Kitchen!
---
Shop for items used in this blog post or video
Favorite Prepper Pantry Supplies
Favorite Kitchen Supplies
More Kitchen Supplies with Discount Codes
Use my Mockmill affiliate link for a special one-time 5% discount on Mockmill Stone Grain Mill products, including the new Flake Lover's Flaker. (The Mockmill discount will appear when you checkout.)
Use promo code MARYSNST for a one-time 15% off Masontops and Breadsmart products on Amazon.com.
Amazon Shop and Shopping Guide
Visit my Shopping Guide page
Get up to 15% off for stocking your Traditional Foods Pantry and equipping your Modern Pioneer Kitchen, including discounts from Lehman's, Mockmill Grain Mill, Masontops, Cultures for Health, Survival Garden Seeds, Redmond Real Salt, Plan to Eat, US Wellness Meats, and More!
Recommended Reading
**Disclaimer: I am not a medical doctor, a medical professional, a dietician, or a nutritionist. All content found on the MarysNest.com website, including text, images, videos, eBooks or eGuides, social media, or other formats, were created solely for informational purposes only. The content is not intended to be a substitute for professional medical advice, diagnosis, or treatment. Always seek the advice of your physician or other qualified healthcare provider with any questions you may have regarding a medical condition or proper nutritional advice. Never disregard professional medical advice or delay in seeking it because of something you have watched in a video or read on this website. Use caution when following the recipe in this video. The creator and publisher of this video and website will not be held responsible for any adverse effects that may arise from the use of this recipe and method or any other recipe and method on this website or corresponding video channel.