Affiliates note: As an Amazon Associate I earn from qualifying purchases. My content may contain affiliate links to products and services. If you click through and make a purchase, I'll receive a small commission. It does not affect the price you pay.
The cost of shopping for real foods—foods generally only made from one ingredient—can often strain our grocery budgets. But this is where Aldi can save the day! In today's video, I show you the top 10 real foods at Aldi you need to buy now.
Aldi offers a variety of wholesome real foods at some of the most affordable prices I have seen. So, as you stock your traditional foods kitchen pantry, check your local Aldi for real food at bargain prices!
Top 10 Real Foods at Aldi
Here are the top 10 real foods at bargain prices I found at my latest visit to my Aldi store in Georgetown, Texas. In today's video, I talk about these foods and show you their prices so you can also find them at your local Aldi. (Plus, I show you a few bonus items, too!)
Coffee – Ground or Whole Beans?
Prosciutto
Irish Cheddar Cheese – Mild, Sharp, or Vintage?
Ground Beef – Which has the right fat percentage?
Hot Dogs – Grass-Fed or Organic?
Butter – Irish or American?
Fresh Eggs – Pastured or Cage-Free?
Avocados – Which are the best?
Fresh Corn on the Cob
Fresh Cherries
Using Aldi Real Foods
In today's Aldi Real Foods video, I show you an outstanding buy on ground beef. This ground beef is 100% grass-fed, so it will be high in Conjugated Linoleic Acid (CLA), and research studies have shown that CLA can be effective in preventing lifestyle diseases.
You can use your ground beef in a variety of recipes, but to capture the fun of the remaining summer, you can use the beef to make the best homemade Sloppy Joes.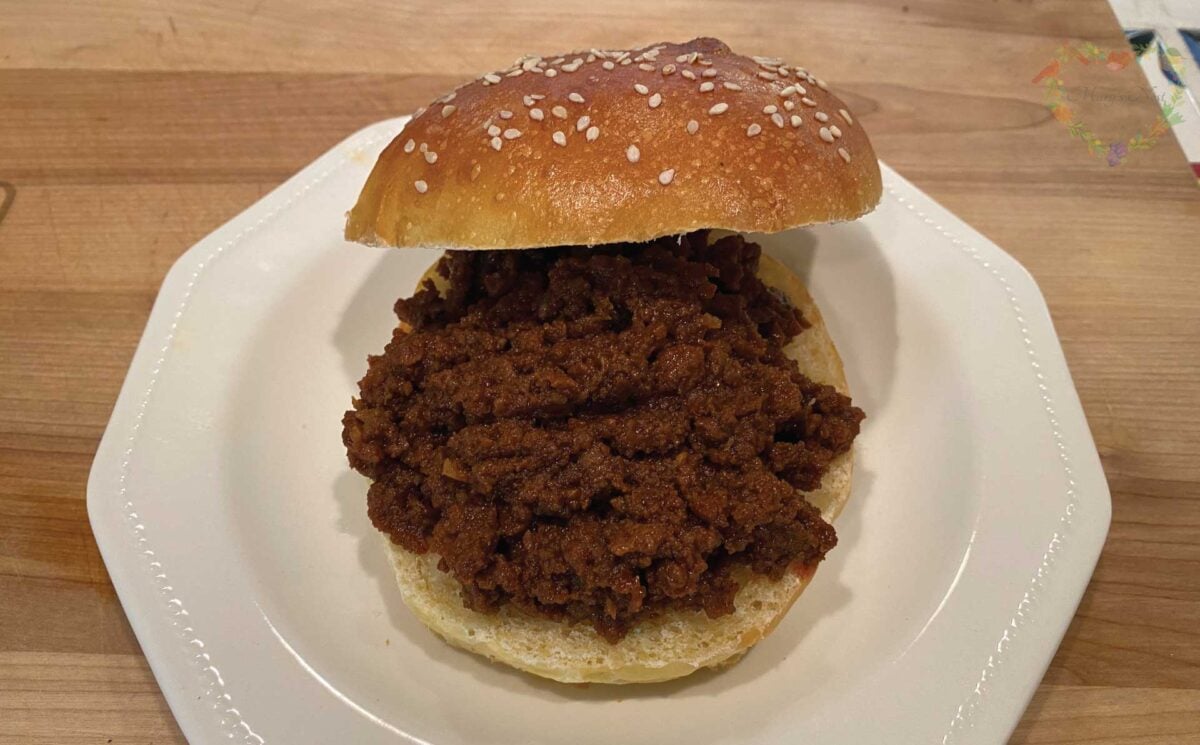 And you can make the hamburger buns for your sloppy joes homemade too! Although I don't show it in my latest video, Aldi also sells all-purpose and whole wheat flour that you can use to bake up the best homemade hamburger buns. You'll love these two recipes for the perfect homemade lunch or dinner.
More Aldi Videos
As a budget-conscious shopper, you know you can get great buys on real food at Aldi. Here are my previous Aldi shopping videos, which also include blog posts showing how prices have changed over time on some items. (Unfortunately, you'll also see some examples of shrinkflation.)
You know about bringing your own quarter and grocery bags, but do you know about these seven tips?
Discover the cheap real foods I found along with Easter goodies and some unusual items.
Find the best gourmet foods for your holiday table at big savings!
Download Your Free 36-Page Pantry List
For an extensive list of the traditional foods you can make and purchase to stock your pantry, be sure to download my free 36-page Traditional Foods Pantry List. This comprehensive eBook is full of links to recipe videos, helpful articles, and more!
And if you're looking for a printed book full of my traditional foods recipes that shows you how to create a traditional foods kitchen, be sure to order your copy of my new book, The Modern Pioneer Cookbook.
Join the Traditional Foods Kitchen Academy
Are you looking for more traditional foods videos? If so, I invite you to join the Traditional Foods Kitchen Academy. Members of this optional paid YouTube community get access to exclusive videos, live streams, and other members-only perks. Plus, your YouTube comments include a special members-only badge.
During this month's members-only live stream, we talked about a variety of topics, including a preview of upcoming videos.
I talk about the people I met at this year's conference and share some behind-the-scenes of my new cookbook.
Get ready to harness the power of gluten-free buckwheat to help a healthy diet.
Stay in Touch with Mary's Nest
Subscribe to My YouTube Channel for Traditional Foods Videos (Free) - When you subscribe, be sure to click on the notification bell that will let you know each time I upload a new video.
Subscribe to Mary's Traditional Foods Newsletter (Free) - Get a free 36-page eBook for signing up: How to Stock Your Essential Traditional Foods Four-Corners Pantry.
Join the Traditional Foods Kitchen Academy (Optional Paid) - For more detailed videos, live streams, and exclusive members-only perks, join my YouTube membership community.
Order The Modern Pioneer Cookbook (Optional Paid) - Get a printed book of Mary's nourishing recipes from a Traditional Foods Kitchen. This bestselling cookbook is published by Penguin Random House with their DK imprint.
I look forward to having you join me in my Texas Hill Country Kitchen!
---
Shop for items used in this blog post or video
Favorite Kitchen Supplies
Amazon Shop and Shopping Guide
Recommended Reading