Affiliates note: As an Amazon Associate I earn from qualifying purchases. My content may contain affiliate links to products and services. If you click through and make a purchase, I'll receive a small commission. It does not affect the price you pay.
These seven tips will help you save money on groceries while shopping at Aldi, the budget-friendly store. Just make sure to bring a quarter for the shopping cart (you'll get it back) and your own shopping bags (Aldi conveniently sells them as well), and then prepare for the best money-saving no-frills grocery shopping experience around!
1. Grab the Weekly Sales Flier
Once you pop your quarter into the device that releases your grocery cart, throw your reusable bags into the cart and grab the Aldi weekly sales flier as you walk through the front door.
To maximize your savings, first scan the flier and check out what is on sale. Avoid the processed foods, but load up on the fresh foods as well as the dry and canned foods. And if you are like me, be sure to check out which coffee and chocolate are on sale. The quality of these items at Aldi is terrific!
If you are the type of person who likes to plan ahead, you can certainly view the Aldi sales flyer online. However, sometimes items can vary slightly or simply be sold out, so be flexible and be prepared to adjust your shopping list.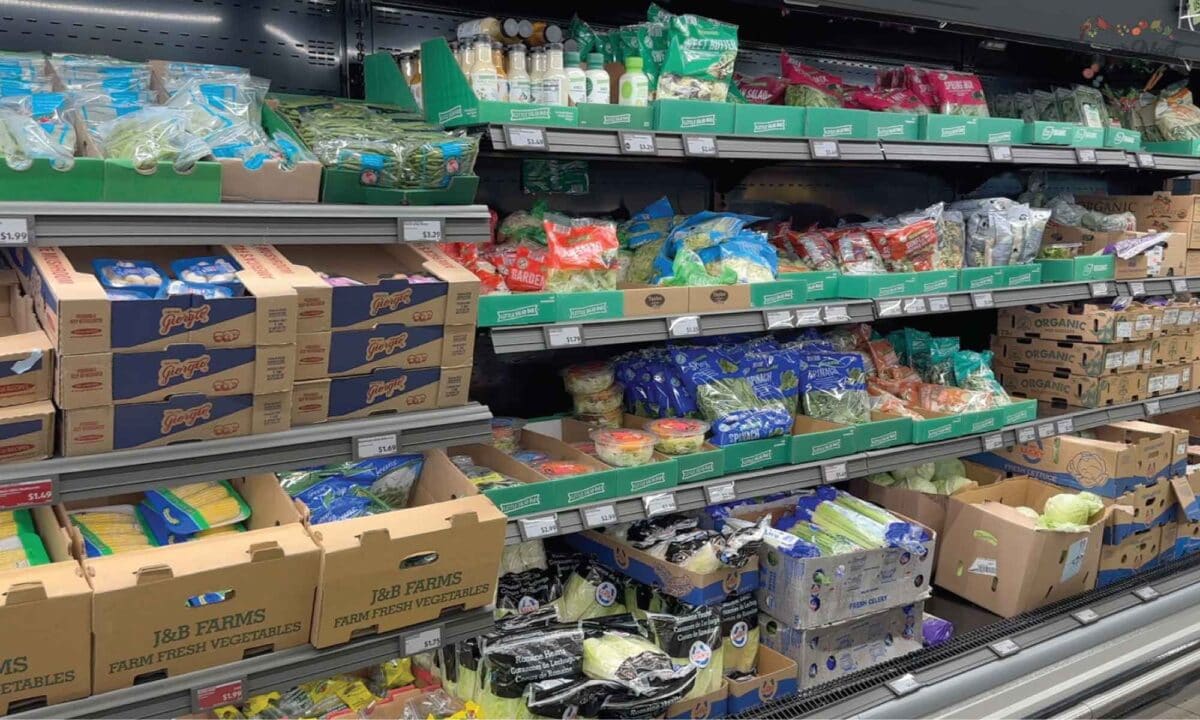 2. Focus on the Produce Section
Aldi has an amazing fresh produce section that rivals most grocery stores. As traditional home cooks, we can find everything we need, from avocados to zucchini, to create healthy, wholesome meals. And the bargain on sweet potatoes is unbeatable, coming in at well under a dollar per pound!
And when it comes to fresh organic items, Aldi has you covered. You'll find organic selections for both fresh fruits and vegetables. Now, what's in stock will vary from week to week and store to store, but keep on the lookout for seasonal organic produce to toss into your cart.
3. Toss a Whole Chicken in Your Cart
Aldi has some of the best buys on fresh whole chickens, but if you see one, don't delay. Just grab it and put it in your cart. The chickens sold at Aldi are often organic and can hover in price around $2.99 per pound. That's tough to beat even at a big box store like Walmart or a membership warehouse, like Costco and Sam's Club.
Unfortunately, on my recent trip to Aldi, I missed out on this great deal, but next time I head over there, I'll hit the chicken aisle first! And after I roast that chicken, you know I'll be using the carcass to make my Roast Chicken Bone Broth!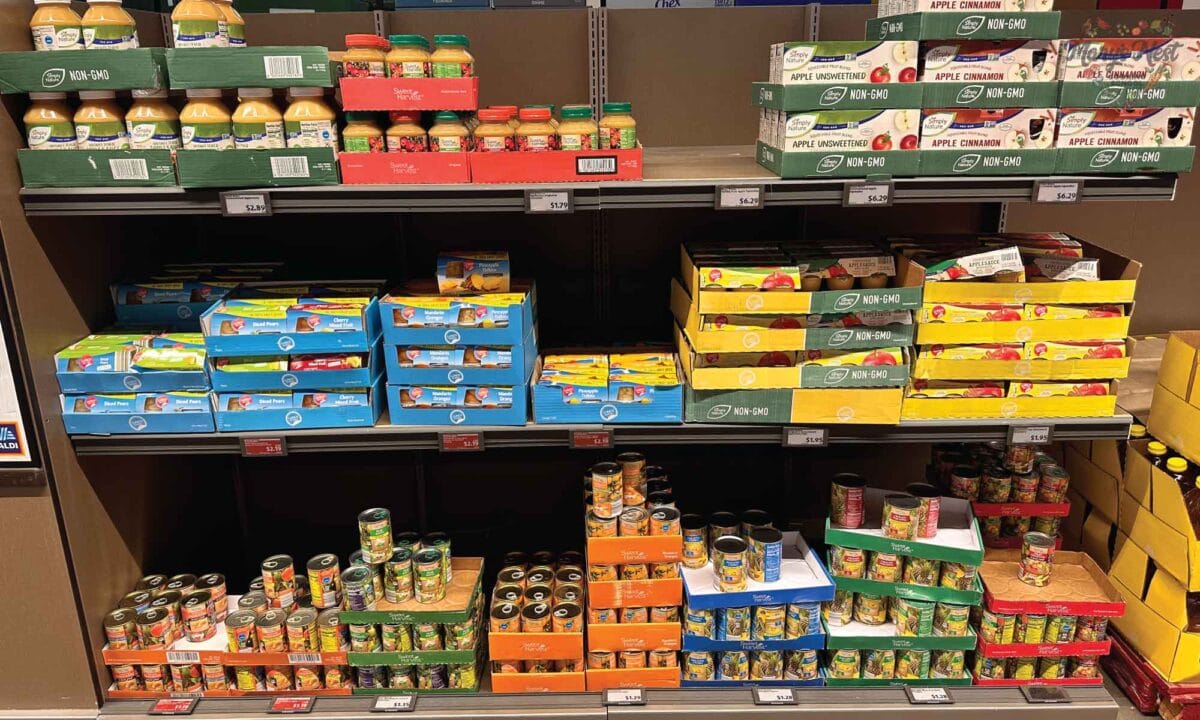 4. Stock Up on Canned Goods
Whether you are looking for canned vegetables, fruit, or even canned fish, the prices at Aldi are the lowest I have ever seen. A can of green beans is presently selling for 50 cents. That's 38 cents less than the same item at my local grocery store.
When it comes to canned fruit, they offer fruit in regular syrup, light syrup, and fruit canned in water or its own juices. I always choose fruit canned in water or its own juices, but keep in mind if they only have the other selections, you can certainly give the canned fruit a good rinse before you serve them.
When it comes to canned fish, Aldi offers sustainably line-caught tuna, as well as Alaskan wild pink salmon. Some varieties of tuna are under $1.00 per can, and the salmon is usually about half the price as compared to the same amount sold at most local grocery stores.
So be sure to stock up on these canned items for both your Working Pantry (your main pantry that you access every day) and your Prepper Pantry (where you store non-perishable foods for restocking your Working Pantry). They all have extended shelf lives, perfect for storing for the long term.
5. Stock Up on Frozen Fruits and Veggies
Aldi has a great selection of both frozen vegetables and frozen fruit. Although many of the frozen bagged items have been reduced to 12 ounces instead of 16 ounces, this result of shrinkflation is common across the board at many grocery stores. But even with a smaller package, the price per ounce is still a bargain compared to those sold at other stores.
Frozen veggies are especially helpful when you are in a rush to prepare a quick meal or simply want the ease that comes with being able to pull out a bag of frozen veggies from the freezer that requires no prep. My Depression Era Tuna Pie is one such recipe that makes excellent use of a bag of frozen vegetables.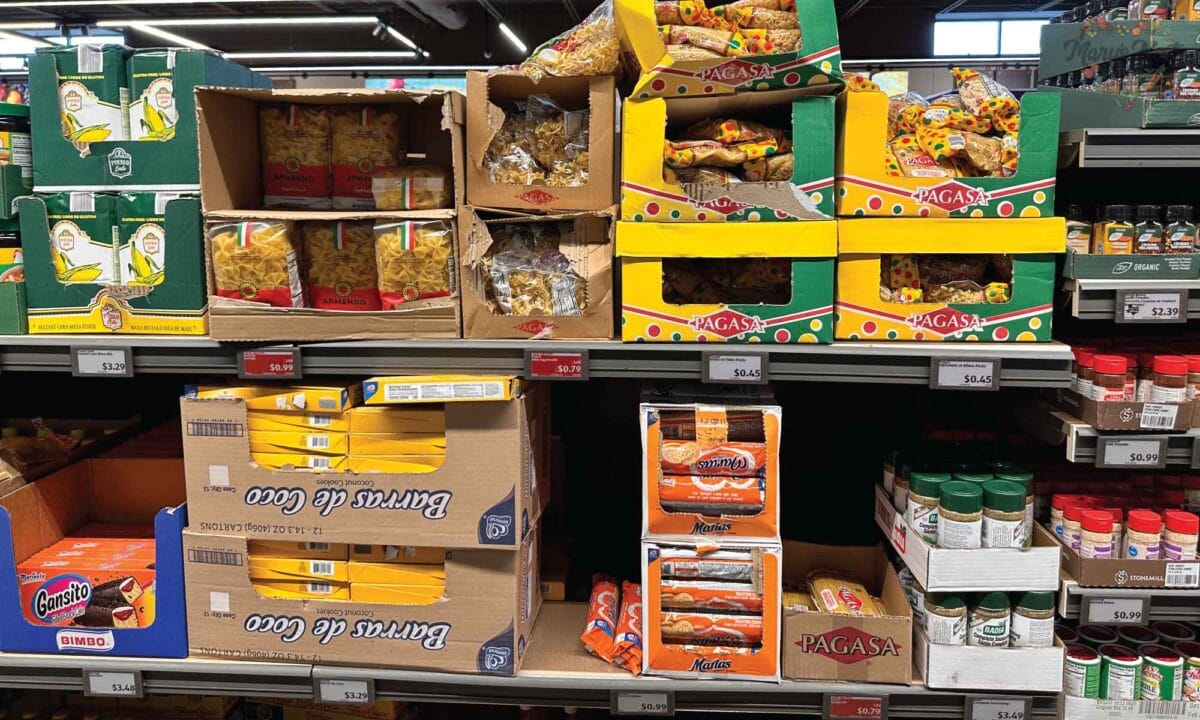 6. Be Sure to Add Pasta to Your Cart
Any type of pasta makes for a quick and easy—but most importantly—an affordable meal. And at Aldi, you have a wide variety of shapes and sizes to choose from, from angel hair pasta to farfalle. But most importantly, all the pasta I have ever seen sold at Aldi is made from semolina.
I always choose pasta made from semolina because it is made from the nutritious grain that is part of the milling process of Durham flour. Semolina is considerably more nutritious than all-purpose flour (what some may know as plain flour).
Semolina is high in fiber and protein, so when it is turned into pasta, it is made into a nutritious food. And when it comes to serving up a big bowl of spaghetti and meatballs, my recipe, which also includes how to stretch the meat used to make the meatballs, can't be beat!
7. Don't Miss the Aisles of Aldi Finds
As you scan each aisle in your local Aldi, you might think that the few aisles at the front of the store just have household goods that are of no interest to you. Well, you would be wrong! Tucked among a variety of toys, calendars, bathroom rugs, and other miscellaneous items are sometimes some of your best food deals.
Keep in mind these deals are hit or miss, and I don't always find something to toss into my cart, but that doesn't mean I skip the Aldi Finds aisles. Instead, I scan them for dry goods that sometimes include a variety of pasta, jarred fruit, and the occasional seasonal treat! And the prices are truly rock bottom.
Oh, and before you leave, be sure to return your cart to get your quarter back. Or you can surprise someone and offer them your cart so they don't have to deposit a quarter!
More Aldi videos
If you enjoyed watching my Aldi's Bargain Basement Prices video, be sure to watch my other Aldi videos:
Don't let the cost of shopping for real foods strain your grocery budget. Be sure to get these real foods at bargain prices at your local Aldi.
Discover the cheap real foods I found along with Easter goodies and some unusual items.
Find the best gourmet foods for your holiday table at big savings!
Download Your Free 36-Page Pantry List
In this post, I talk about buying foods from Aldi to stock your Working Pantry and Prepper Pantry, which are part of your Four Corners Pantry. (Your refrigerator and freezer are the other two parts of your Four Corners Pantry.)
For an extensive list of the traditional foods you can make and purchase to stock your Four Corners Pantry, be sure to download my free 36-page Traditional Foods Pantry List. This comprehensive eBook is full of links to recipe videos, helpful articles, and more!
And if you're looking for a printed book full of my traditional foods recipes that shows you how to create a traditional foods kitchen, be sure to order your copy of my new book, The Modern Pioneer Cookbook.
Join the Traditional Foods Kitchen Academy
Are you looking for more traditional foods videos? If so, I invite you to join the Traditional Foods Kitchen Academy. Members of this optional paid YouTube community get access to exclusive videos, live streams, and other members-only perks. Plus, your YouTube comments include a special members-only badge.
During this month's members-only live stream, we talked about a variety of topics, including a preview of upcoming videos.
I talk about the people I met at this year's conference and share some behind-the-scenes of my new cookbook.
Get ready to harness the power of gluten-free buckwheat to help a healthy diet.
Stay in Touch with Mary's Nest
Subscribe to My YouTube Channel for Traditional Foods Videos (Free) - When you subscribe, be sure to click on the notification bell that will let you know each time I upload a new video.
Subscribe to Mary's Traditional Foods Newsletter (Free) - Get a free 36-page eBook for signing up: How to Stock Your Essential Traditional Foods Four-Corners Pantry.
Join the Traditional Foods Kitchen Academy (Optional Paid) - For more detailed videos, live streams, and exclusive members-only perks, join my YouTube membership community.
Order The Modern Pioneer Cookbook (Optional Paid) - Get a printed book of Mary's nourishing recipes from a Traditional Foods Kitchen. This bestselling cookbook is published by Penguin Random House with their DK imprint.
I look forward to having you join me in my Texas Hill Country Kitchen!
Shop for items used in this blog post or video
Favorite Kitchen Supplies
More Kitchen Supplies with Discount Codes
Use my Mockmill affiliate link for a special one-time 5% discount on Mockmill Stone Grain Mill products, including the new Flake Lover's Flaker. (The Mockmill discount will appear when you checkout.)
Use promo code MARYSNST for a one-time 15% off Masontops and Breadsmart products on Amazon.com.
Amazon Shop and Shopping Guide
Recommended Reading