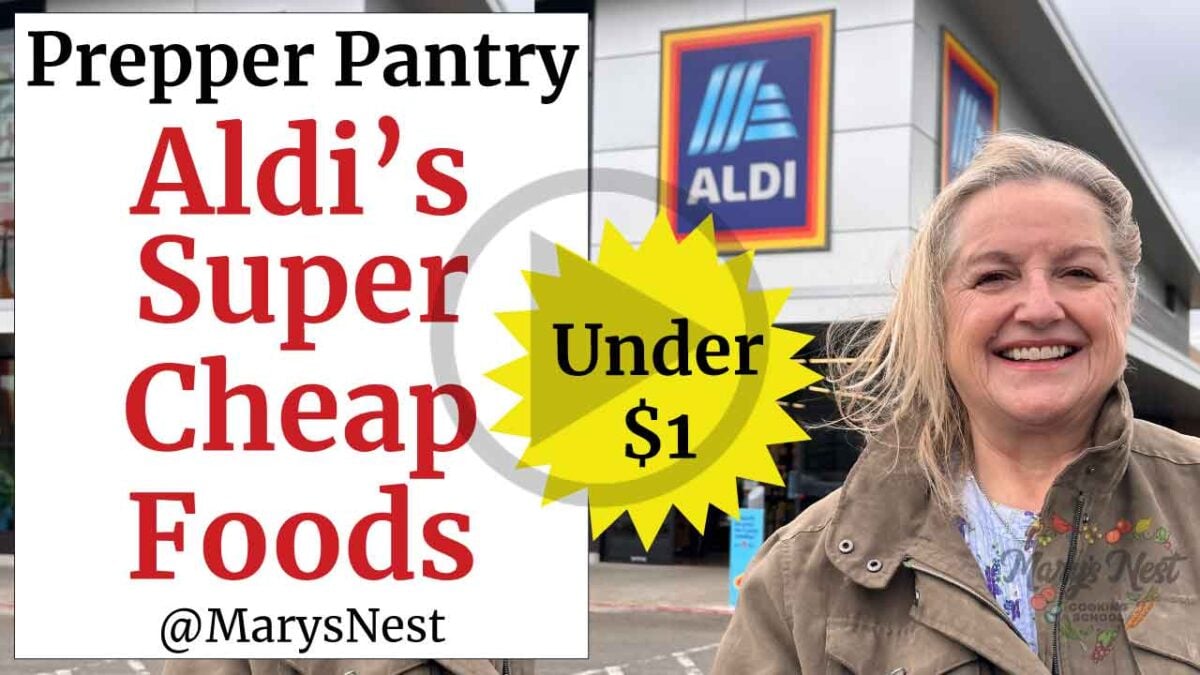 It seems like every day, prices on food are rising, so whenever we can find a bargain like the super cheap foods under $1.00 sold at Aldi, it's time to stock up!
In today's video, I take you on a tour of an Aldi in Central Texas, where I show you the real food bargains you can get for under a dollar. And in this blog post, I discuss some of the foods in more detail and share some of Aldi's Easter goodies with you. I also show you how prices for some foods have increased over time. (My section highlighting price increases attracted a lot of interest in my past Aldi posts.)
But let's talk about the cheap foods first! You'll want to stock up on these non-perishable foods and store them in your Working and Prepper Pantries. I'm confident you have these same bargains at your local Aldi.
Aldi's Super Cheap Foods
When you shop at Aldi, or even at your local grocery store, be sure to scan the aisles for real foods that can cost you $1.00 or less. You may have to look at the shelves that are lower or higher than eye level.
You'll be amazed at the number of real foods you'll find. Perhaps not surprisingly, these foods will be considerably lower in price than packaged foods that often contain a host of ingredients that we do not want in our traditional foods kitchens!
As you traverse your grocery aisles, be on the lookout for canned foods. Many canned foods are often single-ingredient foods with little else added. This is especially the case with canned real foods, which are shelf stable and perfect for stocking in your Working Pantry and Extended Pantry (or Prepper Pantry).
Why Super Cheap Foods Are Perfect for The Four Corners Pantry
If you are new to the term Four Corners Pantry, it refers to the most common places we stock foods in our home, which include:
Corner #1: The Working Pantry – Where you store non-perishable foods that you access every day to prepare meals.
Corner #2: The Refrigerator
Corner #3: The Freezer
Corner #4: The Extended Pantry or "Prepper" Pantry – Where you store extra or back-up non-perishable food that you use to restock your Working Pantry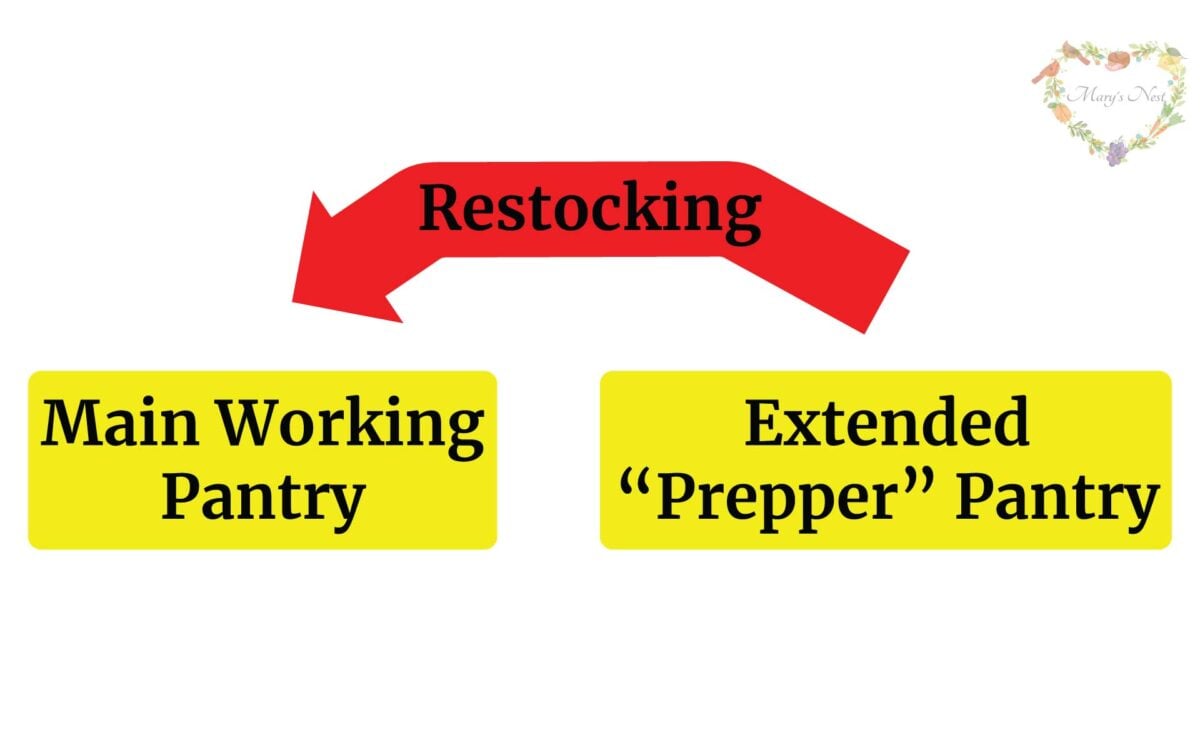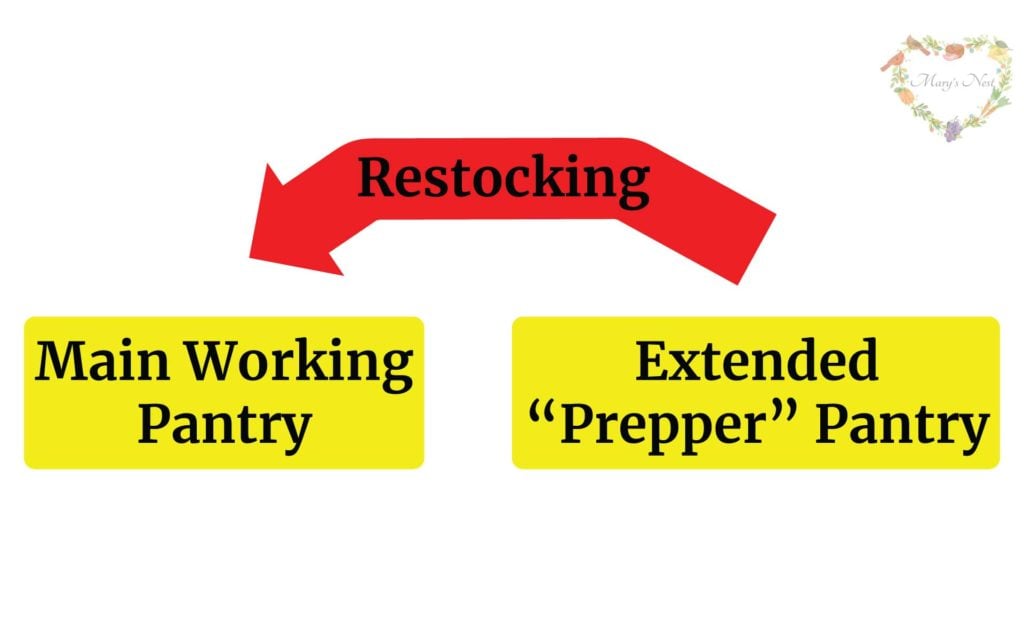 Whenever you find the foods you need on sale or at a bargain price, it's time to stock up! Buy the foods in your budget and store them in your Four Corners Pantry. In today's Aldi video, I focus on the 10 non-perishable super cheap foods that are perfect for stocking up on for both your Working Pantry and your Prepper Pantry.
How to Inventory Your Pantry Contents
When you run across sale items at Aldi or your grocery store, it's easy to remember how much you have of the foods you use often. For example, you probably know the amount of milk or eggs you have in your refrigerator. But how about the cans of vegetables in your Working Pantry or Prepper Pantry? That's why it's helpful to keep an inventory of your items.
In my Why You Need to Stock Up On these Top 15 Foods Now video, I talk about the non-perishable foods you'll want to keep in your Prepper Pantry. And just as importantly, I provide you with two free checklist files you can download to help you inventory your supplies, stock up on the 15 foods, and keep a well-stocked Four Corners Pantry.
Top 10 Super Cheap Foods at Aldi
The top 10 super cheap foods under $1 that I found at Aldi included:
Hot Beverages
Condiments
Canned Green Chiles
Canned Tomatoes with Chiles
Refried Beans (with lard!)
Fideo (perfect for making homemade rice-a-roni)
Herbs and Spices
Canned Fish
Canned Beans
Canned Veggies
Be sure to watch the video where I also share with you a couple of bonus items! Plus, I also show you their selection of adorable Easter goodies—all reasonably priced—perfect for creating Easter baskets.
Creating Meals with the Foods You Stock Up On
When it comes to stocking your Four Corners Pantry and specifically your Working Pantry and your Prepper Pantry, you might need meal ideas for how to use what you have stored. I've got you covered with these easy, yet delicious, pantry meals:
The Depression Era Tuna Pie recipe is one of my favorites. In today's Aldi video, I show you the ingredients you can use to make this tasty pie, including canned tuna and canned vegetables. Then, add a few more ingredients, including what you need to make the tasty crust, and you have a delicious family meal for just a few dollars!
Price Increases at Aldi
It's a good idea to stock up on the super cheap foods I share with you in today's video because you don't know how long those prices will last. Given the inflationary times we live in, I shouldn't be surprised to see higher prices on food items, but it's still concerning to see prices go up on the foods that I typically stock and use.
In this section, I show you some of the price increases I saw since the last time I shopped at Aldi. Of course, higher prices are not just at Aldi. You'll see them at your local grocery and big box stores too. Although news reports say inflation is moderating, it's still going up. Who knows what prices we'll find in the weeks and months ahead? That's why when you find a bargain on foods you can use, be sure to stock up.
Eggs
Let's start with eggs. We all know that they've shot up in price lately for a variety of reasons, and there was a point at which they became hard to find. Thankfully, I've seen the inventory of eggs go back to about normal at most of the stores I've visited, and the prices have come down a little from their peak. However, as you can see, prices are still higher than they were around a year ago.
In May 2022, you could get a dozen of their Goldhen eggs for $1.99, but in March 2023, the price rose to $2.51, which is about a 26% increase in less than a year. I hope the March 2023 price is still less than what you may have seen at Aldi or your local grocery store earlier this year.
Canned Fruit
Wow! In just a few months, some of Aldi's canned fruit has shot up in price. In November 2022, canned pears were just 99 cents. In March 2023, the price went up to $1.35. That's about a 37% increase. Alas. If you were looking to find canned fruit in today's Aldi cheap foods video, that's why you didn't see it.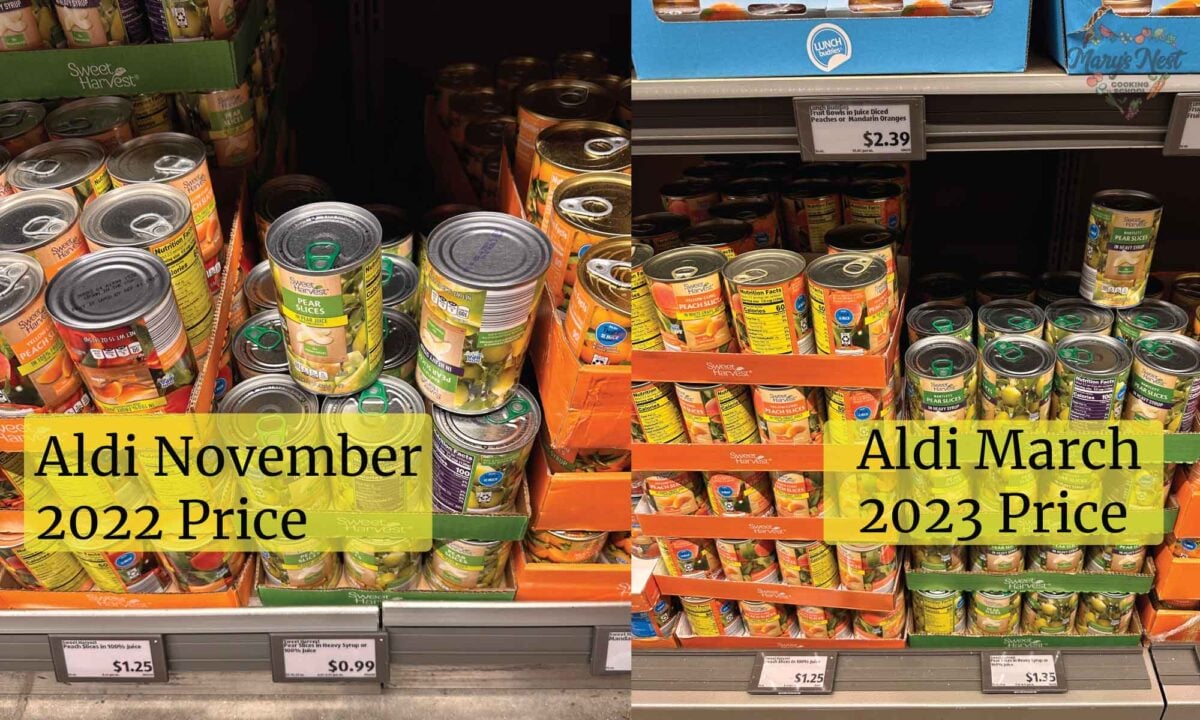 At least in the picture, it looks like the canned peach prices stayed the same at $1.25. Note that anytime you buy canned fruit for your Working or Prepper Pantry, be sure to get the ones packed in their own juices. Although they may be tasty, you don't want the ones packed in heavy syrup since they contain additional sweeteners you don't need.
Olive Oil
The Simply Nature Organic Extra Virgin Olive Oil also went up in price from May 2022 to March 2023, increasing from $4.29 to $4.49. Notice that the latest price is also an Aldi Saver price. The regular price is $4.65, which is around an 8% increase from about a year ago.
Baking Ingredients
Baking soda has been on a bumpy price road. In May 2022, you could get pure baking soda under Aldi's Baker's Corner brand for just 60 cents. In August 2022, the price shot up to 72 cents before dropping to 69 cents in March 2023. So between May 2022 and March 2023, this baking ingredient went up 15% in price. At least the quantity (16 oz) is still the same!
Oats
You know I also love having oats in my traditional foods kitchen. I prefer oat groats first, since they are the least processed. Next, if I had to choose between steel-cut oats and old-fashioned oats, I would select steel-cut oats since, again, they are less processed than old-fashioned oats.
Between old-fashioned oats and quick oats, my choice is simple. I would always choose old-fashioned oats and never the quick oats, which are the most processed of all.
Unfortunately, prices have gone up with oats too. As you can see in this picture, the price of Aldi's old-fashioned rolled oats has steadily risen. In May 2022, they were $2.55. Then in November 2022, they went up to $3.39 and continued to rise to $3.79 in March 2023. That's about a 49% increase in price in less than a year. Don't let anyone tell you there's no inflation at the grocery store.
Frozen Food
You can see the price increases in the frozen food aisle too. Of course, you can't store frozen foods in your Working or Prepper Pantries. Instead, you'll place them in your freezer, which is part of your Four Corners Pantry.
Since most of us have limited freezer space, unlike the room in our Prepper Pantry, which could be spread out between multiple places in our home, we can't always stock up on frozen food bargains. However, we can be aware of what we have and what we need so that when we see a good price, we can pick up a few bags or boxes to stash away in our freezers for when we need them.
Here's an example of Aldi Season's Choice Steamable Frozen Peas that have risen in price from May 2022 to March 2023. From 79 cents to 95 cents, that's a 20% price increase. Note the change too from printed price labels to the easily changeable electronic ones. (You'll see that in the other pictures too.)
Butter
You know I love using real butter in my recipes, and I encourage you to always have a good supply of butter in your traditional foods kitchen. (You can freeze the extra butter that doesn't fit into your refrigerator.) Out of the butter brands, I especially like Kerrgygold. It's an Irish butter with a flavor that I've come to enjoy.
Aldi also offers an Irish butter under their Countryside Creamery brand. Last November 2022, you could purchase it for $3.45, and during my latest visit in March 2023, it was on sale for $3.29. That's an Aldi Savers price, but after the sale, it goes back to the same $3.45 price as it was late last year. (In the picture, you can also see other butters for sale at various prices.) Glad to see some prices staying the same or going even lower!
As you can see, the news is not all bad. Just like I found real foods under $1 at Aldi in today's video, you'll find cheap foods at your neighborhood store too. Just be on the lookout for sales, bargains, and that magical place: the clearance aisle.
Easter Items at Aldi
In my last Aldi video, I highlighted some of the holiday goodies they had on display for Thanksgiving and Christmas celebrations. In this video, I show you some of the Easter treats they had available, including the different chocolate candies in the following endcap display.
Here's a close up of the chocolate Easter bunnies wrapped in foil that children of all ages could enjoy. Did you know a group of rabbits is also called a fluffle? That's why I call this display Aldi's fluffle of Easter rabbits.
Unusual Items I Found at Aldi
During my shopping trip at Aldi, I saw some unusual items that may have been left over from earlier holidays. Let me share them with you…
Frozen Ducks
In Aldi's waist-level freezers that you can access from the top by opening their sliding glass doors, I found a gaggle of frozen ducks!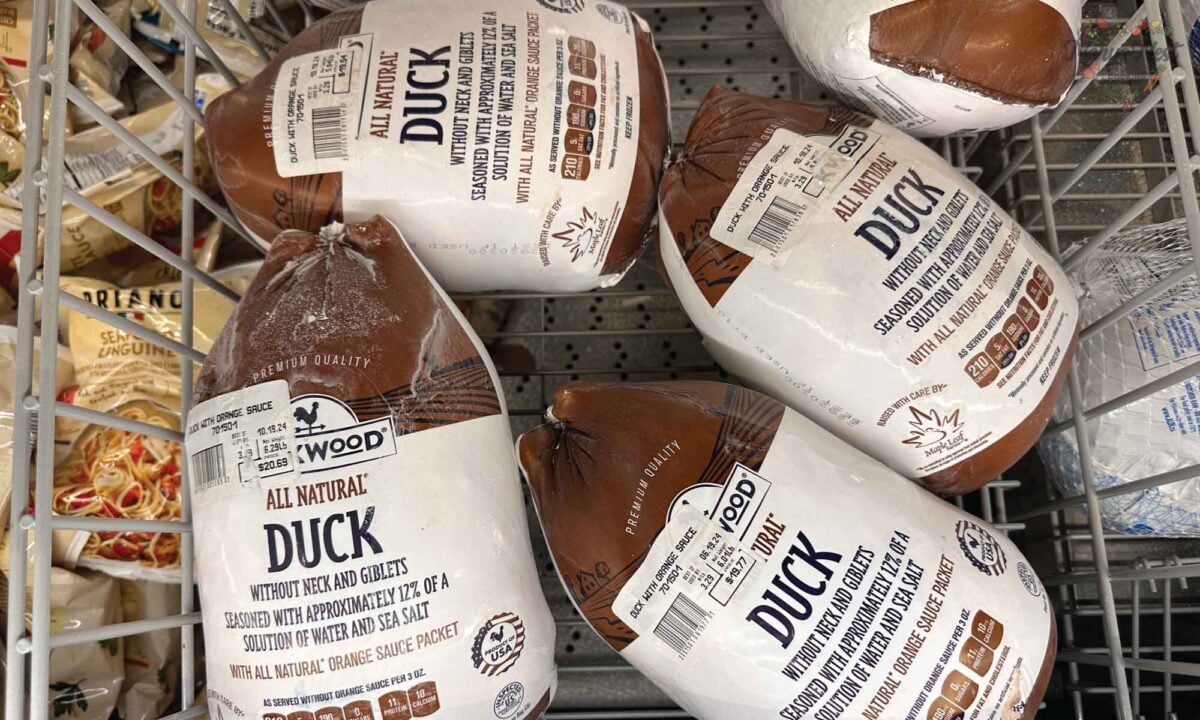 If you have yet tried roasting a duck, you're in for a treat. I show you how easy it is to do in the following video. The recipe I share for a duck roasted with an orange marmalade glaze is literally—as the saying goes—finger lickin' good!
And speaking of marmalade, if you have never made it, you will love trying your hand at making and home canning my Three Citrus Marmalade. I walk you through the entire process step-by-step, which is perfect both for those new to making marmalade as well as those new to home canning. At the end of the recipe, you'll have a tasty marmalade and new kitchen skills that will last a lifetime.
Pumpkin Pie Mix
Even though it's not Thanksgiving, if you have a hankering for pumpkin pie, Aldi has you covered! And the Pumpkin Pie Mix is only 57 cents per can, down from $1.14. At those prices, you can stock up now for the holidays later this year.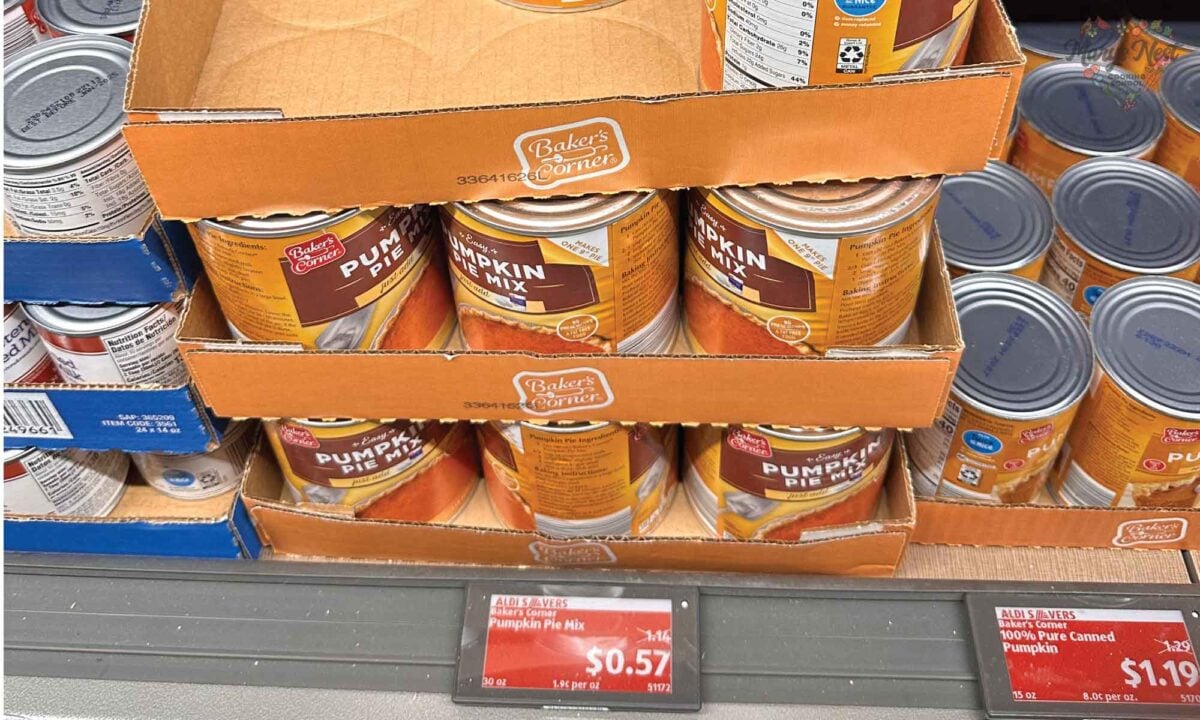 Here's a recipe to use now or tuck away for next Thanksgiving. I show you how to make the easiest pumpkin pie ever, including a no-roll crust!
And if you are a fan of Little House on the Prairie, come join me to learn how to make a pumpkin pie just like Ma Ingalls.
Unusual Items I Didn't Find at Aldi
When I went shopping at Aldi early last year, I remember picking up a bag of Winternacht Spekulatius Spiced Cookies, which are shaped like windmills. They're fun for kids of all ages to enjoy with a nice beverage, like some warm tea, after dinner. Depending on how young you are, you may start out by:
Nibbling on the top part of the windmill cookie until you reach the base,
Eating all around the window in the middle of the cookie, or
Just taking random bites starting at the top or bottom.
I didn't see any of those cookies left over from last Christmas on my latest visit. They would have been nice to save alongside the chocolate treats I found for Easter celebrations. It's perhaps just as well since I can always make some healthy homemade treats, like Cowboy Cookies, for us to enjoy.
Will you find frozen duck or pumpkin pie mix at your local Aldi? Perhaps, and maybe you'll find other leftover foods from the holiday season at reduced prices. That's the fun part about shopping at Aldi. You can get what you need and some bargains on items you didn't know you needed.
More Aldi Videos
If you enjoy shopping at Aldi, be sure to watch the following videos, where I share my favorite real foods from Aldi that are perfect for stocking in your traditional foods kitchen.
Download Your Free 36-Page Pantry List
For an extensive list of the traditional foods you can make and purchase to stock your pantry, be sure to download my free 36-page Traditional Foods Pantry List. This comprehensive eBook is full of links to recipe videos, helpful articles, and more!
Kitchen Academy Videos
Are you looking for more traditional foods videos? If so, I invite you to join the Traditional Foods Kitchen Academy. Members of this optional paid YouTube community get access to exclusive videos, live streams, and other members-only perks. Plus, your YouTube comments include a special members-only badge.
In the following members-only video, I go behind the scenes with my working pantry.
Stay in Touch with Mary's Nest
Subscribe to My YouTube Channel for Traditional Foods Videos (Free) - When you subscribe, be sure to click on the notification bell that will let you know each time I upload a new video.
Subscribe to Mary's Traditional Foods Newsletter (Free) - Get a free 36-page eBook for signing up: How to Stock Your Essential Traditional Foods Four-Corners Pantry.
Join the Traditional Foods Kitchen Academy (Optional Paid) - For more detailed videos, live streams, and exclusive members-only perks, join my YouTube membership community.
Preorder The Modern Pioneer Cookbook (Optional Paid) - Get a printed book of Mary's nourishing recipes from a Traditional Foods Kitchen. This cookbook will be published by Penguin Random House with their DK imprint.
I look forward to having you join me in my Texas Hill Country Kitchen!
---
Shop for items used in this blog post or video
Favorite Prepper Pantry Supplies
Favorite Kitchen Supplies
More Kitchen Supplies with Discount Codes
Use my Mockmill affiliate link for a special one-time 5% discount on Mockmill Stone Grain Mill products, including the new Flake Lover's Flaker. (The Mockmill discount will appear when you checkout.)
Use promo code MARYSNST for a one-time 15% off Masontops and Breadsmart products on Amazon.com.
Amazon Shop and Shopping Guide
Visit my Shopping Guide page
Get up to 15% off for stocking your Traditional Foods Pantry and equipping your Modern Pioneer Kitchen, including discounts from US Wellness Meats, Mockmill Grain Mill, Masontops, Cultures for Health, Survival Garden Seeds, Redmond Real Salt, Plan to Eat, and More!
Recommended Reading
**Disclaimer: I am not a medical doctor, a medical professional, a dietician, or a nutritionist. All content found on the MarysNest.com website, including text, images, videos, eBooks or eGuides, social media, or other formats, were created solely for informational purposes only. The content is not intended to be a substitute for professional medical advice, diagnosis, or treatment. Always seek the advice of your physician or other qualified healthcare provider with any questions you may have regarding a medical condition or proper nutritional advice. Never disregard professional medical advice or delay in seeking it because of something you have watched in a video or read on this website. Use caution when following the recipe in this video. The creator and publisher of this video and website will not be held responsible for any adverse effects that may arise from the use of this recipe and method or any other recipe and method on this website or corresponding video channel.