Affiliates note: As an Amazon Associate I earn from qualifying purchases. My content may contain affiliate links to products and services. If you click through and make a purchase, I'll receive a small commission. It does not affect the price you pay.
Here is an Easy Pumpkin Pie Recipe from Scratch with a No-Roll Crust that is perfect for your Thanksgiving or holiday table. With such a simple crust, this pie can be pulled together and be ready to pop into the oven in no time!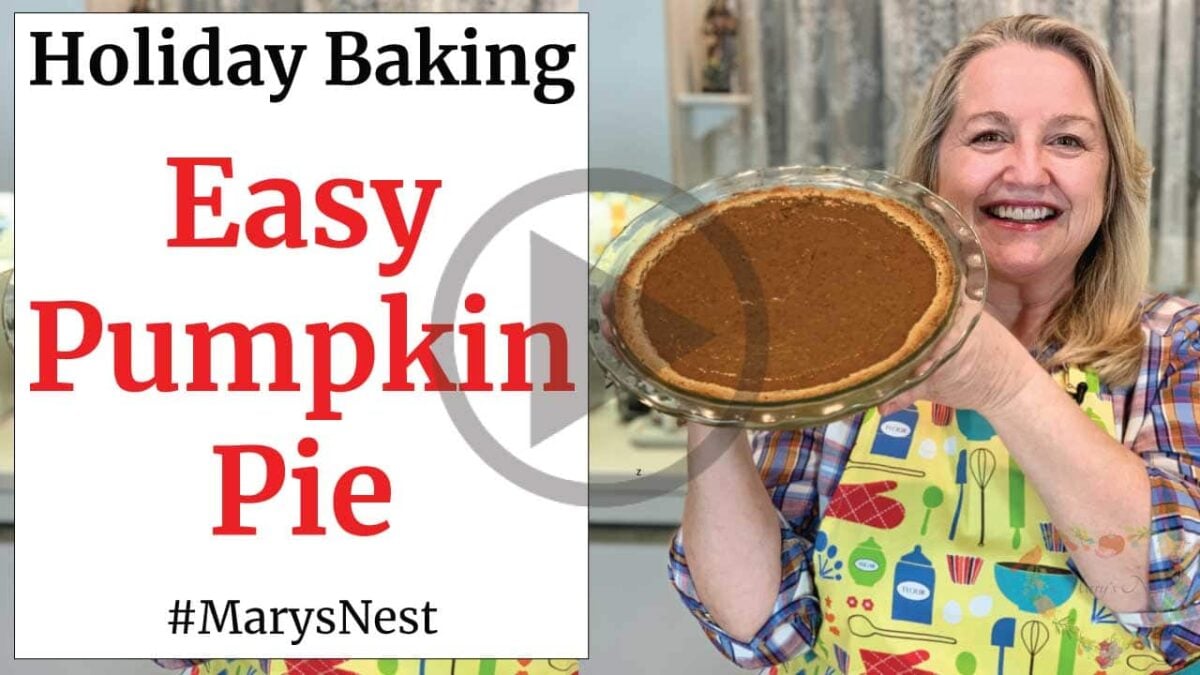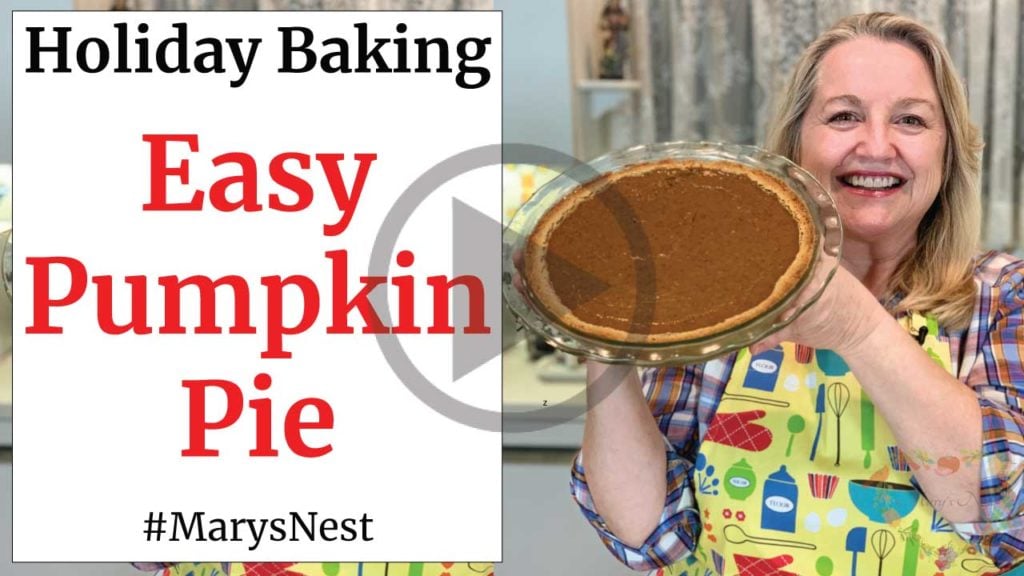 A No-Roll Crust!
When you already have so much to do on Thanksgiving, why worry about having to roll out a traditional pie crust?
Instead, try this no-roll crust, which involves mixing only four ingredients together and then dumping everything into a pie dish. Pour in your pumpkin pie filling, and you're all set to pop this pie into the oven. The prep time for this recipe is literally only minutes!
Pumpkin Pie or Tart
Plus, this pie crust is so flexible that you can easily convert this recipe into a fancy pumpkin tart by using a springform pan or a traditional tart pan. Just drop the pie crust mixture in, press it down with your hands, pour in your pumpkin pie mixture, and you're done. In about an hour, you can have what looks like a gourmet pumpkin custard dessert!
Little House on the Prairie Cookbook Pumpkin Pie
The Little House on the Prairie books contain delightful stories about the Ingalls family and their experience as pioneers in the American Midwest. In the following video, you can learn how to make the Little House on the Prairie Cookbook pumpkin pie with a rolled crust—just like Ma Ingalls made!
For more great ideas for your Thanksgiving table, be sure to check out the videos below, including my Homemade Evaporated Milk (perfect for using with this pumpkin pie recipe!), along with my Cornbread Dressing made in a cast-iron pan and a "Copy Cat" mixture for Bell's Poultry Seasoning.
This spinach ricotta pie makes a tasty appetizer, side dish, or holiday entree for family and friends who follow a lacto-ovo vegetarian diet.
Surprise yourself and your family and friends with this easy and memorable French Pot-au-Feu recipe made with turkey necks.
Make this rich, creamy pumpkin soup from an easy Seventeenth Century Heirloom Recipe.
Download Your Free 36-Page Pantry List
For an extensive list of the traditional foods you can make and purchase to stock your pantry, be sure to download my free 36-page Traditional Foods Pantry List. This comprehensive eBook is full of links to recipe videos, helpful articles, and more!
And if you're looking for a printed book full of my traditional foods recipes that shows you how to create a traditional foods kitchen, be sure to order your copy of my new book, The Modern Pioneer Cookbook.
Kitchen Academy Videos
Are you looking for more traditional foods videos? If so, I invite you to join the Traditional Foods Kitchen Academy. Members of this optional paid YouTube community get access to exclusive videos, live streams, and other members-only perks. Plus, your YouTube comments include a special members-only badge.
In the following members-only video, I talk about Whole Grain Baking for the Traditional Foods Kitchen.
I chat about why it was important for me to create this comprehensive curriculum for students in grades K-12.
I share upcoming recipes and what I have planned for my Mary's Nest YouTube channel in 2024.
During this month's members-only live stream, we talked about a variety of topics, including a preview of upcoming videos.
Stay in Touch with Mary's Nest
Subscribe to My YouTube Channel for Traditional Foods Videos (Free) - When you subscribe, be sure to click on the notification bell that will let you know each time I upload a new video.
Subscribe to Mary's Traditional Foods Newsletter (Free) - Get a free 36-page eBook for signing up: How to Stock Your Essential Traditional Foods Four-Corners Pantry.
Join the Traditional Foods Kitchen Academy (Optional Paid) - For more detailed videos, live streams, and exclusive members-only perks, join my YouTube membership community.
Order The Modern Pioneer Cookbook (Optional Paid) - Get a printed book of Mary's nourishing recipes from a Traditional Foods Kitchen. This bestselling cookbook is published by Penguin Random House with their DK imprint.
I look forward to having you join me in my Texas Hill Country Kitchen!
Easy Pumpkin Pie Recipe from Scratch with a No-Roll Crust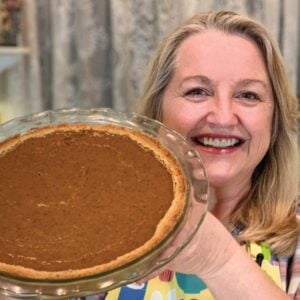 Make this easy pumpkin pie that can be prepared in minutes thanks to a no-roll crust!
Equipment
Deep Dish Pie Plate, Springform Pan, or Traditional Tart Pan
Ingredients
For the Pie Crust
1 1/3

cups

All-purpose flour

Can be substituted with whole grain flour

2/3

cup

Sugar

1/2

teaspoon

Cinnamon, ground

1 1/2

sticks

Butter, cold

12 tablespoons of butter or 3/4 cup
For the Pie Filling
3/4

cup

Sugar

White sugar, brown sugar, or dried cane juice can be used. If you use molasses, then decrease evaporated milk to one cup (8 ounces).

1

teaspoon

Cinnamon, ground

1/2

teaspoon

Salt

1/2

teaspoon

Ginger, ground

1/4

teaspoon

Cloves, ground

2

large

Eggs, slightly beaten

2

cups

Pumpkin puree

Or a 15 ounce can of pumpkin. Make sure it is pure pumpkin and NOT pumpkin pie filling.

1 1/2

cups

Evaporated milk

Or one 12-fluid ounce can of evaporated milk

1/2

cup

Heavy whipping cream, optional
Instructions
For the Pie Crust
Add all ingredients to a bowl and mix with a pastry cutter, two forks, or two knives until the mixture resembles pea-sized shapes.

Using clean hands, press mixture into pie plate coming just up the sides of the pie plate but do not cover the outer rim of the pie plate. If using a springform pan, press mixture up to 1-inch on the sides of the pan. If using a tart pan, press mixture to completely cover the sides of the pan.

Place pie plate on a parchment paper or aluminum foil lined baking sheet. Set aside.
For the Pie Filling
Mix all ingredients together in a bowl until a smooth mixture is achieved.

Pour mixture into pie crust.

Place pie (which should be on a lined baking sheet) into the 425°F oven for 15 minutes. After 15 minutes, adjust oven heat to 350°F. Bake pie for an additional 40-50 minutes until a knife inserted in the center comes out clean.

Check on the pie once during baking to make sure that the rim of the crust is not over-browning. If so, use a pie shield or a rim of aluminum foil to protect the crust during the remaining baking time.

Allow pie to cool for 2 hours at room temperature (or refrigerate) before serving.

If desired, whip cream and dollop onto pie. Whipped cream can be mixed with cinnamon, but I recommend not adding sugar as this pie is quite sweet and the unsweetened cream offers a nice complement to the pie.
Notes
Find this recipe and video at https://marysnest.com/easy-pumpkin-pie-recipe/
To make your own evaporated milk, visit my recipe and video at https://marysnest.com/how-to-make-evaporated-milk/
Copyright © 2019 Mary's Nest, LLC, All Rights Reserved
Nutrition
Calories:
76
kcal
|
Carbohydrates:
16
g
|
Protein:
2
g
|
Fat:
0.2
g
|
Saturated Fat:
0.03
g
|
Polyunsaturated Fat:
0.1
g
|
Monounsaturated Fat:
0.02
g
|
Sodium:
0.4
mg
|
Potassium:
22
mg
|
Fiber:
1
g
|
Sugar:
0.1
g
|
Vitamin A:
0.4
IU
|
Calcium:
3
mg
|
Iron:
1
mg
Watch Mary's Nest on YouTube
Shop for items used in this blog post or video
Favorite Kitchen Supplies
Amazon Shop and Shopping Guide
Visit my Shopping Guide page
Get up to 15% off for stocking your Traditional Foods Pantry and equipping your Modern Pioneer Kitchen, including discounts from US Wellness Meats, Farmhouse Teas, Lehman's, Masontops, Cultures for Health, Survival Garden Seeds, Redmond Real Salt, Plan to Eat, and More!
Recommended Reading