Learn about the top 15 foods you need to stock up on now for your Prepper Pantry, which is part of your Four Corners Pantry. In doing so, you'll stay ahead of inflationary prices and possible food shortages due to supply disruptions, severe weather, or other unexpected events.
And be sure to download my two free checklist files to help you inventory your supplies, stock up on the 15 foods, and keep a well-stocked Four Corners Pantry. You can print out the files, fill out the checklists, and use them on your upcoming shopping trips.
At the end of the process, you'll be well prepared to provide you and your family with nutritious meals no matter what the future holds.
Why Do We Want to Stock Up on Food?
If the term Prepper Pantry is new to you, it is part of what I like to call the Four Corners Pantry, which includes your:
Working Pantry – where you stock non-perishable shelf-stable foods you access every day
Refrigerator
Freezer
Extended or Prepper Pantry – where you stock non-perishable, shelf-stable foods that serve as backup supplies to restock your Working Pantry when it runs low on food.
You can stock up on food in any part of your Four Corners Pantry, but you'll have the most space in your Prepper Pantry. Plus, you can also store emergency supplies in your Prepper Pantry.
To learn more about why we all need a Prepper Pantry, how to stock a Prepper Pantry with real food, and how to do this by adding only $5 more a week to your grocery budget, be sure to watch my Prepper Pantry series.
We want to keep our Prepper Pantry well stocked with food because various events might prevent us from being able to go grocery shopping. These include:
Bad weather
Illness
A tight budget due to job loss or other unforeseen circumstances
If we have a well-stocked Prepper Pantry, it becomes an insurance policy that protects us from running out of food. If food runs low in our Working Pantry, we simply go shopping in our Prepper Pantry.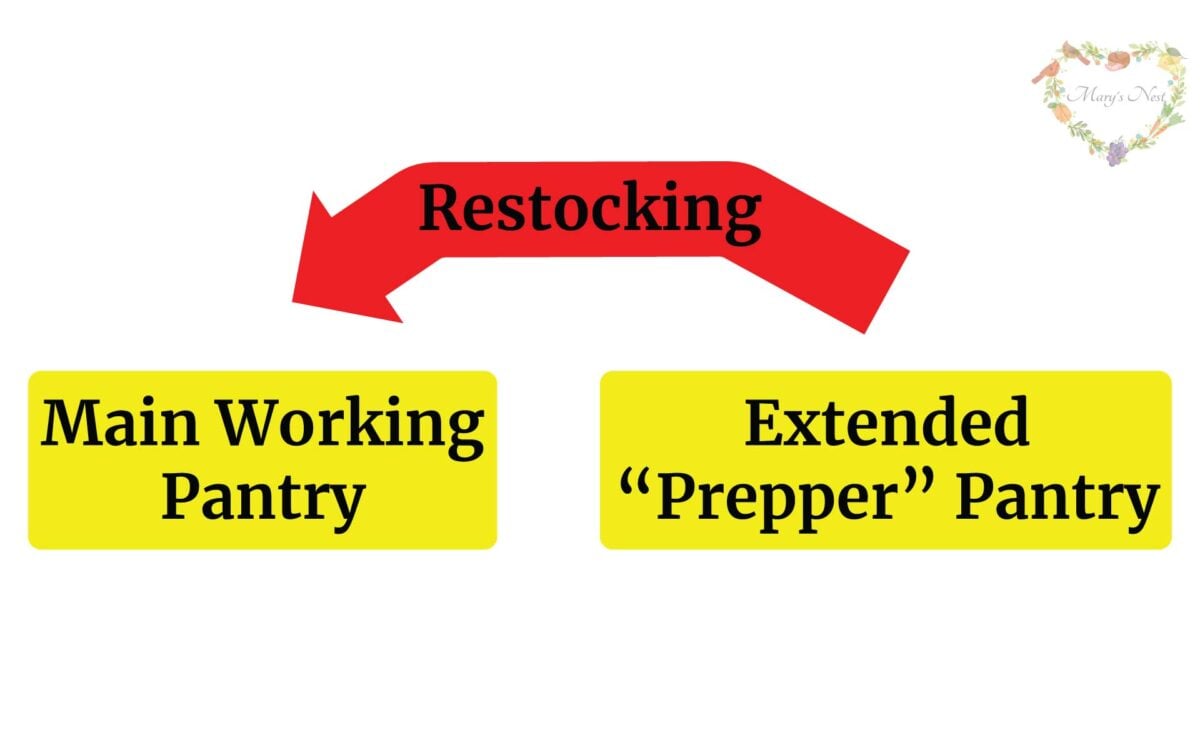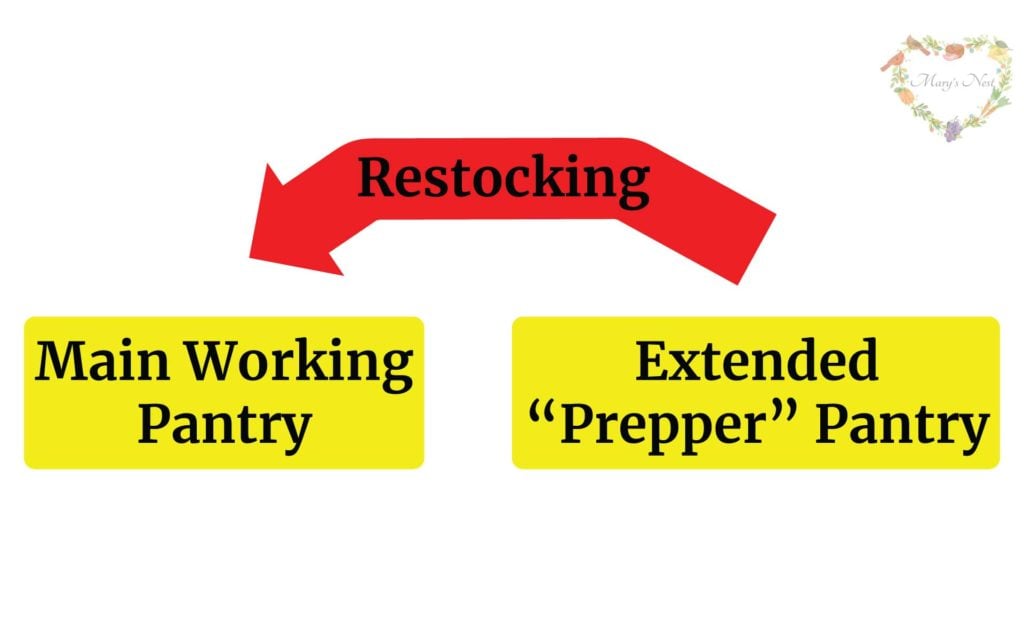 What Foods to Stock in a Prepper Pantry
When it comes to choosing the right foods to stock in your Prepper Pantry, you want to select foods that easily transition to restocking foods in your Working Pantry. These include non-perishable foods with a shelf life of at least one year. But often, when stored properly, many foods stored in a Prepper Pantry can last well beyond their "Best Used By" date.
In my Top 15 Foods to Stock video, I review the foods you want to consider stocking in your Prepper Pantry. At a high level, these foods include:
Basic Baking Supplies: Including packaged yeast
Beans: Canned and Dried
Beverages: Especially bottled water
Chicken: Canned and dried
Fats: Including ghee, coconut oil, olive oil, and tallow
Fish: Canned and dried
Fruits and Vegetables: Bottled, canned, and dried
Meats: Bottled, canned, and dried
Milk and Alternative Milks: In dried or aseptic-type packaging
Nuts and Nut Butters: Choose ones with limited ingredients
Pasta: Made from Durham Semolina
Rice: Preferably long grain and basmati white rice
Salt: Iodized and sea salt
Sugar: White and whole unrefined sweeteners
Wheat Products: All-purpose and bread flours, as well as whole grains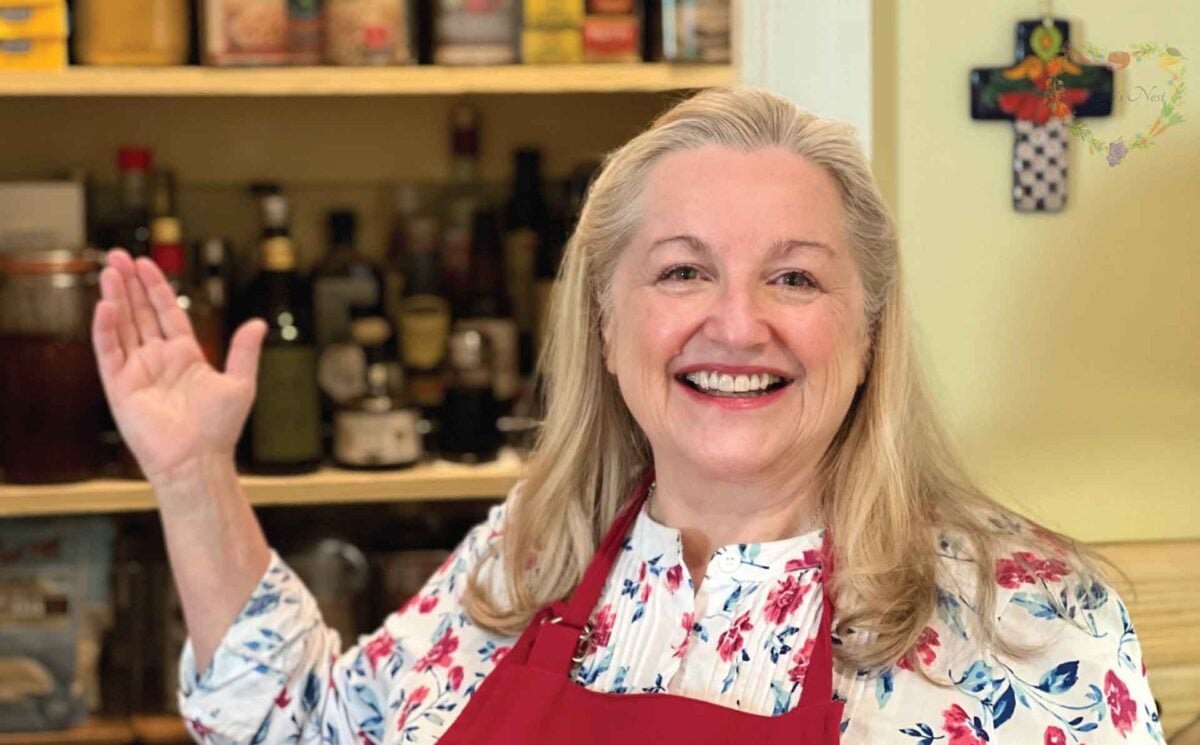 How to Conduct an Inventory to Know What Food to Stock Up On
When it comes to creating and stocking a Prepper Pantry, you first want to conduct an inventory to see what you already have on hand. Be sure to download the printable checklists I created to help you with this task.
You can use the Four Corners Pantry checklists to help you inventory what you have in your Working Pantry, refrigerator, and freezer. The inventory checklists will also help you keep track of what you have in your Prepper Pantry, so you'll know what you need to stock. And once you know what you have, you can create a grocery list based on what you need.
When you bring home your new food items to stock in your Prepper Pantry, remember to place them in the order of first-in, first-out (FIFO). Following a FIFO process will help prevent your food from getting lost in the back of your Prepper Pantry and losing nutrition or going stale.
Free Printables to Keep a Well Stocked Four Corners Pantry
To help you keep a well-stocked Four Corners Pantry, I have two free checklist files you can download and print out. (And be sure to store your printable files in your kitchen journal.)
Download PDF link #1: How to Keep a Well-Stocked Four Corners Pantry
Download PDF link #2: Top 15 Foods to Stock Up on Now
First, use the checklists in the Well-Stocked download file to inventory your Four Corners Pantry and create your shopping list. Second, use the Top 15 Foods download file to plan the additional foods to purchase to ensure you have the long-term foods you need for your Prepper Pantry.
How to Prevent Food You Stock Up On from Going Bad?
One of the most important things you can learn when it comes to what you stock up on for your Prepper Pantry is that non-perishable, shelf-stable food rarely goes bad, according to the United States Department of Agriculture (USDA).
Might the food begin to lose some nutrition over time? Yes. Might it go stale? Yes. But in terms of canned, bottled, or boxed foods going bad, that is very unlikely as long as they are stored properly.
Learn more about how long you can keep food with the following USDA resources: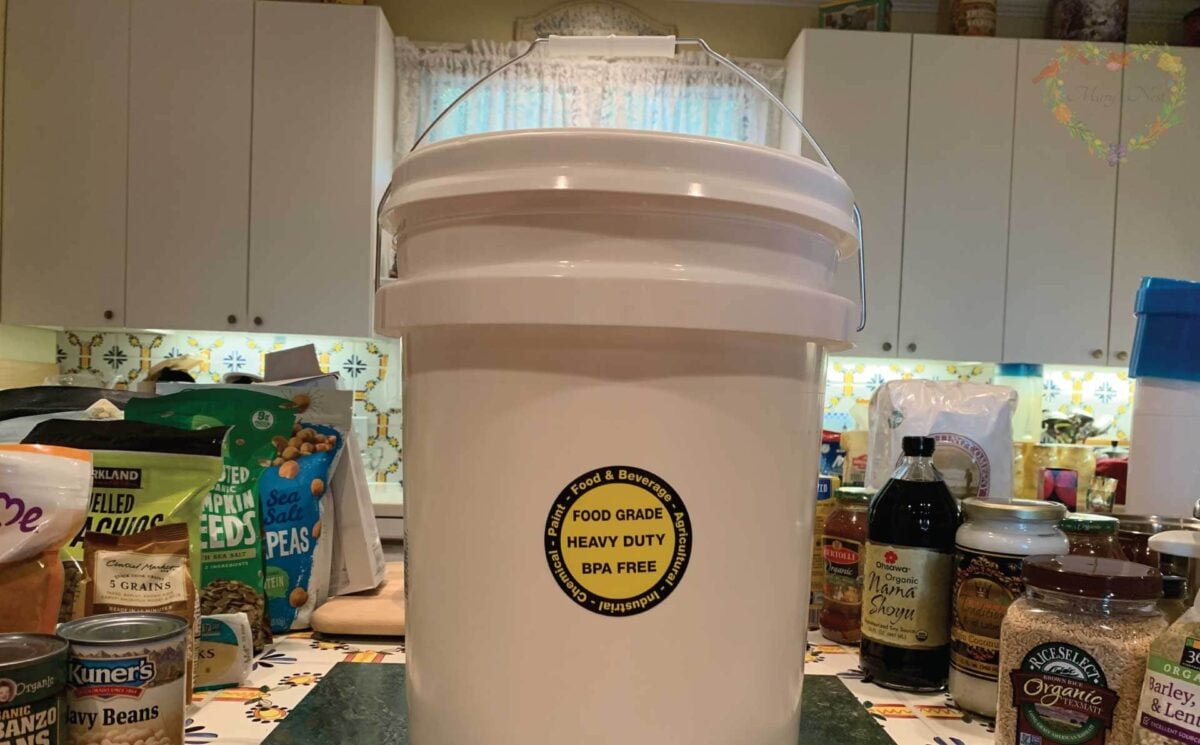 Make Sure Your Food Is Stored Correctly
Even though most non-perishable food does not go bad, you still want to make sure that you store it correctly. Doing so will extend the food's shelf-life because you will preserve the nutrition of the food and keep it as fresh tasting as long as possible. This is easier to do than you might think!
When it comes to bottled or canned foods, as long as you keep them dry and cool—and they remain undamaged—you should be able to consume the food contained within them long past their best-by or best-used-by date.
But what about boxed and bulk foods such as rice and whole grains? These take a bit more planning, but it's certainly not difficult. You just need to learn which systems are best for storing a particular type of food.
How to Properly Store the Food You Stock Up On
You have many options when it comes to stocking non-perishable foods to extend their shelf life. Three of my favorite long-term food storage containers include:
Air-tight buckets
Mylar bags
Vacuum sealing bags and jars
Note: Get a list of my favorite Prepper Pantry Supplies.
You also need to know the difference between an oxygen absorber and a silica gel pack and when to use one or the other. But don't be overwhelmed. I explain the different storage options and equipment in the following videos.
Stock Up On Forever Foods
Some foods are considered forever foods, and these foods are perfect for your Prepper Pantry. Forever foods are basically foods that can last—as the name implies—forever. They maintain their quality, flavor, and nutrition no matter how long they are stored. Some examples include:
Instant coffee
Honey
Salt
White rice
When creating your Prepper Pantry, be sure to carve out an area where you will want to store some forever foods. To learn more about forever foods, as well as foods that have a very long shelf-life, be sure to watch my 10 best forever foods for your survival pantry video.
What is an Emergency Pantry?
When it comes to storing forever foods in your Prepper Pantry, you want to think about dedicating an area of your pantry as your Emergency Pantry—or what some call a Survival Pantry—to store some forever foods.
You'll want to stock foods that can be easily prepared in the event that you are without power and clean running water. Be sure to download my printable 2-Week Emergency Grocery List along with the accompanying meal plan. These printables show you what to buy and then how to prepare three meals per day plus snacks when you are without power and clean running water.
To get these free printables and learn more about creating an Emergency Pantry as part of your Prepper Pantry, watch the how to build a 2-week emergency food supply video.
The Importance of Stocking a Bug Out Bag with Real Food
Hopefully, we will never have to evacuate our homes, but if we do need to leave in the event of an emergency, it is vital to have a backpack of real food and supplies ready to go. These are often called "bug-out" bags, and I'll show you how to pack your emergency backpack food kit with real food. (And don't forget to download the free printable checklist that's on the blog post for the video.)
Having real food in your bug-out bag will keep you strong, healthy, and well-hydrated for at least three days while you are away from home. The importance of real food cannot be over-emphasized! You do not want to stuff a bug-out bag with junk food high in salt and sugar, which will only leave you feeling poorly…and thirsty! And when water may be in short supply, you do not want to be thirsty!
In my emergency backpack food kit video, I also share how easy it is to "multiply" one bottle of water to create the equivalent of three bottles of water!
The Importance to Stock Up On More Than Just Food
When you are creating your Prepper Pantry, keep in mind that you want to stock up on more than just food. You want to be fully prepared for whatever may come your way. I learned this the hard way during the Texas Winter Storms of 2021.
I saw the holes in my preparedness plan and vowed never to be caught off guard again. In the videos below, I share what I missed having and what I have now.
Keeping a Kitchen Journal
Although you can access information online, having a physical kitchen journal gives you a place to keep your printed materials related to the kitchen together. For example, you can store your printouts from the Internet (including the downloads in this blog post!), magazine and newspaper clippings, and paper recipes in your journal.
You can also record the results of your recipes, especially for ones that are persnickety, like ferments. The notes and records in your journal will help you on your journey from a processed foods kitchen to a traditional foods kitchen. Watch the following video and read the accompanying blog to learn how to create your own kitchen journal.
Best Salts and Sugars
Salts and sugars are part of the top 15 foods you'll want to stock up on, but which ones are the best? In the following videos, I discuss the variety of salts and sugars you can choose from and highlight the best ones. For example, I'll show you which salts contain the least amount of microplastics.
Redmond Real Salt
When it comes to using salt in my recipes, I always like to use a real salt that has not been processed and does not contain any extra added chemicals or anti-caking agents. Redmond Real Salt is perfect!
Best Baking Ingredients
Baking basics are also part of the 15 foods to stock up on now. However, which ones are the best to choose from? I show you the best ingredients to stock your baking pantry, along with gluten-free flour mixes. Both videos come with printable checklists that you'll want to keep in your kitchen journal.
Grind Your Own Flour with the Mockmill
You'll find wheat products, like all-purpose and bread flour, in my list of the top 15 foods to stock up on now. However, if you're like me, you'll also want to stock up on whole grains, since they have an extraordinarily long shelf life when stored properly in your Prepper Pantry. But if you have whole grains, like Einkorn or other wheat berries, you'll need a grain mill to turn them into flour.
When it comes to electric grain mills, after I did A LOT of research, I decided to buy a Mockmill. And am I so happy I did! The Mockmill is a very affordable but beautifully crafted German-made mill that stone grinds grain with settings ranging from 1 to 10—fine to coarse ground grain.
And I have great news! The folks at Mockmill are very kind to offer my viewers and readers a special one-time discount on any of the grain mills that they sell.
Note: You can also get the new Flake Lover's Flaker from Mockmill. Using this device, you can flake whole grain in minutes.
You can see me unbox and try out the Mockmill 100 Grain mill and Flack Lover's Flaker in the following videos. (This is not a sponsored post, I bought the Mockmill products that I show you, and I'm a happy user of their devices in my kitchen.)
Download Your Free 36-Page Pantry List
For an extensive list of the traditional foods you can make and purchase to stock your pantry, be sure to download my free 36-page Traditional Foods Pantry List. This comprehensive eBook is full of links to recipe videos, helpful articles, and more!
Kitchen Academy Videos
Are you looking for more traditional foods videos? If so, I invite you to join the Traditional Foods Kitchen Academy. Members of this optional paid YouTube community get access to exclusive videos, live streams, and other members-only perks. Plus, your YouTube comments include a special members-only badge.
In the following members-only video series, I discuss the different fats you can choose from. Fats, like shelf-stable ghee, are also among my top 15 foods to stock up on now.
I chat about why it was important for me to create this comprehensive curriculum for students in grades K-12.
I share upcoming recipes and what I have planned for my Mary's Nest YouTube channel in 2024.
During this month's members-only live stream, we talked about a variety of topics, including a preview of upcoming videos.
Stay in Touch with Mary's Nest
Subscribe to My YouTube Channel for Traditional Foods Videos (Free) - When you subscribe, be sure to click on the notification bell that will let you know each time I upload a new video.
Subscribe to Mary's Traditional Foods Newsletter (Free) - Get a free 36-page eBook for signing up: How to Stock Your Essential Traditional Foods Four-Corners Pantry.
Join the Traditional Foods Kitchen Academy (Optional Paid) - For more detailed videos, live streams, and exclusive members-only perks, join my YouTube membership community.
Order The Modern Pioneer Cookbook (Optional Paid) - Get a printed book of Mary's nourishing recipes from a Traditional Foods Kitchen. This bestselling cookbook is published by Penguin Random House with their DK imprint.
I look forward to having you join me in my Texas Hill Country Kitchen!
---
Shop for items used in this blog post or video
Favorite Prepper Pantry Supplies
Favorite Kitchen Supplies
More Kitchen Supplies with Discount Codes
Learn more about Mockmill electric grain mills for making fresh flour and their Flake Lover's Flaker that flakes whole grain in minutes.
Use promo code MARYSNST for a one-time 15% off Masontops and Breadsmart products on Amazon.com.
Amazon Shop and Shopping Guide
Visit my Shopping Guide page
Get up to 15% off for stocking your Traditional Foods Pantry and equipping your Modern Pioneer Kitchen, including discounts from US Wellness Meats, Farmhouse Teas, Lehman's, Masontops, Cultures for Health, Survival Garden Seeds, Redmond Real Salt, Plan to Eat, and More!
Recommended Reading
**Disclaimer: I am not a medical doctor, a medical professional, a dietician, or a nutritionist. All content found on the MarysNest.com website, including text, images, videos, eBooks or eGuides, social media, or other formats, were created solely for informational purposes only. The content is not intended to be a substitute for professional medical advice, diagnosis, or treatment. Always seek the advice of your physician or other qualified healthcare provider with any questions you may have regarding a medical condition or proper nutritional advice. Never disregard professional medical advice or delay in seeking it because of something you have watched in a video or read on this website. Use caution when following the recipe in this video. The creator and publisher of this video and website will not be held responsible for any adverse effects that may arise from the use of this recipe and method or any other recipe and method on this website or corresponding video channel.