How to Pack Your Emergency Backpack Food Kit with Real Food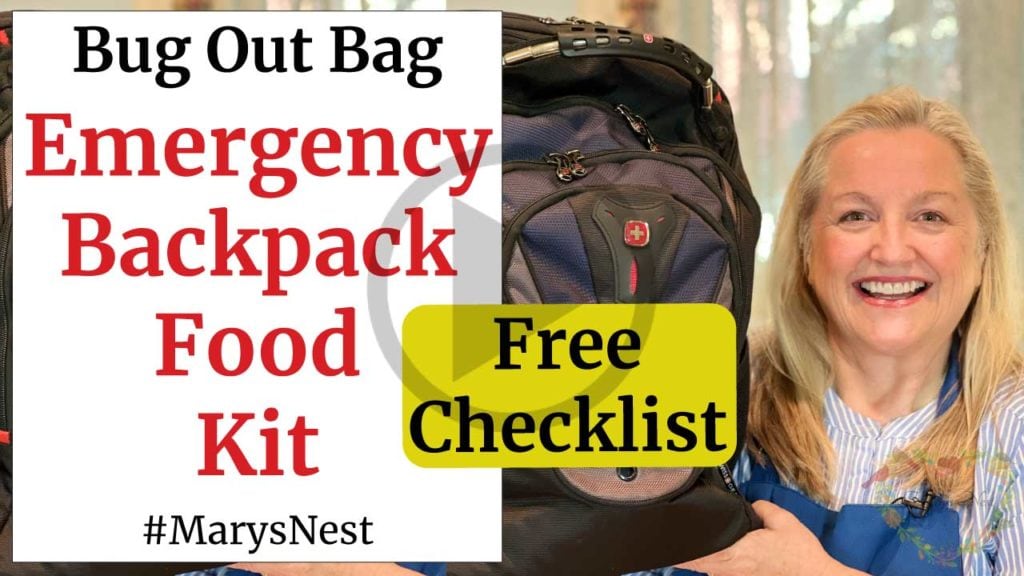 Learn how to pack your emergency backpack with real food, water multipliers, and more so that you are always prepared if you need to leave your home at a moment's notice.
As a bonus, I also cover the equipment you can use to help keep crucial medicines refrigerated, and I go over the supplies you will need in case you have to "bug out" quickly with your pets.
And be sure to download the free Emergency Bug Out Bag Food Kit Checklist that accompanies my video. You can use this free checklist to stock your emergency backpack with a three-day supply of real food and water.
Note: This is not a sponsored post. I bought and use the items in my video and this blog post.
*Affiliates note: As an Amazon Associate I earn from qualifying purchases. My content may contain affiliate links to products and services. If you click through and make a purchase, I'll receive a small commission. It does not affect the price you pay.
National Preparedness Month
Every September is National Preparedness Month in the United States, and we are all encouraged to prepare for unexpected emergencies and disasters that could happen at any time.
Being prepared means that you have the resources for yourself and your family in case:
You cannot get additional supplies for an extended period,
Help is significantly delayed in reaching you, or
You need to leave an area quickly.
Ever since the pandemic that swept across the globe in 2020, I've created a series of preparedness videos, blog posts, printable checklists, and eBooks that show you how to prepare yourself and your family to stock and use real foods during emergencies.
The most popular of my preparedness videos is my series on building your Extended or Prepper Pantry. This special pantry is where you keep your shelf-stable foods for long-term storage. You can use the supplies from your Prepper Pantry to refill your working pantry during normal times.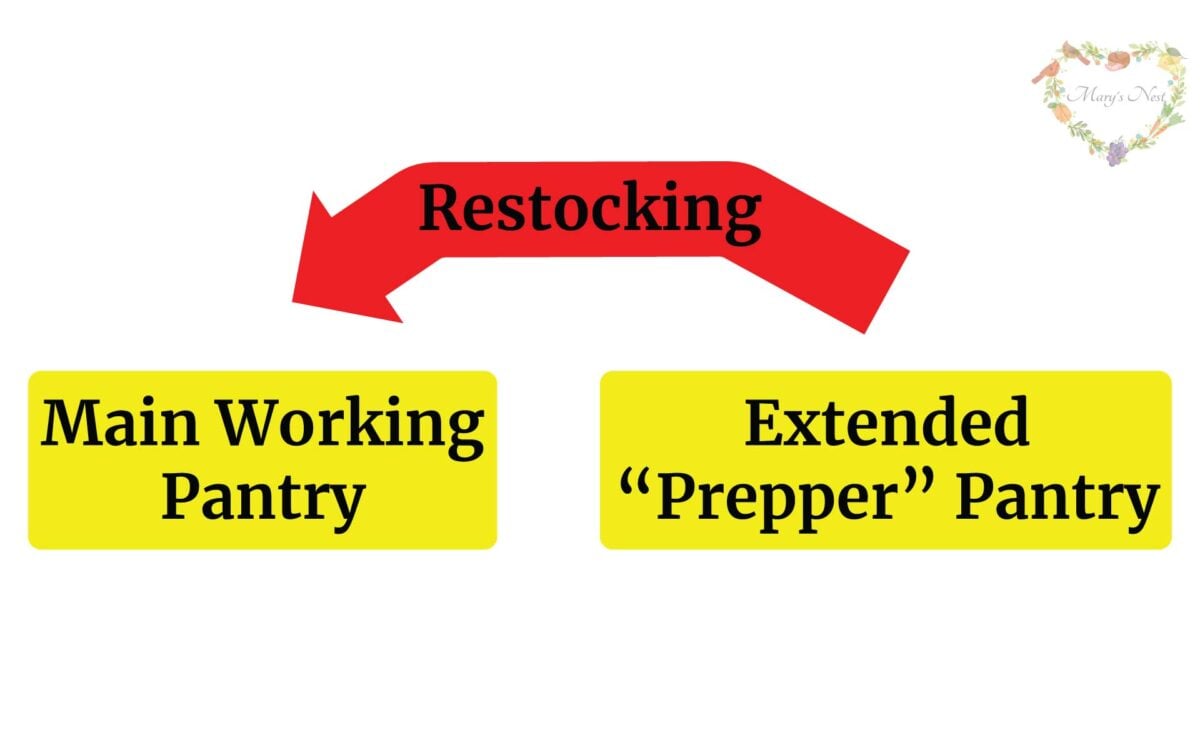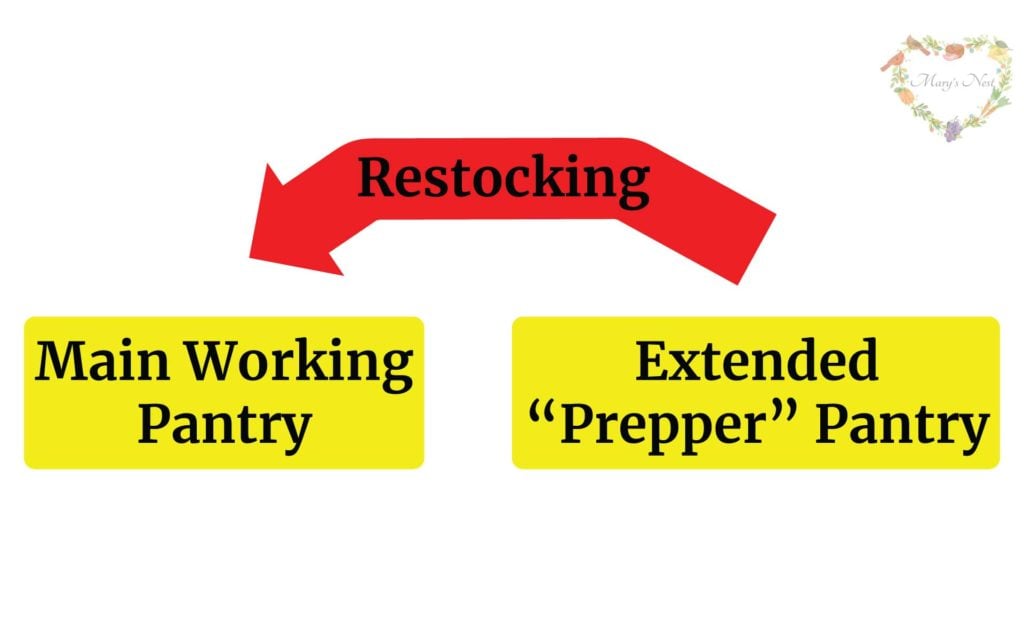 However, more importantly, your Prepper Pantry will provide you with the foods that you need to feed yourself and your family in case of an extended emergency.
Creating a Bug Out Bag with Real Food
This month, I show you how to create an emergency backpack food kit with real food. It's easy to fill up a backpack with junk food and foods that may not sustain you over a few days. Instead, I focus on real foods that provide the proteins, good fats, and carbohydrates that your body will need during times of stress.
We often hear the expression "Bug Out Bag," but what does that really mean? A bug-out bag is an emergency backpack that you have prepared if you need to leave your home quickly. It usually holds about three days' worth of supplies that you might need to help you get by until you can get back home or to a shelter that can provide the resources you need.
But why would you need to leave your home in the first place? Certainly, staying in your home is the best option, but sometimes this isn't possible.
You may need to leave your home because of a dangerous situation that prevents you from sheltering in place. Common reasons for evacuating our homes are floods, wildfires, tornadoes, hurricanes, and other natural disasters.
The Importance of Having a Well Stock Emergency Backpack
Having an emergency backpack ready to go for yourself as well as every member of your family can be crucial if you have to leave your home quickly, which is usually the case when natural disasters hit. Making sure you have food and water along with any important medications will be essential.
After watching my emergency backpack video and using my checklist, you'll be able to create an emergency backpack for yourself and each family member. Keep these backpacks handy, such as near the entrance of your Prepper Pantry or in a hall closet, so you can quickly grab them in case you need to leave your home rapidly.
Download Your Free Emergency Bug Out Bag Food Kit Checklist
Here is a free printable PDF checklist you can use to stock your emergency backpack with a three-day supply of real food and water.
Each column represents a backpack for a family member. When you add an item to a bag, check it off, so you'll know you've taken care of it. The checklist also includes additional items for you to consider, including medicines and pet supplies. So if you ever need a Bug Out Bag, you'll have your food supplies ready!
You're Also Creating a Get Home Bag
You can also use your emergency backpack as a "get home" bag. For example, if you store your emergency backpacks in your car when you travel, and you're away from home when a disaster hits, you can use the backpacks to provide you with real food and water as you drive or walk home or to a safe area.
What I Don't Cover in Your Bug Out Bag
I don't cover everything you need in a bug-out bag in my video. Instead, I focus on food and water for yourself, your family, and your pets. Since you may have medicines stored in your refrigerator, which is also part of your Four Corners Pantry, I describe how you can keep your critical medicines refrigerated with your emergency supplies.
There are certainly a number of other things that are important to keep in your emergency backpack, such as a first aid kit, flashlight, emergency weather radio, local area maps, change of socks and shoes (to keep feet dry), plus several other important items that you can learn about at the U.S. Emergency Preparedness site.
But today, I want to focus on real food and water supplies and how to best carry medications that require refrigeration.
Real Food for Your Emergency Backpack
When it comes to food for stocking your emergency backpack, you want to select real foods. The best way to stay nourished during an evacuation from your home is to make sure that you rely on having the least processed food possible in your emergency backpack.
Now, when I say real food, I realize that fresh food may not be an option, but we can find shelf-stable—or in this case, backpack-stable—foods that have an extended best-by-date but also contain limited ingredients.
In my video, I share a range of real foods perfect for stocking an emergency backpack, including:
Juice and the best ways to flavor water
Condiments
Protein Foods
Healthy Snack Foods
Squeezable Fruits, Veggies, and Smoothies
Sweets and Treats to lift morale!
And speaking of limited ingredients, you'll want to pack foods that also have low sodium counts since you may not have access to unlimited water. The water available to you might only be the water you are carrying. And that brings us to a very important topic. How much water can we carry, and how can we maximize its ability to hydrate us?
Water Multipliers for your Emergency Backpack
When it comes to stocking your emergency backpack, you might only be able to include three bottles of water for your three-day supply. Water is heavy, and you do not want to make your backpack too heavy, especially if you might have to carry the backpack for a child or even be carrying a young child!
The good news is that you can get water multipliers to add to your water. The multipliers will hydrate your body better than plain water. These multipliers come in a variety of flavors, and some also include immune-boosting vitamins. The vitamins can be helpful if you are evacuating your home during cold and flu season or find yourselves in large crowds, such as in an emergency shelter.
Stocking an Emergency Backpack with Medication
If you take prescription medication, you'll want to stock your backpack with any extra medicine you have, or you will need to remember to grab all your current medicines and put them into your emergency backpack as you are heading out of your home.
But what do you do if your medication needs to be kept cold?
Know Your Medicines' Temperature Ranges
The first thing you want to do is check with your doctor, pharmacist, or the pharmaceutical company that manufactures your medication and find out how long your medication can last if you cannot refrigerate it and it has to be at room temperature.
Knowing your medicine's temperature tolerances will help you best prepare in the event you do not have the ability to keep your medicine cold or if the means by which you are trying to keep it cold fails.
Portable Coolers to Keep Medicine Cold
However, thanks to technology, the problem of trying to keep medications cold has become easier to deal with. If you need to leave your home with injectable medications that need to be kept cold or other liquid medications that do not have any preservatives, such as eye drops or creams, you can get coolers made especially for these items.
If you have a cooler specifically made for keeping medicine cold, such as the 4ALLFAMILY Medication Cooler, you will have some peace of mind. This brand of cooler contains a refreezable icepack, but you can alternatively use the electrical cooling unit that comes in the package.
The electrical cooling lid has a USB connector and a cord, which comes in handy if you are in your car. You can plug in the USB connector right into the USB port in your car, and as long as your car has power, your meds will stay cold in your cooler until you get to your destination.
Once at your destination, if you do not have access to refrigeration but you do have access to a working electrical plug, you can plug your medication cooler into a power socket to keep it cooling. And the good news is that these types of coolers are small and lightweight. Being extremely portable makes them perfect for an emergency backpack.
What About the Four-Legged Members of the Family?
If you have a dog, like me, or maybe you have a cat, you definitely want to take them with you if you need to evacuate your home. Having a small emergency backpack stocked for them and ready to go can be exceptionally handy.
I discuss various items in my video that you will want to consider including in your emergency bug-out bag for your sweet furry baby. These items include:
Portable water bottle and dish
Dehydrated pet food
Strong front leading harness for large dogs
Portable carrying case for small dogs and cats
Chews or snacks
Calming behavior chews for excitable pets
Bags to help you dispose of waste
Having what you need already prepared in an emergency backpack for your pets can make life a lot easier when it's time to grab and go. And once you are away from home, having food and water for your pet will be essential to keeping them healthy, happy, and hopefully calm under what may be high-stress conditions.
Bugging Out Versus Bugging In
If you have to leave your home, in essence, Bug Out, your well-stocked emergency backpack that's ready to go will provide you with immense comfort. However, most of us want always to be able to stay in our homes. That is certainly the preferred option.
However, what if you are able to shelter in place but find you do not have cleaning running water, or the temperature is dropping, and you have no electricity to run your heater? These are difficult situations to deal with, but they are not insurmountable, especially if you are prepared! Read on where I share how to plan to Bug-In at home during an emergency.
When You Can Stay in Your Own Home
If you find yourself in a situation where you have no running water, no power, or both, but you can stay in your home and shelter in place, be sure to download my 2-Week Emergency Food Supply List and Meal Plan. In the corresponding video, I explain how to use the supply list and meal plan, show you what to buy, and then how to prepare it in the event you do not have clean running water or electricity.
Once you stock these emergency foods, store them in your Extended or Prepper Pantry, along with the meal plan, so that you are all set in the event of a home-based emergency.
Plus, if you are in charge of your Prepper Pantry, don't forget that there are a number of crucial supplies that you want to make sure you have on hand. In my 10 crucial Prepper Pantry Items You Need to Stock Now video, I share with you all the items I make sure to have in my Prepper Pantry, along with my food and water supplies, to be prepared for any in-home emergency.
Is the Term Extended or Prepper Pantry New to You?
When I use the term pantry, I am referring to the Four Corners Pantry, which includes your:
Working Pantry – what you access every day
Refrigerator
Freezer
Extended or Prepper Pantry – where you store non-perishable goods used to restock your Working Pantry
Stocking a Prepper Pantry can help you in many ways. For example, if you are not able to go grocery shopping because of bad weather or illness, or maybe your budget is just really tight due to job loss, you won't run out of food if you have backup supplies. We call these backup supplies of food the Prepper Pantry.
But don't worry if you don't have a Prepper Pantry yet. I show you how easy it is to get started with what to buy and how to do it on as little as $5 per week added to your grocery budget. But if you are in a rush and want to get your Prepper Pantry fully stocked in a hurry, I show you how to do that, too, with my accelerated plan.
Stocking Your Prepper Pantry with Whole Grain
Did you know that you can store flour in your Prepper Pantry, but it won't last as long as whole grain? You don't need to store flour, if you have whole grain. In the following video, I show you how to store whole grain and three ways to make homemade flour.
Grind Your Own Flour with the Mockmill
If you decide to store whole grain, you'll need a manual or electric grain mill to turn your whole grain into flour that you can use to make a whole host of baked goods for yourself and your family.
When it comes to electric grain mills, after I did A LOT of research, I decided to buy a Mockmill. And am I so happy I did! The Mockmill is a very affordable but beautifully crafted German-made mill that stone grinds grain with settings ranging from 1 to 10—fine to coarse ground grain.
And I have great news! The folks at Mockmill are very kind to offer my viewers and readers a special one-time discount on any of the grain mills that they sell.
Note: You can also get the new Flake Lover's Flaker from Mockmill. Using this device, you can flake whole grain in minutes.
You can see me unbox and try out the Mockmill 100 Grain mill in the following video. (This is not a sponsored post, I bought the Mockmill products that I show you, and I'm a happy user of their devices in my kitchen.)
Download Your Free 36-Page Pantry List
For an extensive list of the traditional foods you can make and purchase to stock your pantry, be sure to download my free 36-page Traditional Foods Pantry List. This comprehensive eBook is full of links to recipe videos, helpful articles, and more!
Kitchen Academy Videos
Are you looking for more traditional foods videos? If so, I invite you to join the Traditional Foods Kitchen Academy. Members of this optional paid YouTube community get access to exclusive videos, live streams, and other members-only perks. Plus, your YouTube comments include a special members-only badge.
In the following members-only video, I take you behind the scenes of my working pantry with bonus material.
Stay in Touch with Mary's Nest
Subscribe to My YouTube Channel for Traditional Foods Videos (Free) - When you subscribe, be sure to click on the notification bell that will let you know each time I upload a new video.
Subscribe to Mary's Traditional Foods Newsletter (Free) - Get a free 36-page eBook for signing up: How to Stock Your Essential Traditional Foods Four-Corners Pantry.
Join the Traditional Foods Kitchen Academy (Optional Paid) - For more detailed videos, live streams, and exclusive members-only perks, join my YouTube membership community.
Order The Modern Pioneer Cookbook (Optional Paid) - Get a printed book of Mary's nourishing recipes from a Traditional Foods Kitchen. This bestselling cookbook is published by Penguin Random House with their DK imprint.
I look forward to having you join me in my Texas Hill Country Kitchen!
Trending Posts on Mary's Nest
Shop for items used in this blog post or video
Favorite Emergency Backpack Supplies
Favorite Prepper Pantry Supplies
Favorite Kitchen Supplies
More Kitchen Supplies with Discount Codes
Use my Mockmill affiliate link for a special one-time 5% discount on Mockmill Stone Grain Mill products, including the new Flake Lover's Flaker. (The Mockmill discount will appear when you checkout.)
Use promo code MARYSNST for a one-time 15% off Masontops and Breadsmart products on Amazon.com.
Amazon Shop and Shopping Guide
Visit my Shopping Guide page
Get up to 15% off for stocking your Traditional Foods Pantry and equipping your Modern Pioneer Kitchen, including discounts from Lehman's, Mockmill Grain Mill, Masontops, Cultures for Health, Survival Garden Seeds, Redmond Real Salt, Plan to Eat, US Wellness Meats, and More!
Recommended Reading
**Disclaimer: I am not a medical doctor, a medical professional, a dietician, or a nutritionist. All content found on the MarysNest.com website, including text, images, videos, eBooks or eGuides, social media, or other formats, were created solely for informational purposes only. The content is not intended to be a substitute for professional medical advice, diagnosis, or treatment. Always seek the advice of your physician or other qualified healthcare provider with any questions you may have regarding a medical condition or proper nutritional advice. Never disregard professional medical advice or delay in seeking it because of something you have watched in a video or read on this website. Use caution when following the recipe in this video. The creator and publisher of this video and website will not be held responsible for any adverse effects that may arise from the use of this recipe and method or any other recipe and method on this website or corresponding video channel.