How to Accelerate Stocking Your Prepper Pantry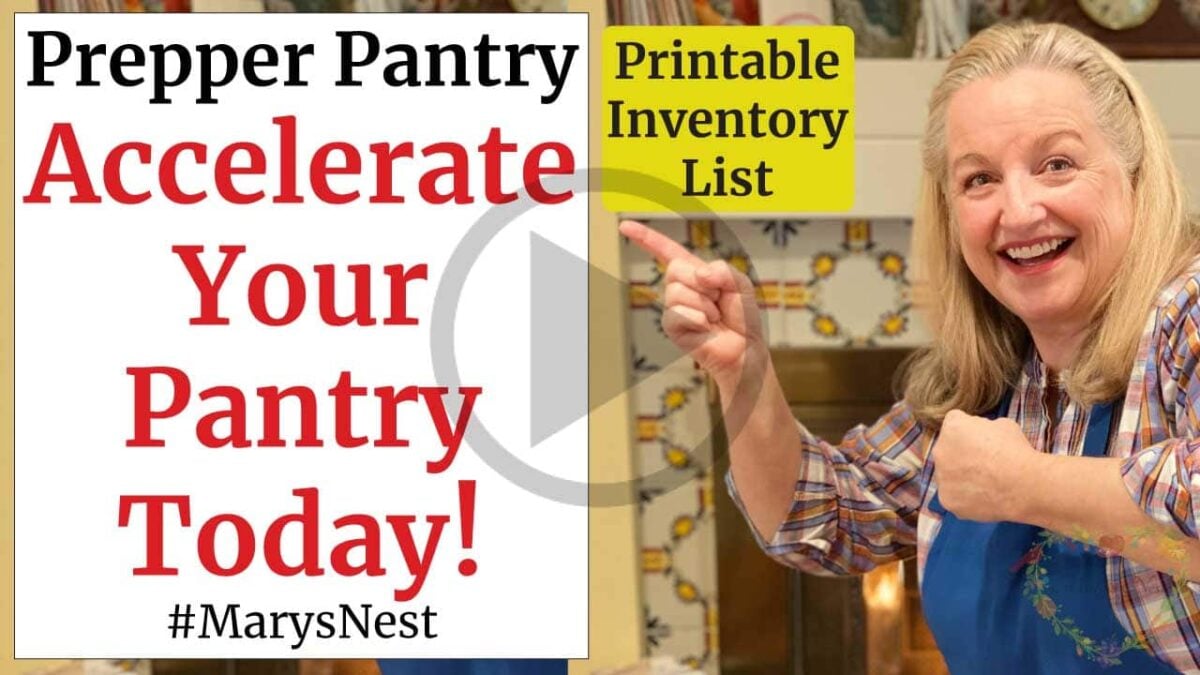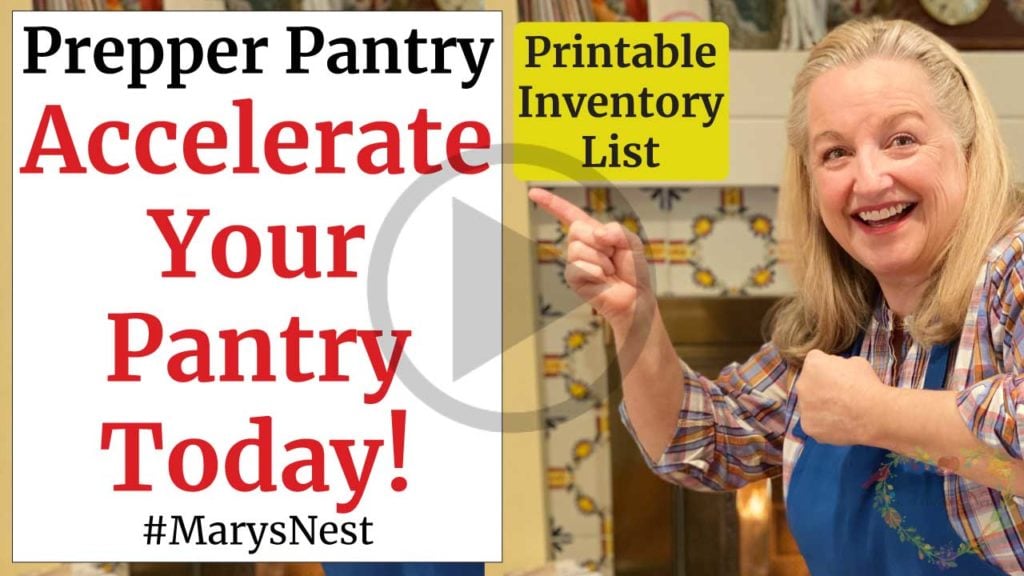 When time is of the essence, learn how to accelerate the process of creating or restocking your Prepper Pantry.
And be sure to download my free How to Accelerate Stocking Your Prepper Pantry printable file that accompanies my video. This file contains two lists that will help you focus your grocery budget so you can buy a month's supply of essential and non-perishable foods to stock your Prepper Pantry in one grocery shopping trip.
*Affiliates note: As an Amazon Associate I earn from qualifying purchases. My content may contain affiliate links to products and services. If you click through and make a purchase, I'll receive a small commission. It does not affect the price you pay.
Why Do You Need to Accelerate Stocking Your Prepper Pantry?
Generally, I like to advise you to stock your Prepper Pantry slowly, little by little, by adding an extra $5.00 per week to your grocery budget. This process is affordable and doable for most of us. And before you know it, you will have created a well-stocked Prepper Pantry in just a matter of months.
However, we've recently been experiencing supply chain problems and shortages. And if because of the scarcity of some food items, you have run low on food in your Prepper Pantry, you're not alone.
Also, if you have never started a Prepper Pantry before, but now because of rising prices and world events, you're ready to get started, you too are not alone!
But how can you buy one month's worth of supplies for your Prepper Pantry in one shopping trip without busting your grocery budget? Don't worry. I'm here to help.
Free Printable to Help You Accelerate Stocking Your Prepper Pantry
I have a free printable PDF you can download that will help you focus your grocery budget so you can buy one month's supply of essential and non-perishable foods to stock your Prepper Pantry in one grocery shopping trip.
In addition to directions, this printable PDF includes two lists:
List #1: Four Corners Pantry Inventory (4 pages)
List #2: Accelerated Prepper Pantry Grocery List (1 page)
In today's video, I show you how to inventory everything you presently have in your Four Corners Pantry and eliminate all the non-essential items.
The process that I describe in my video and my free printable file will help you focus on shopping for only those essential and non-perishable items that are perfect for stocking or restocking your Prepper Pantry.
What are Non-Essential Items?
As you work through your inventory and put together your shopping list, I show you how to go about eliminating all the non-essential items from your shopping list.
I go into lots of detail in my Accelerate Stocking your Prepper Pantry video, but non-essential items include:
Carbonated beverages
Junk food
Luxury foods
Packaged foods
And more!
Don't worry. You're not eliminating these foods forever. Instead, you're whittling down your grocery list to pull together the money you need to buy a month's worth of real food to stock your Prepper Pantry. And you want to do this before prices rise even more than they already have!
Cheap Foods to Help You Stock Your Prepper Pantry
Even though food prices seem to be rising every day, I have good news. I published a recent video showing you how to shop for cheap foods at a national grocery chain. (And remember that cheap means inexpensive, not low quality.)
In my cheap foods video, I highlight many items, including store-brand foods under $1.00. These items are non-perishable and are perfect for stocking your Prepper Pantry.
Stocking Your Prepper Pantry with Online Calculators
If you find that you need help calculating how much non-perishable food you should be storing in your Prepper Pantry to have a month's supply, you can find numerous food calculators online to help with this job.
However, keep in mind that the amount of food these sites tell you to buy may seem rather overwhelming, and they may recommend foods you don't normally buy or like.
Personally, I recommend a more personalized process to calculate how much food you will need by using my free printable that you can download. This PDF file contains lists to help you identify the essential foods you need while also personalizing the items to your specific situation.
Nevertheless, if you still want to try using an online food calculator, one of the easier ones to use is offered by EZ-Prepping.
Homemade Bread to Replace Prepackaged Bread
As I share with you in my Accelerate Your Prepper Pantry video, I recommend that you stop buying packaged bread and start making your own bread homemade. By doing so, you'll save money and be able to make your bread more nutritious than store-bought.
If you have never baked before, don't worry. Bread is actually easier to make than you think, and my no knead sandwich bread recipe below couldn't be easier.
As I show you in my bread recipe video, you can make two loaves of no knead sandwich bread with the following simple steps:
Mix your dough in a bowl.
Allow the dough to rise.
Plop the dough in two baking pans.
Bake your pans in the oven.
It's as close to foolproof as possible. Plus, this video has over 1 million views, so I am confident that you will discover what others have: It's easy to make bread, and it's much better than store-bought!
Homemade Crackers to Replace Prepackaged Crackers
When you are trying to build up your Prepper Pantry supplies, it's best to limit the amount of prepackaged foods that you buy because these preprepared foods tend to be expensive.
However, the good news is that if you hold off on buying crackers, you don't have to go without them. Homemade crackers are easy to make by following my slice and bake recipe.
And if you have sourdough starter on hand, your discard will make some of the tastiest sourdough crackers you have ever had!
Add Oats To Your Prepper Pantry
If you stop buying boxed cereals, you'll have more money in your grocery budget to put toward non-perishable foods for your Prepper Pantry.
Boxed cereals are expensive, and you don't get much in the way of quantity. And other than being eaten as cereal, this prepackaged food really offers little to no versatility.
However, oats are an exception. Oats are very affordable and generally come in three forms:
Old-Fashioned Rolled Oats
Steel Cut Oats
Whole Oat Groats
In addition to being served as a cereal, oats in any form can serve multiple purposes in the traditional foods kitchen. They are an excellent addition to your Prepper Pantry.
Recipes with Oats
In the recipes below, I show you how to use oats to make bread, sugar-free granola, granola bars, and cookies.
If you are lucky enough to find oat groats, I show you how to use them to make old-fashioned soaked oatmeal in the following video.
Homemade Flaked Cereal
If you are looking for more ideas for replacing boxed cereal, be sure to try the recipe below. You'll be surprised at how easy it is to make homemade flaked cereal.
Homemade Cleaning Products
While you are eliminating non-essential items from your grocery list to focus on essential items for your Prepper Pantry, be sure to cross out store-bought cleaning products. Instead, try making your own. Homemade cleaning products are easy to make, and they often work better than store-bought!
In the video below, I show you how to make a pine cleaner. Well, let me clarify. I show you a technique you can use to make a pine cleaner. In the video, I am actually using juniper branches. I live in central Texas after all, and actual pine trees are not a common sight here.
However, the process for making a pine cleaner is the same. The outcome is an effective cleaner with a delightful natural fragrance.
If you want to try making a citrus vinegar for cleaning, I have you covered in the following video.
Starting Your Prepper Pantry Series
If you are new to the concept of creating a Prepper Pantry, be sure to watch the following video series. And even if you have a Prepper Pantry, these videos can be a refresher course and give you new tips!
And with rising prices and grocery shortages becoming more frequent, be sure to learn about the top 7 foods to stock up on now for your Prepper Pantry.
Prepper Pantry Questions and Tips
In the videos below, I answer questions and share lots of tips for inflation proofing your Prepper Pantry. Plus, I include some great prepping book recommendations.
Prepper Pantry Food Storage Videos
As you begin to stock your Prepper Pantry, one of the most important things you need to learn is how to best store your food to extend its shelf life as long as possible. The videos below will walk you through everything you need to know!
Specialized Foods for Your Prepper Pantry
You will want to have a discerning eye for the best products to add to your supplies as you stock your Prepper Pantry. In the videos below, I go into great detail about how to go about stocking the best whole grains, sugars, and salts.
Equipment for Your Prepper Pantry
Although I like to think I am well prepared, I was caught off guard by the ice storms that hit Texas in February 2021. But I quickly learned those pieces of equipment that I needed to add to my Prepper Pantry.
In the videos below, I talk about our experience with the terrible Texas weather. And I also share what I had on hand that saved the day and everything I added since then that I sorely missed during those devastating storms.
I also published a How to Build a 2-Week Emergency Food Supply video with free printable downloads to help you be prepared in case you have no electricity, no water, or no electricity and no water.
Download Your Free 36-Page Pantry List
As you transition from a processed foods kitchen to a traditional foods kitchen, I am here to help you.
For an extensive list of the traditional foods you can make and purchase to stock your pantry, be sure to download my free 36-page Traditional Foods Pantry List. This comprehensive eBook is full of links to recipe videos, helpful articles, and more!
Recipes Using Foods in Your Prepper Pantry
When it comes to using the non-perishable foods in your Prepper Pantry, I've got you covered. In the videos below, I share how to best use canned salmon, canned chicken, and even canned sardines to make nutritious and delicious meals.
Kitchen Academy Videos
Are you looking for more traditional foods videos? If so, I invite you to join the Traditional Foods Kitchen Academy. Members of this optional paid YouTube community get access to exclusive videos, live streams, and other members-only perks. Plus, your YouTube comments include a special members-only badge.
In the following members-only video series, I talk about how to equip your traditional foods equipment with essential and optional equipment.
Stay in Touch with Mary's Nest
Subscribe to My YouTube Channel for Traditional Foods Videos (Free) - When you subscribe, be sure to click on the notification bell that will let you know each time I upload a new video.
Subscribe to Mary's Traditional Foods Newsletter (Free) - Get a free 36-page eBook for signing up: How to Stock Your Essential Traditional Foods Four-Corners Pantry.
Join the Traditional Foods Kitchen Academy (Optional Paid) - For more detailed videos, live streams, and exclusive members-only perks, join my YouTube membership community.
Order The Modern Pioneer Cookbook (Optional Paid) - Get a printed book of Mary's nourishing recipes from a Traditional Foods Kitchen. This bestselling cookbook is published by Penguin Random House with their DK imprint.
I look forward to having you join me in my Texas Hill Country Kitchen!
Trending Posts on Mary's Nest
---
Shop for items used in this blog post or video
Favorite Prepper Pantry Supplies
Favorite Kitchen Supplies
More Kitchen Supplies with Discount Codes
Use my Mockmill affiliate link for a special one-time 5% discount on Mockmill Stone Grain Mill products, including the new Flake Lover's Flaker. (The Mockmill discount will appear when you checkout.)
Use promo code MARYSNST for a one-time 15% off Masontops and Breadsmart products on Amazon.com.
Amazon Shop and Shopping Guide
Visit my Shopping Guide page
Get up to 15% off for stocking your Traditional Foods Pantry and equipping your Modern Pioneer Kitchen, including discounts from Lehman's, Mockmill Grain Mill, Masontops, Cultures for Health, Survival Garden Seeds, Redmond Real Salt, Plan to Eat, US Wellness Meats, and More!
Recommended Reading
**Disclaimer: I am not a medical doctor, a medical professional, a dietician, or a nutritionist. All content found on the MarysNest.com website, including text, images, videos, eBooks or eGuides, social media, or other formats, were created solely for informational purposes only. The content is not intended to be a substitute for professional medical advice, diagnosis, or treatment. Always seek the advice of your physician or other qualified healthcare provider with any questions you may have regarding a medical condition or proper nutritional advice. Never disregard professional medical advice or delay in seeking it because of something you have watched in a video or read on this website. Use caution when following the recipe in this video. The creator and publisher of this video and website will not be held responsible for any adverse effects that may arise from the use of this recipe and method or any other recipe and method on this website or corresponding video channel.